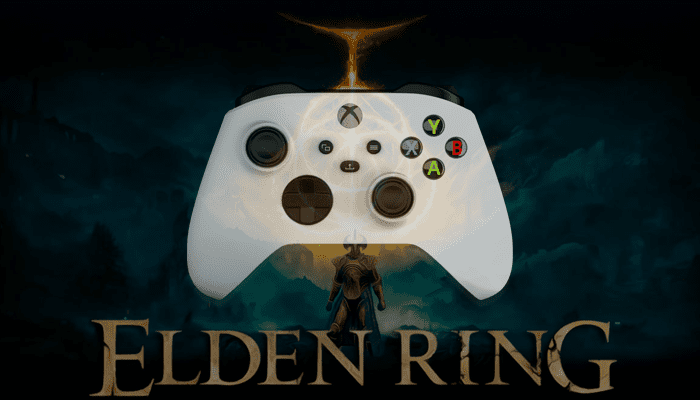 Elden Ring Xbox controller not working on PC issue has been troubling users since the release of Elden Ring in February this year. However, with an update in April, the issue was fixed for most people.
Although even after that patch update many users are still facing issues with their Xbox controller while playing Elden Ring on PC. We all know Elden Ring is a fun-to-play RPG game but if your controller starts creating issues, it just spoils all the fun. Since the launch Elden Ring is suffering from several issues like no sound, white screen crash, stuttering & low fps and fixes for the same we have already covered here.
Fortunately, there are some solutions that you can try to fix this issue and play the game smoothly. But before that let's see why this error occurs in the first place.
Why Elden Ring Controller Stops Working?
The Elden Ring controller not working issue was caused due to technical bug with in the Elden Ring PC version which were later got fixed by the developers.
Most of the users were able to resolve this issue from that update. Still many face this issue regularly. Although there are no concrete reasons behind why does this happen. But some users suggest that it's mainly due to controller software, peripherals devices, etc.
Not just Xbox controller which stops working, other users also reporting having issue with PS5, PS4 controller and Xbox One controller as well.
However, in this article, we will show you all the solutions that will surely fix this issue.
How To Fix Elden Ring Controller Not Working?
1. Ensure the Mouse and Keyboard are Disconnected
The first thing that you need to ensure is the Mouse and Keyboard are not connected to the system. Most of the time the issue occurs because you're already having an input device.
This creates an interference with your controller. And when you're using it, this might cause these errors. So make sure that you have disconnected your keyboard, mouse, or other input devices.
Once you're done again try to connect your controller and run the game and see if you can use the controller or not. If this does not fix the issue then move to the next solution.
2. Uninstall vJoy Software
It has been reported by many users that the vJoy application has been one of the main reasons behind this issue. So, if you have installed the vJoy app, make sure to uninstall it.
vJoy lets you have a virtual controller which fulfills the need of a physical one. But when you try a real controller, this application might create issues with the controller.
This is a reason many users who have faced the Elden Ring controller not working issue have found be using this app. So, if you're one of them, uninstall it and see if the issue got resolved or not.
3. Change the Steam Input Per-Game Settings
This setting is specially built for games that require a controller. It is pretty much similar to the app we discussed before. You can play games that need a controller by using any other device.
If your Elden Ring controller is not working you can try changing this setting and see if that solves the issue. Here are the steps:
Open Steam Client and click on View and then select Big Picture Mode.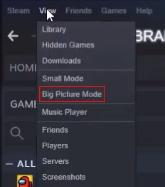 In the Big Picture Mode click on Library.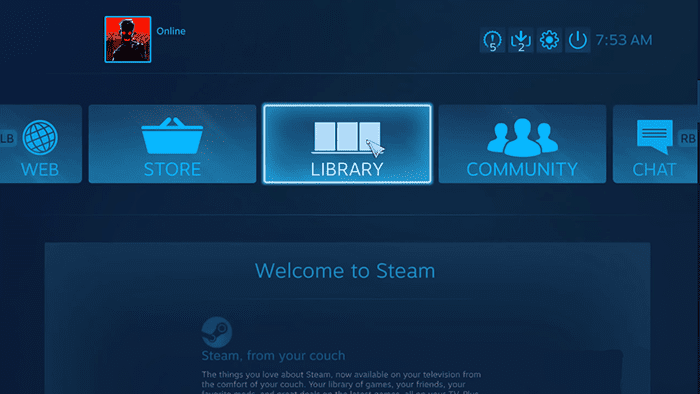 Now from the list of games select Elden Ring and click on Manage Games.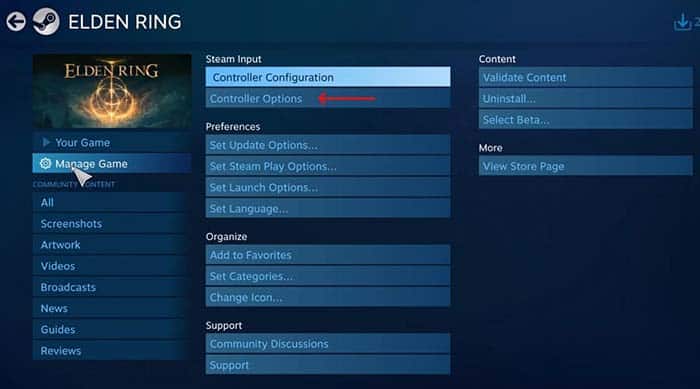 From the Input option select Controller Options.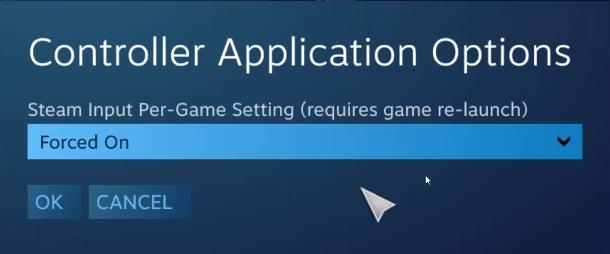 Finally, select Forced on from the Steam Input per-game settings.
Now open the Steam Client again and launch the game to see if the problem persists.
4. Disconnect Bluetooth Devices
Another very important thing that you have to look for is Bluetooth devices. If there are any Bluetooth devices connected to your system make sure to disconnect them.
Many times the problem with controllers starts due to the devices connected to Bluetooth. Just like Keyboard and mouse, any other connected device may interfere with the controller which creates a lot of issues.
So, the only solution here is to look for all the Bluetooth devices connected to your system. And disconnect them one by one.
This will solve this issue if it's caused by any Bluetooth-connected device. If not follow the next step.
5. Configure your Controller in Steam
If you're facing some issue with the controller, make sure you have configured it to the Steam client. If the controller is not added to steam it will create these issues and won't let it function properly.
So, to fix this issue you have to configure your controller on Steam which can be done by following these steps:
Open the Steam client and from the Steam tab click on Settings.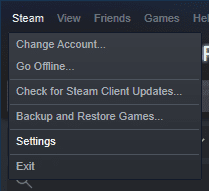 In the left pane click on Controller and then select the General Controller Settings option.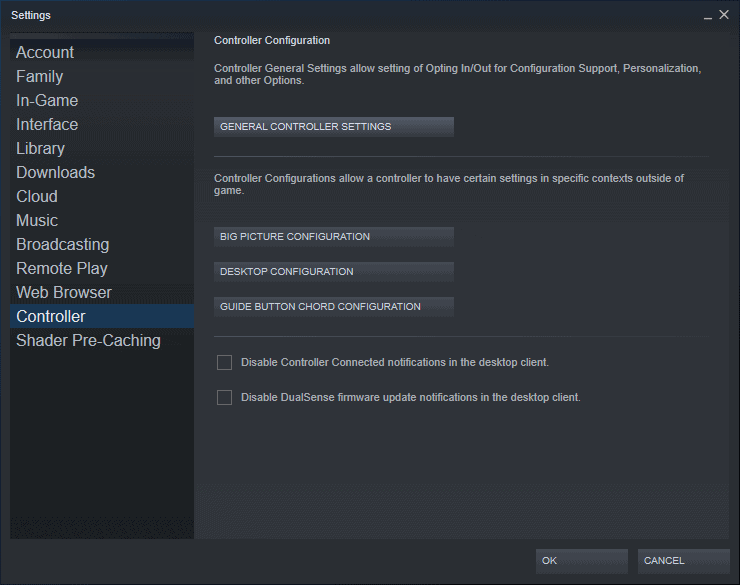 Now In the Controller Settings select the controllers that you will be using. There are multiple options including Playstation, Xbox, Nintendo, or any generic controller.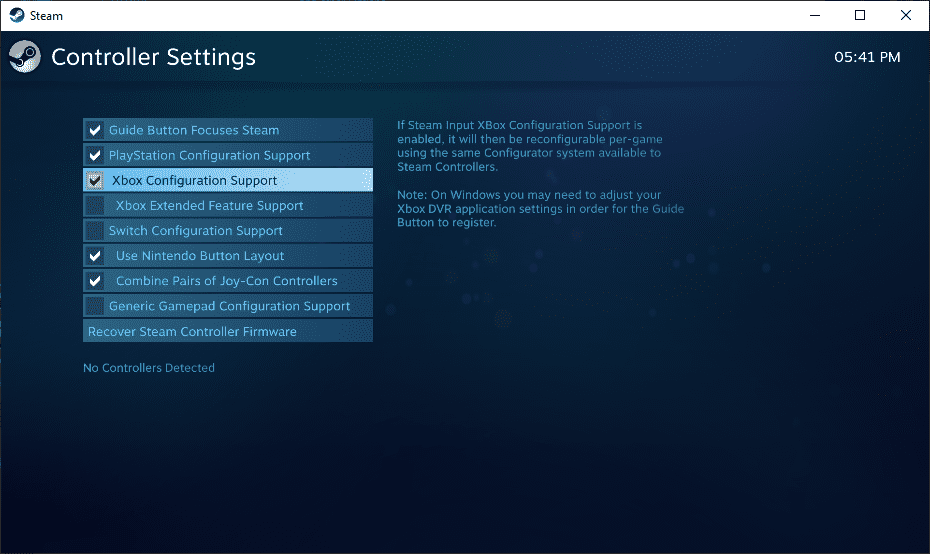 Once you select the controller, it will activate the configuration support. Now whenever you will use these controllers, the steam will automatically apply all the required configurations.
Save all the settings, open the game again and see if the controller is now working or not.
6. Update the Controller Drivers
An outdated controller driver can also be a major reason behind this issue. Although controllers get very few driver updates as compared to other hardware. But still make sure you're having the updated drivers, if not this might be causing the issue.
Moreover, if it's been a long time since you have updated the controller there should be some updates from the manufacturer. To update the drivers on your controller, we would recommend you to use the official website of the manufacturers.
If there are any updates download them and later you can install them using the Windows device manager. Update the drivers on your controller and see if you can get some positive results.
7. Disable Steam Overlay
Steam overlay lets you access several features of steam within the game itself without needing to opening the launcher. The steam overlay is known to cause issues with games and this could be reason for controller not working in Elden Ring. Follow below steps to disable Steam overlay option.
Go to Library and click on Elden Ring
Click on properties
Go to General tab from the left navigation menu.
Now uncheck "Enable the Steam Overlay while in-game" option.
Now start Elden run and check if the controller is working or not.
Conclusion
Elden Ring may be one of the best RPG games right now. But the random bugs and glitches make the playing experience a bit unpleasant. Having issues with Elden Ring controller is one of them and was quite very common during its release.
However, with a few updates, the issue got fixed. But still, some users complain about this problem. Although the reasons behind this are not well known. These errors mostly occur due to some third-party software, outdated drivers, and configuration settings.
Following the solutions may get you rid of this error. So, try all of them, if the issue persists you can try contacting support.