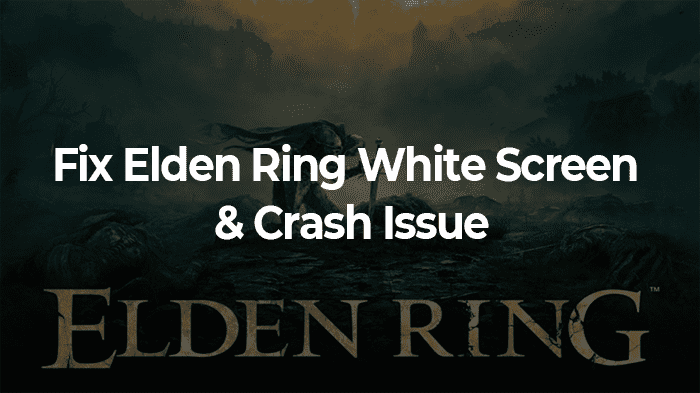 Did your screen turn white while playing or streaming Elden Ring? Followed by Elden Ring game crashing on PC with message ELDEN RING stopped working? Well, you are not alone who's facing this issue.
The Elden Ring white screen issue is troubling several gamers since the game launch and has been termed as WSOD (white screen of death) synonymous to BSOD (blue screen of death) for Windows.
Elden Ring the most anticipated and AAA game title of the year 2022 has been receiving rare reviews from gamers. Not only sales of Elden Ring have been tremendous since its launch, but also hitting 750,000 active users online.
The game is available across multiple platforms and game consoles. Unfortunately, the pc version of Elden Ring been suffering from several performance issues like stuttering, no sound, controller not working, game crashing or not launching and white screen error since its launch and white screen crash on pc is one more added to the list of issues.
What Causes Elden Ring White Screen Issue While Streaming
The root cause to Elden Ring white screen crash is DirectX 12 hardware with feature level 11_0. The Elden ring game was designed to only work with DirectX 12 with minimum feature D3D_FEATURE_LEVEL_12.
Another reason for Elden Ring white screen crash is said to be Easy anti-cheat (EAC) engine, a dedicated code designed to prevent gamers from cheating in online games.
Usually, the white screen crash happens when user attempt to launch the Elden ring on PC or while trying to stream it via Discord or Steam. We have covered several fix to help you in fixing Elden Ring white screen crash while streaming or not.
Top Fixes for Elden Ring White Screen Crash
1. Replacing D3D12Core.dll and D3D12.dll
If you happen to have DirectX 12 with feature level 11 or 10 then likely your while screen issue is result of unsupported GPU. Thankfully you can bypass and make the game work by simply replacing the DLL files as described below. Read this github page to understand the whole issue.
In order to replace DLL files, launch Steam and go to library.
Now right click on Elden Ring and hover the mouse on Manage, now click on browse local files.
Search and delete D3D12Core.dll and D3D12.dll files from the game folder.
Browse the following path C:\windows\system32
Now locate and copy D3D12Core.dll and D3D12.dll
Go back to the Elden Ring Game folder opened in step 2, and paste the copied DLL files.
Rename the D3D12.dll to D3D12_original.dll (inside the game folder)
Download following files from Github page and extract them. Copy all the files and paste it into game folder.
Now restart your PC
Launch the Elden Ring and see if your white screen issue is fixed or not.
2. Turn Off Overclocking of GPU, RAM and CPU
If had recently overclocked your graphic card or RAM or CPU using third party or manufacturer provided tools like Ryzen Master Driver or Ryzen DRAM Calculator then revert back to original setting by resetting to default.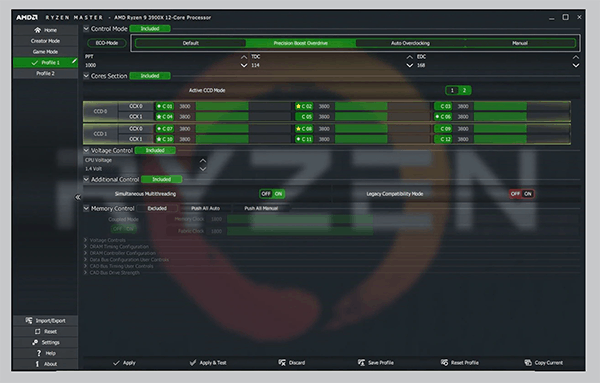 Overclocking may result in unexpected heating while gaming. This can further cause an issues like white screen error and game crashing.
3. Empty Temporary Files
The Windows stores many cache files including DirectX game cache, installer and setup files, game resources inside the temporary folder. While these files are discard after its use but sometimes it may get corrupt or damage leading to various issues like Elden Ring crashing with white screen.
In order to clear temporary files on Windows 10/11
Start Run by press Control + R keyboard shortcut.
Now type %temp% and hit enter key.
This would open the temporary folder. Simply press Ctrl+A keyboard shortcut to select all items inside the temporary folder and hit Delete key.
You may be asked for administrator permission, click on continue button.
Let the delete operation complete.
Once all the files are removed, launch Elden Ring and check if white screen issue is fixed or not.
4. Add Elden Ring to Graphics Card Settings
Nvidia control panel offers a way to add any games or application to 3D manager settings there by allowing them to use run time libraries like OpenGL and D3D. By adding Elden Ring to 3D Manage settings you can fix the white screen issue.
Open Nvidia Control Panel from the right click context menu of desktop.
Click on Manage 3D Settings option in the left pane
Click on Add option under Program Settings section
Now select Elden Ring from the list and click on Add Selected Program.
In case, Elden Ring is not in the list then use browse option and locate eldenring.exe. Click on Apply button. Launch Elden Ring and check if crash is fixed or not.
Several games allow you to add certain parameter/flags while launching the game to change the internal game settings. The same option also works with Elden Ring and this is one possible solution to Elden Ring white screen and crash issue. With the help of Steam launch option setting we can add the desired options.
Launch Steam and click on Library from the top
Right click on Elden Ring and access properties
Now under "LAUNCH OPTIONS" add -d3d11, -dx11 and -dx12 one by one.
Once you finish adding launch options, launch Elden Ring and check if white screen issue is fixed or not.
6. Disable Elden Ring Full Screen Optimization
The full screen optimization of Windows 10 was designed to help users to have best gaming experience by allowing games to take entire screen, support overlays, run at full speed and faster alt+tab switching.
Unfortunately, in case of Elden Ring, the full screen optimization seems to be spoiling gaming experience rather improving. By disabling full screen optimization you can fix the white screen crash (WSOD) issue.
Browse the following path to open Elden Ring game folder C:\Program Files\Steam\steamapps\common\Elden Ring\Game
Inside the folder, right click on eldenring.exe file and go to properties
Go to compatibility section of properties window
Check "Disable full-screen optimizations" option click on apply and ok button.
Now launch Elden Ring game and see if this helped you to fix the issue or not.
7. Verify Game Files Integrity
A random shutdown or antivirus program may end up deleting or corrupting certain game files. Fortunately, Steam comes with an option called "Verify Integrity of Games Files" which lets you scan the games for corrupted or missing files which may result in issue like Elden Ring white screen and crashing (WSOD).
To verify integrity of Elden Ring game.
Launch Steam client
Go to library
Right click on Elden Ring game and select properties.
Go to Local Files section from left pane
And click on Verify integrity of games files.
It may take some time for Steam to scan and redownload missing or corrupted files. Once the process is complete, start Elden Ring game and check if the issue is resolved.
8. Upgrade Graphics Drivers
The graphics card manufacturers keep releasing latest graphics card drivers to support newest games available in market or address the game performance or related issues.
Keeping your graphics card drivers updated would help you to get rid of several unexpected issues like Elden Ring white screen crashing.
You can use the third-party tool like Driver Easy to one click update all the Windows drivers or follow below steps to do it manually.
Press Windows key+X shortcut to open Power User menu.
Click and open Device Manager from the menu.
Click on Display adaptors to uncover the associated hardware.
Now right click on graphics card, and click on update drivers.
Click on search automatically for drivers to let Windows 10 look for latest drivers and download them.
You will prompted to install drivers if any new drivers available for your graphics card.
9. Update Elden Ring
Since the launch of Elden Ring, the game developer FromSoftware has been addressing several issues and fixing performance issues by releasing patches. While these patches may or may not fix your issue but installing them would be best way to find out.
The latest patch released for Elden Ring was version 1.06 released on August 9.
To install latest patches on Elden Ring
Go to Library
Right click on Elden Ring game and open properties
From the left pane, access update tab
Under Automatic updates, chose always keep this game update
This would let Steam update the Elden game as soon as the latest updates and patches are released.
10. Exclude Elden Ring from Antivirus and allow in Windows Defender Firewall
Antivirus or security suite may be preventing game from accessing files critical for launching. You can add the Eldenring.exe into exclusion list by following below steps for Windows Defender Antivirus.
Open Windows Setting by pressing Windows Key+I shortcut and click on Update & Security settings.
From the left pane click on Windows Security and click on Virus & threat protection under protection areas.
Click on Manage Settings below Virus & threat protection settings.
Scroll and locate Exclusions, click on Add Or Remove exclusions.
Click Yes on administrator privileges.
Click on Add an exclusion and from the list select folder.
Now browse and select Elden Ring game folder.
How to Add Elden Ring to Defender Firewall Allow list
Open Windows Setting app and go to update and security
Click on Window Security option from the left pane and open Firewall & network protections
Now click on Allow an app through firewall.
click on change settings and scroll and locate Elden Ring, use Allow another app.. to browse and locate Elden Ring game folder if you do not see in the list.
Click on Ok button for changes to take effect.
Once you complete adding to Windows Defender exclusion list and allowed list in Windows Defender Firewall, launch the Elden Ring and check if the white screen crash issue is fixed.
11. Turn Off Game Overlay
Steam or Discord overlay are known to cause issues with several games like Gear of War crashing and Star Wars The Old republic. If you are using overlay option in any of these apps then turn off by following below steps.
Turn Off Discord Overlay
Open Discord app
Go to Settings
Under Game Overlay setting from the left pane, slid the option to turn off Enable in-game overlay.
Turn Off Steam Overlay
Open Steam client and Go to library
From the game list click on Elden Ring and select properties
Click on GENERAL tab from the left pane.
Uncheck Enable the steam overlay while in-game option.
12. Uninstall or Remove Epic Games Launcher
Posted on Reddit forum, one of the Elden Ring users managed to fix white screen crash by removing Epic Games Launcher.
To uninstall Epic Game Launcher
Open Windows Settings by pressing Windows+I shortcut
Under Apps & features search for Epic Games Launcher
From the search results, click on Epic Games Launcher and click on Uninstall button.
Let windows complete the uninstall process and launch Elden Ring and verify if the white screen issue is fixed or not.
If for some reason you start facing issue post WSOD then try running Elden Ring via Vulkan library using vkd3d-proton specially if you have AMD cards. Replace d3d12_original.dll of replace DLL fix with the d3d12.dll from vkd3d-proton and try launching the game.
14. Reinstall Elden Ring
The last & best option to fix Elden Ring white screen and crash is reinstalling the entire game. While Steam verify integrity should help you to fix missing or corrupted game files, but to totally rule out of any further game files issues, reinstalling Elden Ring would be wise decision.
How to Uninstall Elden Ring
Go to library in Steam client
Right click on Elden Ring from the game list
Now go to Manage and select Uninstall
Once game is uninstalled, use Steam to redownload and install Elden Ring. This should help you to fix Elden Ring white screen issue on PC.