Roku's secret menus has been pretty fascinating and a lifesaver for many. These hidden menus are much more capable than you think.
Roku is home to all of your streaming needs. You get all the OTT content directly under one platform. But to get the most out of Roku, having a Roku device plays a big part. These devices have gained massive popularity, especially in the last two years. And why not, the convenience you get plus the affordable prices makes it a no-brainer for anyone to opt for these devices. Moreover, they are highly secured and the best choice for any entertainment freak.
Despite having a secured system, you can do a lot of customization with your Roku devices. One of which is the Roku hidden menu. This article will show all the available hidden menus on Roku and how you can access and customize them.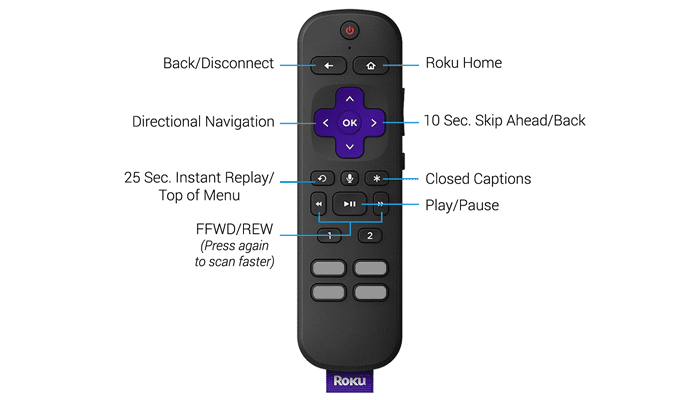 What is Roku Secret Menus?
Roku Secret menus is the way to access hidden Roku devices settings screen by pressing series of Roku remote buttons. While the entire interface of Roku OS is fairly simple, offers the most basis and required settings under home menu screen, but by using Roku secrete menus you can access tons of other settings and information about your Roku device. These secrete menus lets you access verity of information and settings like WiFi details, Update and Reset, Channel info, HDMI, developers menu and much more.
Reset & Update the Roku Device
The first menu in the list lets you completely reset your Roku device. If for any reason you want to roll back to the default settings of your device, performing a factory reset is the best option.
Moreover, you can also manually update the software. Here are the steps to do so:
Press the Home button five times on your remote.
Simultaneously press the Fast Forward three times.
Finally press Rewind twice.
This will open the Update and Reset hidden menu.
Here you will find multiple options like Update Software, Factory Reset, Cycle software update server, etc. You can also see the device information on the left side of the screen.
Roku Wireless Secret Menu
The wireless secret menu is another very useful option to look for. It lets you see the information about the WiFi connection on your Roku device. Follow these steps to access the wireless secret menu
Press the home button five times.
Now carefully press Up, Down, Up, Down, Up.
This will open your Wireless Secret menu.
There are also a few other options that may help you. Let's say that, if you're having issues with connection, you may check the signal bar. If that shows red, it means there is an issue with the WiFi connection.
Roku Platform Secret Screen
The Platform Secret Screen lets you know all the information about your Roku device. If you want to look for the Temperature, CPU Speed, IP address, etc, this secret screen is solely for that purpose. Here are the steps:
Press the Home button five times.
Now Press Fast Forward, Pause, Rewind, Pause, Fast Forward.
The Platform Secret Screen will be visible.
Now check all the information you want to know about your system. Moreover, from this secret screen, you can also access other hidden menus like the System Operation menu, IPV6 Secret Screen, and even the Wireless Secret Screen.
So, just by accessing the platform secret screen, you can navigate to nearly most of the hidden menus.
Roku System Restart/Reboot
If you're experiencing random hiccups or glitches while operating the Roku device, it might need a restart. Restarting your Roku device would fix these issues. Follow these given steps to restart Roku.
Press the Home button five times.
Press Up, Rewind, Rewind, Fast Forward, Fast Forward.
Following these steps, the screen may freeze and won't respond to any command from the remote. But you don't have to worry as this usually happens when you reboot the device. Soon the screen will turn black followed by the usual welcome message.
Roku Developer Secret Menu
There is also a secret menu that lets you access the Developer settings on Roku. This menu won't show any normal information. Its main use is to enable the Developer Application Installer. So let's see how you can do so:
Press the Home button three times.
Simultaneously, press Up twice.
Finally, press Right, Left, Right, Left, Right.
This will open the Developer Secret Menu.
The Developer Application installer is mainly for those who want to test their application on the Roku platform. Once you enable the installer, the device will automatically restart.
To access the installer you will have to type the URL mentioned in the Developer Settings. You can access it using any browser and start testing your applications there.
Roku Channel info Secret Menu
The Channel info secret menu is another very useful hidden menu on the list. It lets you see all the applications installed on your Roku device. Moreover, you will be able to look at a few more insights as well. Here is how to access the Channel info secret menu.
Press the Home button three times and then press Up twice.
Now press Left, Right, Left, Right, Left.
The Channel info secret Menu will be visible.
Here you can look for all the apps installed on your device followed by the version and the build number of the app.
This menu also lets you uninstall the app from your Roku device. Just hover over to the app press Ok on the remote and then Remove channel. However, this won't work for system apps like browsers, ads library, etc.
Roku HDMI Secret Menu
The HDMI secret menu shows a lot of information related to the resolution and refresh rate supported on your device. To access the HDMI secret menu
Press the Home button five times.
Simultaneously press Down and then Left.
Press Up three times.
The HDMI secret menu will open. You can see all the HDMI outputs like 1080p, 4K @ 60Hz, 720p, etc that are supported by Roku devices or TV.
You can't enable or disable any of these settings using this menu. For that, you may have to change the TV settings directly.
Roku Images and Ads Secret Menu
This hidden menu comes with a lot of features like changing the default file format for screenshots, Log info, scrollable ads, and much more. For accessing this menu follow these given steps.
Press the Home button five times.
Press Up, Right, Down, Left, Up.
You can see all the current settings information from the left side. And from the right panel, you can change all of these settings. There are multiple options to customize the Home screen ads, scrollable ads, Gaming remote, Log info, etc.
FAQs
Why are these Secret Menus not very easily accessible?
To access the secret you have to press a particular series of buttons. There are no official reasons for it. But this may be so you or anyone else won't access these secret menus accidentally and tweak any settings.
Can we sideload apps on Roku?
No there is no option to sideload apps on the Roku devices. To install any app you have to use the Roku Channel Store. You can't do that from any third-party sources.
How to add Secret Channels on Roku?
You can do that by using the official Roku website. From the site, find the Add channel option and enter the secret code to add the channel.