Microsoft Windows is currently the most used and quite popular operating system for PCs. While it provides a lot of flexibility to its users in terms of its features and options, Windows can be quite frustrating sometimes due to its bugs and errors. The Wait Operation Timed Out error can be quite frustrating while browsing files in the Windows Explorer. So, if you're also facing this issue on your system then make sure to go through this article. Not only you'll find the solutions for fixing this issue and getting rid of this error from your PC but you'll also learn more about this error and its causes.
The Wait Operation Timed Out Error Explained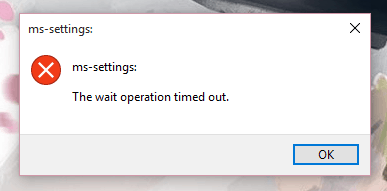 The error is usually found in Windows 10 and can occur while using any Windows 10 apps or trying to open or access different settings window. However, for most the error has been causing trouble while opening Photos app which comes pre-installed on Window10. The wait operation timed out error happens when either Windows 10 waiting for another process to respond or Windows Explorer is not able to open a file that you wish to view. It is usually caused due to an unhandled exception in Windows 10 and the Photos app of Windows 10 times out giving the user this error. If a windows 10 starts throwing this error more frequently it is better to try following fixes and get rid of that error.
How to Fix The Wait Operation Timed Out Error?
Although the error is mostly related to the Pictures app of Windows 10 the following fixes can be applied when you get timed out error for some other app or window.
Using Windows' Error Checking
The first thing to do for fixing the error related to the Pictures app in Windows 10, you've to make sure that there are no errors within your operating system. Sometimes the errors and bugs in your PC are due to missing system files and other errors within Windows 10. So to fix any possible errors within your operating system, you can use Windows' Error Checking feature to check for any possible errors and fixing you the wait operation timed out error in the pictures app. You can use the error checking feature in Windows by following these instructions:
First, open This PC on your computer using

Windows search

and Right-Click on local

disk

C and select Properties.


In here, go to the Tools tab and click on Check under Error Checking.


Finally, click on Scan this

drive

which will scan your local

disk

C for any possible errors within your operating system fixing any problems with the Pictures app.

Restart Windows Explorer
Windows Explorer is responsible for all the file handling operations in Windows 10. This includes things like accessing folders as well as opening different files on your PC including photos. Due to this reason, if the Windows Explorer is having any problems in your computer, it might interfere with the pictures app due to which the user might see the wait operation timed out error while accessing images. So, in that case, you can simply restart the Windows Explorer on your computer and hence fixing any issues with it by following this step by step guide:
Press 

Ctrl

+

Shift

+ Esc on your

keyboard

which will open the Task Manager.


In here, click on More Details and go to the Processes tab and look for Windows

Explorer

.

After that, Right-Click on Windows

Explorer

and select Restart. And after some time the Windows

Explorer

will launch again on your PC without having any issues in it.

Reset the Windows Photos App
Since the wait operation timed out error is related to viewing pictures and the Photos app is the default photo viewer in Windows 10, making sure that the app itself is not having issues is quite important. Which you can easily achieve it by resetting the Windows Photos app, to do that, go through the following steps one by one:
Press Windows Key + I on your

keyboard

to open Windows

Settings

. In here, go to the Apps settings.

Now using the search option, look for the Photos app and click on it to select Advanced Options.


Inside the advanced options, you have to look for the 

Reset 

button and click on it to reset the Windows Photos App.
This will fix any issues with the photos app thus removing the wait operation timed out error on your Windows 10.
Restarting the BITS Service in Windows 10
The BITS Service aka Background Intelligent Transfer Service is a Windows task which is responsible for transferring files & data between your storage to different processes and clients on Windows 10. So whenever you open a photo, the BITS service is responsible for opening that in the Photos app. An issue with BITS service could lead to an error like above. Thankfully a simple service restart can fix this issue. To restart the BITS service in Windows 10,
Using Windows Search open Services app on your PC.

In here, look for a service named 

Background

Intelligent Transfer Service.
Finally, Right-Click on it and select Restart to fix the issue while viewing photos on your Windows PC.