First of all, let's face it. Not all equipment can guarantee a high volume level and decent audio output quality. This applies, for example, to laptops without connecting speakers. To prevent a laptop from weighing as much as a desktop computer, laptop manufacturers are forced to install relatively small components. This leads to the fact that no laptop can play loud sounds or high-quality tracks (e.g., FLAC music). Fortunately, it is possible to tweak the software side of the system so that it provides a very high level of volume and quality. All you need is a suitable program to enhance the sound on a laptop and computer.
What is Audio Enhancer/Equalizer Software?
Programs for improving sound quality have a terrible reputation. The fact is that there is no drastic improvement. And with the help of the software, we suddenly don't hear high-end audio output on the built-in sound card or headphones that will delight the music lover. However, this does not mean that for a small, but rather a significant improvement, we shouldn't immediately take a step to amplify the audio output. This can be done using Audio enhancer software.
Audio equalizers or enhancing software are simple programs which analyze the current sound output from your system and provide a rather soothing output. These programs do not increase your CPU or RAM usage by a considerable margin while giving a noticeable sound development.
Here are our Top 10 picks for Audio Enhancer/Equalizer Software which you can download and install right away. Some of these software are free to use, and some are paid. But, if you actually desire an exceptional sound experience, you should consider spending a few bucks.
10 Best Audio Enhancer/Equalizer Software
These are the 10 Best Audio Enhancer/Equalizer Software available on the internet. Make sure you read all the options thoroughly to choose the one that suits best to your requirements.
1. Windows 10 Built-in Sound Equalizer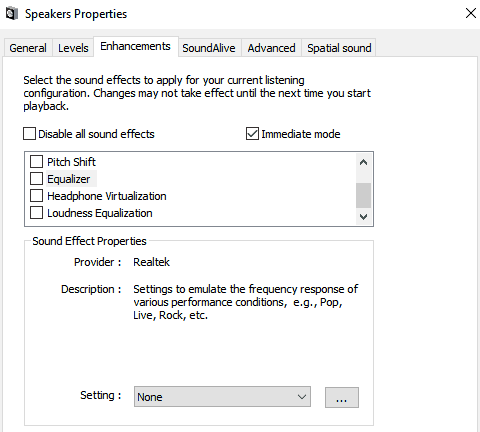 As many of you must have already known, Microsoft has included a built-in Sound equalizer in Windows operating system. This sound equalizer was upgraded along with the upcoming versions of Windows.
However, this particular sound equalizer does not have a lot of options to tweak. But, it does provide some very important functions such as  Loudness Equalization, Equalizer, Pitch Shift, Surround sound Etc. You can also get various attachments for this default Sound enhancer from the Microsoft store. The most popular one is "Dolby Atmos" spatial sound attachment. This attachment helps to precisely develop and provide surround sound in your hardware. Another famous attachment is "DTS Sound Unbound" from DTS, Inc. This attachment will provide you more immersive audio output from your Music, Movies or Video games.
To open Windows 10 default sound enhancer, simply right-click the speaker icon in the taskbar, then select "Open sound settings" and in the next window, click on "Open Sound control panel". Here, you can see all available audio output devices of your system. Simply right-click the one which you are using currently and click on "Properties" to open the equalizer window.
Although this default Windows 10 equalizer may not be enough for the audiophile community, it is quite good for general users.
Check the our guide on how to fix No sound on Windows 10.
2. Breakaway audio enhancer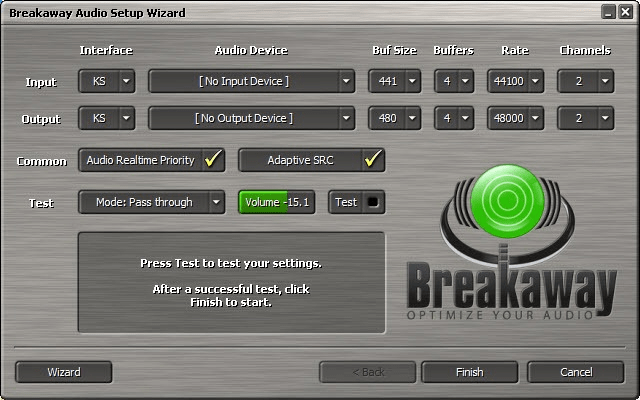 This tool improves the sound quality of any computer sound, regardless of the media player you use. Music, films, and game sound will be played with the highest level of quality, consistency, and depth.
Other features include:
Totally significant interface.
Setup Wizard: To squeeze the best performance from your computer.
Automatically adjusts volume dynamics and spectral balancing. Audio in any media player or web browser, including MP3, video, Internet radio or CDs, will be digitally remastered to ensure a constant volume level and spectral balance.
Makes melodies sound louder and more energetic while revealing subtleties that you never knew about.
You can download Breakaway Audio Enhancer for Windows 10 from Claessonedwards audio store. Link: http://breakaway-audio-enhancer.findmysoft.com/
All about Audio Router What is it and how to Use.
3. Bongiovi DPS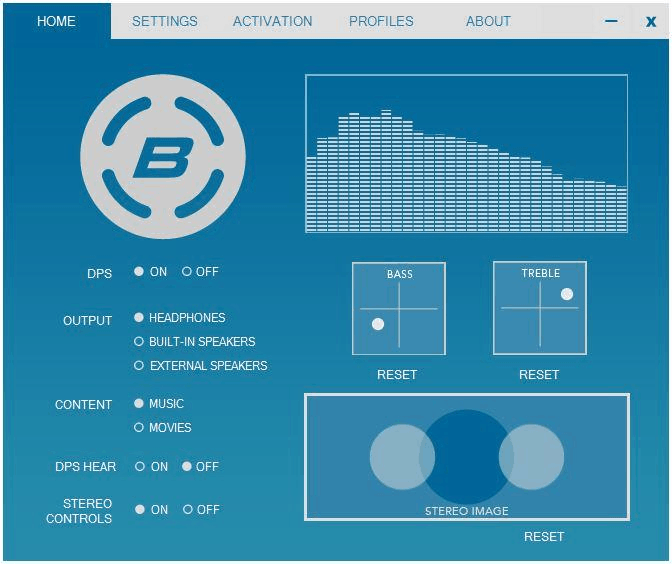 Bongiovi DPS is an impressive audio tool that transforms your listening experience.
Bongiovi DPS continuously adapts the incoming audio signal depending on the capabilities of your audio system, using a process that "listens" to the sound like people do. The instrument literally supports the most essential sounds for listeners at a very stable volume level. This strategy allows selected sounds to become more audible than normal everyday noise.
Other features include:
Select output – select the type of device you are listening to.
Content Selection – The DPS processor has two different settings because the audio signals for music and movies are very different.
DPS HEAR – This function lowers the volume to a safe listening level for the headphones while maintaining the clarity of the sound.
Bass and Treble – Easy-to-use bass and treble controls let you create the perfect tone for you.
Link: https://en.freedownloadmanager.org/Windows-PC/Bongiovi-DPS-FREE.html
Download Sades headset Drivers.
4. SoundPimp Audio Enhancer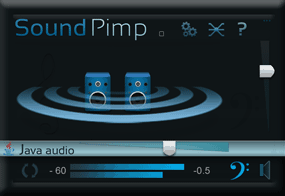 SoundPimp development team describes this tool as state-of-the-art sound enhancement software for your music and movies, allowing you to feel the sound.
This audio amplifier is not free. It costs $ 52, but the free lite version can be downloaded from the link above.
Other features include:
3D surround sounds.
SoundPimp is for loudspeakers only and should be turned off when using headphones.
It cancels crosstalk for all types of computer sound.
It recursively changes the audio stream so that the two speakers begin to work together in tandem, canceling each other's contribution to crosstalk.
Link: https://soundpimp-audio-enhancer.software.informer.com/1.8/
Complete guide to remove audio from video.
5. Boom 3D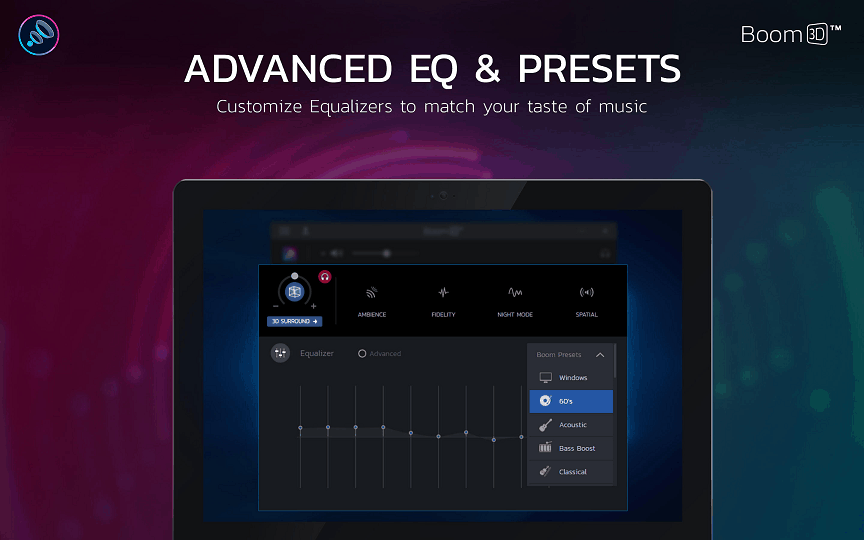 Boom 3D for Windows is the new app from Global Delight Apps. The original application was developed for MAC and iOS and was a crazy success and has attracted more than 40 million users around the world. The app is easy to use (even more straightforward than the old Winamp).
This tool is the best sound amplifier that you can install on your computer at the moment. As it runs on the patented 3D Surround Audio Engine algorithm, it can calibrate the acoustic sensations of users.
To improve the sound, you have a simple but powerful equalizer with presets, which you can use by default or create your own.
Another great feature that will surely help you with this is an excellent set of effects that you can combine with the equalizer to get a cleaner sound. You can also choose which earphones you have if you use them.
Speaking of headphones, Boom 3D is the first system in the world with advanced sound features. This allows users to play all content in Surround sound format on any headphones, from any player, any media, and any streaming service.
For all users who just want to improve the sound of their Windows and PC laptops, this is the perfect tool.
Link: http://boom-3d.findmysoft.com/
Check out how to fix volume taskbar icon not working on Windows 10.
6. Fidelizer audio enhancer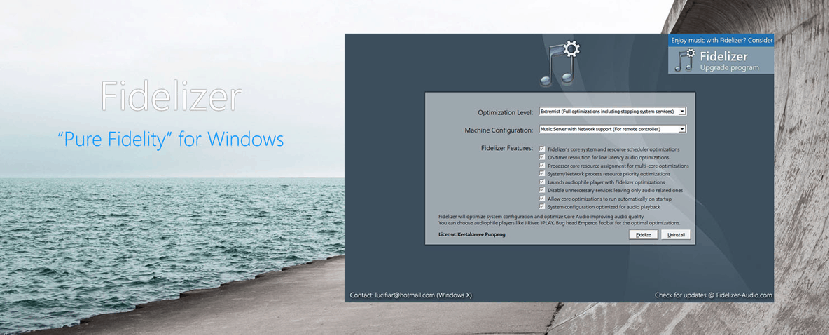 This tool turns your Windows 10 computer into an ideal oasis of sound, optimizing the system and its multimedia platform. Fidelizer is compatible with all audio programs available in the market, such as Spotify, YouTube, and others.
Other features include:
It isolates the core affinity of a non-audio process and reduces its priority so that it does not interfere with the operations associated with sound.
Seven audio profiles are available to choose from.
A complete installation guide is available.
Fidelizer comes in three versions: the free (Lite) version, the Premium Plus version, which costs $39.95 and the Premium Pro version, priced at $69.95.
Link: https://www.fidelizer-audio.com/
7. Realtek HD Audio Manager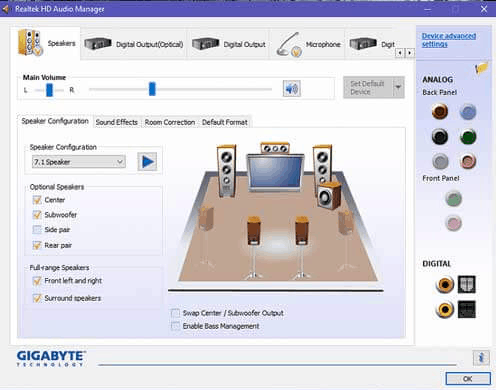 Realtek HD Audio Manager is the seventh-best Audio enhancer software in our list. It is an open-source graphics equalizer for Windows 10. You will get different options to change the sound settings in the speaker, microphone, stereo mix, and line input.
It has ten band equalization settings. And you can customize it without any effort.
You will get two types of sound effects options.
Equalizer: The frequency range of this band is 31dB to 16kdB. You will be able to customize the effects and save them for future use. You will get many options for presentations such as pop, metal, rock, jazz, club and more.
Another exciting feature is the Karaoke option. It will help you track the vocals of the song. If you wish to reset all the elements to their default values, just click Reset.
Environment: There are many environmental options for you to try. Such as living rocs. Sewer pipe, forest, underwater, and so on. The effects are outstanding, and it feels like it is natural. For example, if you select 'underwater,' you will hear the sound as if the source is underwater.
More features:
When you use the stereo speaker configuration, you will get the option of virtual surround sound. This feature encodes surround sound for transmission as a stereo output.
In Quadphonic mode, you will be able to create a virtual environment for stereo audio.
If you choose 5.1 speaker mode, you will get switching center and bass management. The switching center performs low-frequency sound playback from the subwoofer. On the other hand, bass management manages the noise distortion of the bass.
Room correction function will help you to set the effect according to the requirement.
Link: https://realtek-download.com/download-hd/
8. Viper4Windows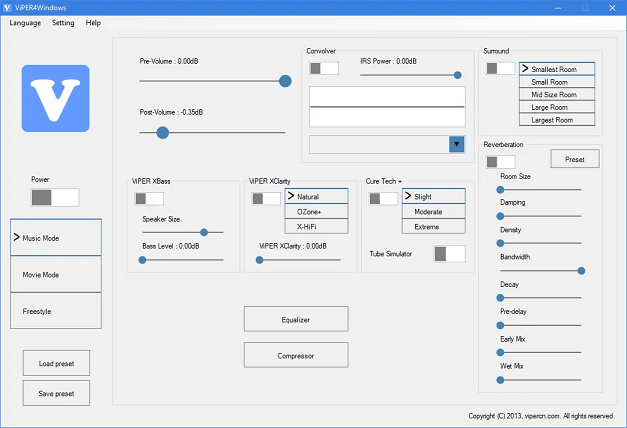 Viper's Audio is a substantial community-driven development group which has two quite decent applications under their belt, Viper4Windows, and Viper4Android. Many custom ROM developers of the android platform include V4A as a default audio processing software in the build because of its decent audio processing and output quality.
Three options can be activated – Music Mode, Movie Mode (video mode) and Freestyle (general). In each manner, you will find various settings for the available functions.
Several other options available are:
ViPER XBass – natural bass boost

ViPER XClarity – natural purification of the sound

ViPER Cure Tech + – protection for prolonged listening to music

Surround – several surround modes

Equalizer – an equalizer with several ready-made circuits

Sound compressor

Echo

Smart volume – automatic volume equalization (useful for video).
All these options can be customized as you wish. The highest quality reproduction can be obtained by enhancing the bass and cleaning the sound. At any time, you can enable/disable the program's operation with the "Power" switch, so you can check what the difference is before and after installing the improvements.
Link: http://vipersaudio.com/blog/?page_id=48
9. AudioRetoucher 3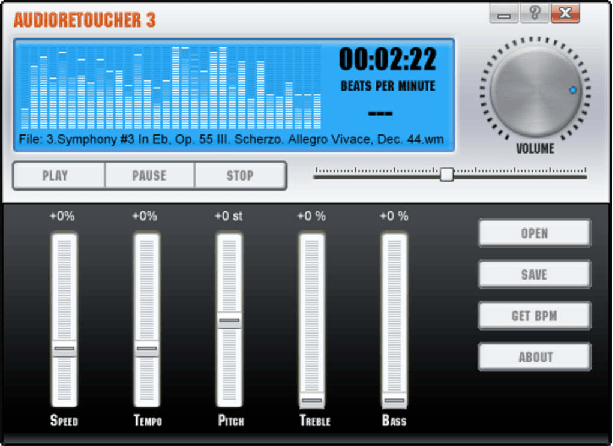 AudioRetoucher is a simple utility for retouching and processing audio files. It is intended mainly for novice computer users and people who care about time, stability, and ease of maintenance. It replaces complex settings in applications, providing quick correction of improperly downloaded music files and from other audio streams.
The program allows you to calibrate several essential sound parameters, such as tone intensity, speed, tempo or bass level. High-frequency amplification is also possible.
The application is straightforward to use. The intuitive interface consists of five sliders (Speed, Temp, Pitch, Treble & Bass). There is also a volume control, scroll bar, visualization and buttons which allows downloading the audio file, save sound with changed parameters, measure the number of beats per minute (BPM), control music playback (play, pause, stop) and many other exciting features.
Link: http://audioretoucher.findmysoft.com/
10. DFX Audio Enhancer
DFX Audio Enhancer is a free (for non-commercial use) and easy-to-use PC audio enhancer. The application can improve the quality of the reproduced sound while watching movies, listening to music, and calling through messengers.
DFX Audio Enhancer boosts volume and boosts bass. The program allows you to manually adjust the sound settings using the sliders (up to 5 settings) in the application window. DFX Audio Enhancer is installed in the system as an additional sound driver. This tool is added to the taskbar notification area. Customers looking for a free way to enhance sound quality will appreciate the free DFX Audio Enhancer app.
This is it. We hope that you have already found the best Audio enhancer software from our list, which suits your requirement the best. If you any query, you can reach us through the comment section below.
Link: https://www.fxsound.com/dfx-audio-enhancer