Netflix apps crashing for you? wondering what's the reason and how to fix it? follow this guide to learn more.
Netflix is the ultimate entertainment solutions for many of us, it's hard to think of living without Netflix these days. Most of us enjoy Netflix movies and shows on web browser but with the availability of Netflix app for iPhone, Android and Windows 10 more and more users tend to prefer app over web browser.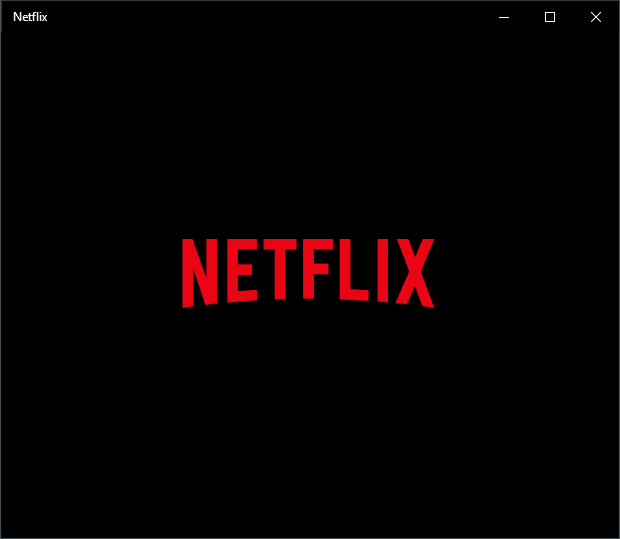 Some of the users are facing freezing and crashing of Netflix app for Windows 10 or as soon as you launch Netflix app, Windows 10 would crash. It is very frustrating while you are busy watching your favourite show or movie and app crashes suddenly. To help you in fixing Netflix App issues on Windows 10 here we have gather different solutions.
Why Netflix App Crashing?
The crashing of Netflix app on Window is mainly attributed to wrong date and time setting. Few others known reasons are buggy Silverlight plugin, missing app permissions and improper Windows firewall settings.
Fix Netflix App Crashing/Freezing on Windows 10
1. Windows 10 Date & Time Settings
It may sound foolish, as what time and date settings have to do with Netflix app on Windows 10, well, a number of apps on Windows uses system date and time settings to pull relevant information and display features. A mismatch in system time and date with Netflix server will result in app freezing and crashing.
If your Windows 10 date and time is incorrect, follow below steps to set it.
Search and control panel and open control panel
From the settings list, click on Clock and Region
Under that, you get the option to set the time and date.
Click on Change time and date
Netflix tvq-pm-100 (5.2.5) is also well known issue faced by several users and we have covered how to fix it!
2. Check Your Internet Connection and Firewall
You must check if your internet connection is working fine, as the app may crash if it fails to connect to the Netflix server. Also, if you have a firewall installed or using Windows Security Center then check if the Netflix app is not added into the block list.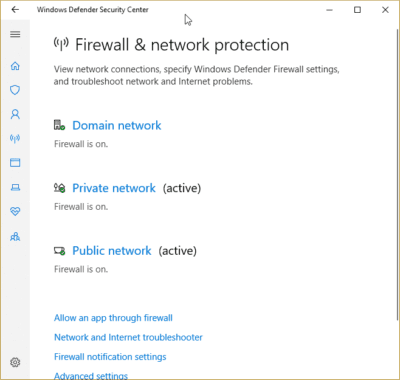 The best bet would be to disable your firewall or Windowsecurity firewall and network protection.
3. Silverlight Plugin
Silverlight plugin developed by Microsoft to help devs to create interactive applications for Windows, especially if it will be used for streaming or video playback. There are high chances that your Windows 10 has outdated Silverlight plugin or plugin is corrupted.
All you need to do is uninstall existing Silverlight plugin and grab the latest one from Microsoft website.
In order to uninstall, open settings or press win+i shortcut. Then go to apps and search Silverlight, from the list click on Microsoft Silverlight and hit the uninstall button.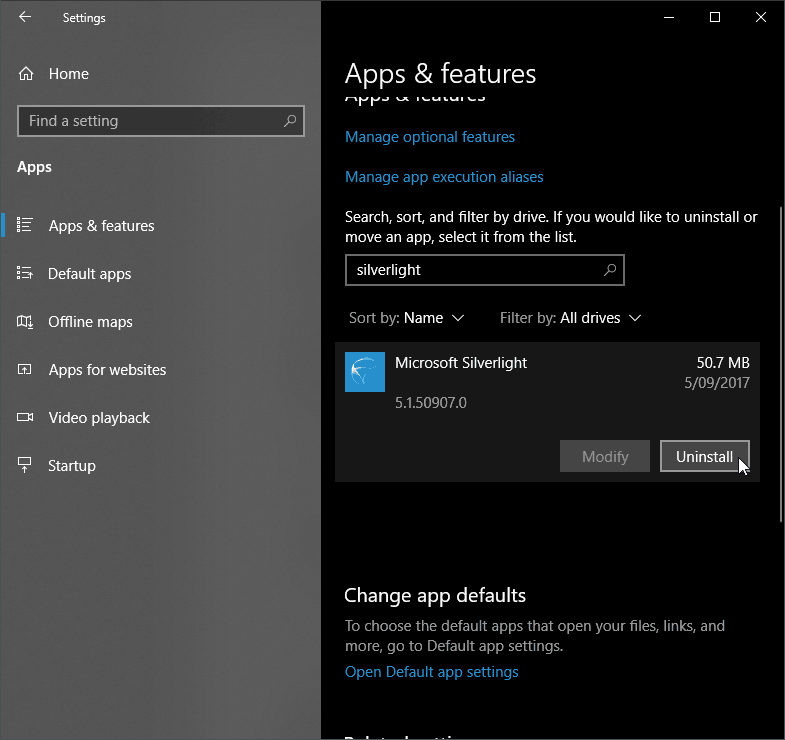 To get the latest version click here to download, once you finish downloading double click on the file to open and run.
4. Uninstall & Reinstall Netflix App
Often the issues like app crashing and freezing can be easily fixed by simply uninstalling and reinstalling Windows Store Apps. In order to uninstall Netflix app,
Search for Netflix at Cortana search
From the search result, right click on NETFLIX app and select Uninstall option from the context menu.
Click on the uninstall button on the confirmation dialogue box. That's it.
In order to reinstall, go to Microsoft store Netflix app and get it.
5. Monitor CPU & GPU Temperature
Sometimes the system freezing can be due to high CPU or GUP temperature. While watching Netflix shows in Full HD or 4k resolution can result in extreme stress on your process as well as GPU. If you the temps consistently stay can cause system freezing. If you are facing Netflix freezing issue then download CPU temp which lets you monitor the temperature in real time.
Now if while using NETFLIX app if you notice significantly high temp then that's the primary reason for your Netflix app freezing and crashing.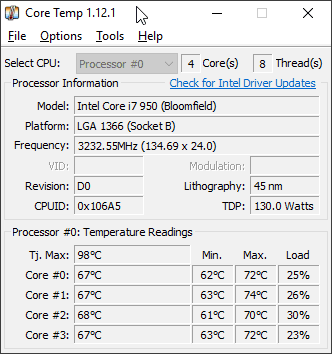 Unfortunately, the solution to this problem is not as simple as other solutions; you have to check your CPU/GPU cooler, reapply thermal paste, blow off the dust so that proper air flow is maintained. Also if you have overlocked your CPU Or graphics card then do revert back to factory setting and try running Netflix Windows 10 app.
Download Core Temp For Windows 10.
6. Update Windows
As Microsoft is treating Windows 10 as service rather the operating system, it keeps receiving update monthly as well as quarterly while major updates are pushed twice a year latest being Windows 10 October 2018 update. Despite every effort from Microsoft Windows development team to keep the bugs and issues in check, some may still slip in creating havoc for Windows 10 years.
From time to time, app crashing issues have cropped up after applying new updates. Your best bet would be to see if Netflix app crashing and freezing is not due to Windows update and at all if it is due to latest Windows updates, then look for subsequent KB(knowledge base) fixes that Microsoft offers to fix such issues.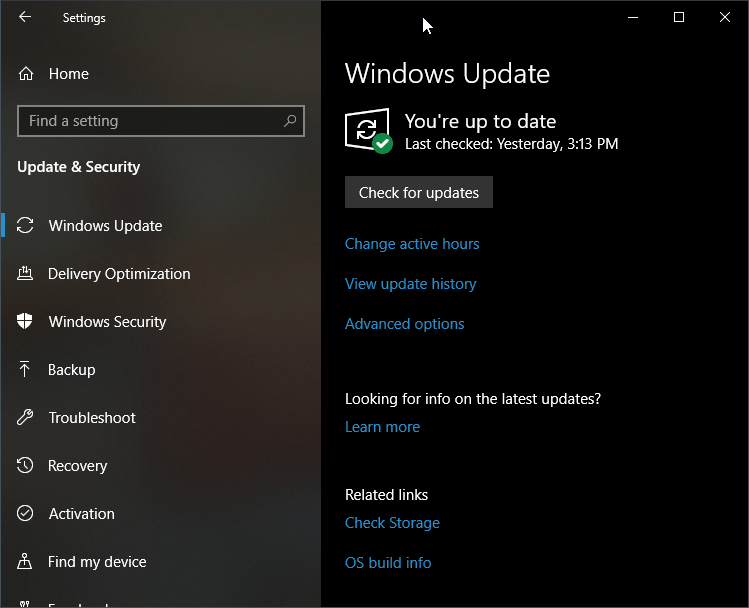 All you need to do is open Settings -> Update & Security -> Check for updates
7. Display & Graphics Drivers
The hardware drivers can lead to certain issues that are hard to pinpoint. The corrupted drivers often result in blue screen of death errors which are hard to recover unless you update your drivers.
Netflix app exhaustively uses display and graphics card drivers for video playback, the issue in drivers of this hardware component can cause freezing and crashes. You must make sure you have latest and update display drivers.
8. Watch Netflix shows in Web Browser
If nothing works for you, then the only solution is to watch the Netflix shows on web browser like Chrome, Firefox or Microsoft Edge by visiting the Netflix site directly.