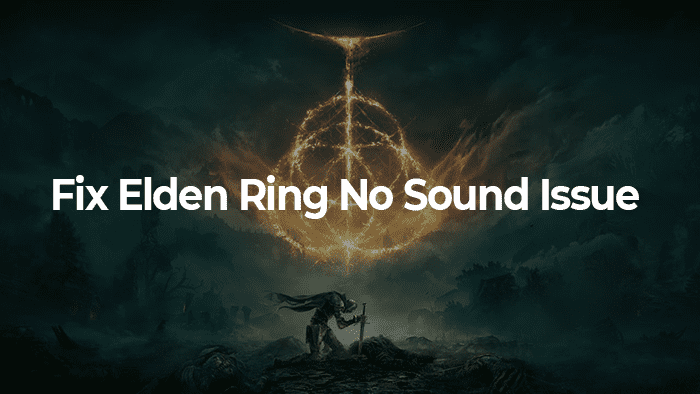 Are you facing Elden Ring no sound or audio issue? Unfortunately, several users are reporting these audio glitches while playing Elden Ring on PC.
Since the launch of Elden Ring in February 2022, the game has been plagued by several issues ranging from stuttering, white screen with crash, not launching on pc, controller falling to connect, constantly crashing and random connection errors to performance issues.
Elden Ring game not outputting sound is one more annoying issue that PC users are complaining about. Continue reading to know what cases Elden Ring no sound and how to fix it.
What Causes Elden Ring No Sound & Audio Issue?
The Elden Ring no sound issue is mainly caused by faulty audio drivers. The Windows spatial sound is also known to affect audio output in Elden Ring.
The Elden Ring game itself is ridden with several bugs and performance issues and the developers are working hard to releases the fixes via patches. Till the time fix for no sound/audio is released, you can try below fixes that have worked for other users.
While below solutions are more specific, your first troubleshooting step for no sound issue should be rebooting your Windows or restarting the game or disconnecting and reconnecting your headphone or speaker.
How to Fix Elden Ring No Sound Issue
Fix 1: Turn off Windows 10 Spatial Sound – Windows Sonic
Windows Sonic – a spatial sound solution offered in Windows 10 was designed to improve your overall movie and gamming sound experience. Unfortunately, for some users this feature results in Elden Ring erratic or absolutely no sound output.
Follow below steps to turn off Windows Sonic for headphones
Press Windows + I keyboard shortcut to open Windows Settings
Within Windows Settings, click and open System settings.
Now go to sound section from left pane.
Inside Sound settings, scroll and locate Related settings and click on Sound Control Panel.
Select your playback device and click on properties.
Open Spatial sound tab and use drop down menu to turn off Windows Sonic for headphones.
Now launch Elden Ring game and check if the sound is coming or not.
Fix 2: Update Audio Driver
A corrupted or outdated audio driver is the root cause of any sound/audio related issue on Windows 10. By updating/reinstalling drivers you can quickly fix any sound related issues.
You can use third party tools like Driver Easy to perform driver updating or follow below steps to do it manually.
Open Power user menu by pressing Windows + X keyboard shortcut.
Click and open Device Manager from the menu.
Uncover the associated hardware by clicking on "Audio inputs and outputs".
Now right-click on your playback audio device and select appropriate action. Uninstall if you want to remove and reinstall audio driver or update driver if you want to install latest audio drivers.
If you click on uninstall device option, then use "scan for hardware changes" to automatically install drivers for your audio device.
This should get back the sound of your Elden Ring game.
Fix 3: Change Volume Setting from Volume Mixer
It could be that the volume setting of your device is set to 0 or extremely low making it look no in-game sound. To verify and adjust volume follow below steps,
Launch Elden Ring game and press alt + tab to switch to desktop.
Right click on speaker icon on Windows taskbar.
Click and open Volume Mixer.
Now make sure the volume slider is all the way up for Elden Ring.
Also Check : Realtek HD Audio Manager Not Detecting Headphones.
Fix 4: Turn off Full Screen Mode
If you are using full screen mode while playing Elden Ring then switch it to borderless Windowed mode and this seems to help in fixing Elden Ring no sound and audio issue. IN order to switch to borderless windows mode,
Launch Elden Ring for PC
From the starting menu select System
Access Graphics tab from the rightmost section
Under Screen mode section change "Fullscreen" to "Borderless Windowed" mode.
Now relaunch your Elden Ring game and check if the no sound issue is fixed or not.
Fix 5: Use 3.5mm Audio Jack & Headphones
If you happen to be using wireless headphones, then try switching to wired headphone with 3.5mm headphone jack and not USB one. Some users suggested switching to 3.5 mm headphones from wireless helped them to fix Elden Ring no sound issue.
If you are using wired headphones only then try removing 3.5 mm headphone pin and insert again. Follow same steps if you are using PC speakers.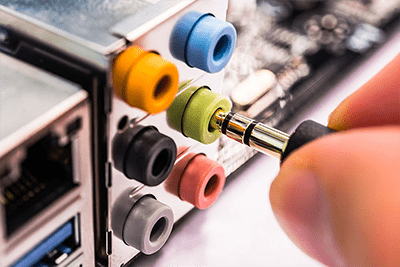 If you are using front header 3.5 mm jack then try connecting to the back of your motherboard 3.5mm headphone jack.
Fix 6: Verify Integrity of Elden Ring Game Files
If for some reason game files are corrupted or missing By using Steam verify integrity option you can fix the Elden Ring games files related issues.
Open Steam client go to library
Right click on Elden Ring and click on properties
Go to Local Files section
Click on "Verify integrity of game files.."
It would take some time for Steam to complete the verification of game files and redownload missing or corrupted one. Once it completes, relaunch Steam and start Elden Ring game and see if the no sound issue is fixed or not.
Fix 7: Reinstall Elden Ring
This would be the last and possible solution to fix no sound issue, if none of above fixes worked for you then reinstalling Elden Ring is the only left to do.
Open Steam and go to Library
Right click on Elden Ring from the game list.
Now go to Manage and select Uninstall option.
Once Steam completes the uninstallation of Elden Ring, redownload the game and install again.
These 7 fixes are based on the reports shared by Elden Ring gamers, they may not work for you entirely. In that case all you can do is raising the issue with support or waiting for patches to be released by game developer. If you happen to be using any sound related software, enhancer or equalizer, you want to check its settings or uninstall and verify if that's what causing the Elden Ring not audio issue for you.