Are you wondering whether the Driver Easy is safe to use to update drivers in Windows or it is one more scam just like fake Windows repair utilities or antivirus software?
Is the question on your mind, 'Is Driver Easy safe?' running like a never-ending alarm?
Before you put your trust in the list of these three million people, read this article and get to know more about Driver Easy and if it is legit or safe to use .
This article will give you an idea about Driver Easy, its features, how safe it is, why it's preferred by so many people, its pros and cons, and if it is a must for you to use it on your Windows device.
What is Driver Easy?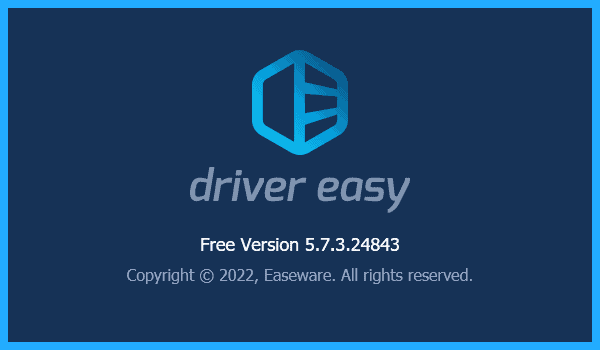 Driver Easy is the most preferred software that helps to update various drivers on Windows system which includes hardware and Windows drivers as well.
Easeware developed this program in 2009. Since then, Driver Easy has ruled the tech market as the wonderful driver updater. Almost three million people around the world trust this program to update drivers in their Windows system.
This is an easy to use program that can scan, update, and fix all the drivers in your Windows 10/11 with just a few clicks. In Driver Easy Pro's Premium version, just two clicks will satisfy all your driver update needs.
Is Drive Easy Safe?
Yes, Driver Easy is safe to use, since its launch in 2009, Driver Easy has been a trusted driver updater for many people. Many tech giants preferably recommend Driver Easy, despite the negative reviews available online. Driver Easy has proven safe by passing various virus tests from Windows security apps and other third-party antivirus scanners.
We also tested Driver_Easy.exe setup file on VirusTotal.com (online antivirus scanning service). The scan result of total 70 antivirus tools show, 69 as undetected of any malicious or suspected files or DLL. While only one, DrWeb flags it as unwanted program which is understandable.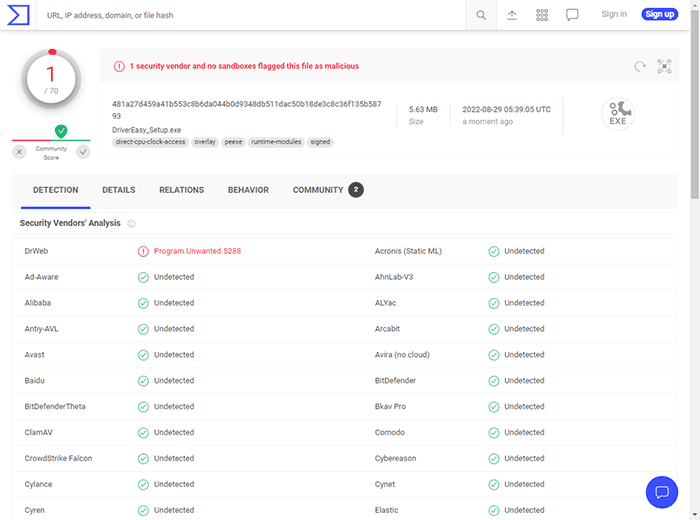 However, it is important to take some protective measures from your side. Always make sure you have take necessary back up of your Windows 10/11 and your personal data before installing any such software or utility as well while updating drivers.
If you want to download or install Driver Easy then make sure to use the official website www.drivereasy.com and do not download from any unknown source or from torrents website.
We strongly advice against using cracked version of Driver Easy, as it could be infected with virus or malware.
The simple user interface and the nature of being accessible to various windows devices had made it a better choice over other driver updaters in the market like Auslogics and Avast driver.
Many satisfied consumers still share good reviews online about Driver Easy.
Pros of Driver Easy
The software is known for its easy to use nature.
The user interface is convenient and comfortable that accessing it will never take more time out of your busy day.
It owns a driver database that is large enough to have 8 million certified drivers.
You have the privilege of fixing schedules for your updates.
It can also fix drivers when needed. And it is light on system resources.
You can enjoy all the features with the Driver Easy Pro software program.
The website has an offer; you can use the premium pack for 30 days; if you don't like it, you will receive 100% cashback.
Cons of Driver Easy
The free version can also give you a lot of features, but the download speed will be below-average.
The software's website may show you malware ads, so you should be careful while downloading.
The software doesn't take any storage space, but the updated driver files use a lot of storage space.
The Key Features of Driver Easy
Basic Features
This program works on a wide range of Windows versions like Windows 7, Windows 8.1, Windows 10, 11 and even Windows XP.
Note: If you have a device older than Windows XP, we advise you not to use this program because it will cause lagging issues in your device.
All the latest Windows versions that came after XP will be totally fine with Driver Easy working on it. The current and latest version of Driver Easy is V5.6.12. This is of a file size of 4.83 MB and can support 14 different languages.
It has a database that has stored up to 8 million WHQL certified drivers. The software is designed in such a way that it can scan the driver in your device and can find up to 50% of the missing portions that are available in the new driver update.
The software uses minimal CPU & memory while conducting the driver scan. The memory used is always below 100MB making very little use of the system resources.  It covers only Windows devices.
Supports Offline Updates
One of the best features of this software is that it does not need a network connection to update and scan network drivers.
You can enjoy this feature irrespective of whether the software is the free version or the paid ones.
Roll Back to the Old Driver Version
You have the updated version of the driver, but what if it does not work on your device, or you start facing freezing or crashing issue or you don't like the update?
No worries, Driver Easy's got an option called "Roll Back", with which you can cancel the updates and retain the previous one.
This is a recent upgrade available in the software. But this option works only in the Premium version of the software.
How Much Does Driver Easy Costs?
Driver Easy provides you with many features and updates, even with the free version of the software which costs you nothing.
Still, if you expect to enjoy more features, you can surely go with the premium version.
Features of Pro Version of Driver Easy
-It lets you update all drivers at the same time.
-It supports a high speed downloading process.
-And also, it automatically creates a restoration point.
-The Pro version completes the update process with just two clicks.
The unbelievable news is that all these beautiful features will not cost you much.
Just spend an amount even less than USD $30 and embrace your premium membership.
But after all this, the biggest question of today's era arises, 'is Driver Easy safe?'.
How to Install Driver Easy
Go to drivereasy.com, and on the top right corner of the page, you can find the downloading options.
If you want the free version, click on the free trial option. If you want the paid version, click on the buy now option.
Once the download is over, you can find the DriverEasy_Setup.exe in the Downloads folder on your device.
Double click on exe to launch the setup and follow on screen instructions and complete the setup.
Now, click on the Launch now button to open the software and run it.
How to Use Driver Easy
Scan and Download The Driver Files Using Drive Easy
You can notice a display panel of options to the left of the page. From there, choose the scan option.
When the scanning is over, the program displays all the driver files that need an update.
Click on the update button for the drivers you need to update. In the free version, you can only update one file at a time.
A system restore point window will display. Choose the 'Manually Create' option and then click continue.
Wait for the downloads to complete. The premium version makes the download process faster than the free version.
Once the download is complete you may chose to do automatic install or manual install in that case the folder where drivers are downloaded will be shown and you will need to install them manually.
The option to restore driver is available under Driver Restore section
You can also backup existing driver using Driver Backup section of Driver Easy
Install Drivers Using Driver Easy
After the downloading process is over, the install driver window will display. Choose the manual option and click the continue option.
When the file-explorer opens, copy the path of the driver folder.
Next, a new page will open, and you will be able to see a windows icon. Right-click on it and choose the Device Manager option.
Locate the driver file in the Device Manager and right-click on it to see a list of options. Select the update option.
Another window opens, select the 'Browse my computer for Driver Software' and paste the link you previously copied in the blank bar present on the page and click next.
The installation process begins. A window will show up when the process ends, announcing the completion of the installation process.
This software will help you install and update drivers of several windows devices like firmware, motherboard & chipset drivers, keyboard drivers, graphics card drivers, webcam, monitor and other attached peripherals.
Is Driver Easy Required?
No, you don't need to use Driver Easy or any other driver updater to update the hardware drivers in your Windows. You can do all that work manually. These software programs make the job easy for you, and that's it.
Just one click, and the updated version is yours if you use Driver Easy.
How to Delete or Uninstall Driver Easy
If you feel like you no longer need driver easy or it is not at useful for you and want to remove it the follow below steps.
Press Windows + I keyboard shortcut to open Windows Settings.
Under settings window, click on Apps and open the Apps & features settings
Now use the search option to type and search "driver easy"
Click on Driver Easy from the results and click on Uninstall button.
Click on yes in UAC dialogue box as well Driver Easy Uninstall prompt.
A message will be displayed once the Driver Easy is uninstalled.
Conclusion
'Is Driver Easy Safe' has been a common question among those searching for this software. The reason for this confusion is the malicious reviews online that have spread fake claims about the software. This software is a boon for all Windows users. You can update all your driver files with the click of a second.
Using Driver Easy is a very simple process. You won't need any help. Even if you are in a situation where you need technical support, you can approach Driver Easy's tech support team through email. The free version of the software itself can satisfy all your needs. If you want the paid version of the software, you can get it for a low price in the market.
Driver Easy makes the process of scanning & updating driver on Windows  a piece of cake.