What is Generic PnP Monitor?
The PnP monitor stands for Plug and Play Monitor. The generic PnP monitor works as a default driver when we connect external monitors to desktop/pc or laptop as secondary display. This driver is used as fallback driver so that you can use your new monitor before proper drivers can be downloaded and installed.

The basic driver for Generic PnP monitor is already installed in Windows 10 by default, so, while connecting any type of monitor to our pc, this driver should exist in your pc otherwise the monitor will not work.
On the second hand, Generic PnP default driver could result in some problems for the monitor like low resolution and decreased refresh rate. In that case, you will have to switch to the dedicated driver developed by the monitor manufacturer for its device. If you wondering what monitor you have then check this guide to quickly find monitor details.
What Causes Generic PnP Monitor Driver Issue?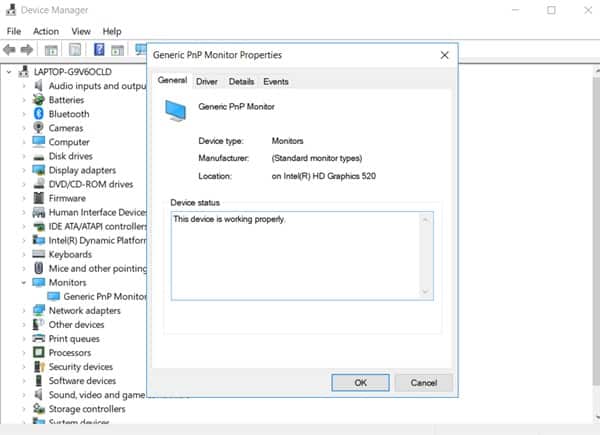 This problem generally occurs on desktop/pc or laptop if you connect an external monitor to it. This happens because external monitor which are connected through to Windows system via HDMI/DVI or Mini Display port needs separate monitor drivers or display drivers (Nvidia) to run it properly. Some possible reasons causing this problem are listed below:
Mostly this problem arises when you upgrade your pc from Windows 7/8 to Windows 10.
If you are connecting the monitor by using a VGA or HDMI cable while having a graphics card installed on your system.
When you try to connect multiple monitors to your system.
How to Fix Generic PnP Monitor Driver Issue [Windows 10]
1. Re-Plug the Monitor
If you are getting the generic PnP monitor issue then it might be possible that your pc is not recognizing the monitor or having trouble with the connecting cable. To ensure the correct connection, re-connect your monitor with your pc.
Turn off both your pc and the Monitor.
Pull out the monitor connection cable and its power supply cord.
Plug in both the cords again and reboot your computer.
After the reboot, the system will detect your monitor again and try to install its recommended device driver.
If you are still not able to find your real monitor in the device manager then proceed to the next step.
2. Update Generic PnP Driver
The issue might get solved if you try to update the default generic PnP driver. Follow the procedure given below to know the complete steps to do this method.
Press the Windows Key+X button together.
Click on Device Manager option.
When the Device Manager open, double click on the Monitor and Right click on the 'Generic PnP monitor' option.
Click on the option update driver.
Now select 'Search Automatically for Updated Driver Software' option.
The system will automatically find a suitable driver and install it. Restart your pc after the install.
In the case of Desktop:
If you are using a desktop then, do the steps given below after clicking on update driver option.
Select 'Let me pick from a list of device drivers on my computer'
Check the box given for the option 'Show Compatible hardware' and you will see the option given for your real monitor.
Click on the real monitor and click the Next button.
3. Update Graphics Card Driver
Graphics card is responsible for all type of visual outputs including external displays like Monitors. You have to check for the latest updates for Graphics Card drivers and finish them if they exist. To do this, follow the steps given below:
Follow the above steps to go into Device Manager.
Now, double click on the option Display Adapters and right click on your graphics card.
Click on the Update Driver option.
Select 'Search Automatically for Updated driver software'.
Restart your computer after the driver is installed.
4. Uninstall Generic PnP monitor
If the driver is showing up with an error mark the rolling back to the previous driver many times helps to get this issue solved. To install this driver, follow the steps given below:
Do first 3 steps same as given in Method 1.
Right click on Generic PnP monitor and click on Uninstall device option.
Click on the Uninstall button on the next dialog.
Now, select Scan for Hardware Changes.
After doing this, your pc will find your monitor again and install the driver for your real monitor, not for generic PnP monitor.
Follow the next step if the problem is still appearing.
5. Run Driver Easy on your pc
Driver Easy is a utility software used to scan and detect all the driver problems in your pc. It suggests possible solutions to solve the problems. It also gives you the latest driver details to get your problem solved fast.
You can use its both free or professional version to fix your Generic PnP issue. To do the complete procedure, follow the steps below:
Download Driver Easy software by going to this link (https://www.drivereasy.com/DriverEasy_Setup.exe) and install it.
Click on the Scan Now button given on its main Window.
You will see all the outdated and faulty drivers after the scan completes.
If your Monitor driver has problems then it will appear here definitely.
You can download it by clicking on the update button or you can update all the drivers by clicking on the Update All button given on the bottom.
Restart your pc after doing all these steps to apply the effects. If still the issue persists, go to the next method.
6. Use System File Checker
This tool is used to find the corrupt and damaged system files including faulty drivers. It is also able to repair them. We will use this tool to correct the problem step by step given below:
Search for Command Prompt in Windows 10 search bar.
Right click on Command Prompt and click on it then click on Run and Administrator.
Once the command prompt opened, type there the text shown below:
sfc /scannow
Click on enter and wait for the time when the process completes.
It will take some time depending upon the number of files in your pc. Restart your pc after the scan completes.
7. Check for Windows Update
Windows update could be the reason for this problem but a Windows keeps grooming its Windows 10 by releasing new bug fix update time to time. If you have any pending update then finish that immediately. To do this, follow the steps given below:
Press Window+X together and click on the Settings option.
Click on Update and Security.
If the system is showing any pending update then do it by clicking on install now.
You pc will restart after doing this update. If the problem is still following you then proceed to the next step.
Download Generic PnP drivers for Windows 10
There are some popular monitor manufacturers who provide monitors and they are mostly preferred like HP, and Lenovo. You can find the drivers according to your monitor's model and type and download them from their official websites. Below are the links to these manufacturer website's driver download pages where you can find the driver for your monitor.
1. Dell
The official Driver and Download page of dell will provide you the drivers for most of the monitors manufactured by them. You can find the driver by manually filling the model number or click on detect pc to let them find the model and driver for your monitor.
(https://www.dell.com/support/home/in/en/indhs1?app=drivers)
Check how to change Dell Laptop BIOS logo.
2. HP
HP also gives us a way to manually download and install the driver for every kind of its product in our pc. Fortunately, there is also an option to search your Monitor with your Model no, Serial no, and download the driver manually. You can click on this link to go to the official driver download page of hp.
(https://support.hp.com/in-en/drivers/products)
3. Lenovo
By going to the link given below, you will be able to download the driver for your monitor on any windows operating system. Just click on Drivers and Software and fill your monitor model or serial number and get the official driver from Lenovo.
(https://support.lenovo.com/in/en/)
Here the guide to fix Lenovo laptop screen is flickering or stuck on splash screen.
4. Acer
Find the driver for your monitor on the official website of Acer by filling model or the serial number of your monitor. The link to the official download page is given below:
(https://www.acer.com/ac/en/US/content/drivers)
5. ASUS
In case of the Asus monitor, you can also find its driver from the official website by going to the link below.
(https://www.asus.com/us/support/Download-Center/)
Check out best laptops for 3D Studio Max.