Sometime back we had covered an article on how to fix Lenovo laptop not booting. The article went in great detail about how you can bring back your dead Lenovo laptop. This article deals with yet another issue encountered by several Lenovo laptop users.
The issue is pretty much similar to not booting laptop except in this case your Lenovo laptop is stuck on Lenovo splash screen and doesn't boot into Windows or throws any error message.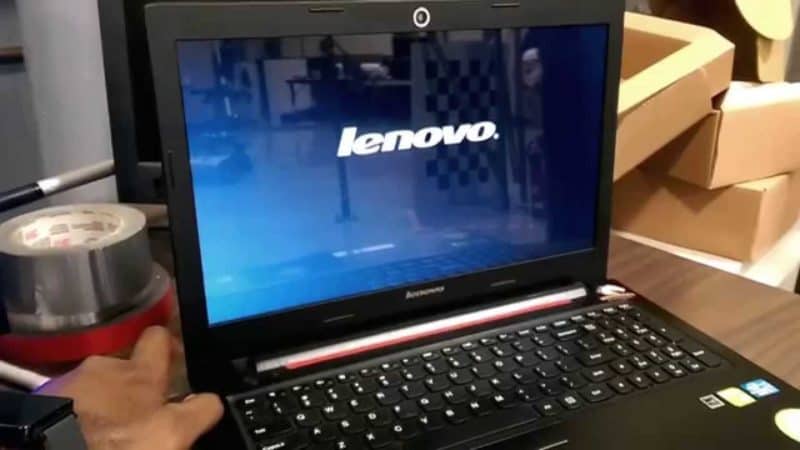 Below are the different methods which you can follow to fix your issue. You may have to perform different troubleshooting steps, so make your self-comfortable with different technical terms in case you aren't tech savvy.
Fix Lenovo Laptop Stuck at Splash Screen
1. Power Cycle Your Lenovo Laptop
Power cycling means draining all the power out of your laptop battery and then rebooting your laptop. In order to do the power cycling, unplug your Lenovo laptop from the charging and then press and hold the power button for 20 seconds. Now connect the charger only and hold on power button for 10 seconds. That's it now reboot your laptop and see if the issue is fixed or not.
2. Remove Laptop Battery
If power cycling didn't fix your problem then taking out the laptop battery and then pressing power button for 30 seconds might do the trick, however, you might find it hard to remove the battery if you haven't ever done that.
3. Take Out BIOS Battery
If simple power cycling and taking out laptop battery didn't work for you then this long shot might work for you, why long short? Because you have to take out a couple of screws to access and remove BIOS battery which is not easy  for the novice user and you might need help from your techie friend.
4. is your Lenovo Laptop Got DVD Drive?
Well, it may sound bit absurd as to how DVD drive can be the cause of this issue, but that's what we learned from one of the Lenovo user, after all possible troubleshooting, removing DVD ROM drive from laptop solved the problem. Soe advice if you can access and disconnect DVD ROM then do it and see if it helps you.
5. Lenovo OneKey Recovery
It's good to know Lenovo has already thought about such problems and offers a simple solution of resetting the laptop to factory default which could fix trivial issues like stuck on splash screen. In order to perform Lenovo OneKey Recovery, locate the NOVO, usually located near the power button at the top or around the left side panel. You will need to press and hold NOVO button while laptop is turned off.
This would boot your system into NOVO recovery menu, use arrow keys to move around options and select System Recovery option.
6. Disable Lenovo Resolution Centre/Lenovo Service Engine in BIOS
Unfortunately, certain things designed with good intention ends up doing more harm than good. That's what Lenovo resolution center or Lenovo Service engine does here. A number of users have suggested that disabling these settings in BIOS helped them to get Lenovo laptop up and running from splash screen issue.
The reason behind these services or settings being an issue here is, it sometimes prevents Windows update performing needed changes to the system at the start by completely blocking it, thereby resulting in an incomplete update and broken system.
Final words
If no solution mentioned about helps you in fixing Lenovo laptop stuck on splash screen issue then all you can do is RMA your laptop if it's under warranty and get it fixed. If its out of warranty then look for a local repair shop or an IT technician.