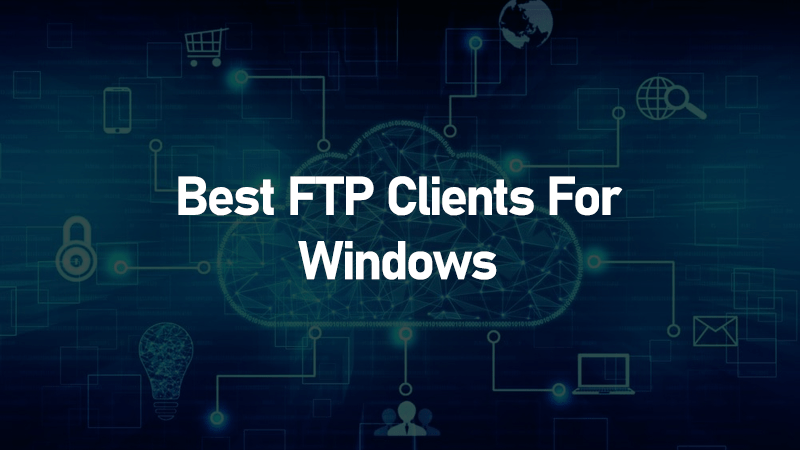 FTP or file transfer protocol is a necessary software to have if you are working around with websites, files, servers, and networks. The primary purpose of employing a File Transfer Protocol is that it can be used to pass on and receive data over an IP/TCP protocol. Once it gets installed on your computer, it will get connected to a server and transfer files back and forth. For it, you will have to have two computers, namely the server and the client. You must also be aware of the FTP login information of the server, and the username to be entered along with the password. All this information will be provided to you at the time of the registration of your account.
What makes FTP easy to use is that every computer system supports it. These days most of the web hosting service providers have the option of free uploading and managing digital content. This usually doesn't go well with huge files, and this might leave you feeling all confused. If this is the case, then FTP is here for your rescue. It is a secure, reliable, and convenient to use program which is a must-have in your computer to make uploading of files quicker and easier. You will find a zillion different FTP clients for your windows ten platform. Here is our list of the top 8 FTP clients for windows 10-
Best FTP Clients for Windows 10
1. WinSCP – FTP Client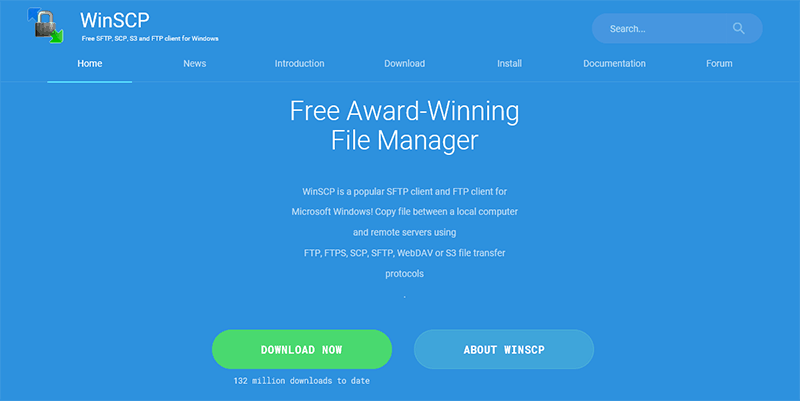 WinSCP is one of the latest FTP software which has already won awards for its efficiency and usability. It has an easy to comprehend graphic interface that also allows drag and drop operations for managing files. Along with this, it has protocols like SFTP, SSH, and S3. All these features make it a truly modern FTP software.
It is available free of any charges and is an excellent and reliable source of the file transfer. It enables easy managing of files and folders, allows remote text editing for its users. What truly makes it a great FTP application is the vast range of advanced features it has, which include- Widows integration, language translation, command-line interface, puTTY support, and text editor.
Pros
Extensive documentation
Lightweight
Quick
Award-winning
Cons
Some users might have difficultly trying to work out the administrative section of WinSPC.
Download WinSCP Windows FTP client.
Similar to FTP, those working with servers and web-hosting, also needs to deal with SSH. Check these Best SSH clients for Windows.
2. FileZilla – Windows FTP Client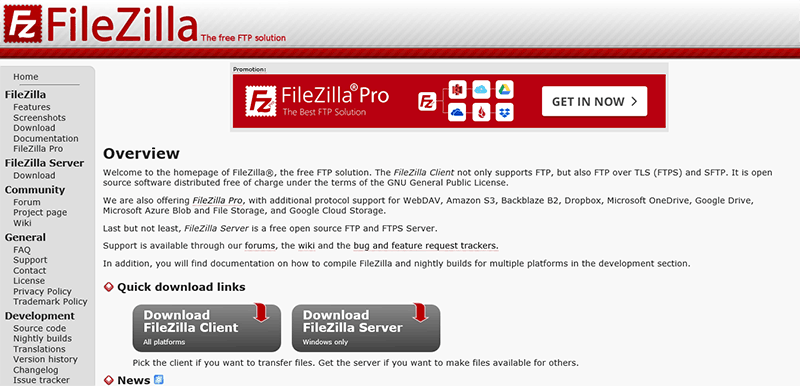 This probably one of the oldest FTP applications still available and is widely used and appreciated for its user- friendly interface. Its rock-solid reputation rests mainly due to the wide range of platforms it supports, which include-Linux, Windows, OSX, and the easy setup feature that is loved by its users. It supports the following network addresses- IPv6 SSH, FTP, and also FTPS. It supports the auto-resume option only on files over 4 GB after a lost connection gets reconnected. Its advanced features list has functions such as- the bookmark feature, remote file editing, network configuration, and smooth transfer of huge directories of files and folders.
Pros
Download it from the developer's page, and it will be add-free.
Easy to use for those who do not understand the tech- jargon.
Secure transferring files between internal servers.
Easy to use with putty.
Cons
Saving encryption keys can get problematic for some users.
It does not provide a proper tutorial for all of its features.
3. WS_FTP – Client
This offers more security than any other FTP application in this list. Over the years, this application has developed into the most bulletproof one amongst other FTP clients. It has the 256bit AES encryption for OpenPGP and supports SSH/SFTP, FTPS, SSL, and OpenSSL, and other protocols. Some of the fantastic features provided by WS_FTP include- drop folder for desktop, lightning-fast speed transfers, advanced backup feature, file transfer resume feature, and high-end security while transferring sensitive, private data. It also dissolves all administrative responsibilities making it simple to use and operate.
Pros–
Excellent security features guarding all your sensitive information.
Cons–
Advanced level application system, so beginners might find it difficult to operate.
4. Cyberduck – Windows FTP Client
It is another most modern and up-to-date FTP application on this list. It offers support for cloud file transfers, browsing, and providing support to platforms like- FTP, WebDAV, SFTP, S3, Openstack Swift, Backblaze, Google Drive, Azure, Dropbox, and OneDrive.
This broad-ranging support and user- friendly interface makes it one of the most preferred FTP clients. It's most admirable of all features is the bookmarking and SSH function, which makes it an ideal choice for novices.
Pros–
It works efficiently for small and single file transfers.
Easy- to- use interface, especially for beginners.
Cons–
No resume transfer option.
Users have faced issues regarding the transfer of multiple and large files.
5. Total Commander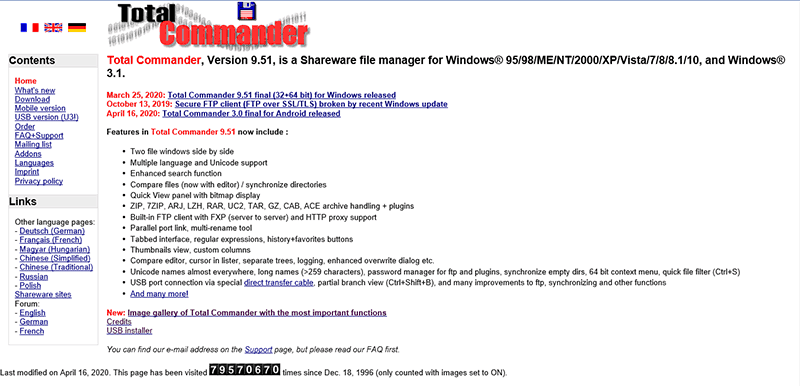 Total Commander has supported windows platforms, its earliest being Windows 95.  This makes it one of the oldest windows supporting FTP clients, which is still being widely used for windows 10.
Despite being the oldest clients, Total commander has all the modernized and advanced level features for its users. It provides easy comprehension of actions and information all laid out in a single screen that is split into local files and the FTP server. Along with this two-file window support feature, it provides support for zip files too.
Other features offered by Total commander include- diverse language, thumbnail viewing options, custom columns, and Unicode options, augmented searching, easy comparison of files, and management of directories. It has an in-built FTP client with HTTP and FXP proxy support.
Pros-
Cloud plugging option
A robust file search feature
Easy comparison of files and highlighting of differences.
Provides file renaming options.
Users can customize it as per their requirements.
The dual-panel layout is a hit amongst users.
Cons-
It does not support multiple platforms.
It offers a classic interface that might not go down well with several users.
6. CuteFTP
This FTP client has been making its presence felt in the market since the early 1990s and is laden with features making it a top contender in this list. Other than providing support for several protocols, it also grants its users the freedom to program their scripts and use the file transfer engine within itself for file transfers. In this way, it effortlessly allows file transfers to take place.
CuteFTP is a wonderful tool for all professionals and experienced users who already have an umpteen amount of knowledge about FTP. It enables them to make file transfers easily and in a much less cumbersome way. CuteFTP is premium class software offering a reliable and super supportive base and features list for both MAC and Windows users. It employs SSL and SFTP protocol for transferring files, thus making the transfer take place without any glitches.
Pros-
A simple interface makes it easy to be used by a wide range of users.
Quick, almost timeless file transfers
Feature-rich software
Optimized file management system
Cons-
Not open-source software.
Some users have problems navigating the setting menu option.
Users previously faced issues with multiple connections.
7. FireFTP Client For Windows 10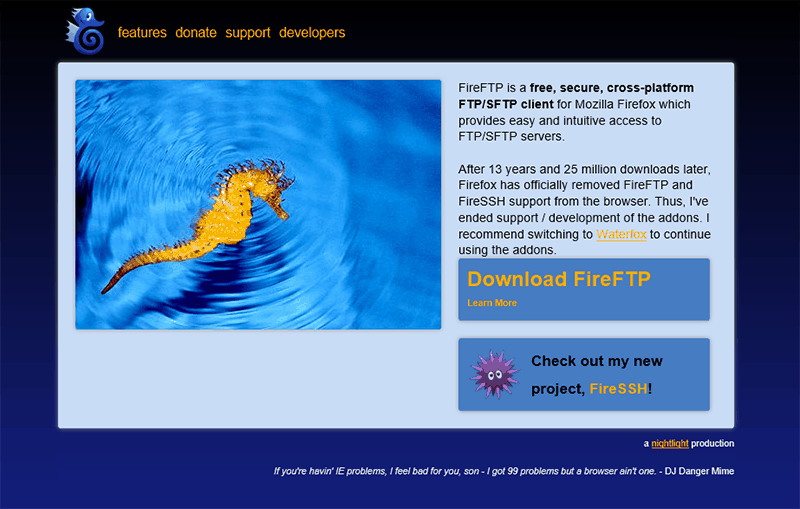 It is a free and cross-platform software that started in the mid-2000s. It was started as an extension of the old Firefox browser. It comes with its range of tools and features which are otherwise hard to find in other FTP softwares. It supports Windows, Linux, and MAC OS, thus making it one of the most widely used and accessible FTP client offering high- quality performance across all platforms.
Some highly advanced and noteworthy features provided by FireFTP include- file compression options, drag and drop functionality, proxy support, file hashing, and IPv6 support. It is user-friendly and is available in more than 20 languages.
Pros-
A browser extension is offered easily
Supports remote editing
Lightweight and easy to use
Though an extension provides support across several protocols like- FTP, FTPS, etc.
Allows synchronization of directories.
It Supports the highly- popular UTF-8 encoding set.
 Cons-
Has no desktop software to offer.
8. CrossFTP – FTP Client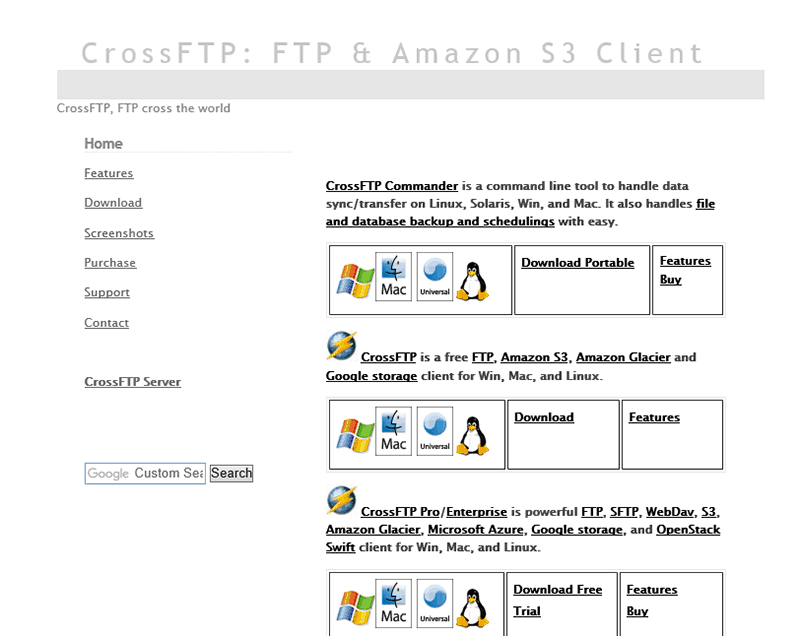 Since its release in 2017, CrossFTP has been able to carve a niche for itself as a unique FTP client available to users and developers. Amongst some of its most valued features is the password encryption option, fast and efficient searches, and the notifications options.
Other than these, it also allows users to bookmark their favorites, zoom preview options, internalization, and batch transfer options. It also provides pre-programming of schedules for file transfer in the future and offers cloud storage facilities like Google Drive and Amazon Glacier.
Professions requiring command line operation must go for this FTP client as it provides this feature and is durable as well. Apart from all these new features, it offers several other commonly available features too. Therefore, it continues to remain the first choice of people who wish to transfer multiple files within a single day with minimum fuss.
Pros-
It Offers Unicode support, especially for international files and folders.
A mixed range of unique and practical features.
Cons-
Its free version has a limited number of features available for users.
Conclusion-
Dealing with file transfers has become an undeniable part of basically every professional or student's life. Alongside transferring these files, we also have to deal with several privacy and security threats to our highly sensitive information that may be kept in these files. FTP software provides you the required security ad support for saving and sending of files along with allowing you to download or upload an extensive amount of data online.