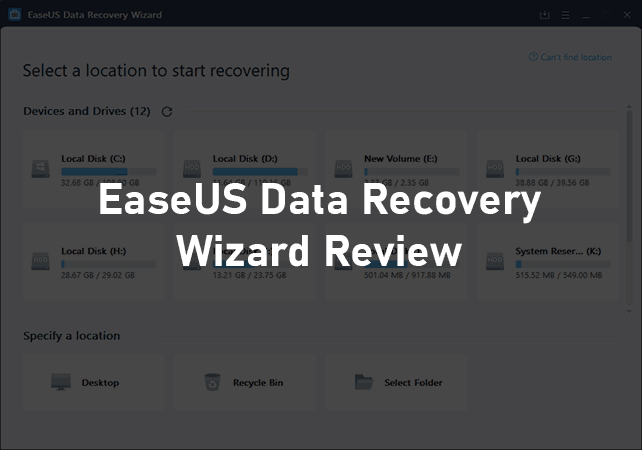 Truly justifying its name, EaseUS offers easy and simple steps to recover your lost data. But, when choosing the right data recovery software, most of us are ought to get confused. The availability of numerous software applications with similar features is the reason why we find such difficulties.
Let's face it. None of the data recovery software can recover 100% of your lost data. Talking about EaseUS, well, it's not an exception too. But the software does a formidable job when you compare it with others. As our professional team surveyed several data recovery software, the EaseUS Data Recovery Wizard Pro offered the best performance. The application successfully left trails of certain lost or deleted files of which its competitor software couldn't even get a trace.
However, here we have reviewed the EaseUS Data Recovery Wizard Free in all the possible aspects. Therefore, if you are about to choose data recovery software, then the article worths having a look!
EaseUS Data Recovery Wizard- Pros & Cons
Pros
Easy to use interface
Amazing Customer Support
Super Fast backups
256-bit encryption ensures security
Cons
Not customizable at all
Inflexible pricing, much expensive for Mac OS
Don't have the option of full drive scan
Complete Review of EaseUS Data Recovery Software
As promised earlier, here we have come up with a complete overview of the software. Starting from plans and pricing to analyzing its performance and efficiency, we have covered every aspect.
Let's dig in!
EaseUS Data Recovery Software: Pricing & Plans
EaseUS offers three plans, one of which is free and two other paid plans. The free version of the software allows you to recover up to 2GB of lost, hidden, or deleted data or photo recovery.
But if you are using a computer powered by Windows operating system and need unlimited data retrieval opportunity, then purchasing the Pro license is a good option.
You can either choose the $69.95 per month or a yearly plan that comes at $99.95 per year. A lifetime plan of this version is also available; you will have to spend $149.95 for that.
Apart from these two versions, EaseUS have another advanced version of Pro+Bootable Media. This comes at a $99.90 per month package. The Pro+Bootable media version allows you to boot with downloadable WinPE when a system crash happens.
If you are Mac OS user then, you can get an upgrade to the Unlimited Pro version at $89.95 per month. The pro version for Mac OS users has a list of features that includes, iTunes backup recovery, free remote assistance, and the option to create a bootable USB drive.
EaseUS Data Recovery Software: Features
EaseUS Data Recovery Software has some of the most advanced features you can ever think of. For starters, the application offers some simple yet effective tools to rapidly recover your lost or damaged files.
The hard drive recovery software allows the recovery of files even from the formatted storage devices. Not only that but also users can retrieve their corrupted or inaccessible files from damaged drive and external storage devices.
Offering both the deep scan and quick scan feature the software lets you store the recovered data even when the process of scan is still running.
The Mac OS version offers specific features for mac users like Time Machine backup recovery, smart disk monitoring option, and iTunes backup recovery.
However, the EaseUS Data Recovery Wizard does not have an option to clone your hard drive and create a bootable disk or USB drive in case you are facing some problem with the startup of your computer. Alongside an option to recover data from physical storage such as CDs and DVDs would have made this application much more compact.
EaseUS Data Recovery Wizard: Performance
We installed EaseUS Data Recovery software on a Windows computer with 1TB storage and 8GB RAM. While performing a quick scan, the application took around a minute and recovered all the files we deleted intentionally for the test purposes. While working the software consumed 30% of the CPU storage, and the use of RAM was around 250MB. Therefore, it's assured that you can easily use this software at the same time when running other software on your PC.
We performed a deep scan as well. However, the time required to conduct a deep scan was way longer than the previous one. To be precise, the software took around 2hours and 23 minutes to complete the whole process. While the other software we used took a minimum of three and a half hours.
Hence, we can easily conclude that EaseUS has the fastest scanning and recovering feature among its competitors. Apart from that, since the software does not consume too much system resources, it's easy to run the recovery process in the background while working with other applications on your system.
EaseUS Data Recovery Software: Customer Support
EaseUS has one of the best customer support portals in offer. For those who are not that much technically sound- better customer support is a significant reason to choose this software. EaseUS offers a complete user guide to their customers through searchable support articles, user manual, which is easily available alongside video tutorials to ensure a more detailed guide.
Apart from this, EaseUS provides a Live Chat Support portal as well, which is not available with the low-end data recovery software company. During business hours, the Live Chat Portal can assign you with a support representative immediately as you connect. Time other than business hours you can send an email and talk about your problems.
One thing where customer support can improve a bit is offering technical support over the phone. The telephone support of EaseUS is only for pre-sales inquiries; it does not offer technical support.
Final Verdict
To be fair, we have found the EaseUS Data Recovery Wizard quite impressive. The software is easy to use, available for both Windows and Mac users. If one has a small data recovery requirement, the free version easily does the job. Talking of the performance, the application can easily leave its competitors by far.
Though upgrading to the paid version is a little expensive but the feature it offers- worth spending each penny!