Are you, like us, in search of the best and reputed torrent-client to download famous movies like "Terminator: Dark Fate", especially now when you are stuck at home due to the coronavirus lockdown?
Undeniably, torrent is by far one of the most brilliant discoveries of modern technology. Making the use of torrent, it has become incredibly easy to download countless files online, whether they are any recent French or Latin movie, excellent adventure games, soothing music, binge-worthy TV series or any software. You just simply need to have access to one of the remarkable torrent clients, a fully functional internet connection, and either any of the Mac/PC/ Android/ iOS devices and you are all set to nail this lockdown period.
Prior to torrents, peer 2 peer networks were the most popular medium to download anything off internet. Although most peer to peer networks have be shutdown there still few out there to grab your favorite piece of software or movie. Here are the best p2p applications for you.
Nevertheless, with a million torrent clients out there, selecting one that fits all your needs can be a tad bit challenging.  Each downloaded torrent software is distinct in looks and organization, exemplary features and has its own pros and cons. This makes it daunting for an average user to take his pick from the best of the best.
If you are one of those who are striving to take your pick from the innumerable brilliant torrent clients out there, then there is good news for you. No need to search far and wide, for we have got you covered. In this article, we will walk you through some top-rated torrent clients for Mac/ PC/ Android/iOS that will not only help you in downloading all kinds of torrent files swiftly and easily but will also come handy in the long run.
Here is the long list of best torrent websites to download torrents.
Thus, without any further ado, let's get straight away plunge into the deets. Shall we?
Why Do You Need Torrent Apps/Clients?
Torrent apps are nothing short of spectacular tools that offer its users the opportunity to download large data files in a convenient and hassle-free way. Using various exemplary torrent apps, one can download music, applications, games, images and multiple videos smoothly.
Curious to know more about why you need torrent apps or how they can make your day-to-day life easier? Have a look-
All torrent clients are available easily

They let you choose which file to download first

They allow remote downloading

They help you resume the downloads effectively

They enable maximum download speed that can never be attained with the direct download methods

They can help you watch previews while downloading the movies

If any peer fails, then these clients help you to continue downloading from other peers

One does not have to rely primarily on the central server. Thus, it ensures secure and better downloading

Most torrent apps have a faster connection

All of these torrent client apps are absolutely free of cost. So, one doesn't essentially need to subscribe

Torrent apps are not only about downloads; it can also be used for sharing. Any day you can use torrent to share some files with the whole world
List of Best Torrent Clients
Now that you are well aware of all the significant reasons for which you may need torrent clients or how various torrent clients can help you, it's time you become acquainted with some top-rated torrent clients that can help you smooth sailing in the course of your downloading.
We know that you lack time to delve deep, hence, we have done a bit of extensive legwork and put together this comprehensive list. It can help you choose the best free client that can meet all your fundamental requirements and will help you keep those that are simply no good at bay. Whether you are in need of something really simple that easily gets your work done, or something that is more high-tech and advanced, there's definitely something for you here in this list.
Here is the list of quality and best torrent clients at a glance-
qBittorrent

uTorrent

Vuze

Deluge

BitTorrent

Transmission

Folx

BitLord

iTransmission

Seedr.cc

Mediaget

iDownloader

Flud

tTorrent Lite

FrostWire

aTorrent
Best Torrent Clients For Windows
No matter whichever platform you use, your windows do not have the ability to recognize torrent files by default. This is primarily the reason why you need a trustworthy client for your windows that not only connects you to other P2P users but also helps you download torrent files safely from the web.
Wondering "What are the best torrent clients for windows of recent times?" "Which windows torrent client will offer you the fastest download speed while providing you ample customization provisions?" Well, here we are to put a stop to all your queries. Have a look at the list of our recommendations for the best torrent clients for windows in 2020.
qBittorrent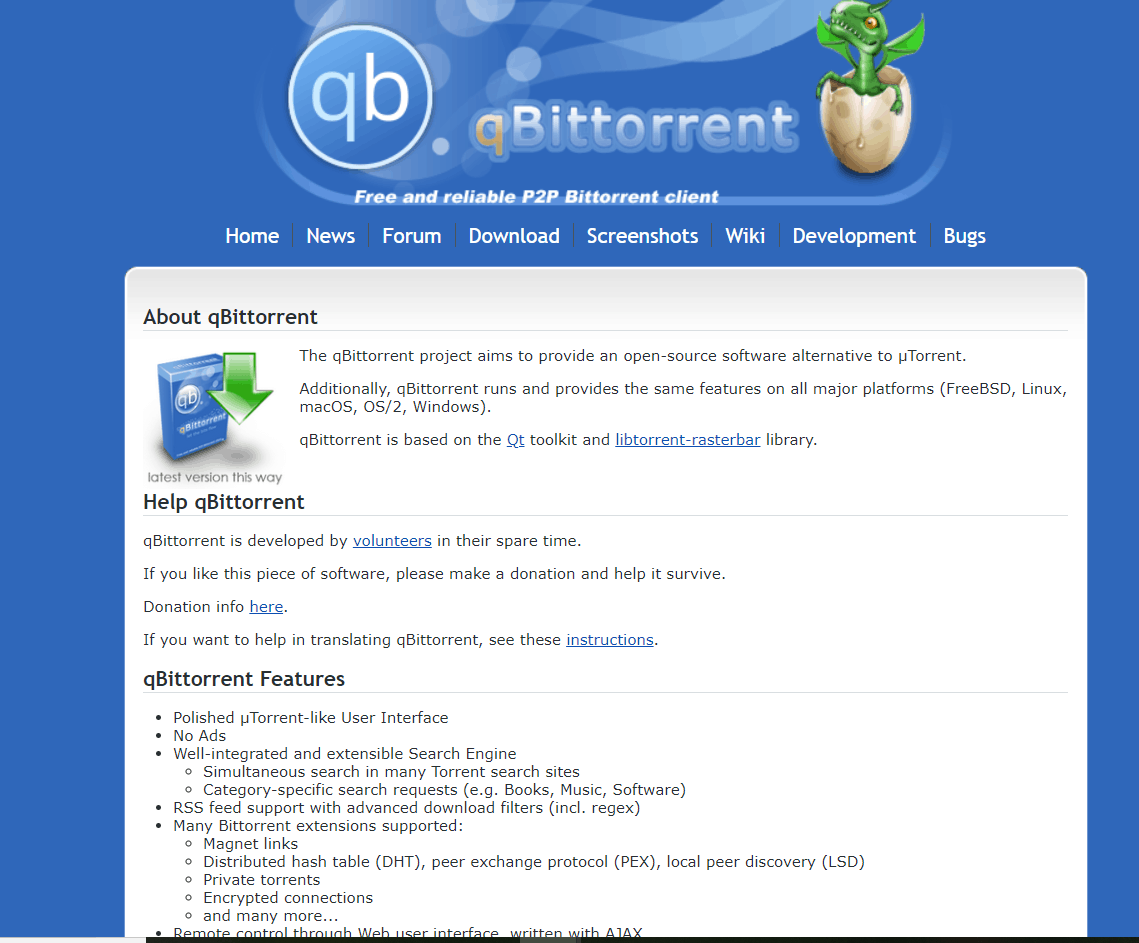 Undoubtedly, qBittorrent stands to be the most popular choice and our favorite torrent client for windows. Some clients offer every premium feature possible, while others like to keep things as simple and compact as possible. qBittorrent is one of those clients that aims to sit right in the middle, meeting the fundamental requirements of most users, while taking up the less possible amount of space of CPU and memory as possible."
It's free and has an open-source. Thus, it doesn't come with any ads or crapware. Apart from that, it doesn't come adorned with an interface that is greatly polished or incredibly modern, but it gets the work done easily and effectively. Hence, we recommend qBittorrent to first-time torrent users and those who possess light specs pcs.
Features:
qBittorrent is one of the easy and clean to use torrent clients. It supports modern features like private torrents, magnet links, encrypted connections, and remote control via the web user interface.

It is supportive of all kinds of modern operating systems. Not only can you download and run smoothly on windows, but also on macOS, Linux, OS/2, FreeBSD, and the likes. It supports more than 70 distinct languages.

It also includes scheduled speed limits, for automatic downloads RSS feeds, and for viewing your downloads from other machines and a web UI.

In advanced settings, one can even bind the program to a specific network interface. This can be regarded as an excellent advantage if you are using a VPN. So even if the VPN connection drops, and your torrent stops, there's no chance of leaking the real IP address.

Installation is easy and fast. It does not require any supplementary apps, plugins or other features that are regarded to be hostile for users.
Pros:
No advertisements

No bundled software

Handy additional tools

Free

Lightweight

Remote control through the web user interface

Torrent content selection and prioritizing
Cons:
Fewer extensions than other apps

Lacks a deeper customization level

Consumes a lot of RAM space, subsequently, slowing down other functions
 Download Link: https://www.qbittorrent.org/
uTorrent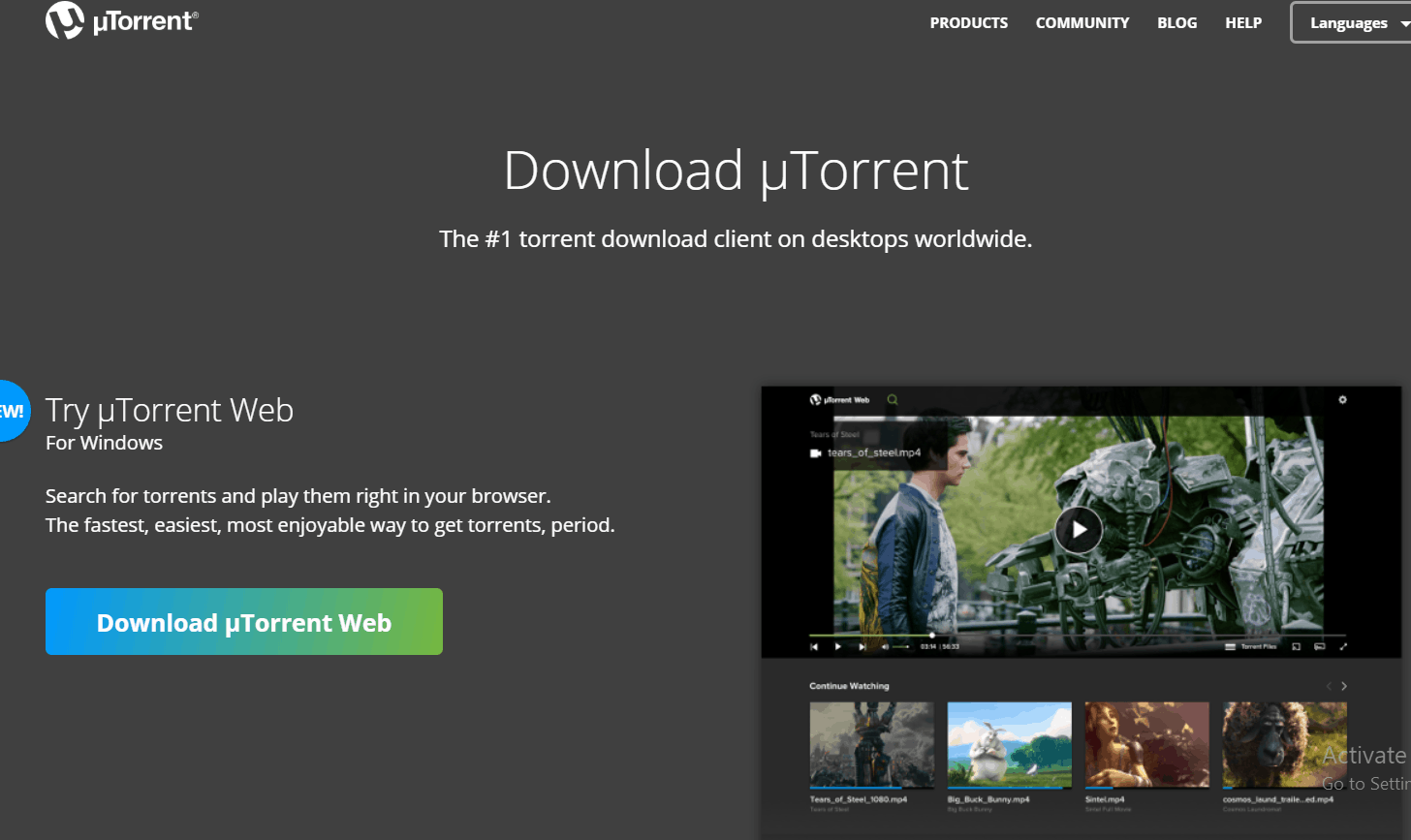 uTorrent has been one of the most remarkable and popular torrent clients of all time. It has been on the machines of countless people since its release in 2005. If you are a newbie in the torrenting world, then uTorrent can be an ideal and excellent choice for you.
This free software provides a lightweight platform that won't terribly slow your windows down like other apps. Even though there are over 30 torrent clients available online, approximately a million of users select uTorrent as it is faster, easier and a safe option than the most. With uTorrent by your side, you are entitled to get a speed that is much better than other clients on this list.
Features:
Lightweight among all top-ranked torrent clients of 2019

Supports innumerable downloading methods with the inclusion of magnet link and torrent files

Doesn't affect the performances of a computer

Better download speeds

Automatic malware protection

Outstanding customer support

Can play any kinds of file

Easy to install and use

Convenient user interface

Upload and download speed are remarkably better than other clients

Cross-platform makes it available for countless OS

Availability of support media playback for online streaming during the downloading of torrent files

Fewer ads for free users, whereas premium users experience ad-free interface
Pros:
Lightweight and compact size saves plenty of space on computer's hard disk

Support of scheduled download

Can play all types of file

Easy to install and use

Simple and user-friendly interface

Remarkable download speeds
Cons:
Multiple ads on the page 

During installation too much-bundled software

Countless security issues
 Download Link: https://www.utorrent.com/downloads/win
Vuze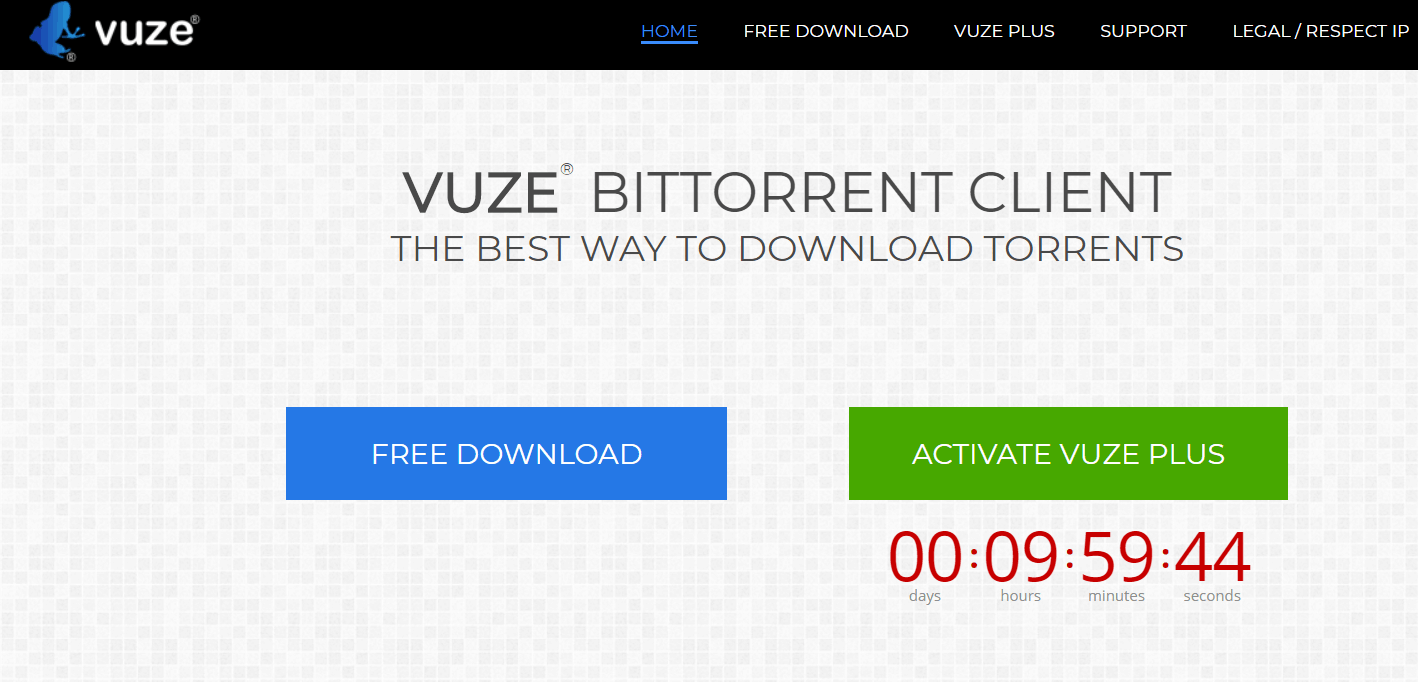 Vuze can be considered as the granddaddy of torrent clients and is one of the excellent torrent downloaders in the industry. Being no longer an open-source, it groans and squeals under the substantial weight of its ample features. To put it simply, it is the polar opposite of lightweight torrent clients like uTorrent.
But we are never saying countless features are essentially a bad thing. It comes with a neat and intuitive user interface that makes it an outstanding torrent downloader. Also, it is a powerful downloading client that diminishes tech slang. This helps in accessing the torrents you intend to review. It provides three distinct settings, with the inclusion of an advanced one. These options help users in having an enjoyable experience based on the level of expertise.
Features:
Supports both magnet links as well as .torrent files

Easy to use interface

In-built search function to invent new torrent files

Remote control via mobile app and web app

Create and upload various torrent files to multiple sites directly from the software

Facilitates the binding of Vuze to the VPN adapter

Drag and drop interface helps in converting the file to multiple formats
Pros:
Impeccably fully featured

Enable chatting with other Vuze users and share torrents

Countless plugins available to increase the functionality

In-built video player

Advanced virus protection that comes along with media file preview option
Cons:
Features annoying ads

Weighty and resource-heavy

Partially an open-source
 Download Link: https://vuze.en.softonic.com/download
Deluge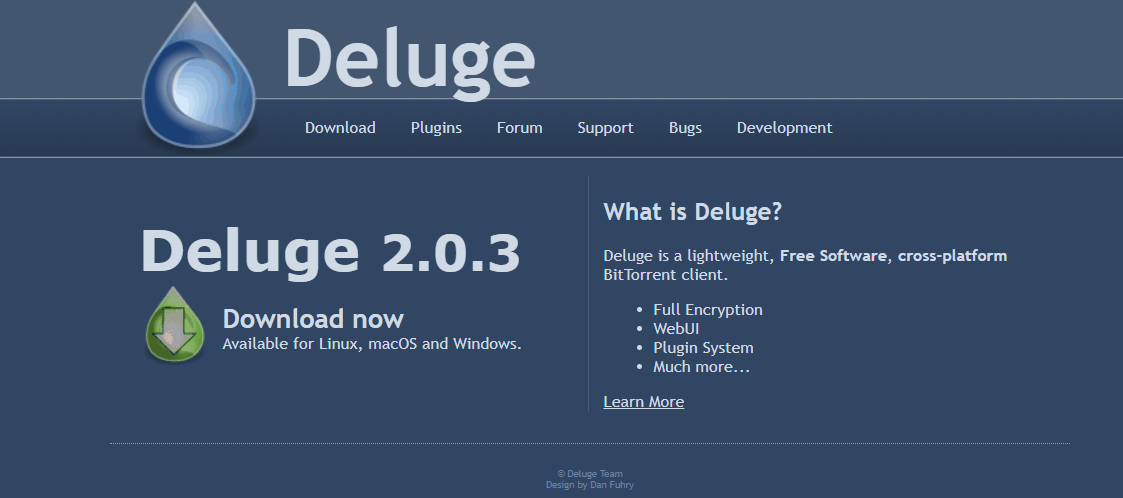 Similar to qBitTorrent, Deluge is a conventional but lightweight and open source torrent client that completes its task of downloading torrents, and that too really well. On its first installation it may look like other torrent clients, but don't let its simple looks make a fool out of you. It's an incredibly powerful torrent client with some unique and amazing features.
Created to be a minimal client app, it is greatly extensible with the use of multiple advanced plugins. The company also offers its users with some official plugins, as well as, a wide ecosystem of third-party plugins as well. It is ad-free, and a perfect client if you like experimenting around with countless new and innovative features.
Features:
Lightweight and free software

Multiple plugins to enhance settings incorporating web interface, email notifier, scheduler, stats, RSS downloader, and the likes

Can run on Mac, Linux and Windows systems

It is completely FOSS, with no ads or crapware

Functionality can be extended with a wide array of both third-party and in-house plugins

Offers a Thinclient mode
Pros:
Open-source

Lightweight

Rich-featured software

Can be expanded through plugins (including RSS)

Cross-platform

Browser integration 
Cons:
Sparse interface

Only a few selected Linux distributions are only covered

 

Less fully featured compared to its rivals
Download Link: https://dev.deluge-torrent.org/
You must take extreme precaution while using torrent clients to download via any torrent websites. The reason is downloading copyrighted content from torrent can led to unwanted situation. You must use VPN service to hide your ip. Check this best VPN services for torrenting.
Best Torrent Clients For Mac
With days passing, the maximum scope of torrent websites is increasing at a rapid pace. As a result of this, almost all eminent torrent websites have opened their gate for Mac users as well. There are a million users of Mac who are all ready to access the most recognized torrent clients to download their files securely for free.
But with new software emerging every year, choosing the best one may be an arduous and overwhelming journey. Determining which torrent client has the most impeccable features and which is the most simple to use might be a harder nut to crack than you imagine to be. Thus, to aid you, we have provided a list of our favorite torrent clients that will help you in downloading that large video file like never before. Have a look-
BitTorrent For Mac
BitTorrent is one of the first technology companies in the industry who introduced peer-to-peer file transfer. If we go by Wikipedia, in the year 2013 BitTorrent accounted for 3.35% of the bandwidth that is more than half of the 6% of the total bandwidth devoted only for file sharing. However, presently Bittorrent remains to be one of the most popular clients for mac, windows, an android that you can download for free of cost.
It is a torrent consumer presented by BitTorrent, Inc., who is also the owner of uTorrent. BitTorrent looks exactly similar to uTorrent but with minor color and logo alterations. However, the Mac BitTorrent application has a relatively smaller file size that does not consume any extra space in the device storage. Apart from that, it also ensures to push countless unnecessary software downloads that you may want to refrain from during the installation process.
Features:
Supports both the .torrent file and magnet links

Provision of an in-built search option that helps in searching directly for a torrent file from the software or app itself

Compatible for UI of both Windows, Mac, and Android version

In-built bandwidth makes download faster

Possess in-built automatic virus protection to prevent users from torrent files that are harmful
 Pros:
Offers ample resources that can help users to learn how to manage downloads effectively

Simple, neat and easy-to-use interface

Reliable customer support

Helps in streaming torrents smoothly and instantly

Protects from dangerous malware and viruses

Can convert downloads to various file formats
Cons:
Unnecessary advertising on the BitTorrent site

Certain significant security issues

Too many bundled software while installing
 Download Link: https://www.bittorrent.com/downloads/mac
Transmission For Mac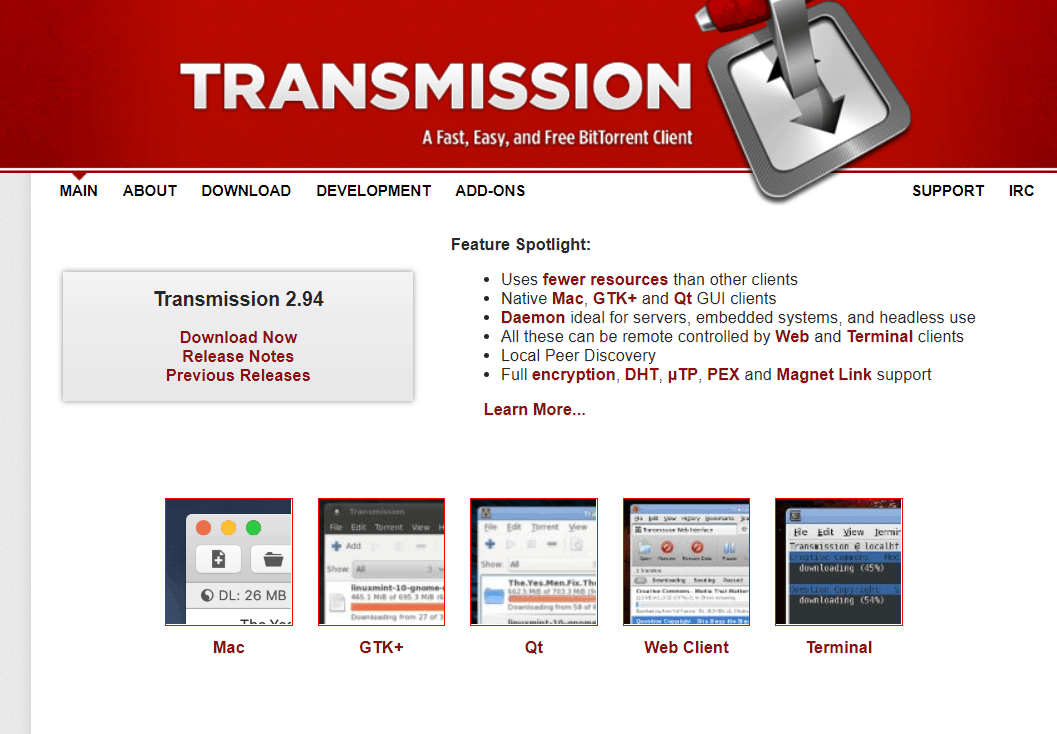 The second trustworthy torrent client for mac on our list is none other than Transmission. This free torrent client comes adorned with a simple, clean and easy-to-navigate user interface. In fact, it is mainly due to its simplicity that Ubuntu has made it the default torrent client.
It is not only incredibly light on RAM, but an extremely simple application that completes its job properly without too much of an input. All you need to do is add a torrent file on the Transmission, and it will automatically take it from there. So those of who are looking for something really simple that can be well-integrated with macOS, you can count on Transmission with your eyes closed.
Features:
Open-source software for both Mac and Linux

Simple, neat and easy-to-use interface

Consumes fewer resources which makes it compatible for even entry-level MacBook Air models

Highly optimized for macOS

Has the ability to find local systems connected to your MAC

Features web interface, exchange peers, encryption support, tracker editing, DHT and more

Offers a plethora of plugins and exemplary add-ons for power users

Can automatically classify torrents into distinct groups and assign a downloading location on the basis of the file category

The ideal

 choice for those who are on the lookout for a simple, and rich-featured torrent client app
Pros:
Lightweight software

Has magnet URLs that support Vuze and uTorrent file creation

Takes less time to download i.e. about under one minute

Free app

Can be used as a seedbox
 Cons:
Available only for Max and Linux, lack of stable Windows version

Mac versions are usually infected with ransomware applications that encrypt the user files and hold them for ransom. Users can lose up to $400 only to unlock their accounts.

Doesn't offer ample fine-tuning provisions
Download Link- https://transmissionbt.com/
Folx Torrent Client For Mac OS
Folx is one of the top-ranked torrent clients for Mac as for now, it is only one that is completely compatible with macOS Catalina. Apart from that, it is a highly fascinating download software as it handles all kinds of torrents smoothly and easily. As such, it can be considered as the central place for all kinds of downloads.
Now, it should be noted, that Folx Pro is a paid torrent client version. This signifies that there are no such ads and it comes equipped with certain brilliant security measures out of the box. It incorporates all kinds of basic and essential features that you would be looking for in a torrent client, along with that of scheduling. Last but not the least, you can also search for new torrent files to download within the Folx itself, instead of wasting your precious time to scour the internet.
Features:
The search

 bar is incredibly useful as it helps you in looking for all kinds of torrent files from the app directly

Helps you in separating downloads on the basis of file type, kind, size, and the likes

Features a remarkable scheduler that helps you allot time when it will download or upload files

It also helps in downloading direct links from the YouTube

Offers the provision of setting up speed control in distinct ways

Can split downloads in up to 20 threads

Remember passwords and login for multiple websites
Pros:
In-built torrent search

The ad-free torrent client especially for Mac

User-friendly interface

Can handle a large number of torrents

Can be customized easily

Can create and share torrents
Cons:
The only paid version has in-built torrent search

Less lightweight than other apps
Download Link- https://mac.eltima.com/folx-download.html?utm_source=google&utm_medium=listbesttorent2&utm_campaign=listbesttorent2
BitLord Client for Mac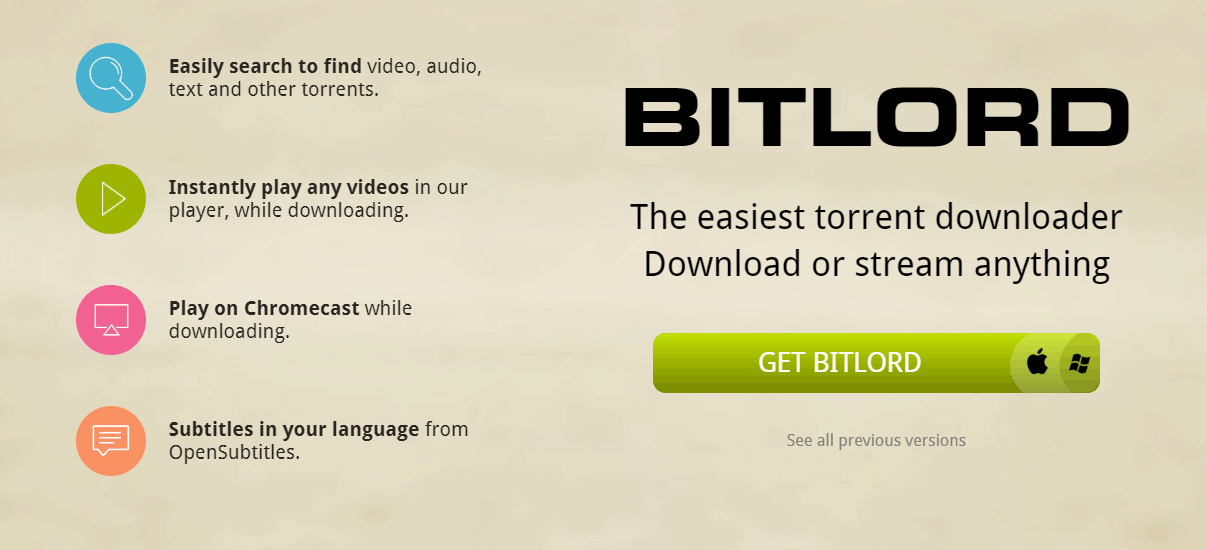 Do you know why till today BitLord is considered to be one of the top-rated torrent clients for Mac? It is mainly because this software comes equipped with an integrated media player that can help you play diverse kinds of files without facing any glitch.
It started out as a simple P2P MAC torrent client but over the years grew in a significant way? In the present date, we have an all-new version that can be considered as a highly optimized application. Not only that, but it also sports a highly adaptive option for which it can be used by both the beginners and the veterans.  Well, that's not all; it comes with countless useful features that make this software, in our opinion, one of the most remarkable torrent clients of Mac in 2020.
Features:
The setup files of BitLord comes in a compressed format of 2MB that can go up to only 40 MB when additional files are downloaded online

Easy-to-use and comprehensible user interface

Incorporates all essential options like Active, Downloading, All RSS feeds, Add a feed, Scheduler and the likes

Supports BitTorrent extension and protocols like private torrent links, magnet links, and PEX

Includes the unusual option of lowering the upload limit to zero

Has a scheduler that can control the internet speed, encryption, etc., to limit the bandwidth

Support for Airplay

In-built search function

Video and Audio player. BitLord is a version of the VLC player

With the use of  API from opensubtitles.org, it can add and display subtitles
Pros:
Enable watching a video even before the download is complete

User-friendly and comprehensive interface

Lightweight

Easy-file sharing options

Password-protected file

Free of cost
Cons:
Rare updates

Less customizable compared to other apps

UI is outdated
 Download Link: https://www.bitlord.com/
Best Torrent Clients For iPhone
Torrent clients are nothing but gaming emulators. They are strictly not allowed in the Apple store due to their multiple conflicts with Apple guidelines. This is mainly the reason why for Linux, MAC, and Windows, there are numerous incredible choices available. However, for iPhones, there remain minimal brilliant options. Thus, we have decided to share our list of best torrent clients for iPhone that you can download without worrying over a jailbreak or risking the warranty of your i-device.
Check them out.
iTransmission Torrent Client for iPhone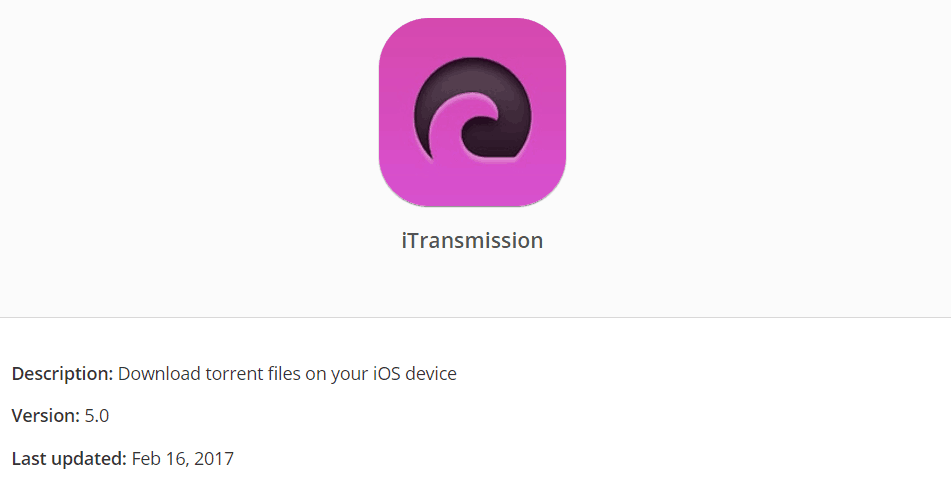 Although Apple doesn't allow any types of iOS clients on iTunes, there are still other ways to download your files on the iPhone. One such is the iTransmission app.
It is one of the best torrent apps considered for iPhones, and that too for good reasons. It is engineered to ease the process of downloading torrents on iOS, and it can be considered as a BitTorrent mobile app for iPhones. Not only that this software also incorporates a Mac BitTorrent counterpart is also known as Transmission and both of these apps share similar backend technical apparatus.
Features:
Completely free of cost

No essential jailbreak required

New torrents can be easily added

User-friendly interface

Enable setting up various speed limits

Automatically forward ports

Helps to edit how many people can connect to you
Pros:
Downloads can be paused and resumed easily

Can select mobile data or Wi-Fi for downloading purposes

No need of Cydia

Start/stop downloads with one tap

Helps in accessing information about each torrent- file, size, peers, data received, upload speed
Cons:
Often the certificate gets revoked, and iTransmission stops working

Certain issues automatically remove and deletes files within the app
 Download Link: https://iemulators.org/itransmission/
Seedr.cc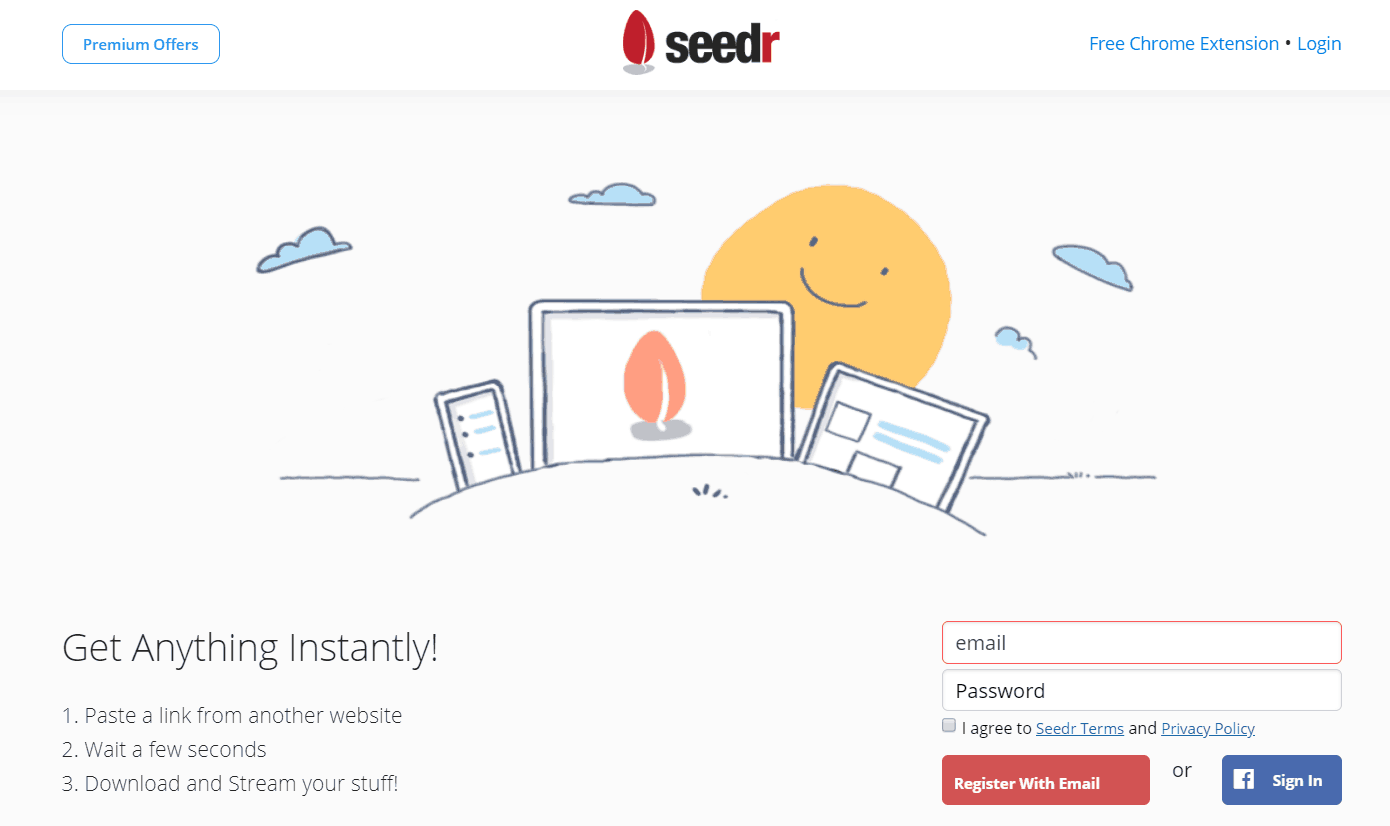 Are you on the lookout for an online torrent client that is free of cost and superfast? Well, then you gotta give the Seedr.cc torrent client a try. It can be accessed from any kind of device that supports a web browser like Windows, Mac, iPhones, and iPads.
What's more, the service is free as long as the file you intend to download is less than 2GB in size. The process of downloading is seamless and hassle-free. All you need to do is just paste the magnet link into the web-apps or upload the .torrent file- and you are all set to get started!
Features:
There is no need to install any supplementary app or software onto your device

Easy and simple to use

Super-fast downloading speed

Free storage of 2GB

Can stream movies, books, and music on any kinds of device
Pros:
Uses internet connections of lightning speed

It prevents you from getting tracked through IPs or government agencies

Refrains from spending a fortune on expensive servers

It is extremely mobile-friendly, and there is no need to use a computer with Seedr.cc

It helps in saving adequate time and energy
Cons:
Unreliable and poor customer support system

Often customer complains of countless bug issues
Download Link: https://www.seedr.cc/
MediaGet iOS Torrent Client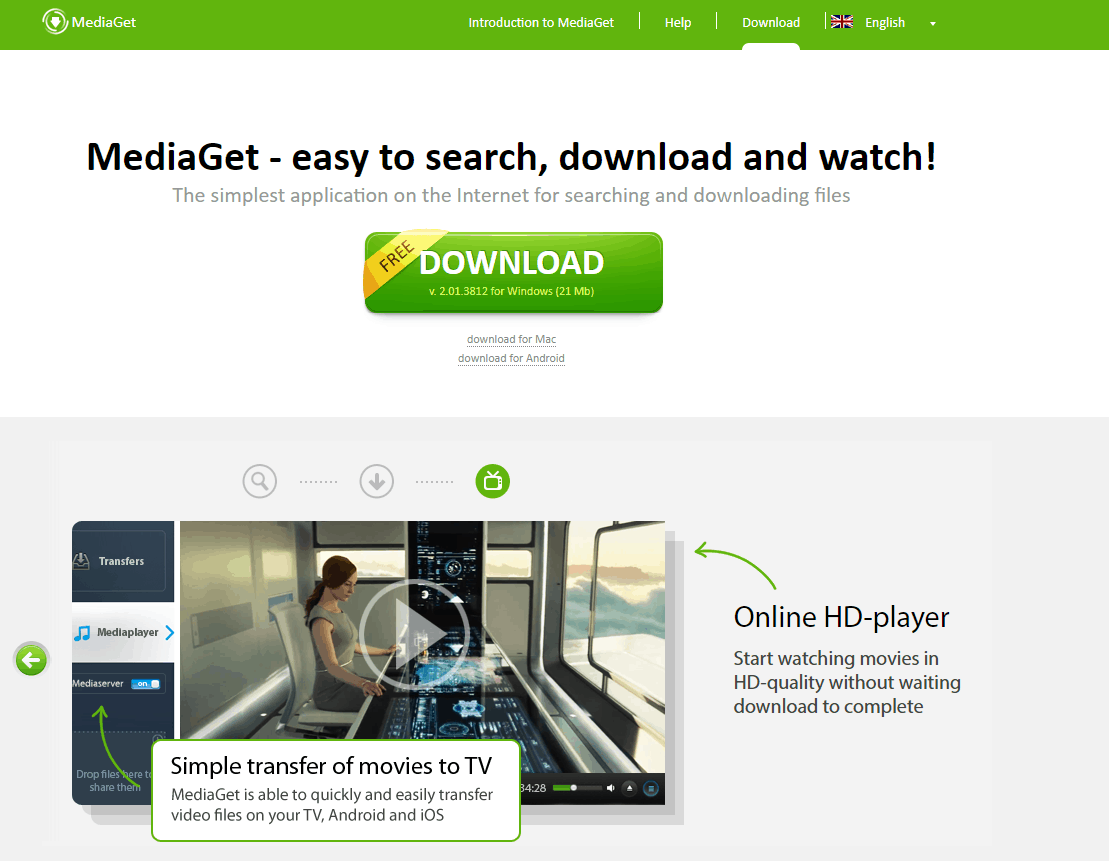 The third in our list is quite a well-recognized and popular name in the iOS torrent industry- MediaGet. It is a handy application that is specially created to help its users in searching and downloading media files that can be beneficial for both experienced users and greenhorns.
Apart from that, it also supports a huge number of torrent-trackers and makes it remarkably easy to locate and download any file you require at top speed. With an ally like MediaGet, you can enter the world of closed peering networks with unlimited free access to any files easily and efficiently.
Features:
Helps in downloading files without any registration

Can differentiate files according to their sizes that help users in saving their time and efforts

Can find various files based on their categories like films, games, music, and programs

Simple and functional interface makes it a suitable choice for beginners

Has a "share" function that helps in sending links to any users
Pros:
Downloading can be started just with the press of a button

Installation requires just about a couple of minutes

Safe mode feature blocks IP-addresses of anti-pirate organizations

Can play streaming video and music

Can import and export file downloads
 Cons:
Excessive unnecessary advertisements

Lacks an in-built feature that enables you in searching for files inside the program
Download Link: https://biblprog.com/en/mediaget/ 
iDownloader Client for iPhone

Now as you know when it comes to downloading torrent files on iPhones, there are only minimal options left for us. One such few remarkable and brilliant torrent client for iPhones and iPad is iDownloader. It is a rich-featured and highly functional download manager that offers an easy way to get all your favorite videos, music, and significant files in one place.
If you are in the search of an easy and convenient way to grab files online with the use of an above-average web browser, then we strongly believe that you can't go too far as iDownloader seems to work effectively on each and every front.
Features:
Easily download unlimited torrent files for free on your iPad or iPhone

It breaks each download in numerous pieces similar to torrent for improving the download speed

Drag and drop link support

Detects copied links from the browser automatically

An appealing modern user interface that ensures pleasant download experience

Scheduler for scheduling downloads at a specific time

Supports authentication, thus ensuring safety 
Pros:
Enable downloading the files within the integrated web browser

Keep track of in-progress downloads with the help of download manager

Seamlessly playbacks videos and music with the help of in-app media platter

Videos can also be played in background playback
 Cons:
There are no such negatives of this app
Download Link: https://apps.apple.com/us/app/idownloader-downloads-download/id585602572
Best Torrent Clients For Android
By now, you would have become well aware of the fact that the enormous database includes almost all kinds of files you require. Though it is famous as the hub of pirated content, there truly exist various legal uses of torrent and even countless legal websites to download torrent.
Most of us are familiar with reputed windows torrent clients like BitTorrent and uTorrent, nevertheless, now you can download your favorite movies on your Android phones only with the help of brilliant torrent clients. But, if you are on the lookout for an efficient torrent downloader for your Android phone, you might want to have a look at this section.
Flud – Torrent Downloader
Flud ranked first in our comprehensive list primarily due to its rich feature list, especially privacy-related features like proxy support and encryption. It is also regarded as one of the best Android torrent clients as it can download a large number of files effectively and smoothly. Not only that, but it is also an impeccable downloader that comes adorned with immense abilities like transferring the files while downloading them, as well as, downloading files sequentially.
Features:
Supports files with magnet links

Can recognize magnets from the browser

Supports large files

Supports HTTP and SOCKS proxy

Supports Peer Exchange and uTP

Enables IP filtering

Allows users to stop/restart/pause downloads

Supports countless protocols like DTH, UPnP, PeX, RSS feed and the likes
Pros:
No speed limits on uploads and downloads

Themes can be changed from light to dark

Free of cost
Cons:
It provides only one option, i.e., to download torrent files on wifi
Download Link: https://play.google.com/store/apps/details?id=com.delphicoder.flud&hl=en
tTorrent Lite – Torrent Client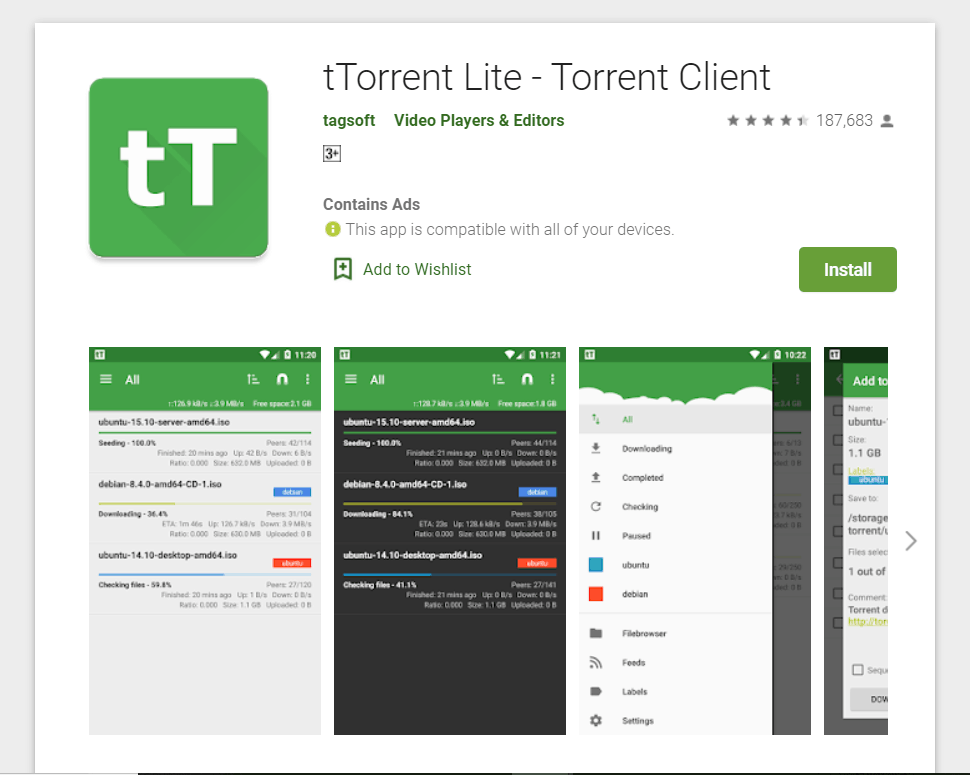 Our second pick is another highly trustworthy Android torrent client with a simple and ultra-modern user interface. tTorrent Lite is one of the best and remarkable applications for your Android phones that helps in searching and downloading all kinds of torrent links with high speed. Not only that, but it also adds various torrent files in the download queue to start the downloading process anytime.
If you are on the lookout for a brilliant app that enables you in downloading your favorite songs, software or movies, tTorrent Lite can be worth giving a try.
Features:
Simple, modern, and easy-to-use interface

Help users in searching for various torrent files

Setting download and upload speed limits

Can set maximum active downloads and activity seeds

Supports sequential download mode, magnetic links, Wi-fi mode, RSS feed and supports different protocols

Allows to customize the interface in light or dark theme

Enables integration with recognized internet browsers

Can be only downloaded after being verified
Pros:
Allows its users to choose a single file for download from Torrents including multiple files

Comes equipped with a user-centric and easily comprehensible interface

Supports tracker-less Torrent and magnet link
Cons:
Needs an extremely high-speed internet connection like 4G or Wi-Fi
Download Link: https://play.google.com/store/apps/details?id=hu.tagsoft.ttorrent.lite 
FrostWire For Android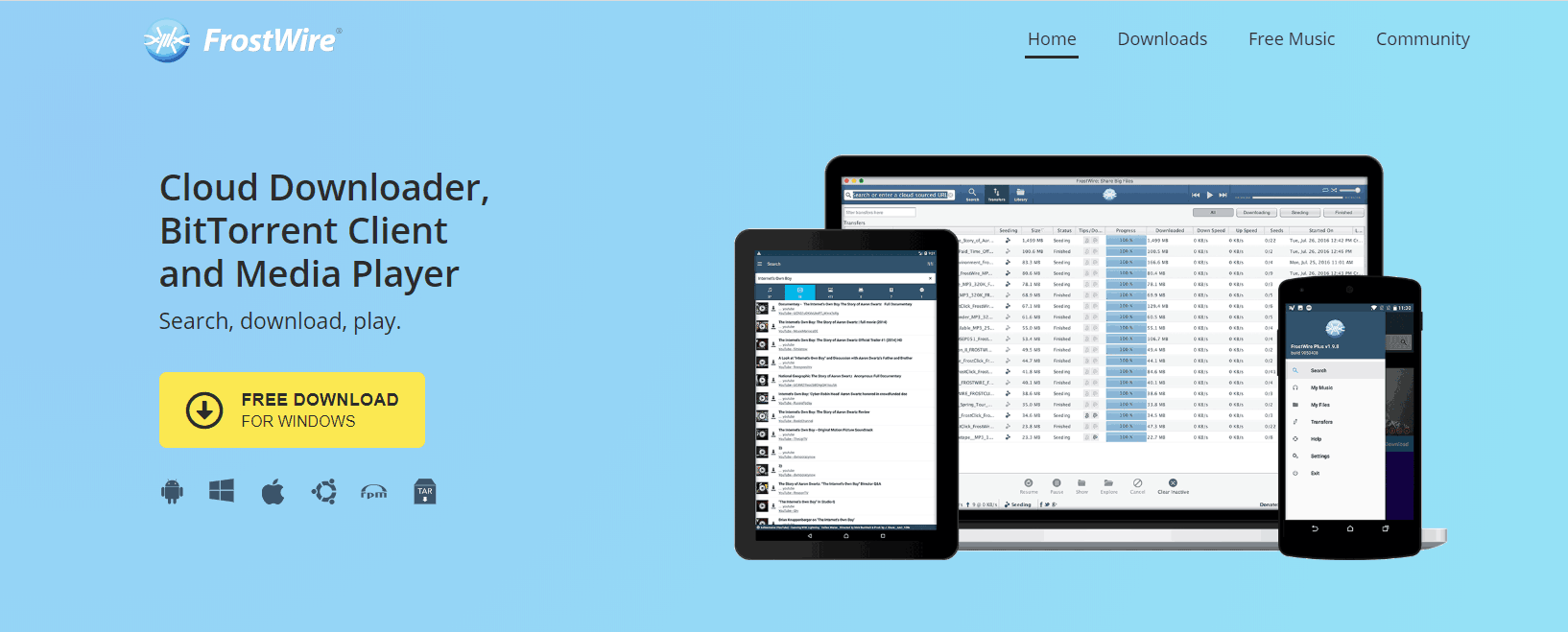 FrostWire is in simple words, a re-imagined free torrent Android client app that has been engineered in such a way that it possesses the ability to download music, movies, videos, or e-book with remarkable speed. Compared to other torrent downloaders, it has an authentic worked in-downpour seek, a music player, media library, progressed download chief and the likes.
This torrent client is far more superior to other apps simply as it helps you in finding BitTorrent search devices and cloud sources effectively. Hence, with FrostWire to back you up, you can now bid adieu to your long hunts for torrents on Google or additional search engines, as you can find them in the FrostWire itself. 
Features:
You c

an also download books, PDF reports, programming, amusements, pictures, etc.

Helps you in discovering cloud bases and BitTorrent search engines effortlessly

Helps in viewing the real player during the connection

Enable downloading of media records

Automatically creates playlists to play music even when there is no Wi-Fi
Pros:
Allows choosing of the location to save downloaded files like internal storage or SD card

Allows easy filtering of search results by file types like pictures, songs, videos, documents, torrents, and applications

It allows playing the video while downloading files
Cons:
It doesn't allow its users to add custom websites to the search tool
 Download Link: https://www.frostwire.com/ 
aTorrent – Torrent Downloader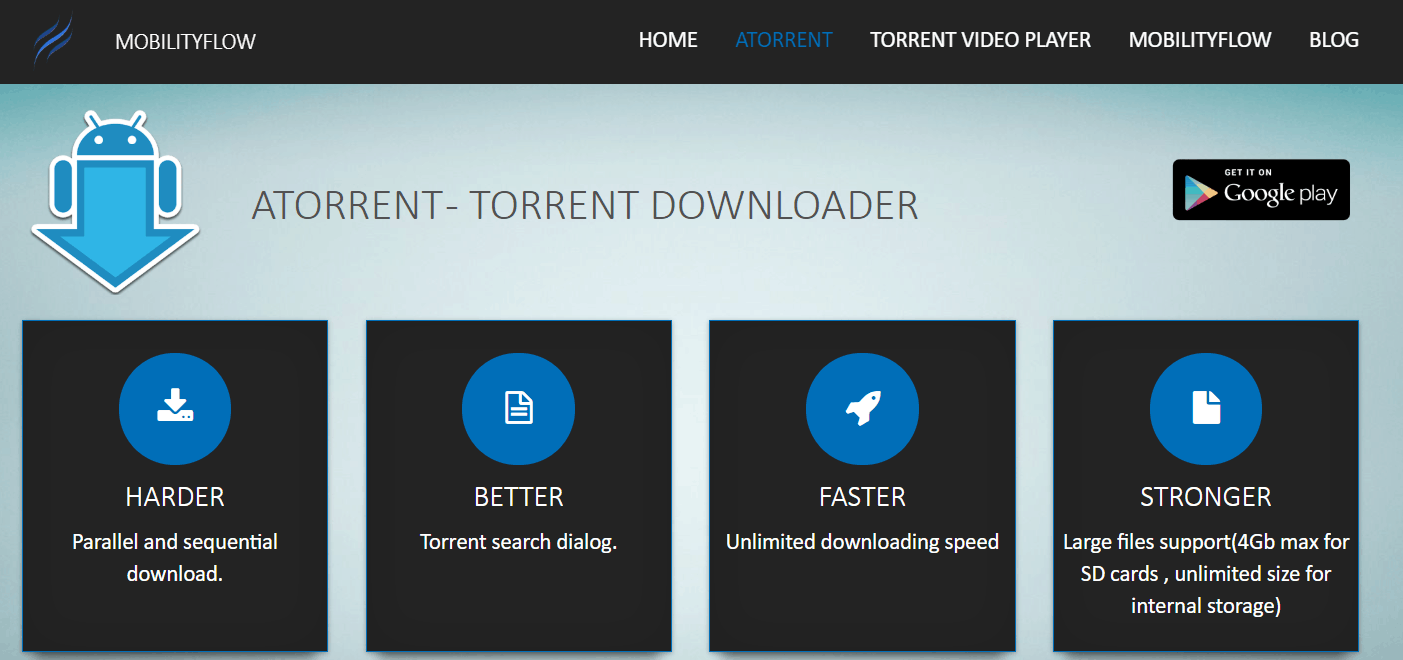 aTorrent is another outstanding native P2P BitTorrent app that is engineered for all kinds of Android devices. What makes this app distinct and unique from others in the list is that it supports magnet links without any unnecessary downloading restrictions. With this torrent application, you can download seeds only when you are connected to the Wi-Fi. Apart from that, the app also lets you select the downloading path for the files you wish to download.
By using this Android torrent client, you can not only download multiple torrents in a parallel manner but also greatly save the battery life of your device. In a free Android torrent client, could we have asked for more?
Features:
The in-built

 torrent search dialogue

Supports all kinds of magnet links

Can open torrents straight from the browser

Select a downloaded folder

Multiple parallel downloading

Supports protocols like DHT, BitTorrent P2P, Advanced DHT, HTTP, Bootstrap and UDP trackers

Can support large files like 4GB for external storage and unlimited internal storage
Pros:
Allows its users to download parallel files without any such troubles and hassle-free

Supports magnet links

Helps in opening Torrent files easily from a browser

Free of cost
Cons:
Excessive unnecessary ads
Download Link: http://www.atorrent.biz/atorrent
Wrapping it up,
If you have reached the end of this article, then we can safely presume, by now, you have chosen a remarkable torrent client app for your Windows, Mac, iPhone or Android device. Do tell us which one you have chosen, in the comment box below. Also, if you feel that we have left any significant and outstanding torrent client app, please let us know. Till then stay tuned for more such intriguing and comprehensive articles on the latest apps from us. Here's to Happy Watching, mates!