We all love to have collection of best Images, Pictures, Wallpapers or our private albums on our computer and this images collection takes up huge space of hard disk, so keeping them zipped seems to be best way to reduce occupied space. However once zipped, it becomes cumbersome to find any images. Since every time you need to extract images from zip file and then start searching for required image.
What if you can have preview of images without need to extract images from zip file? Do you find it time saving and convenient? Well then here is one nice application Inzomia viewer 3. Inzomia image viewer 3 is a very fast free zooming image viewer that will allow you to spend more time viewing pictures and less time waiting.
Silent Features of Inzomia image viewer 3
– Fast Image Viewer
– View images inside zip file
– Make photo slideshow or image play list
– Start image view with command line
– Skip images based on size or file name
After installing Inzomia image viewer 3, it gets added in context menu, so when you want to have preview of images inside zip file you just need to right click on zip file and say "Browse with Inzomia Viewer 3".
See below Screenshot to see how this works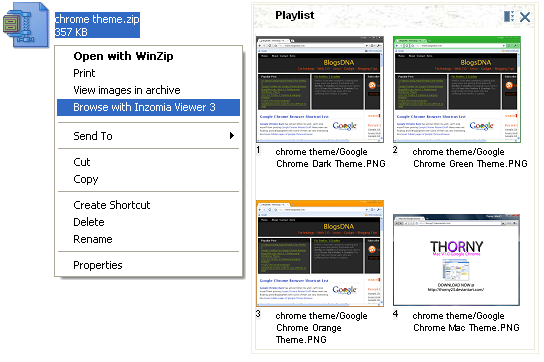 Supported Operating System: Windows XP & Vista
Download File Size: 1.3MB
License: Freeware
Please note that WinZip pro has build in feature of image previewing. But Winzip basic doesn't have image previewing option .