What is Steam?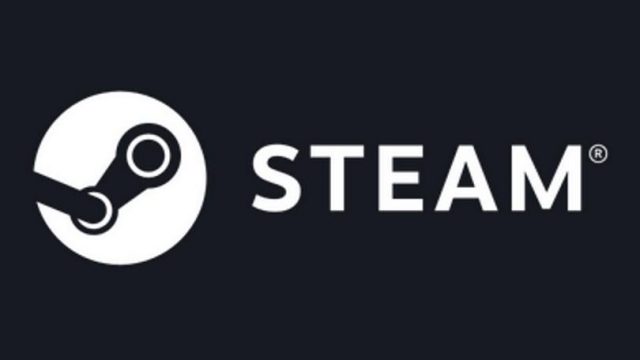 Steam is an online store of games and programs. In the future, movies and music may also appear which will be a delight for all the steam fans. The service itself is owned by Valve and was originally developed to distribute games of the same company, but in the near future, it made its platform open, where each developer could enlist their own games.
In addition, Steam has a good social component which makes the service a kind of a social media platform for gamers. You can chat with other players, add them as friends, give/receive games as a gift, share your library, create groups, like and share screenshots of games, get achievements, collect collectible cards, use emoticons, stream gameplay and much more.
Here is how to fix steamui.dll and steam not opening error on Windows 10.
What is Steam for?
Steam is a great way to purchase and organize your game library. You can purchase games directly through the steam store and store them as a soft copy in your system, hence eliminating the requirement of a physical disk. The games are validated by DRM (Digital Rights Management) therefore, there is no need to enter long and bulky product keys and codes.
Secondly, by purchasing the desired game, you will be able to download updates, patches, modifications, and other technical support services in a timely manner.
Thirdly, on Steam, there is built-in protection from cheat programs. So on secure servers, you can be completely sure that you are playing with honest people. If they even try to use programs that simplify the gameplay and give a certain superiority over others, their account will be blocked in this game.
Here is how to fix unable to connect to steam server.
How Much Does Steam cost?
As already mentioned above, Steam is a service whose client program is distributed free of charge. You only need to pay for the games themselves, which will get linked to your account after the purchase. If you don't want to spend money on games, you can simply enjoy the huge library of free games available on steam. Such games come completely free of cost and you can enjoy these games without spending a single penny apart from your internet connection. Many core steam games like Team Fortress, Dota and Counter Strike-Global Offensive are currently available for the free to play experience.
But, if you want to enable the steam community (i.e, trading and marketing), you must have to spend a minimum of $5 (nearly 350 INR) on the steam store. This is a really small fee considering the features of the steam community and marketing provides.
What If I Don't Want to Buy Games on Steam?
If you have downloaded or purchased a game from some other source, you can add them to your account. But they will not be affiliated with your account and you will not receive all the functions that the service provides. The only advantage of adding a third-party game in your steam library is that your friends will receive a notification along with the game tag whenever you are playing the game.
Where is the Steam Folder Located
Where are Steam Games Stored
By default, Steam installs all the games in the same drive partition where the client has been installed. If you have installed the client in the system directory, the game installation folder path will be: C:/Program Files (x86)/Steam/steamapps/common
But, this location can be replaced. For example, if the user chooses the option to create a new game library when installing a new game.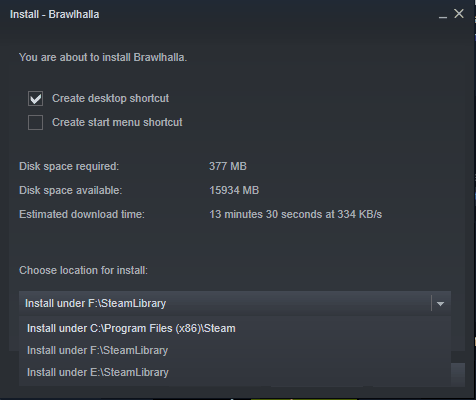 In the folder itself, all games are sorted into other directories. Each game folder has a name that matches the name of the game. The game folder contains game files and installation files.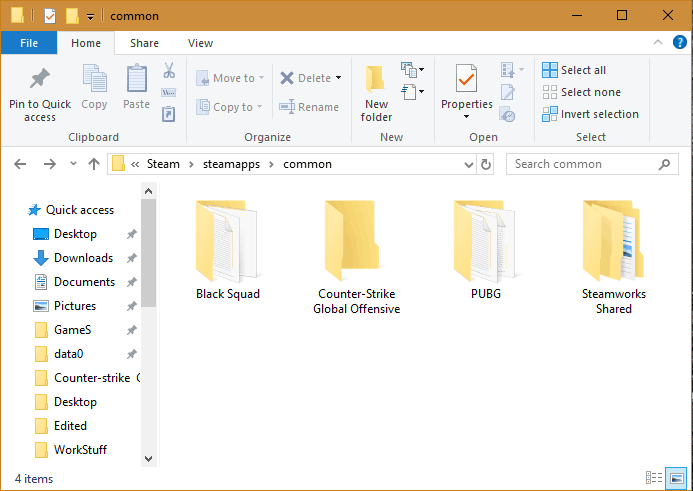 How to Move Steam Games to a Different Folder
When you remove Steam from your computer, many users encounter an unexpected disaster – all games get deleted from the computer. You have to install them all over again, which may take more than a couple of days, especially if several hundred GB of disk space were allocated for them. To avoid this problem, you must correctly move steam games to a different folder.
The removal of Steam is exactly the same as the removal of any other program. But to remove Steam, while leaving the installed games, you need to take a number of measures to copy them. Namely, in order to delete the games installed before the game client itself, you need to copy the folder where they are stored.
Go to the Steam folder. By default, it is located here: "C:\Program Files (x86)\Steam". If you have installed it in another place, most likely it will be "D:\Steam" where D is the letter of the non-system partition of your hard drive. You can quickly get into the folder by clicking RMB on the shortcut and selecting the "Open file location" option.

The folder in which the games are stored as the name "steamapps".

"Steamapps" folder may have various size as it all depends on the number of games you have installed. Transfer this folder to another location on your hard drive or to external media. If you copy a folder to an external drive, but it does not have enough space, try deleting the games that you do not need. This will reduce the size of the game folder, and it can fit on the device.
In addition to the main folder that stores the game itself, we also recommend backing up 2 more folders:
"Userdata" – All local configuration files that are needed for local games are stored here. It is essential to have this folder backed up before re-installing the game to retain all your customized settings and preferences.
"Steam" – The pictures for the game shortcuts are downloaded to this folder, and at the time of reinstalling Steam without saving this folder, the user may encounter a problem where the game shortcuts on the desktop, become white (inaccessible). Such a problem is fixed by checking the integrity of local files, however, it is much easier to prevent the launch of the check for each game and just save the cache of pictures.

After this, you can easily remove Steam. This can be done the same way as with any other program. For quick removal, use the "Control Panel" or special software that will uninstall Steam along with registry keys and other temporary folders. Launching any of the saved Steam games without launching the client itself will fail due to the DRM validation. Although some free to play games which do not have a tight binding to the Steam server can be played. Other than those, If you want to play Steam games, you have to install the client first.
How to Change Steam Default Installation Directory
Thanks to the ability of Steam to create several libraries for games in different folders, you can evenly distribute the games and space they occupy on the disks. The default folder where the product will be stored can either be selected during installation or changed in the settings. Changing the default installation directory is quite an easy task. Just follow the instructions provided below to get through with it:
Launch Steam. Click on the "Steam" menu provided in the upper right corner and go to "Settings".

Then, click on the "Downloads" section and click on "Steam Library folders".

Next, a window will open in which you will see the location of all libraries, how many games they contain and how much storage they occupy.

Now, all you have to do is press RMB on the directory that you wish to make the default one and select "Make default library" option from the menu.

That's it. The directory you selected will now be used as the default installation library.
How to Download Steam Games to the External Hard Drive
Downloading a steam game into an external hard drive is as easy as downloading it in an internal one. There are two ways to do so. You can either select the external drive as the install location of the game or you can change the default library folder.
Selecting the external drive as an installation directory at the time of installation:
When you are installing a game, steam will ask you the preferred install location. If you have an external hard drive connected to your system, you will see the drive letter in the list. Simply select the drive from the list and proceed with the installation.

Changing the default library folder:
First, open the "Steam Library Folders" window by following step 1,2 and 3 as mentioned above. Now, you have to select "Add Library Folder" option in the window.

Now, you have to specify the directory. Simply browse and select the external drive in the next window.

Once you have selected the external drive, click on the "Select" button to add it to steam library folder list.
To make it the default folder, simply right click on the path and select "Make default folder" option.

This is it. Any game that you will download now from the Steam store will be saved in your external hard drive.
Check out our other guides on how to fix Fallout 4 crashing at startup, League of Legend wont start and Minecraft crashing. Most high-end graphics games require DirectX 11, so make sure you have download and install DirectX 11 on your Windows 10 as well as have supported Nvidia drivers.