Recently, I wrote a review for Vibe Streamer – an app that lets Windows users setup a local music streaming server. While that app is an excellent option for Windows users, if you are looking for something cross-platform and something that provides you with more customization options along with music downloads, you should check out 'Sockso'.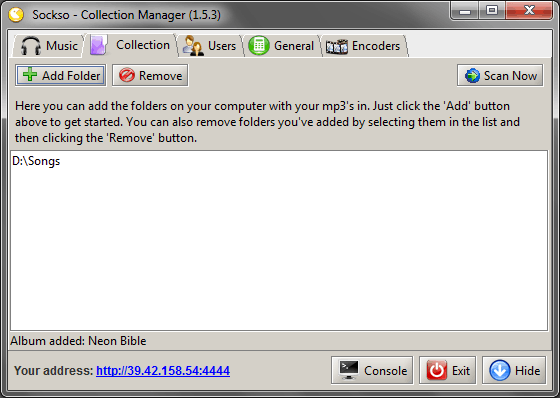 Sockso is a Java based desktop app that comes in versions for Windows, Mac, as well as Linux operating systems. The function of the app, as mentioned, is to provide users with a way to have music streamed off their computers. The app offers not only local area network streaming but also streaming music via the internet.
To get started, simply download the setup package and open the included JAR file – installation is not required. From the app's main window, click on the Collection tab and add the music folders that you would like to have streamed. The music from these folders is scanned is listed under the Music tab. Songs can be easily dragged to the right pane to create and save predefined playlists for users to listen to.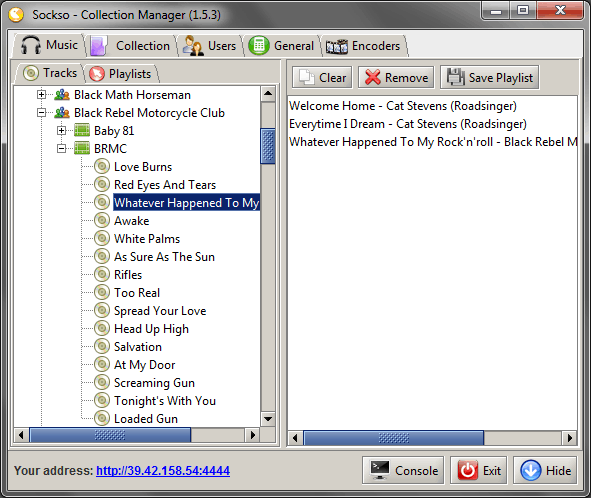 The server configuration settings let you specify the port number and server path for streaming. Optional configurations let you disable music downloading and enable folder browsing.
To enable streaming, you must specify sets of username and password credentials that people can use to access the server. Users can be added through the Users tab. You can choose to bypass the logging in requirement and enable streaming for everybody by unmarking the 'Require login' checkbox.
The web interface can be accessed through the URL provided in the bottom corner of the main app window. Everything is laid out in a simple and intuitive way. Music is listed alphabetically and each song or collection has playing and downloading buttons next to it. Users can browse the music randomly, search for particular songs, play the latest music additions, or simply check out the most popular songs being streamed by other users on the same server.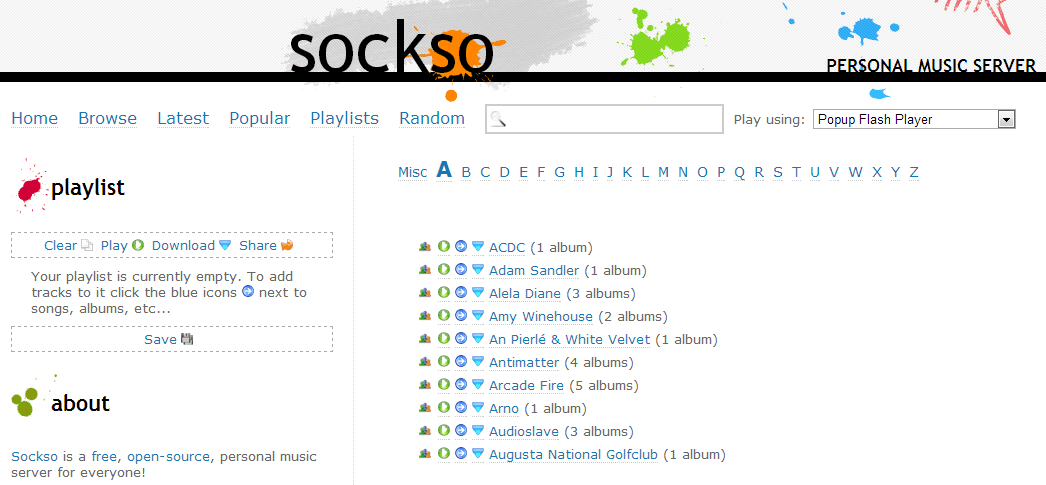 The web player for songs, by default, is a pop-up flash player that offers standard playback options.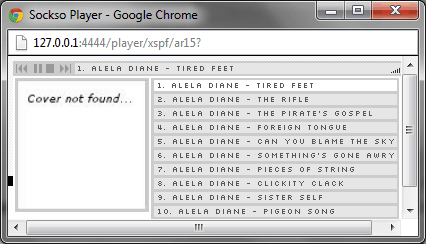 However, the user can choose from a variety of players to match their own preferences.
To keep a check on who requested your music, you can enable requests logging from the app's configuration options.
Furthermore, specific encoding options can be setup for the various kinds of music files that you have in your folders.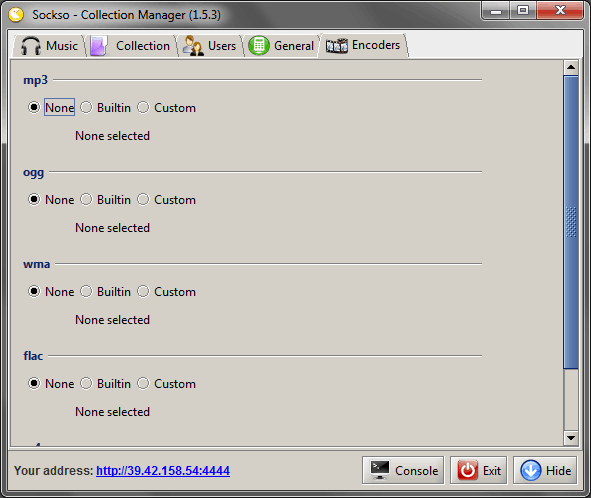 For people wanting to execute commands directly, a console is offered along with command guidelines.
These features, along with the app being open source and constantly being improved, is what makes Sockso really stand out as a music streaming solution. Regardless of the operating system you are on, this app will serve your music streaming needs excellently.
Check out Sockso over here.