Steam has become an integral part of every gammer, with Steam client not only you can play games that are available on its platform but also stream it. Steam also works as a social networking service for gamers to curate different game genre as well as hang out with buddying gammers. Valve has been continuously updating and evolving Steam client but some issues that keep affecting masses and "Failed to load steamUI.dll" is one such steam error.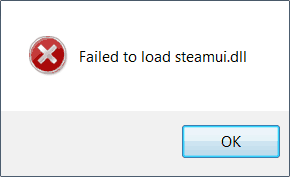 The error pops-up when you try to run Steam client, pointing at the SteamUI.dll file which is the part of the Steam client. If you are one such user facing this issue then read the following solutions to fix it.
Failed to load steamui.dll, How to Fix
Solution #1: Re-register steamui.dll
Steamui.dll is the file in question leading to the mentioned error, which is a DLL aka dynamic link library file. All the DLL files on Windows has to be registered before any application invokes a call to it. Sometime for an unknown reason, a .dll file may get unregistered which intern can throw random errors when you attempt to start an application just like Steam client. The solution is simple we have to register the file manually. Follow the below steps to re-register SteamUI.DLL
On Cortana search by type command prompt and from the search result right click on Command prompt and select Run as Administrator
Click Yes when you see

UAC

prompt.
Now on

Command prompt

, type
cd C:Program Files (x86)Steam
and press enter to change to the directory to Steam folder directory on Command prompt.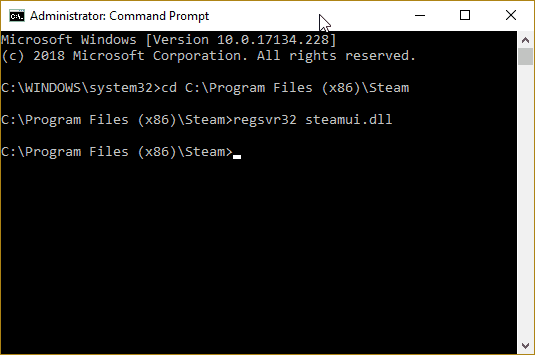 Now type the following command and press enter key
regsvr32 steamui.dll
the above command will attempt to re-register steamui.dll if all goes well you should see steam working perfectly. If it still leads to same error message then try next solutions provided below.
Solution #2: Uninstall & Reinstall Steam client
As it goes, reinstalling is the master fixer for every issue that you face on Windows. You can simply uninstall the steam client from Windows Control panel and download the latest client from the steam website and install it again, it should fix the issue.
Before going to uninstall steam, you must make sure to backup all your download games saved at the following location
C:Program Files (x86)SteamSteamapps
You must restart your PC after uninstalling so as windows can clean all the leftover files which may conflict with new steam client files and the chance of steamui.dll error popping up again.
Solution #3: Delete Bin and Package folders
For many users, this solution has worked to fix failed to load steamui.dll error.
Make sure steam client is not running. Right click on

Steam

client desktop shortcut and click on Open File Location
Now navigate and locate Bin & Package folder and delete them or you can move it to a different location if you are afraid to delete it.
Now restart your PC
Start your steam client and confirm if the issue is resolved.
Solution #4: Update/Reinstall Graphics Card Drivers
Since steam uses graphics drivers to load all the games from your library, an issue with your graphics drivers can lead to an error like above. If you have Nvidia Geforce card then get the latest available drivers from Nvidia website, AMD Radeon users can get the drivers from here.
Or you can use the third party utility like Reimage Plus to update the outdated or corrupted graphics drivers.
Solution #5: Delete libswscale-3.dll and steamui.dll files
Yes, this solution involves deleting the same file which is leading to an error. The reason behind this solution is, Steam client is designed in such a way that, when important files are missing or accidentally deleted, the steam client auto detects the missing files and it will redownload them, which can fix the error.
Right click on

Steam

desktop shortcut and click on open file location or navigate straight to C:Program Files (x86)

Steam

Now locate and select libswscale-3.dll & steamui.dll and hit the delete button or Instead of deleting you can cut and move it to a different location.
Now restart your steam client and see if it fixed steamui.dll loading error for you.
Solution #6: Switch to Public version of Steam Client
If you have ever subscribed to Steam Beta program then it would be wise to switch back to the public release version. Switch from beta to steam public is very easy. Stop steam client if its running before proceeding.
Method 1:
Open

Steam

folder and locate Packages folder
Insider Package folder you should see a file name starting with beta
Select that file and hit delete button, now restart your PC.
Method 2:
Open registery editor which you can do by pressing win+r keyboard shortcut and typing regedit at run command.
Now go to following registery path and delete all the values
HKEY_CURRENT_USERSoftwareValveSteamBeta
Now restart your steam client and check if it fixed your issue.
Solution #7: Flush Steam Configuration
Press win+r keyboard shortcut to launch run command
At run type following command and press enter key
steam://flushconfig
You will receive the following message, click ok to continue.
Once the process is complete, restart your PC and launch

Steam

.
Solution #8: Continue with Error Message
This may sound senseless, but all you need to do is start the steam application and let the error popup. The next step would be to let the error message dialogue box stay as it is, meaning do not close and try to run another instance of the Steam client. If the second instance of Steam gets past the error message, it would start updating and your steamui.dll will be fixed automatically.
If everything fails to fix Fail to load steamui.dll error
The only option left now would be to get in touch with steam support team or post is on steam community forum so as other users who managed to fix it by any means can help you.