Communication has become a significant requirement in the field of gaming in the last decade. With the releases of many competitive online multiplayer titles, the need for communication between the team has increased to improvise and achieve a sensible balance in the team. Even though almost every online multiplayer title provides their own voice chat feature, none of them are perfect. The In-game voice-chat feature causes irritation to many gamers due to various reasons such as unbalanced voice intensity, poor voice quality, communication delay, Etc. Hence, most of the gamers tend to abandon the in-game communication for a much more reliable platform i.e., Discord.
What is
Discord

?

Discord is an online communication platform devoted to gamers. Discord was publicly released back in 2015 and it has been gaining popularity ever since. There are many features provided in discord which made it irreplaceable by any other application. The simple yet astonishing UI, Attentive development towards the privacy and safety of the user, In-game overlay, Cross connection with all your accounts Etc. are such features. Discord is a free-to-use software because of which it has gained almost 90 million users till date and counting.

Even though Discord was basically developed for communication, it has become much more over the course of time. The most important addition in the Discord services is the "Bots".

Guide to fix Discord not connecting or mic not working or Discord No Route error.
What are Discord bots?
Discord bots are the AI operated software programs which can be added in any discord server/group for the ease of users. There are several kinds of discord bots available for free. These bots can be utilized efficiently for many purposes such as music, news, event scheduling, server moderation etc.
Best Free Discord Music Bots
There are multiple bots available to provide music in the Discord server. These bots will fetch the music you desire in mere seconds from the Internet by following some simple commands. Each music bot is developed with a specific set of commands which can be found on the website dedicated to the particular bot. This bots can be used to play the music on-the-go to pass the time while your game loads or it can also be used to troll your friends by playing some undesired tunes. The limit is your imagination. Read this article completely to acknowledge best music bots available in Discord.
Following are our top picks for the discord music bots:
1. Rythm Bot
Rythm is undoubtedly the best bot available for listening to music. Currently, Rythm has been added in around 3 million discord servers till now and the number is increasing. Rythm is a bot which is focused on delivering top quality music without any hassle. Once the command is executed, Rythm fetches the music from various online streaming platforms like Youtube, Soundcloud Etc. Rythm can also provide lyrics of the track being played.
To add Rythm Bot in your discord server, simply go to "https://rythmbot.co" and follow the procedure provided on the website.
Following are some commands you can use to operate Rythm :
!play "name of the track": You can use this command to search and play the track you desire. Rythm will be automatically added in the voice channel, so you don't have to worry about that.
!pause or !play: You can use this commands to either pause or resume the track playing in the channel at the moment.
!skip: You can use this command to skip the current track.
!lyrics "name of the track": You can use this command to obtain lyrics of the track.
Complete guide on how to manage Discord server.
2.Fredboat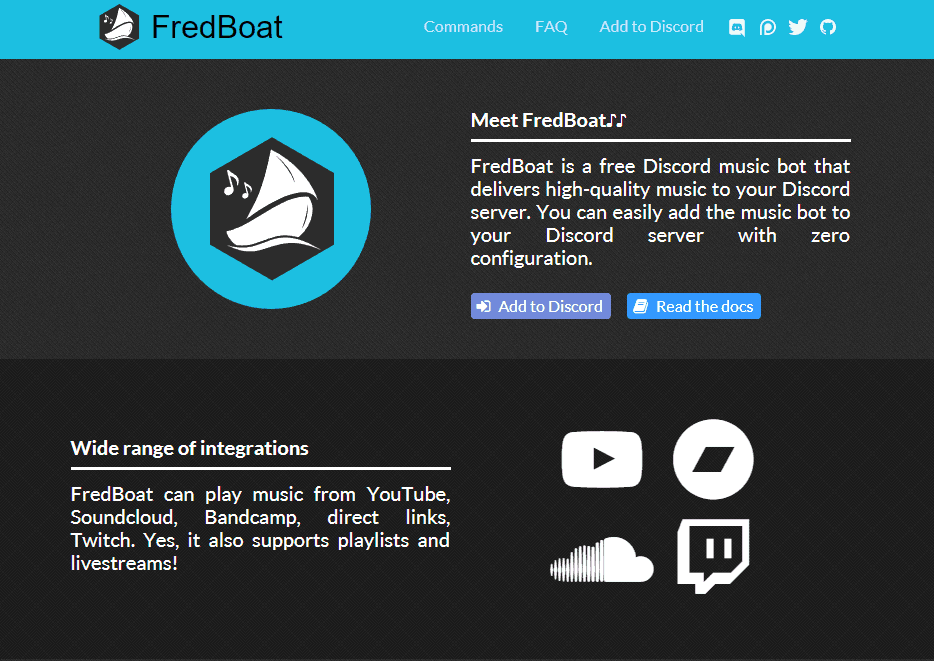 Fredboat is also a powerful and free bot available in discord. Fredboat also utilizes multiple streaming platforms such as Soundcloud, BandCamp, Vimeo etc. to search and stream the music. Fredboat is designed and developed by "Fre_d". Fredboat does not require any special configuration to operate in the discord server. Just like Rythm, Fredboat is also a plug and play kind of bot.
To add Fredboat, just head over to "https://fredboat.com/" and follow the instructions.
Following are some commands required to use Fredboat:
;;play "url": This command can be used to make the bot play any streamable music by simply putting in the URL address of the stream.
;;skip: This command can be used to skip the current track being played in the server.
;;pause: This command paused the current playback.
;;unpause: This command resumes the playback.
3. Ayana Bot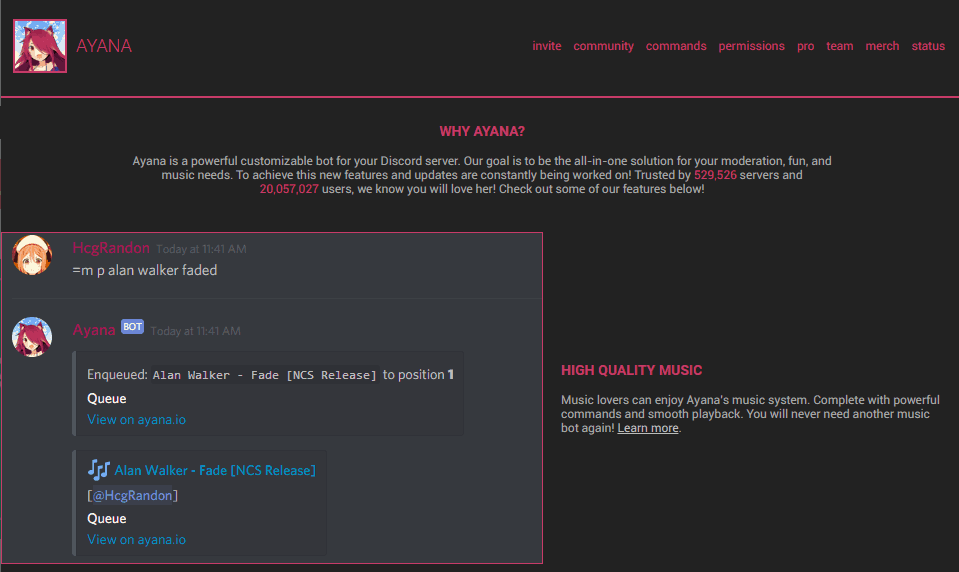 In addition to the flawless music experience, Ayana bot also provides the user with multiple interactable commands. Ayana bot can be used as an all in one bot for moderation, music, and amusement. The multilingual support provided in Ayana Bot is the main reason it is popular in many Non-English servers. Ayana has been added to more than 500k servers already and it is gaining popularity progressively. If you want to play a particular track but there are several variations available, Ayana will list all the streamable varients and you can choose the one you fancy.
To add Ayana bot in your discord server, you need to go to "https://ayana.io" and simply click on "Invite".
Following are some commands which will be helpful to operate Ayana bot:
=music: This command can be used to use the integrated music player of Ayana bot.
=ban: This command can be used to ban a certain user of discord from your server.
=say: This command can be used to apply bot's text-to-speech module and convert your text to voice.
4. dabBot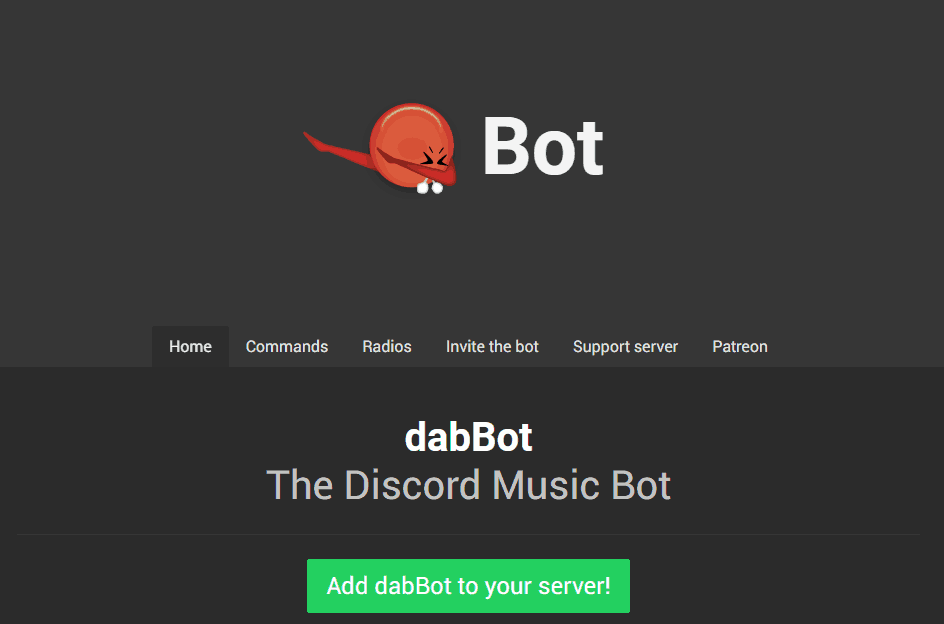 For all the "dab" lovers out there, "dabBot" would be a valuable addition in their discord servers. Along with lag-free music streaming, dabBot also provides free 24*7 FM radio service from all over the globe. You can either play a particular track of your choice or you can simply hit up your favorite FM radio channel and relax while the bot does all the work to fetch the voice from the radio channel. dabBot hosts over 1000+ radio channels so your favorite radio channel is probably in the list.
To add the bot in the discord server, all you have to do is kindly visit "https://dabbot.org" and click on the "Add dabBot to your server" option.
Here are some commands that you may require to use dabBot:
!!!play "song name": You can use this command to play your favorite track directly. You can either put the track name or the URL.
!!!radio "channel name": You can use this command to start streaming your favorite radio channel right away.
!!!skip: This command skips the current track.
!!!pause or !!!resume: This commands can be used to pause or resume the stream.
5.Vexera Bot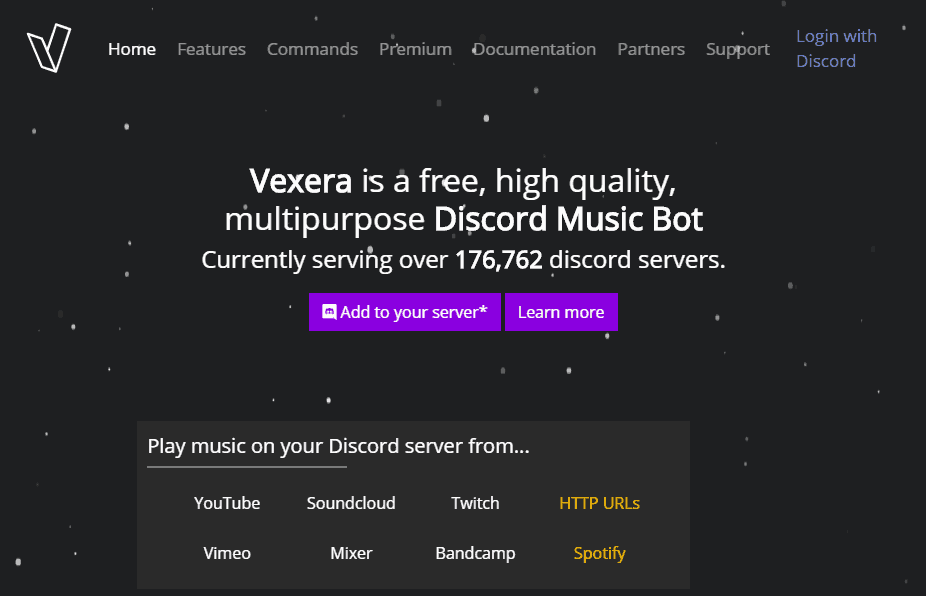 Vaxera is yet another multipurpose bot which can serve as a music bot but can also carry out various other tasks. Vaxera is currently added in over 100k+ discord servers. The key feature of Vaxera is the multilanguage support. Vaxera supports around 15 various languages including Spanish, French, German etc. Vaxera can be used as a moderator by granting it the advanced permissions in the server.
To add Vaxera in your discord server, simply head over to "https://vexera.io/" and click on the "Add to your server" button.
Here are some basic Vaxera commands:
+play "track name": This command streams the mentioned track from the range of online music streaming websites.
+lyrics: You can either grab lyrics of a particular track by mentioning it or simply put the command as it is to obtain the lyrics of the song which is currently playing.
+pause/+resume: This commands can be used to pause or unpause the music.
+bass: This is a special command which is used to adjust the bass in the current track.
6. 24/7 Bot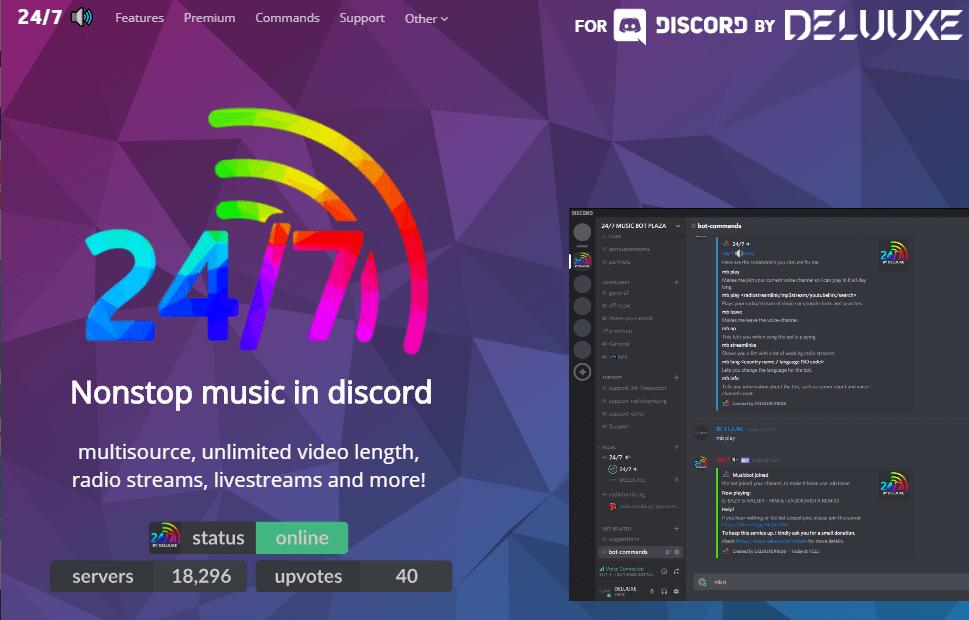 24/7 is comparatively a newer addition in the list of discord bots, but it is growing quite swiftly. 24/7 is currently serving around 18k servers in the discord network. Similar to the bots mentioned above, 24/7 is also a multisource bot which streams music as well as online radio services. 24/7 bot is not completely free though. there is a premium and premium+ edition of the bot costing $2.47 and $7.24 a month respectively. The premium features include various features such as higher music quality, queue import/export, playlist management etc.
To add 24/7 bot, just go to "https://24-7music.com/" and click on the "Invite" button.
Following are some commands required for 24/7 bot:
mb play "track name": This command enables you to discover and stream your favorite music directly in discord.
mb streamlinks: This command displays a list of all streamable radio channels.
mb lang "Language": This command changes the interaction language of the bot.
google it: It is a special feature. If the keyword "google it" is present in any random message, the bot will display a google search result of the search query present in that message.