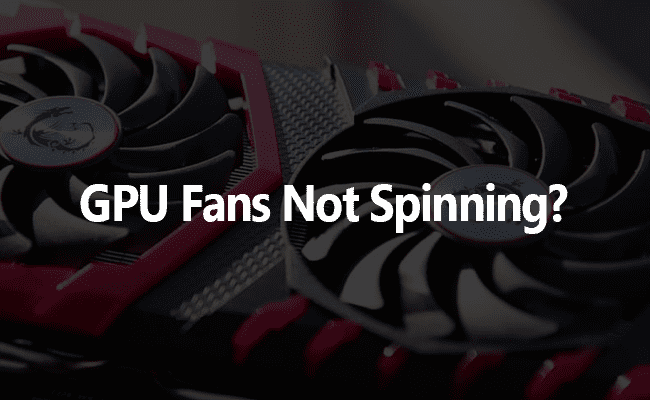 Are you struggling with your GPU fan not spinning? In short, a Graphics Processing Unit or GPU is a distinctive processor that deals with several graphical functions such as machine learning and editing. It has an attached GPU fan responsible for providing customized airflow to your computer's processor.
There lie various issues which can lead to GPU fans not spinning. It is undoubtedly infuriating for you to notice that your GPU fan is not working correctly. But as long as a problem exists, a solution will also live. And in this case, there are multiple ways to fix this poignant issue. But let's have a look at the reasons why your GPU fan is not spinning.
Why is Your GPU Fan Not Spinning? Most Probable Cause
The first and foremost thing to know while googling the causes of why the GPU fan is not spinning is that your GPU might be in an idle state. It is the most common reason behind this problem. But you should know that many graphic cards are unique, which allows them to spin only after reaching a particular temperature. If you are using a computer that has passive cooling technology, the GPU fan is most likely to start working after heating up on its own. To lower the noise, many graphic cards have this inbuilt technology nowadays. That's why users need to use their computers for a certain period first; then, the GPU fan automatically starts spinning.
So always use your system for the required time first to allow the GPU fan to heat up. You can also run a game to load the GPU fan faster. If you come to know that the GPU fan is still not working, there must be some underlying factors that we will discuss in the next point.
Effective Ways to Make Your GPU Fan Spin Again
1. PC Power Cable Not Plugged In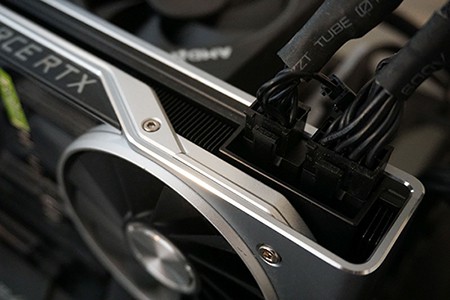 Due to a demanding work schedule, many users sometimes forget to plug in the PC power cable. If you don't use a GTX 1050 or GTX 1050 Ti graphics card, you will need to plug in your graphics card to the power supply. But if you use a graphics card is properly connected to a power supply and still fan not spinning, there is another cause. Take a look at the other reasons mentioned below.
2. A Dusty GPU Might Not Work Efficiently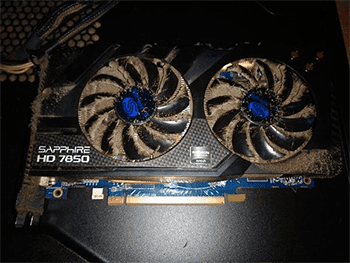 This reason is most likely to occur in old systems. Sometimes, you can end up noticing that the GPU fan, which has been working fine for all this time, suddenly stops working now. So you should also check if your GPU fan collected dust or not. Like a regular fan, a GPU fan will also contain some dust particles while it is working, and over time the dust will build up eventually. So you need to clean it accordingly. Using compressed air can come in very handy to blow out all the dust.
3. Oiling Up GPU Fan's Bearing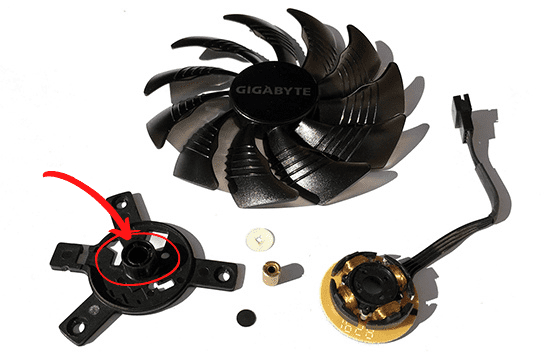 Several older graphics cards that are not spinning correctly or not at all might need some extra effort from your side. You should use a little bit of oil to make them spin. Safely remove the graphics card from the computer and then detach the fans to do that properly. You can use any lightweight oil on the fans and coat the fans with it. Mechanical oils will be best in this case.
4. Restart Your System
The best and most straightforward way to address the static state of the GPU fan is to restart your system. You might think of it as a silly step, but the most prominent IT engineers of the world today also suggest restarting your PC first if you come across this problem. Restarting your computer will help you in many ways. To begin with, it will reboot your device effectively and help in the realignment of all the functions. And additionally, it will also make the GPU fan spin gain correctly.
5. Update Graphics Drivers
Updating your graphics drivers is necessary to eliminate the problems of the GPU fan not spinning. An outdated or broken graphics driver will not let the GPU fan work perfectly. You can update the graphics drivers directly from the GPU manufacturers' websites such as AMD and NVIDIA. But the easiest way of updating graphics drivers is by installing the Driver Easy app. Kindly go through all the following steps to do it correctly.
Step 1. Install the Driver Easy app from this link below
Step 2. After successfully installing the app, please open it and press the Scan Now button. It will automatically allow the app to check an issue with your computer's drivers.
Step 3. After the scanning process is over, several updates will be flashing on the screen. Install all the necessary and latest versions of the drivers to your computer by clicking on Update All.
Note: the Update All feature is present in the pro version of the Driver Easy app. If you have not already purchased a paid version, they will guide you to do so after clicking on the Update All button. But even if you don't want to make a purchase, you will be able to download all of the updates one by one. And you must install them in the usual way you install updates in Windows.
6. GPU RAM Configuration
Checking the GPU RAM Configuration is a much-needed step to notice that your GPU fan is not working. Do this process by installing the MSI Afterburner app. Go through all the actions accurately to do this in the quickest way possible.
Step 1. Install the MSI Afterburner app by visiting this link below
https://www.msi.com/Landing/afterburner/graphics-cards
Step 2. After installation, open the app and press the A icon placed at the bottom right corner of your screen. It will open the auto control function.
Step 3. You will notice the fan control. You need to drag the slider to turn on the fan speed.
Step 4. Give a couple of seconds to the slider till it reaches 100. After it, you will hear that your GPU fan is working fine as usual.
Conclusion :
All the effective fixes mentioned in this article are quick and straightforward. So you don't require spending much time in the process while sitting in front of your PC. Just manage to spare a couple of minutes, and you will indeed remove the problem of the GPU fan not spinning.