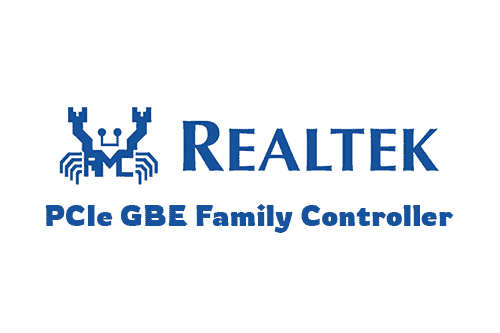 For those who have or using Windows 10, there is a chance that you have come across the Realtek PCIe GBE family controller. The most common time we notice is when it runs into some problems.
Many users have noticed that the controller gets disconnected, and then there is no network available to connect to the laptop. Then when they go to the device manager, they've found the (!) yellow mark before the controller icon. But what is this Realtek PCIe GBE family controller? If it is bugging your system as well, keep reading. Know about the controller and how to install it if it's broken on your system?
What is the Realtek PCIe GBE Family Controller?
The Realtek PCIe GBE family controller is a driver for the LAN hardware adapter on your Windows 10 PC and is a part of the Realtek Gigabit network controllers. This means they are used to monitor and operate the LAN network adapter on your computer and also control its wired network connection. The controller chipset communicates with your PCI Express (PCIe) bus to GBE (Giga Band Ethernet) to control the network functions on your device. RPG Family Controller is available to download for both 64bit and 32bit Windows OS versions, and Windows 10 users have seen it mostly.
What is the Speed of the Realtek PCIe GBE Family Controller?
Realtek PCIe GBE family controller is referred to as a 2.5G Gigabit Ethernet most of the time, and so its speed is 2.5GB/sec. But if the network controller is 10/100/1000M Gigabit Ethernet, then it can run at up to 1000 MB/sec internet speed. If the network controller is a 10/100M network device, then it will deliver up to 100 MB/sec. FE refers to Fast Ethernet that has a speed of 10/100 MB/sec.
The speed of your Realtek PCIe GBE family controller won't be a problem as long as it is running smoothly. But if the driver is outdated or not installed properly, then there is a chance that your computer will face network issues. So, let's have a look at the downloading and installing process of the Realtek PCIe GBE Family Controller to resolve internet connectivity on your computer.
How to Download, Install , Update or Change Settings of Realtek Controller
How to Download Realtek PCIe GBE Family Controller?
Are you downloading the Realtek PCIe GBE Family Controller driver for the first time? Or, the one on your system is outdated, or you are running an inappropriate version of the driver, which isn't finding any update to download automatically? However, in both of these cases, downloading the driver from scratch will help you to discard any internet connectivity issues related to your system. Here is how to download the Realtek PCIe GBE Family Controller manually from Reaktek's official website. Check out the steps below now.
Step 1: Visit realtek.com/downloads
Step 2: Then click on "Realtek PCIe FE / GbE / 2.5GbE / Gaming Family Controller Software Quick Download Link"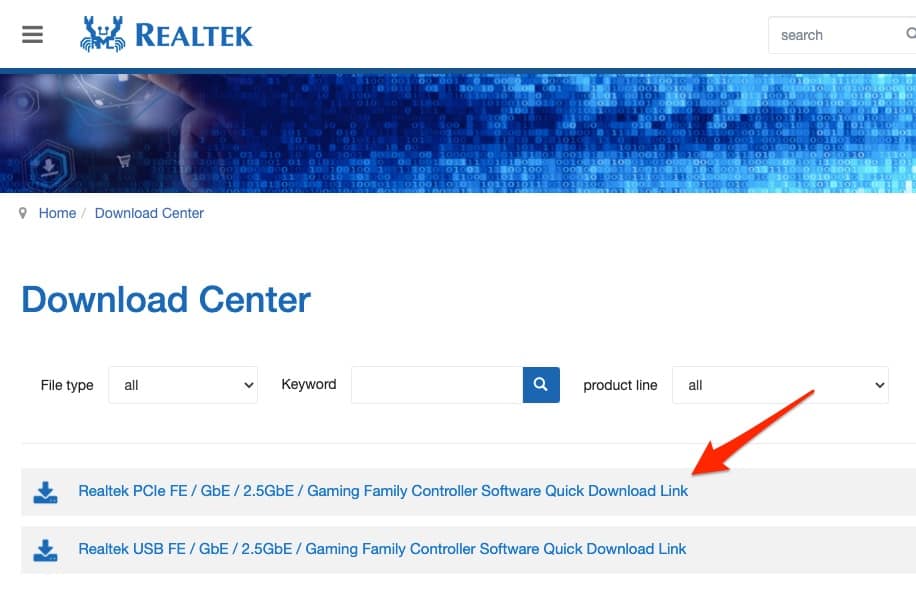 Step 3: Since you'll be downloading the driver for your Windows 10, click on "Win10 Auto Installation Program (SId:1152921505693508652)"

Note: In the case of other Windows versions, find the suitable one from the list on the same window.
How to Install Realtek PCIe GBE Family Controller?
Step 1: When you download the controller from the realtek.com/downloads page, it will appear in a zipped folder on the Downloads page of your computer. You will have to unzip the folder to reveal the files inside. If the files are already unzipped, then you simply have to open the downloaded folder and double click on the ".exe" file to install it.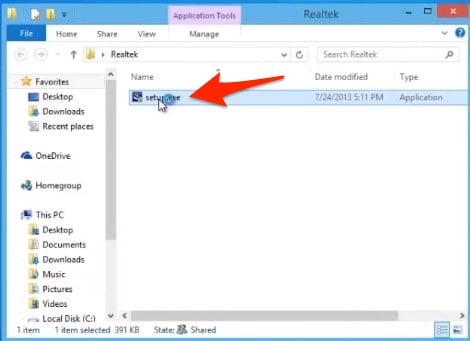 Step 2: The installation wizard will appear, and here you will have to click on Accept or Next or OK and whatever prompt appears on your screen until the installation is over.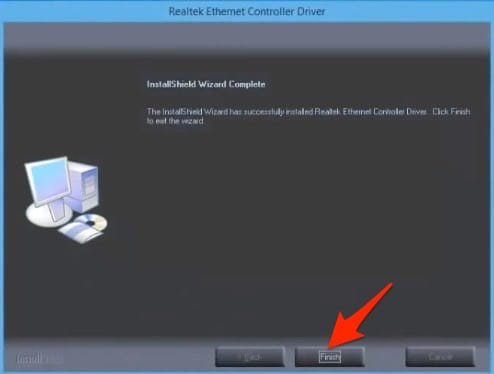 Step 3: The driver is installed, and now you can restart your PC to see the changes.
After installing the new driver, any problem shall be fixed automatically. If not, then you can try out other solutions mentioned in this post to fix any network issue that is occurring because of the Realtek PCIe GBE Family Controller.
How to Update the Realtek PCIe GBE Family Controller Driver?
If the installation is not your choice, then you can simply check out if the Realtek PCIe Gbe family controller driver is updated or not. Due to running an outdated version of system drivers, you can find internet issues on your computer. Updating the driver can be an effective way to resolve the problem. To update your Realtek PCIe Gbe controller driver, follow the steps below.
Step 1: Press Windows + R at the same time, and the run box will appear
Step 2: Type "devmgmt.msc" in the run box without quotes and then click OK to open Device Manager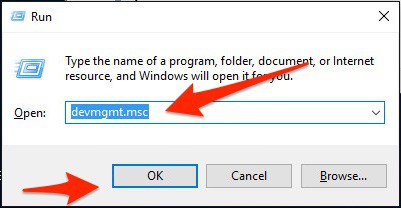 Step 3: Expand the Network Adapters from the device list and search for the Realtek Controller
Step 4: Then right-click on Realtek and click on Update Driver Software. Select the manual mode to update the driver.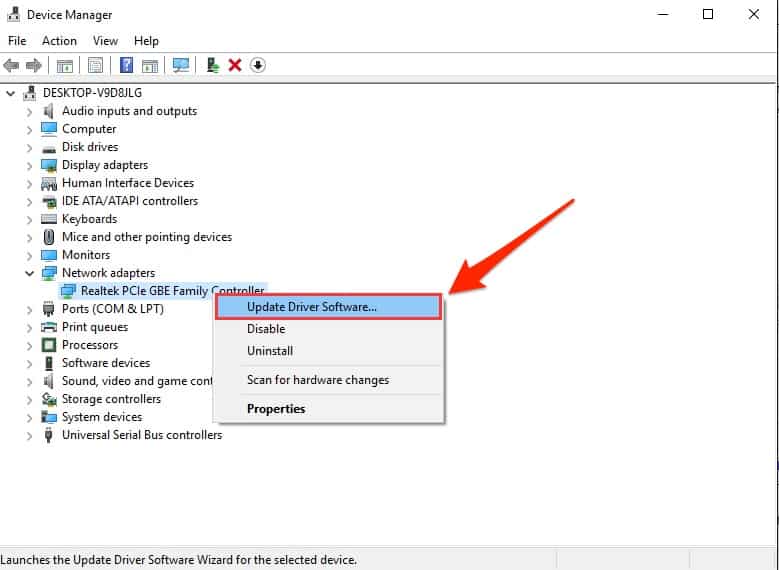 Step 5: Select the drivers you want to update, and your computer will automatically search for them.
Step 6: When you find the updates, install them and restart your PC. Updating your drivers may take some time.
After restarting your device, your internet problems will be gone. If not, there are some other workarounds to try.
How to Change Realtek PCIe GBE Family Network Controller Settings?
If the Realtek controller is facing hardware problems, you can alter your network controller settings to help the Ethernet network work properly. To change some settings in the Realtek PCIe GBE Family Controller Properties, follow the steps below.
Step 1: First, go to the device manager using the devmgmt.msc command through Run and click on Network adapters
Step 2: Right-click on the Realtek controller driver and open its properties
Step 3: Navigate to the Advanced tab and find the Properties option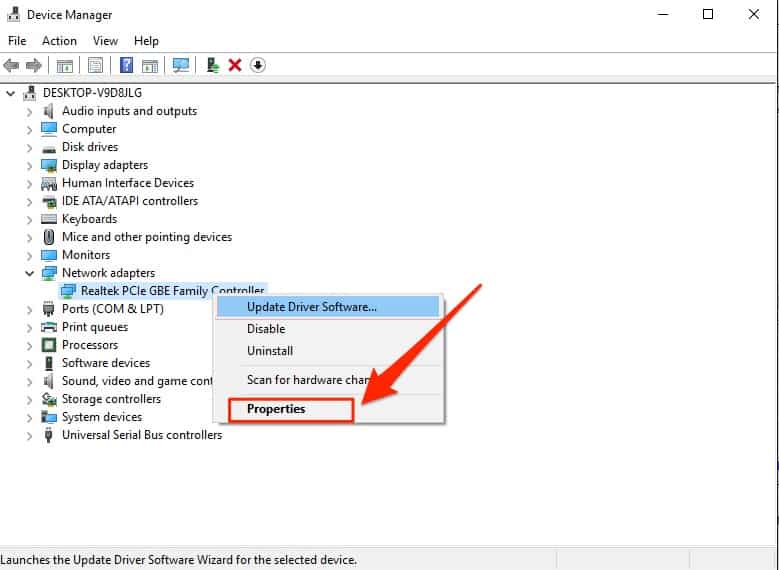 Step 4: Find out auto-disable gigabit and set it up to re-link, battery, or AC
Step 5: Under Property, find out green ethernet and disable it, then click OK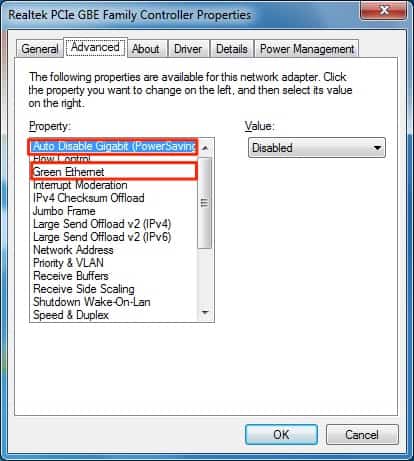 That's all! We've mentioned how to download the Realtek PCIe GBE Family Controller driver on your Windows PC. If you face further issues with the network connection, leave a comment in the below box. Stay connected for more guides.