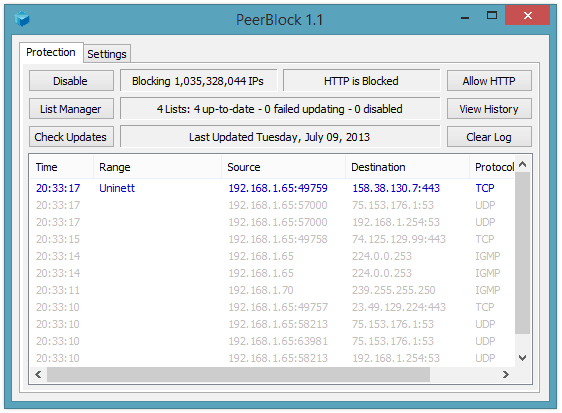 Peerblock is a highly useful software for your computer which is recommended to be used while downloading any files from torrent clients like uTorrent or BitTorrent. They are beneficial for improving the security of your system by protecting it from malware. But might not be the perfect choice for all computers due to which a lot of people want to know the alternatives of Peerblock. And that there today we are here with some of the Best Peeerblock Alternative for Windows PC. Not only that but you will also learn more about Peerblock and how does it work. Apart from that, you will get to know more about the differences between Peerblock and its alternatives. This can help you in choosing the best option while downloading any kind of files from torrent clients on your computer.
What is a Peerblock?
If you have ever downloaded any files from a torrent client like BitTorrent on your computer, then you must have come across the term Peers. These are essentially other computers which connect to your PC so that you can download the files with higher download speeds. But in some cases, some of these peers can introduce malware into your computer. As a result, your computer and all of its data will be at high risk. This is where software like Peerblock come into play.
As the name suggests, a Peerblock essentially blocks specific IP address so that malicious peers cannot connect to your computer. Because of this, they help in making your computer much more secure for downloading files from torrent clients. It works just like the Windows Defender Firewall by not allowing certain IP addresses through your torrent client. Apart from that, even though it blocks the peers which are used for downloading files, your download speeds will not be affected much. This is due to the reason that they only block specific peers which were not contributing in your download speeds anyways.
Check out our article Best VPN for Torrenting.
Why to Use Peerblock Alternatives?
Even though Peerblock works without any issues, for the most part, a lot of users will switch to its alternatives. And this can be done due to a number of possible reasons because of which people might be experiencing issues with Peerblock. One of the biggest issues with Peerblock is that it lacks any manual controls or restrictions. Instead, it is automated software which does all of its functioning on its own.
Due to this, Peerblock is not preferred by a lot of advanced computer users who like manual controls in everything. Apart from that, Peerblock software does not block all of the harmful and unsafe IP addresses so that they do not affect your download speeds. Because of this, even if you are using a Peerblock on your computer, you might get malware in your PC. Similarly, there are many other reasons due to which people tend to switch to Peerblock Alternatives for downloading files from Torrent clients on their computers.
Fan  of putlocker website then here is the best list of Putlocker alternatives.
Best Peerblock Alternatives [2019]
Now that you know that importance of Peerblock as well as the differences between it and its alternatives, chances are that you want to switch away right now. But there a lot of alternatives for Peerblock available out there. While some of them are VPN apps and services, some of them are even proxies which cannot be used easily by basic users. Not only that but different Peerblock alternatives offer different users which can be useful for different kind of users. As a result, choosing the best Peerblock alternative for your needs and requirements can be a little difficult. Therefore, today we are here with some of the best Peerblock Alternatives for Windows 10 PC. And if you also wish to download files from torrent clients without affecting the security of your computer, then you can go through the following Peerblock alternatives one by one:
1. NordVPN
NordVPN is one of the most popular VPN services available out there. It offers various useful features which can be helpful for both browsing the internet as well as for downloading files from torrent clients without affecting your computer's safety. You will find various features in this VPN which are not present in a Peerblock. For example, you get things like kill switch, data encryption, high network speeds, double VPN, and other useful features with NordVPN. Apart from that, not only it blocks harmful IP addresses in a torrent client, but it does the same while accessing any website on the internet. Not only that but you can even use NordVPN for changing your virtual location on your computer. Overall, it is one of the best alternatives for Peerblock available out there.
2. PureVPN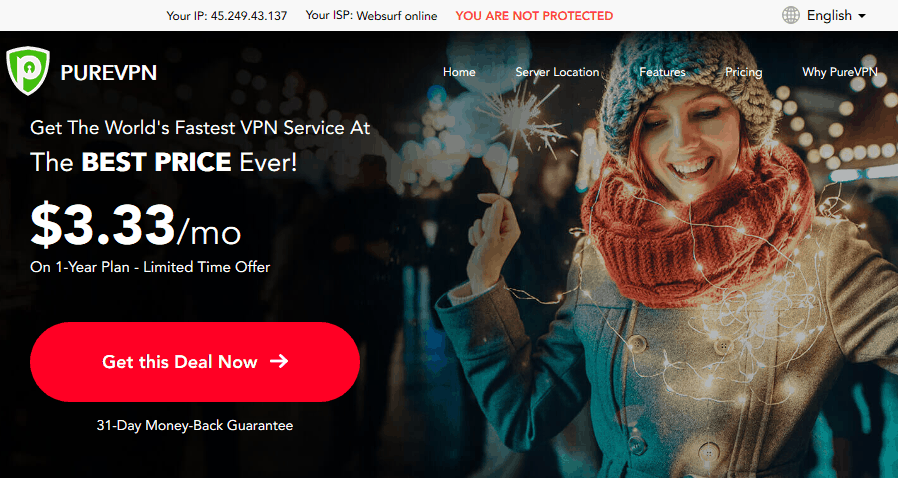 PureVPN is another VPN service available for Windows computers which can also work as a Peerblock. This means that you can use this VPN service while downloading any kind of files from your favourite torrent client. But compared to NordVPN, PureVPN has much cheaper plans and pricing. That being said, you will still have a great experience while downloading any files using PureVPN. As it completely secures your computer and prevents any malicious attacks, you can browse the internet without worrying about anything if you are using PureVPN. But the best part about PureVPN is that it allows multiple users to login into this at the same time.
check the ways to unblock youtube videos.
3. Simplewall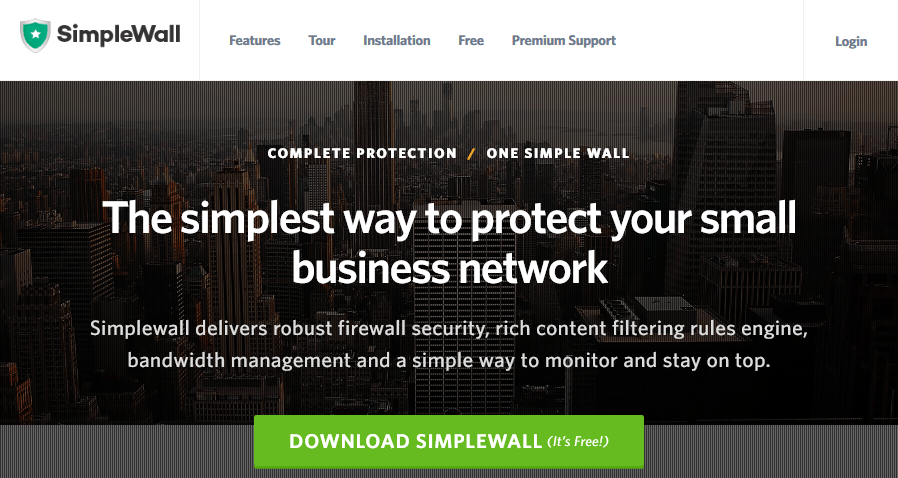 As the name suggests, this tool works just like the Windows Defender Firewall but for downloading files from torrent clients. It simply organizes the Windows Filtering Platform and uses it to monitor your network activity. This is quite important to save your computer any malicious attacks. The user interface of Simplewall is also quite simple which makes it perfect for basic users. Not only that but you can even add a custom block list in this software. This feature can be useful when you want to block specific IP addresses from your computer. Because Simplewall might not block IP addresses by itself all the time, you can use this feature. Apart from that, the software is completely free to use without any popup ads.
4. BeeThink IP Blocker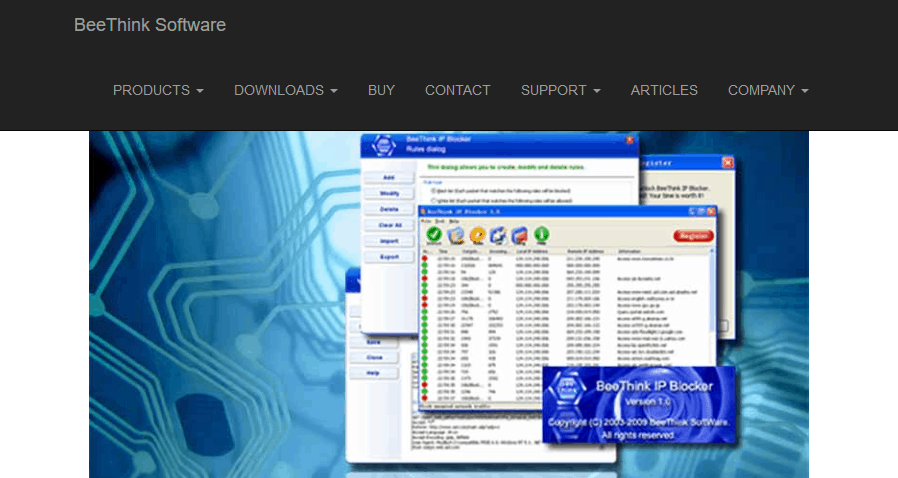 BeeThink IP Blocker is one of the easiest to use tools available out there which allow you to block any IP address on your device without having any major issues. Not only that but apart from completely blocking an IP address, you can even restrict that. Because of this, a specific IP address will only have limited access to your PC. As a result, even though you can download the file from that IP address for high transfer speeds, it will not affect the security of your device. You can add different variables like IP address, protocol port, etc in the BeeThink IP Blocker. This will make your computer safe and protect it from malicious attacks. Not only that you will also find a blacklist as well as a whitelist feature in this software.
5. Express VPN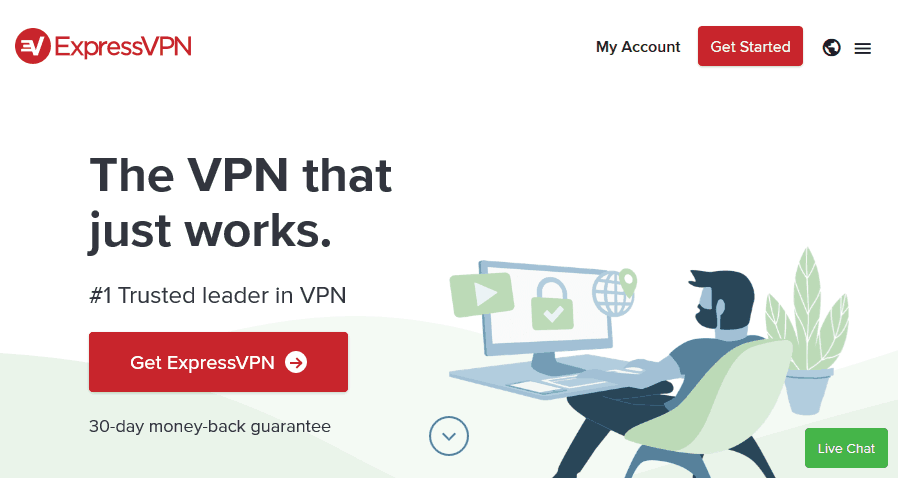 Express VPN is another great option as a VPN service for your computer. It is quite similar to NordVPN and provides fast download speeds. This virtual private network service will also work on all of your devices. It is possible due to the fact that it has apps available for almost all the major platforms out there. You will also find useful features like P2P servers, not Torrent IP leak, DNS leak protection, etc. And these features make it the perfect choice for protecting your computer from cyber attacks. This VPN service is also highly reliable which means that it will always keep working without any issues. The user interface of the Express VPN app is also quite good which makes it perfect for beginner users.
6. Peer Guardian
Even though Peer Guardian functions quite similarly to Peerblock, it does not have any limitations mentioned above in this article. Instead, it is like a firewall which uses a list of IP addresses downloaded from the internet for blocking peers. This list contains thousands of IP addresses because of which it always works without any issues. Apart from that the user interface of Peer Guardian is also quite good. And it makes using this app on your Windows PC quite easy as compared to other Peerblock alternatives. You can also add any IP addresses of your choice in its blocklist feature. Doing so will simply block all of these IP addresses from accessing your computer.
7. IP List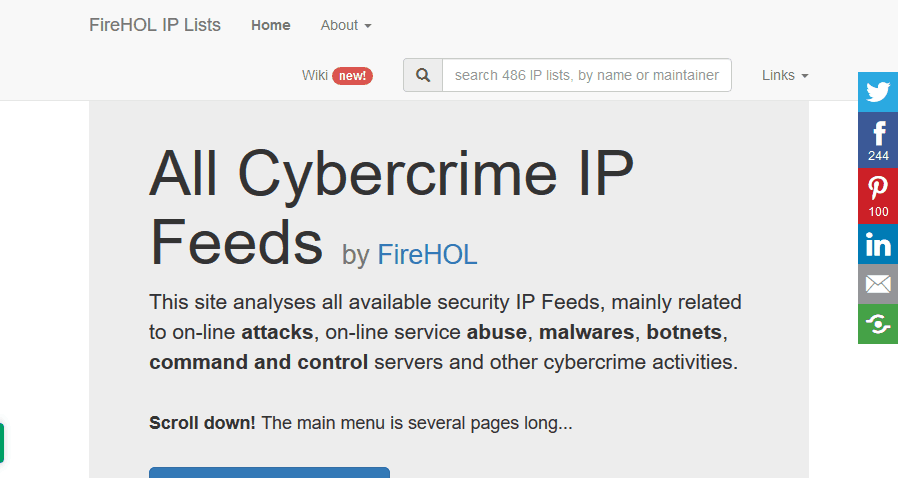 IP List is one of the most popular IP blocker tools available for Linux devices. But the best part about it is that you can even download it on your Windows PC. For its internal working, it uses Netfilter Netlink which helps it to automatically detect malicious IP addresses and block them. This is simply a queue library for blocking connections from a specific range of hosts. But the best part about this tool is that it is available on a number of platforms. And as a result, you can install it on all of your devices to protect them from malicious peers.