Here are the most simple ways to fix ERR_CONNETION_TIMED_OUT on Google Chrome!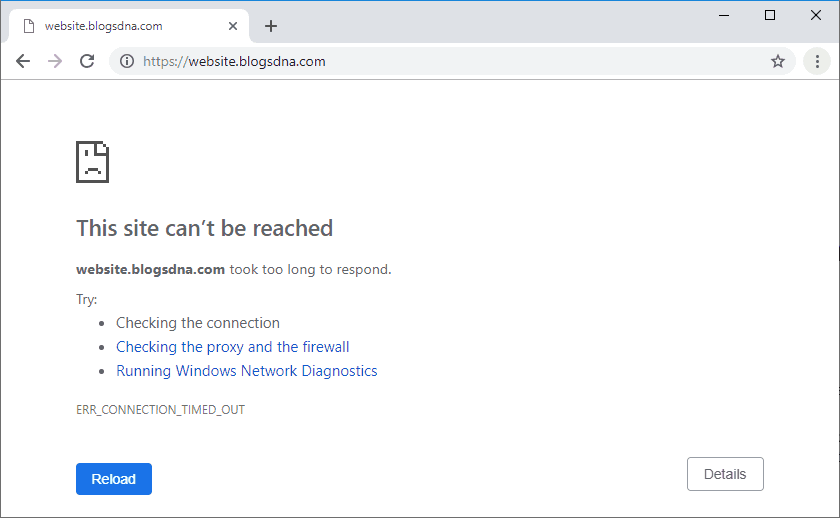 If you are long time Google chrome user, then you would have noticed different types of errors that keeps poping up every now and then. Every error has its own meaning and can be caused due to a number of reasons. Be it 404 Forbidden Error, downloading proxy script error or DNS_PROBE_FINISHED_NXDOMAIN, for all of which we have already covered different solutions. And today we are talking about one such error found in Google Chrome while browsing the internet. The concerned error found in Google Chrome is called ERR_CONNECTION TIMED_OUT. And in this article, we will show you how to Fix ERR_CONNETION_TIMED_OUT on Google Chrome in Windows 10. Not only that but you will also learn more about this error including the things which cause this issue as well as what does this error mean.
What is ERR_CONNECTION_TIMED_OUT in Google Chrome?
Whenever you try to access a website or a webpage in your browser, Google Chrome has to make a request to the server. And once this request is received by the server, it starts sending the website data and it loads on the user end. The same process is carried whenever you open a new webpage in Google Chrome. But these requests sent to the website server can get timed out if they do are not received by the server successfully.
And the ERR_CONNETION_TIMED_OUT error comes in Google Chrome whenever the request to the server gets timed out. While this error might be caused due to issues with the server itself, many times it is caused due to issues on the user side. And many Google Chrome users have reported this error coming up due to issues within the browser. Unfortunately, if you are facing this error in Google Chrome on Windows 10, you will not be able to open some or all websites.
Learn what is WebRTC?
What Causes ERR_CONNETION_TIMED_OUT on Google Chrome?
There are several possible causes of the ERR_CONNETION_TIMED_OUT error in Google Chrome in Windows 10. The most obvious reason behind this error is an issue with the server itself. Apart from that, things like corrupted website data including cache files and cookies can also result in this error. For some users, improper Windows network settings also result in the user-facing this error in Google Chrome. Not only that but you might get this error if you have outdated network adapter drivers installed in your Windows 10 computer.
is Google Chrome Crashing or Freezing frequently?
How to Fix ERR_CONNETION_TIMED_OUT on Google Chrome in Windows 10?
Since this error results in a poor browsing experience on Windows 10, fixing it is quite important. But as most probably you are not facing this error due to server-side issues, there are multiple things which can cause this error as shown earlier in this article. So, to successfully fix the ERR_CONNETION_TIMED_OUT error and get rid of it from Google Chrome, make sure to go through the following solutions one by one:
1. Check Website Address
Most of the time ERR_CONNECTION_TIMED_OUT error occurs due to incorrect website or url. If the website in question was working for you recently then there are high chances that you are mistyping URL. Make sure you double check website/url spellings as well as if you are properly adding the sub-domain part.
The problem at web server end can also lead to  ERR_CONNECTION_TIMED_OUT. if the website that you are attempting to browse has too many live visitors then due to server load, site may become unresponsive and stops accepting new connections. It would be wise to wait for some time before reopening the page when you come across this error.  Alternatively you can try contacting website owner or webmaster and let them know of the problem.
2. Clear Cache Files and Cookies in Google Chrome
All of the websites that you access using Google Chrome store temporary files on your computer. These files are stored in the form of cache files and cookies. And these are highly important for the proper functioning of your browser as websites use them to access user's old data. But if such files get corrupted due to some reason, you will start seeing errors in Google Chrome. In such a case, you can simply clear cache files and cookies of your Google Chrome browser by following the given steps:
Inside Google Chrome, click on the three-dot menu button in the upper-right corner and open
In here, scroll to the bottom and click on Advanced which will show you more settings in Google Chrome.
After that, select Clear browsing data and choose Cookies and other site data and Cached images and files and click on the Clear data Doing so will delete all of the temporary website files stored in Google Chrome which will fix the ERR_CONNETION_TIMED_OUT error.
3. Update Network Adapter Driver in Windows 10 via Device Manager
The driver of the network adapter of your computer is responsible for handling all browser requests. This means that if it is not working properly, server requests will start timing out. Because of this, you will start seeing the ERR_CONNETION_TIMED_OUT error in Google Chrome. And if the network adapter driver is not working properly due to being outdated or corrupted, you can try updating it. You can update the network adapter drivers in Windows 10 via Device Manager as shown here:
Press Windows Key + X on your keyboard and open Device Manager on your PC.
Expand Network Adapters and right-click on your default network device and select Update Driver.
After this, a new window will open where you have to select Search automatically search for updated drivers.
Once you have done that, Windows 10 will automatically update the network drivers of your computer fixing any issues caused due to corrupted network drivers.
4. Flush and Renew DNS and IP Address in Windows 10
The DNS address and IP address of your computer play a very important role in successfully connecting with website servers. And if there are any issues with DNS and IP addresses of your Windows 10 computer, then you might face the ERR_CONNETION_TIMED_OUT error in Google Chrome. In such a case, you can flush and renew the DNS and IP addresses of your computer. This will result in Windows 10 creating new DNS and IP addresses and you can do the flush and renew process as shown in this guide:
Use Windows Search to open Command Prompt as an administrator on your computer.
In here, type the following commands one by one and press enter afterwards:

ipconfig /flushdns
ipconfig /registerdns
ipconfig /release
ipconfig /renew
netsh winsock reset

At last, reboot your computer after which your Windows 10 computer will have a new DNS address as well as an IP address. It will fix the ERR_CONNETION_TIMED_OUT error in Google Chrome if it was caused due to DNS or IP address issues.
Keep your productivity high or kids safe from unwanted websites that they shouldn't be knowing or browsing with this 5 simple ways to block website on chrome.