Grabbing digital installation media for Windows 10 is quite easy and all you need to do is head over to Microsoft site and get the media creation tool or upgrade assistant and upgrade their Windows 7,8/8.1 to Windows 10. However, one important piece of any software or Microsoft Operating system is a valid product key, without which you cannot activate Windows 10.
Since Windows XP days, Microsoft has been releasing different editions of Windows, like home, pro or education edition and the product key will only work with the corresponding version of Windows. You can not use Windows 10 home edition product key to activate Windows 10 pro version. You do get the liberty of upgrading editions simply by purchasing product key and changing it with your existing Windows 10 product key.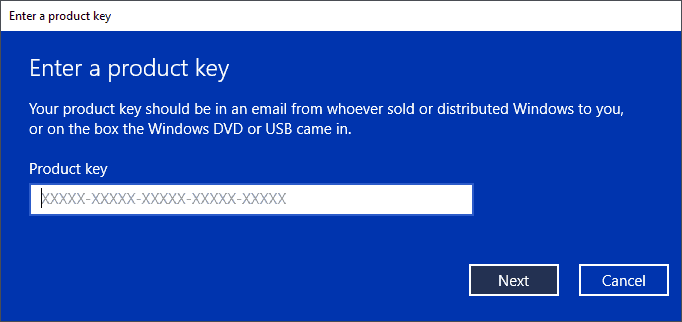 If you're also planning to change Windows product key then here is step by step guide for you.
How to Change Windows 10 Product Key
Method 1:
Right click on "This PC" and click on properties
In System properties Window, locate Change

product key

option under

Windows activation

Click on Change

Product Key

and it will open a new

window

with the prompt to enter a

product key

.
Enter your 25 character product key and click on next which will perform a brief check with Microsoft activation server to verify and activate your Windows 10 license.
Method 2:
Press windows key + i 

keyboard shortcut

to open Windows Setting.
Click and open Update & Security
From the left navigation menu,  click/touch on Activation
You should see"Change

product key

" option under update product key section
Use that option to change Windows 10 product key.
Check above link to learn how you can find lost Windows 10 product key as well as OEM key.
How to Change Product Key on Windows 8/8.1
Right click on My Desktop icon and go to properties menu item
Look for Change

Product Key

or Activate Windows link under

Windows Activation

section.
This will open a

window

with an option to enter a

product key

.
Microsoft latest operating system Windows 7 beta is available for public download along with free product key (activation keys). This beta version Windows 7 has time bases expiry and it will expiry on 1st august 2009. Rumors are floating that Windows 7 RC may be available by June 2009.
Anyways there are six more months to go for windows 7 beta 1 to expiry which is enough to enjoy windows 7. In case you need to change product key of windows 7 and don't know how to do it then here is small guide for how to change windows 7 product key.
How to Change Windows 7 Product key
Method 1: Manual
1. Right Click on My Computer and Select Properties.
2. Wait a second for windows activation details to get populated.
3. Click on Change Product key link after your Windows 7 activation details are populated.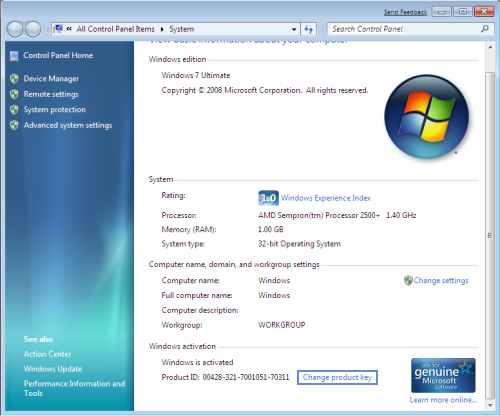 4. Enter New Product Key and click on next to activate your windows 7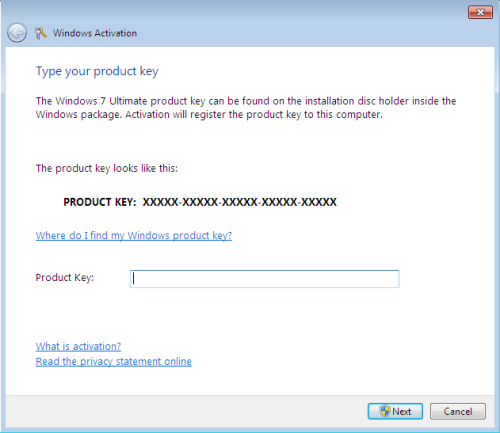 Method 2: Command Prompt
1. Click on start and type command (cmd) with run as administrator option or check how to open elevated command prompt
2. Now type following command
"slmgr.vbs -ipk <insert your new product key here>"
3. To activate windows after changing the key, run "slmgr.vbs -ato"