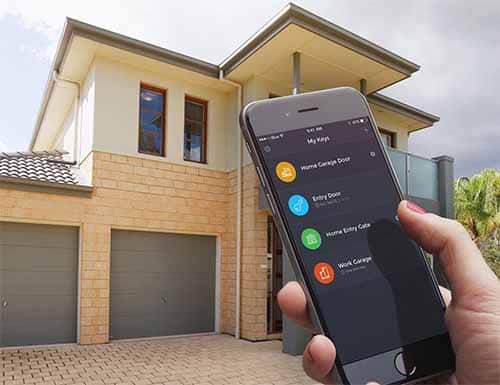 There's no denying that today's world is highly technologized – smartphones are a perfect example. Most people own at least one of these devices, and most cannot imagine not having it near them during the day and night.
Technology has definitely made a lot of things easier – especially for those who are forgetful. With just one click, you can turn off the light, close the garage door, or turn off the speaker from wherever you are. You just need an app and a smart device.
In this article, we will be looking at remote garage door openers – or rather the apps that help operate them. Even though there are many models, such as, for example, Linear garage door openers that have their own dedicated apps, there are also plenty of applications available that work just fine for almost every remote garage door opener. What apps are those, and which ones are the best? If you want to learn more, just keep on reading:
Tap It Open
Tap It Open is a garage door opener app dedicated to Android. There is no need for additional hardware – your smartphone is all you need. The app uses Bluetooth to open the garage door and has a user-friendly interface, meaning that it is easy to operate.
What's more, since it uses the Bluetooth connection, as well as your phone's password protection, it is safe to use – you won't have to worry about lost or stolen remotes, as you won't need any.
Unfortunately, the Tap It Open app is dedicated to Genie garage door openers, which means that you need to have it in order to be able to use this app – however, this fact didn't stop the app from becoming one of the best ones currently available.
MyQ Smart Home App
Chamberlain is a company specializing in garage door openers and remotes. Their app is one of the most advanced ones, as it allows you to control not only your remote garage door opener but also the exterior and interior lights in your house. However, in order to be able to use the app, you need to have the Chamberlain MyQ hardware.
If you are someone who worries about the security of using such apps, feel free to share access to your home with a maximum of 5 people. You simply need to send them a user invite and set up guest accounts so that you can control when and how many people can access your house.
An interesting attribute of this app is that you can customize what types of notifications you receive. Do you want to be informed whenever the garage door is opened? Sure, it can do that. How about whenever the garage door starts opening? Yes, it can do that as well. With this app, you are in full control.
GarageMate
GarageMate utilizes your phone's Bluetooth to open the garage doors. However, you will need a GarageMate receiver – thankfully, it is very easy to install, meaning that even those with no experience in such things whatsoever will be able to easily do it. It is a small dongle that you insert into an outlet near your garage door opener.
The app is secure as it will only be allocated to the system on your premises. Even if someone near your house has the app installed on their phone, they will have no control over your garage. They will only be able to use it to open it if you grant them permission to do it. GarageMate uses Bluetooth 4.0 or later – it is available on all phones manufactured after 2013. Another nice aspect is that you can add multiple passwords and make your garage even more secure.
It is worth noting that GarageMate is compatible with every garage door opener that has a standard wall switch – which is almost every residential opener made in the last half a century. However, if you have one of the newer models from Liftmaster, Craftsman, or Chamberlain (made after 2011), you need to check whether it has a yellow learn-button. If it does, then it will not work with this app and receiver. However, if the button is of any other color – be it red, purple, green, blue, and so on – then it should be perfectly fine.
MyDoorOpener Elite
MyDoorOpener Elite is an app available only for iOS. It is probably the most versatile app among all that we mentioned, as its abilities go beyond just controlling the garage door. The app can be transformed into a home spread hub that regulates the temperature of your home, controls the ceiling fans, and remotely controls your fireplace.
However, if you are only interested in using it for your garage door, you might appreciate the fact that contrary to most apps of this kind, the push notifications are mostly sent via SMS – this is a great option for those who do not have access to the internet 24/7.
The Bottom Line
Technology plays a crucial role in today's world. Just think about yourself – you probably have a phone, a computer, maybe even a tablet and a TV. The truth is that new technological inventions have dramatically changed many people's lives.
Today, it doesn't matter if you and your loved one are on two different sides of the world – you just take your phone in hand and call them. You can hear their voice or see their face right away – not like a century or two ago when the only medium of communication were letters.
Not to mention how much it helped people who are very forgetful – now, all you need is a smart device, and you can turn it off from wherever you are, and you get a notification if something happens with it – for instance if the garage door opens.
Talking about garage doors – we hope that after reading this article, you know more or less which garage door opener app will be the best for you and your door. After all, technology is there to help us, so why not take full advantage of it?