Got 0xA00F4244 error on Windows 10 Camera app? The exact error message reads as follow,
We can't find your camera

Check to be sure it's connected and installed properly, that it isn't being blocked by antivirus software, and that camera drivers are up-to-date.

If you need it, here's the error code: 0xA00F4244(0xC00DABE0) <NoCamerasAreAttached>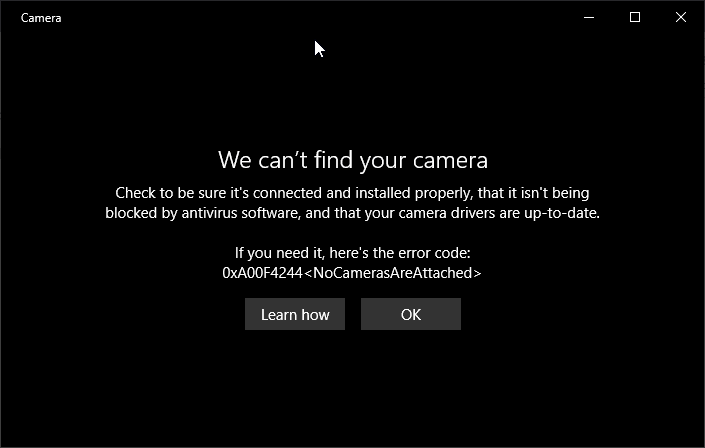 Although the message points more towards physical camera hardware than the camera app but as you can guess even Windows 10 camera app issue can lead to the similar error message. In the past, we have covered how you can fix Microsoft Store app and Windows 10 mail app issues.
This article will discuss different methods that you can use to fix we can't find your camera 0xA00F4244 error on Windows 10.
We can't find your camera 0xA00F4244 error, how to fix?
1. Enable Use of Camera Hardware
The first thing that one should check is the camera app is allowed to use hardware in Windows 10 settings, to do that, follow below steps.
Type settings at Cortana search and open

Windows

Settings

app
Click and open Privacy Section
From the left pane under

Windows

Permissions, scroll down and locate and click Camera
Now click on Change button under Allow access to the

camera

on this device.
Turn the switch on for Camera
Scroll down further and from the list of Choose which apps can access your

camera

, make sure to turn on options for all the apps that you plan to use your

webcam

/

camera

.
In case if the toggle is already turn on, then do turn off and turn back on which can remove the glitched out app settings.
2. Reinstall Camera/Webcam Drivers
An issue with the drivers for your camera/webcam may result in a similar error. Being drivers main component of camera hardware, you must fix the drivers to fix this error.
In order to uninstall and reinstall camera drivers follow below steps,
Right click

on This PC (My Computer) icon on your desktop
From the

right click

context menu

, click and open Properties
Now under

Control Panel

home, click on

Device Manager

.
From the list, click and expand Camera and locate your built-in camera device.
If you have an external

webcam

connected via USB cable, then expand imaging devices and locate your

webcam

device.
Now

right click

on that device and select uninstall option and confirm your action by selecting the Uninstall button on the next screen. Do make sure to check the option for "Delete the

driver

software for this device"
At this stage, the faulty

driver

for camera/

webcam

hardware

is deleted. To reinstall that device, hit scan

hardware

for changes, which you can do it from action menu item.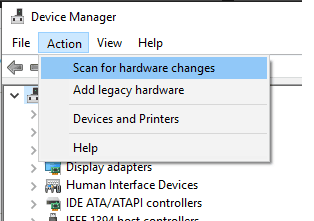 That's it, Windows 10 will automatically install the relevant drives for the camera. Now check if the Windows 10 camera is working as expected or not.
3. Windows App Troubleshooter
Microsoft Windows 10 is pre-bundled with many useful troubleshooting utilities to fix most common issues face by users. One such utility is App troubleshooter.  To run Windows app troubleshooter, press windows key + i keyboard shortcut, now in Windows Settings, search and open Troubleshoot Settings.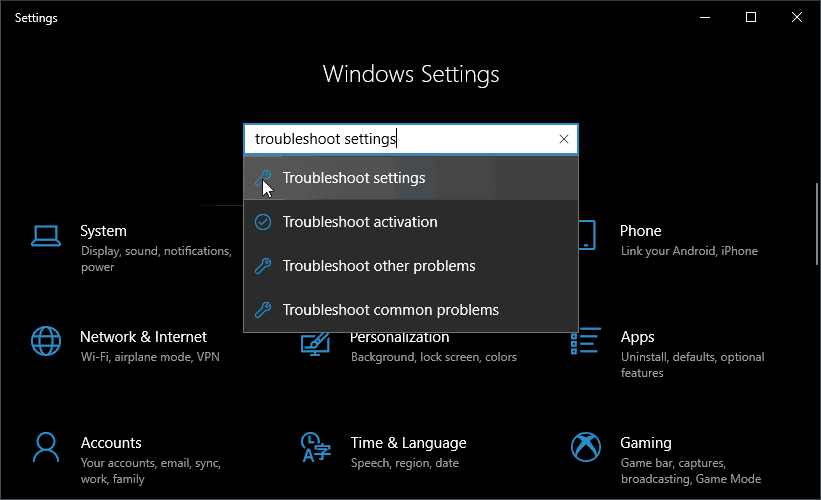 Under Troubleshoot settings, scroll the right-side pane and locate Windows Store Apps, click on that option and hit run the troubleshooter button.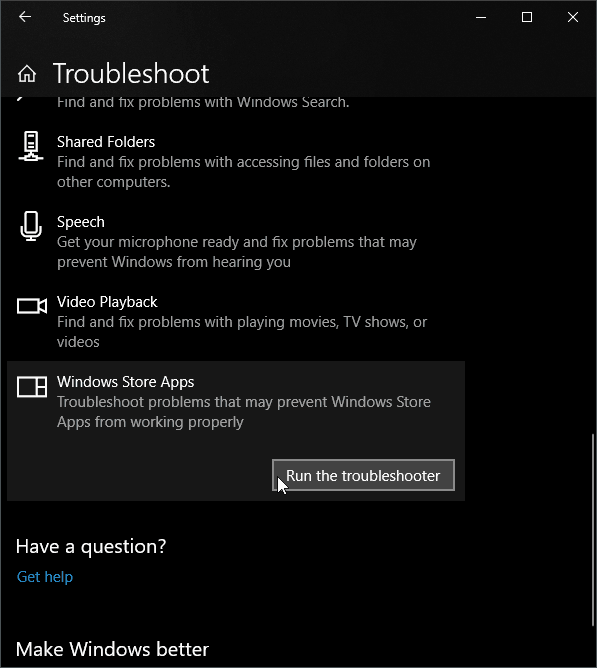 Window Store Apps will now scan and report any issue with camera app will also attempt to repair it. The final screen will present you the report displaying action Windows Store Apps troubleshooter took.
4. Reset Windows 10 Camera App
If you followed all the steps and still Windows 10 camera app shows we can't find your camera then it could be app that has some problem and not your camera or webcam hardware.
The best way to fix the Windows 10 camera app is to do the reset.
Search for Camera app and

right click

on the

camera

app result
Under

right-click

context menu

select App settings
Under

camera

app settings, scroll and locate & hit the reset button
Confirm your action by selecting the reset button and again
That's it. Now check and see if Windows 10 Camera app is working for you or not.
5. Uninstall & Reinstall Camera App
If the camera app reset didn't do the trick for you then the last option will be to uninstall and camera app. Thankfully, there is a simple way to uninstall camera app and reinstall via app setting.
Follow the same steps as described in reset camera app method, instead of reset button scroll down and locate and click on uninstall button.
Once you have uninstalled Camera app, in order to install again, go to Microsoft Store append search for Windows Camera App and hit get button.
Video Guide to Fix Windows 10 Camera Error