Did you encountered an error with message "There was an error loading the game configuration from the website" in RuneScape? Well you are not alone. The issue is faced by several RuneScape users.
The complete error message reads as follow
"There was an error loading the game configuration from the website.

if you have a firewall, check that this program is allowed to access the internet. (7,28)"
Typically, the error is displayed when a user attempts to launch the RuneScape client on Windows 11, 10, or on Windows 7.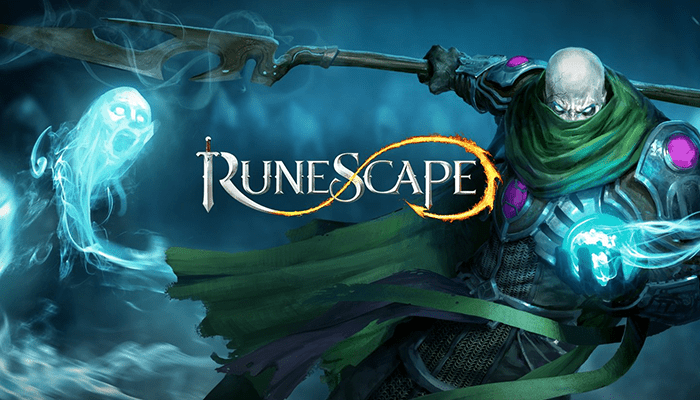 RuneScape aka RuneScape 3 is MMORPG game possessing the title of Guinness Book of World Records for having world's largest and newest free to play RPG game. The game usually works smoothly but lately users been plagued by game failing to load configuration file from website error.
What Causes RuneScape Error Loading Configuration from Website Issue?
Based on reports shared by RuneScape players, the error is attributed to one of the below reasons.
Security Suite : Often antivirus programs or security suite installed on your Windows tends to block suspicious activities including unsecured network connections or unknown server connection preventing RuneScape from connecting to server and loading configuration files.
Keyboard Layout : RuneScape being browser based game, it only accepts connections from predefined parameters such as keyboard layout or Windows region. Any mismatch or inconsistency in one of these could lead to server rejecting connection.
Browser issues : web browser plays a crucial role in online web based browser only games. RuneScape requires latest and compatible browser. Certain browsers like Internet Explorer and Microsoft Edge are known to function poorly for such browser games. This could be potential reason for RuneScape game configuration loading error.
DNS issue : The internet is very much dependent on DNS to function properly. The fancy domain names resolution into its digital format (IP address) is only possible due to DNS. The error origination from DNS server or corrupted DNS cache on Windows may also lead to similar error.
10 Fixes For RuneScape Error Loading Configuration From Website
RuneScape error loading configuration from website issue can easily be resolved by following below fixes. Go through each fixes until the issue is fixed for you.
Fix 1: Turn off Antivirus/Security Suite
Antivirus, malware and security suite often hinders the client and server connection. These software work based on predefined rules and threats perception. If you are facing error loading game configuration file from website error on RuneScape then best solution to fix it is disabling or turning off antivirus program.
Follow below steps to disable Windows Defender Antivirus
Press Ctrl + I keyboard to open Windows Settings app.
Click and open "Update & Security" inside settings.
Click on "Windows Security" from left pane.
Under Windows Security section, click and open "Virus & threat protection".
Find and open "Manage Settings" under Virus & threat protection settings.
Toggle off Real-time protection and cloud-delivered protection. This would turn off Windows Defender Antivirus.  If you have third party antivirus software like Avira or Norton then the exact steps to disable third party antivirus and security suite you can find from product websites.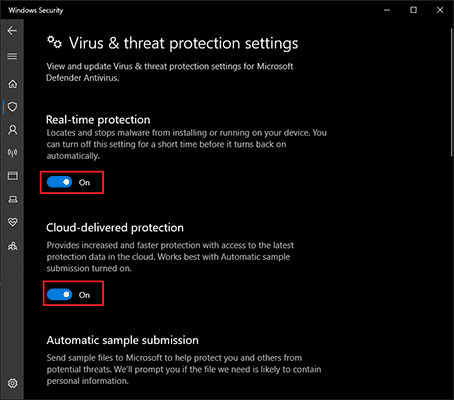 Fix 2: Flush DNS
To speedup domain name resolution, Windows maintains the DNS cache. If for some reason there is problem with DNS cache it would lead to an issue like RuneScape "Error Loading Game Configuration file from the website".
Many RuneScape players have suggested that flushing the DNS helped them to fix this error.
How to Flush DNS on Windows
Open elevated command prompt (Run as Administrator) by pressing Windows + S keyboard shortcut and searching for CMD
At the command prompt type following command and press entry key.
ipconfig /flushdns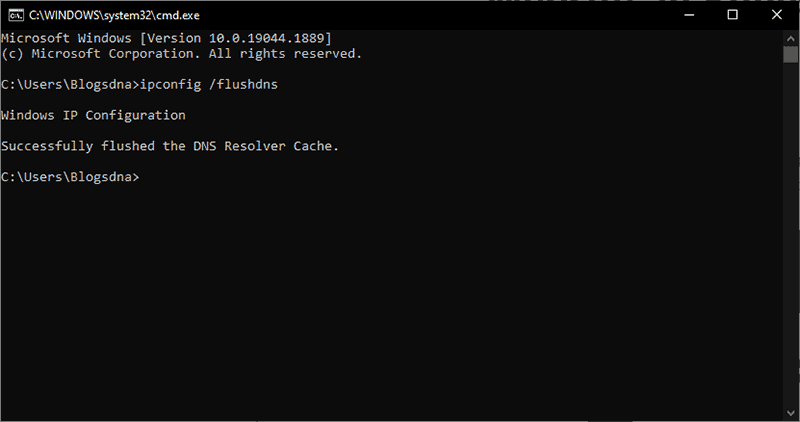 Wait till command completes its execution. Once finished, start RuneScape and check if the error is resolved or not.
Fix 3: Change DNS Setting
If flushing DNS didn't help you to fix RuneScape error, then its advisable to change your internet DNS settings to Google or Cloudflare DNS server. Both the DNS server are reliable and faster compared what your ISP offers. BY changing DNS settings, you can resolve this error.
How to Change DNS setting on Windows
Press Windows + R keyboard shortcut and type ncpa.cpl  and click on OK button. This would open the network settings in control panel.
Right click on active network adaptor and go to properties
Scroll down and select Internet Protocol Version 4 (TCP/IPv4) and click on properties button
Under General section, click on Use the following DNS server address radio option and add following IPs for preferred and alternate DNS server address. (Use any one Google or Cloudflare DNS)
Google DNS
8.8.8.8

8.8.4.4.
Cloudflare DNS
1.1.1.1 (only preferred DNS address)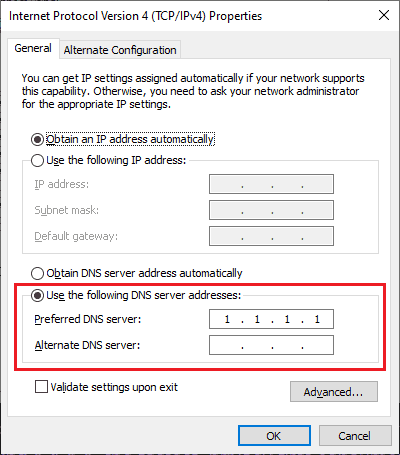 Click on OK for change to take effect.
Now launch RuneScape client and enjoy error free gaming.
Fix 4: Change RuneScape client properties or use third party launcher
Some of the users have recommended following changes to client properties.
Right click on RuneScape client exe and access properties
Locate URL under Web Document tab
Edit the url as shown below
From
launch://www.runescape.com/k=5/l=$(Language:0)/jav_config.ws
To
launch://world1.runescape.com/k=5/l=$(Language:0)/jav_config.ws
Click on OK button to save the changes.
Now launch the RuneScape client and see if the error appears or not.
If you still getting the same then try the third party Old School RuneScape (OSRS) launcher RuneLite.
Fix 5: Change Windows keyboard Layout
While most would argue as to what relation the Windows keyboard setting and RuneScape error loading configuration from website has and as absurd it may sound but this fix has worked for many RuneScape users. Simply by changing your Windows keyboard layout to English (US) you can get rid of this error.
How to Change Keyboard layout on Windows
Hit Windows + S keyboard shortcut and search for "Control Panel"
Open classic Control Panel app from the search result
Use Search to find and open "Clock and Region" settings
Inside the Clock and region settings, open Region and scroll down the Format: and select English (United States)
Click on OK to apply the changes and restart your Windows.
Fix 6: Windows Firewall
Windows Defender Firewall could be blocking the connection to RuneScape server leading to error in loading configuration from website. By simply adding run RuneScape client to the list of allowed apps and features in Windows defender firewall will fix this issue.
Press Windows + I keyboard shortcut to open Window Settings.
Search for Windows Defender Firewall and open the settings
From the left pane, click and open "Allow an app or feature through Windows Defender Firewall"
Click on Change settings and scroll the list and locate RuneScape client
Check Private and Public setting for RuneScape client and click on OK button to save the changes.
Fix 7: Try Different Browser or Restart Your Existing Browser
RuneScape being browser-based game, any problem with your existing browser could cause an error like this. Unknown extensions or addon that you may have installed in your Chrome or Firefox browser, could also conflict with the game.
If you been using same browser instance for long, the browser instance may have become unresponsive or cache is corrupted . In this case, try to restart your browser first and verify if the issue still persist.
If it does then try using secondary browser that you may have installed on your system.
Microsoft Internet Explorer and Microsoft Edge are known to cause various issues with browser based games. Try avoiding this two browsers.
Fix 8: Browser Extensions
If you had recently installed an extension on Chrome or an addon on Firefox that could be causing the RuneScape error loading configuration from website.
Try disabling or removing browser extension.
How to Disable/Remove Extensions from Chrome
In your Chrome browser, click on three dots at top right corner to open browser menu.
Go to More tools and click on Extensions
You will see the list of all install extensions, use turn button to disable each extension or you can also use the remove button to uninstall extension from your browser.
How to Disable/Remove Addon from Firefox
Open the Firefox application menu from the top right corner of the browser
From the menu click and open "Addons and themes"
Use toggle button to disable addon or click on three dots beside enabled addons to remove them.
Fix 9: Clear Windows Cache & Reinstall
Windows cache often becomes huge in size as the time passes. The Windows cache holds all kind of temporary files created by various applications/programs and browsers that you use daily. Corrupted Windows cache if often culprit behind several Windows and programs errors. To clear the Windows cache, follow below steps.
Press Windows + R keyboard shortcut to open Run command
Type %appdata% and click on OK.
Inside AppData folder find the Jagex folder and delete that folder.
Also clear your web browser history and cache.
Now download RuneScape client and reinstall.
Check if the RuneScape error loading game configuration file from website is fixed or not.
Fix 10: Reset Winsock
Winsock aka Windows Sockets API offers the programming interface for applications that needs to connect to internet. Undoubtedly any application or program that interacts with internet must go through Windows Sockets.
By resetting Winsock you can fix any issue within it, potential also fixing the RuneScape error.
How to Reset Winsock
Open Run command by pressing Windows + R shortcut.
Type CMD and press ok button to launch command prompt.
Now type following commands one by one at command prompt.
netsh winsock reset

netsh winsock reset catalog

netsh int ipv4 reset
Next restart your computer and launch RuneScape client and check if the issue is resolved or not.
Conclusion
RuneScape being browser based game a lot can go wrong with slight problem in your Internet connection, browser settings or simple firewall rules. The above 10 fixes are the most exhaustive fixes and should help you to fix RuneScape error. All the fixes are easy to follow and hugely depend on the Windows settings or security application that you are using.