Looking for recovery apps for Android? If yes, then your search ends here! The Android is one of the most widely used mobile OS in the world. Being tech-savvy, people usually rely on their Smartphones from simple to complex daily tasks. May it be capturing pictures, chatting with someone, or storing a large amount of data in the form of files, documents, and text messages, Android Smartphones play a crucial role.
People generally store all their personal memories in the form of videos, photos, and documents on their phones, but sometimes, due to some unforeseen situation, data loss can occur. In such a situation, all your valuable data either becomes inaccessible or is lost. Such a data loss can be hurtful or even catastrophic at certain times.
So, in order to help users come out of this scenario, there's a high demand for Android Data Recovery applications, and we are here to assist you with the same. This guide lists top Android Data Recovery applications according to our own experience with them.
Let's get started, but before moving to the listicle, we will look at some of the basics related to Android Data Recovery, including what it is, how it works, and much more.
What is Android Data Recovery?
Losing data or a file in your Android device is painful, whatever the case may be. There are plenty of reasons behind why you have lost data in your Android device, and these reasons include accidental deletion, rooting errors, lacking backup, memory card malfunctioning, and much more.
So, here the first question that might come into your mind is, "Is there a way to get the lost data back"? Well, the answer is YES, and here the Android Data Recovery apps come into the picture. Now, let's talk about how it works to retrieve the lost data in your Android device.
How Android Data Recovery App Works?
The catch here is that once the data is accidentally deleted or lost on Android devices, the data does not wash away entirely. Android devices mark that space as empty and consider the file as missing. As a result, you're not able to see the deleted file, but that space can easily be overwritten by new files.
Since most Android phones do not have to recycle bin, so you cannot recover the data through it, but fortunately, Android data recovery applications are there to help you rescue the lost data. Such applications scour the memory of your Android device to search for the pages that are marked with 0 in order to find recoverable data.
Later, the application pieces the retrievable data back together while offering it a salvageable format. On top of all, it is advised to use the Android Data Recovery Application as soon as the data is lost or deleted so that the chance of retrieving the data becomes highly fair.
In a nutshell, an Android Data Recovery Software restores all the lost data and files from your Android device and makes them accessible to you. These applications actually work on powerful algorithms, deeply scan through the storage media and gather all the formatted and deleted files from Master Boot Record (MBR).
How to Select Best Android Data Recovery Application?
As you know, the Android Data Recovery application market offers a handful of choices; therefore, it becomes daunting for you to decide which application to go for. To help you out, we have compiled a listicle of checkpoints that are recommended to look for while opting for the best Android Data Recovery app for any situation.
Have a look!
Choose a reliable Android Data Recovery application backed with years of continuous experience and excellent customer reviews
Choose 100% secure and safe tool
Check the minimum system requirement and compatibility of the application
Understand your needs and requirements in terms of what and how much data you wish to retrieve
Top 11 Recovery Apps For Android
Here is a list of the 11 Android Data Recovery Applications that you can choose to get back the lost data on your Android device without any hassle: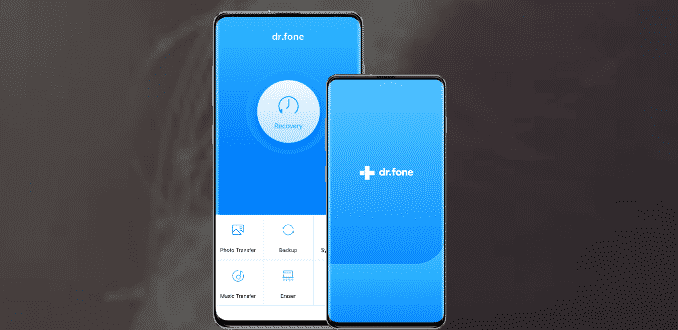 The first and foremost application that can help you recover the lost data in your Android device is Dr.Fone. Dr.Fone from Wondershare is one of the most renowned Android data recovery applications for Android tablets and smartphones. With this tool, you can quickly recover videos, photos, contacts, messages, call logs, notes, and much more in just a single click of a button.
If we talk about the process of recovering the data, Dr.Fone supports the data recovery by recovering photos and videos from the cache, memory card, thumbnails, and internal memory.
Tenorshare UltData for Android is an excellent application suggested by many users to recover lost or deleted files from Android phones. It is an affordable application that can help you recover the data without any need to root your device.
Tenorshare UltData for Android comes with a user-friendly interface where you can easily search for lost or deleted files in accordance with multiple categories like videos, audios, photos, documents, and much more.
This application offers a dedicated section to retrieve lost Whatsapp data like Whatsapp photos, Whatsapp chat, Whatsapp videos, Whatsapp documents, Whatsapp audios, etc. When it comes to the language, the application supports Russian, English, Spanish, French, Portuguese, Traditional Chinese, and Simplified Chinese, etc.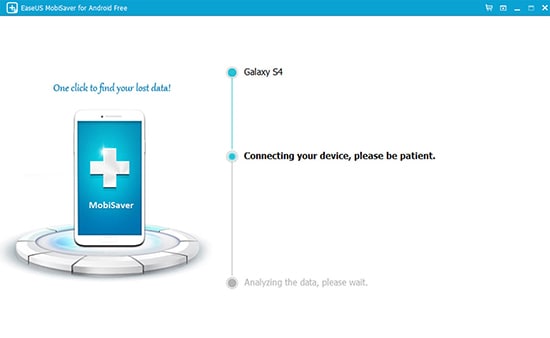 EaseUS MobiSaver is one of the easy-to-use and reliable Android data recovery applications that boast a variety of features. With an impressive list of features, EaseUS MobiSaver will prove to be your best bet for recovering lost or deleted images, videos, contacts, messages, etc., from both the external microSD card and internal memory card of your Android device.
The photo formats that EaseUS MobiSaver supports involve JPG, PNG, GIF, BMP, TIF, and the supported video formats involve MP4, AVI, 3GP, MOV. When it comes to using this application, the app will start by scanning your Android device, and in a few minutes, it'll display all the files that have been found. You can preview the files during the scanning process and filter the files in a hassle-free way to find your needed data accurately. Finally, you can choose the files you wish to recover and hit the Recover button to get back the lost files on your Android device.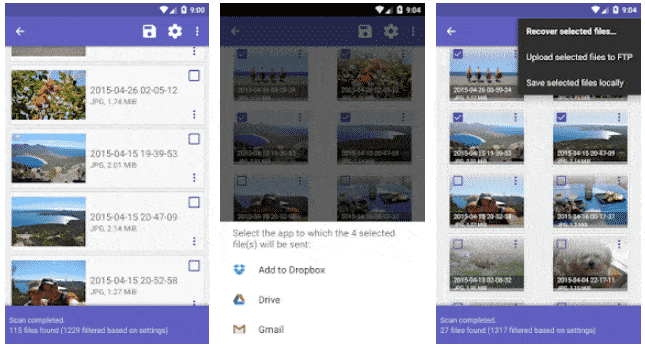 Another application in the list of top Android Data Recovery app is DiskDigger Photo Recovery. As the name suggests, DiskDigger Photo Recovery is a photo recovery app that retrieves the deleted or lost photos in your Android Smartphone. No matter whether you have deleted the images accidentally or reformatted your phone's memory card, the DiskDigger Photo Recovery app will find all the lost photos and let you recover them with the help of its powerful algorithms.
Another impressive thing about this application is that you can directly upload all the recovered files to Dropbox, Google Drive and send them via mail. If your Android device is rooted, the app will search all the memory of your device for any trace of photos and videos, and if your device is not rooted, the app will perform a limited scan for the lost photos by searching only your thumbnails and cache.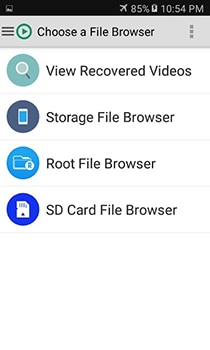 Video Recovery is another excellent application that helps users retrieve the lost data on their Android devices. Video Recovery application, as the name suggests, recovers the deleted videos on Android devices. Using this video recovery application, you will be able to restore most of the accidentally deleted or lost videos in just a few clicks. While using the Video Recovery app, you can try two different methods to restore your videos.
This app recovers deleted video formats like AVI, FLV, 3GP, MPG, MP4, and MOV, etc., successfully. Though this is the BETA test app for video recovery but it works wonders by taking you out from the hassle of Android data recovery. The app involves complicated algorithms that could also take a long time due to the large size of videos, and also the quality of restored video may vary.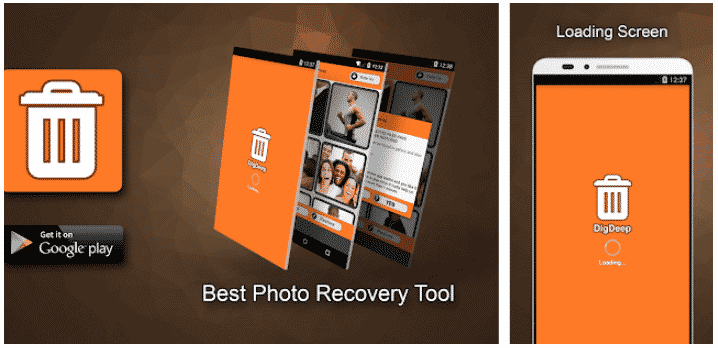 Another excellent solution in the list of top Android Data Recovery applications is DigDeep Image Recovery. This is another one of the best and highly suggested image recovery applications that work perfectly on Android Smartphones. With powerful features and user-friendly interface, the DigDeep Image Recovery app recovers all the deleted images from the SD card and internal storage of your Android phone.
In order to recover the lost or mistakenly deleted images, the DigDeep Image Recovery application looks and scans each folder containing pictures from a specific location and then checks them one by one to find your deleted or lost images. One thing that must be noted while using this application is that the DigDeep Image Recovery application may show some images that are not deleted, and this is because there is already an occurrence of those files in the hidden folders scanned by this application.
The top features of this app involve: you don't need to root your phone, Best quality, reliable and fast, nice user interface design, restore all image types, i.e., jpg, jpeg, png, etc.
Ztool is easy to use and powerful Android Data Recovery application that helps you to recover the deleted or lost photos and recovery the lost or deleted videos back to the Album or Gallery of your Android device in perfect quality. For using this Android Data Recovery app, you don't need to root your device, and this is the key reason why it's preferred by many Android users. With the help of this application, you can recover videos and photos in just a few clicks without requiring any help from a geek or professional.
Ztool helps the users restore multiple video and image formats on your Android device that involves png, jpg, jpeg, and much more. In addition to this, it supports video recovery in the formats like MP4, FLV, MKV, AVI, etc. The one-click free quick scan feature of this application help you locate the lost photos and videos on your Android device, and you can quickly recover the found videos and photos instantly in the scanning process.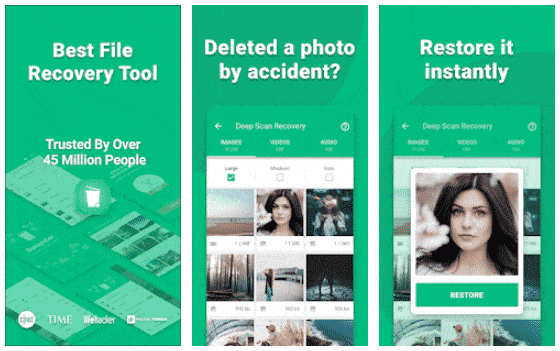 If you are hunting for an Android Data Recovery app that is effortless to use, then Dumpster: Undeleted & Restore Pictures and Videos is the perfect option for you. This top-notch data recovery tool works like a recycle bin and helps the users to restore the lost or deleted files in their Android device. As every application has its pros and cons, similarly, Dumpster has a downside that involves- it restores only those images and videos that get deleted or lost after its installation. This means that if you are using this tool to recover the files that were lost before the installation of this tool, then, unfortunately, the app has not got you covered.
Once you install Dumpster in your Android Smartphone, it will back up and save all the newly deleted or lost data automatically, thus allowing you to undeleted the pictures and videos instantly and restore them back to your phone.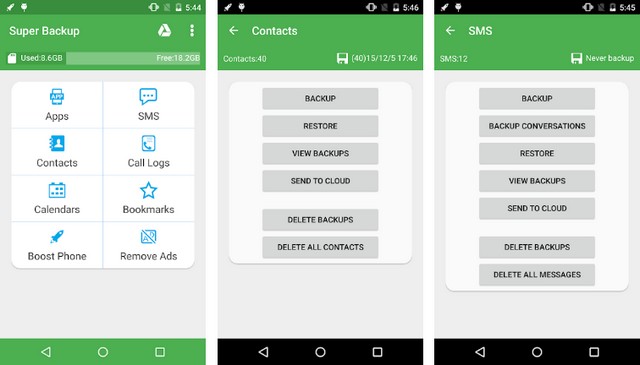 Another renowned application in the list of top Android Data Recovery apps is Super Backup & Restore. This is one of the fastest data recovery applications for Android device users. By using this application, you can easily take the backup of all the applications, text messages, contacts, bookmarks, call history, calendars and save all the data to your SD card, Gmail or Google Drive. With an easy-to-use interface, you can select the SMS conversations to backup with Super Backup & restore application and auto-upload scheduled backup data to your Gmail or Google Drive.
The best thing about Super Backup & Restore application is that it supports the backup of your voice call recording. Also, this amazing application can perfectly record the phone call voices to MP3 files.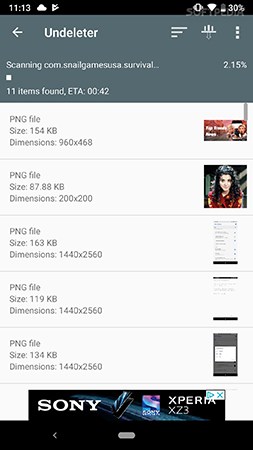 When it comes to recovering the deleted or lost data on your Android device, Undeleter works perfectly but make sure to remember that this application works only on a rooted device. This is free to use Android Data Recovery application that can restore lost or deleted data like videos, music, pictures, and much more from the memory card or storage of your Android device.
When you run the application, you need to choose the internal memory or SD Card to scan, and then it will show you all the deleted or lost files that you can recover. With Undeleter, you can recover any amount of data, and it also supports most file formats, including JAR, ZIP, EPUB, APK files, etc. The app also allows the users to save the recovered data on Google Drive or Dropbox directly. Note that, Undeleter won't allow you to restore files like text messages, contacts from your Android device.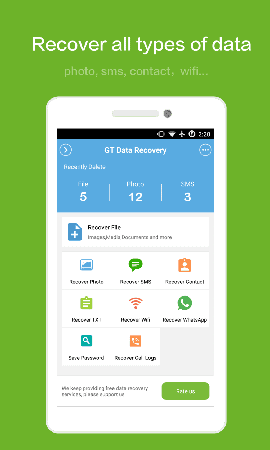 Last but not least, the GT Recovery app is the best option to recover lost data on your Android device. This application can recover the lost files by scanning the storage of your Android device. So, in case you have accidentally deleted some images or files from your Android device and you wish to restore them, then GT Recovery- Undelete, Restore app is for you. With highly advanced features, this app can restore the data from the Factory Reset Android device as well.
Talking about the types of files that you can recover, the GT Recovery app helps you to restore images, music, videos, messages, lost contacts, and much more.
In Which Data Loss Situations Android Data Recovery Software is perfectly suited?
No wonder the market out there is flooded with plenty of Android Data Recovery applications offered by different service providers. The best Android Data Recovery App from a trusted service provider can retrieve all sorts of lost data from any storage media. It even holds the ability to salvage the data from corrupted, damaged, lost partitions or inaccessible storage media like SD Cards, internal or external hard drives, Pen drives, CDs and DVDs, etc.
Irrespective of what the reason behind data loss is, a reliable and professional Android Data Recovery application can restore all kinds of images, documents, videos, audios, emails, messages, and so on. But one thing to remember is that data or files cannot be recovered once it is overwritten, not even with the help of a professional data recovery tool.
Thus, whenever you face such an issue, stop using the problematic device instantly and get ready to recover the lost files or data with the help of a professional Android Data Recovery application.
The Bottom Line
This is all about Best Recovery Apps for Android! We hope you have found a perfect solution to your Android Data Recovery problem now. All the apps listed above are reliable, safe, and easy to use; therefore, you can download any of them without any stress. Within just a matter of minutes, you'll find yourself recovering the lost or deleted files on your Android device.
By going thoroughly through the description of each Android Data Recovery application, you can get a perfect idea about all the apps and then pick out the one that fulfills all your requirements. So, choose the app of your choice now and restore the lost or deleted data in your Android phone without any hassle.