Are you looking for best clone apps for android? If yes, then this article is for you as it will tell you everything about best clone apps for android. Whether you have multiple usernames for your brand or simply have a backup profile to stalk people on social media. You'll always be searching for one of the top android clone apps. This helps to manage multiple accounts at the same time. This is because these clone apps enable the creation of clones, including almost any application. This is something that can be utilized installed on Android phones.
Consequently, this article has been carefully crafted. It has enumerated some of the top android clone apps that make your job easier, allowing you to differentiate between your professional and personal lives. After all, who wants to muddle things up and make chaos of them? And everyone appreciates a well-kept life. So, without wasting even a second of your valuable time, Let's get started with the best Clone Apps for Android. This assists you in balancing your professional and personal lives.
Why Would You "Clone" An Android App?
The need to use different profiles is the most common cause for cloning or duplicating Android apps. Even though more apps now assist login with multiple accounts/usernames, there are still many challenges. Two prominent ones are Snapchat and WhatsApp.
When you clone an application, you make an exact duplicate that can be used autonomously and simultaneously. This means you can log in with one profile in one version and another in another. Even if the app continues to support multiple accounts, switching between them can be troublesome, that's where cloned app makes it a lot easier. You can also clone an app to make a different version for a kid or anyone who uses an Android device. The cloning app also allows the user to change the app's name if that's something you're interested in.
12 Best Clone Apps for Android [2021]
1. Parallel Space:
Parallel Space is one of the most excellent Android cloning apps for creating cloned versions of classic apps such as WhatsApp, Facebook, and others. This safeguards users' privacy by attempting to make apps invisible on private browsing mode devices. The amazing benefit of using this app is that it does not interfere with different accounts' information. You can run two accounts concurrently by downloading the app for free from the Google Play store.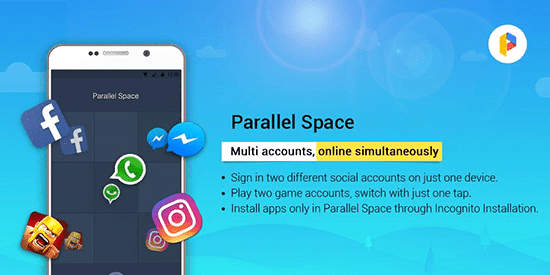 Primary Characteristics:
It is simple to balance a user's life and work.
Online gaming provides a dual user experience.
Make your own Space by incorporating themes.
With a single touch, you can rapidly switch between accounts.
Powerful, dependable, and simple to use
Download Parallel Spaces For Android.
2. Multiple Space: Multiple Accounts And App Cloner
Dual Area: Multiple Accounts and App Cloning make it simple to log into different accounts and support them all at once. You can easily launch multiple users on your phone at once and switch between them with a single touch. The wonderful feature of this app is that data collected from different accounts will not interfere. In addition, for the second account, the app provides almost all online services.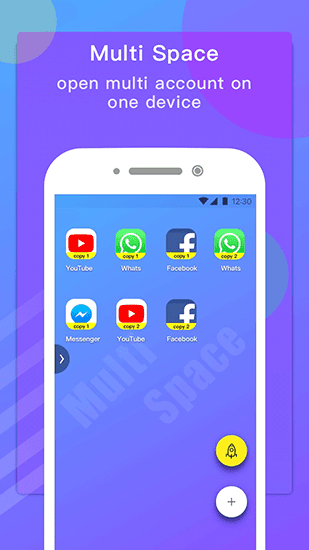 You can have the app for free from the Google Play store and use it to manage multiple accounts.
Main Characteristics:
Frequently switch between different social accounts within the same app.
Maintain multiple social accounts linked at the same time.
App cloning and a personal data zone
With a single key, you can quickly switch between different accounts holders.
Download Multi Space: Multiple Accounts and App Cloner
3. 2Account
While Multi Accounts is only available to root users, Multiple Accounts, also referred as 2 Accounts, may be used by anybody, irrespective of whether their device is enabled or not. Though Multiple Accounts works with practically all Android apps, it is primarily intended for use with gaming and social networking apps.
Primary Characteristics:
It does not have any further settings to setup.
It's fantastic if you want a simple and easy software, but it's not so great if you want to tweak it to match your specific needs.
Multiple Accounts offers offer an easy solution to conceal the app and restrict the access.
4. Dual Possible Application
You will be able to clone and operate multiple profiles from the same application at the same time. It will not ask you to install additional apps on your device, and it will keep your information private, so it will not leave a trace on your phone system. You can create a personal and a working login using this application. You can easily switch between both two accounts and handle them both at the same time.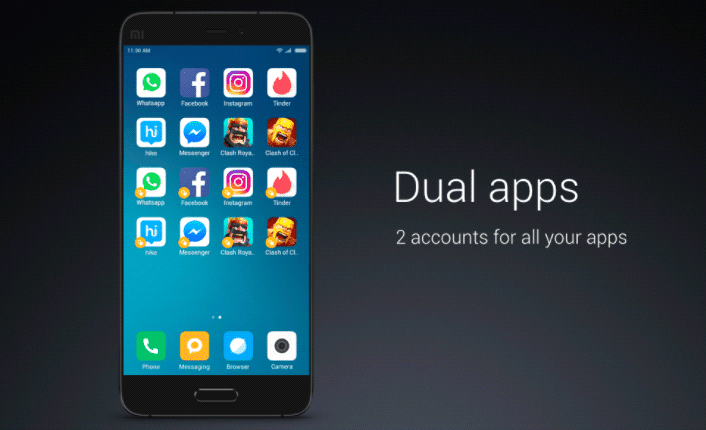 So, get the app from the Google Play store for free and communicate multiple social accounts simultaneously.
Primary Characteristics:
You can simply balance your life and your work.
Allows for privacy while leaving no trace on the phone system.
Switch between two accounts with ease.
Each account's data is managed separately.
Make your account invisible.
Download Dual Possible Application – Android App Cloner 
5. Phone Clone
HUAWEI's "Phone Clone" is a data transmission application. The app will offload hundreds of megabytes of data in various formats in real-time. You can use this app to transfer contact information, messages, or any other private details for free. It will also make it simple to share data with other devices. Download "Phone Clone" in the most convenient way for everyone.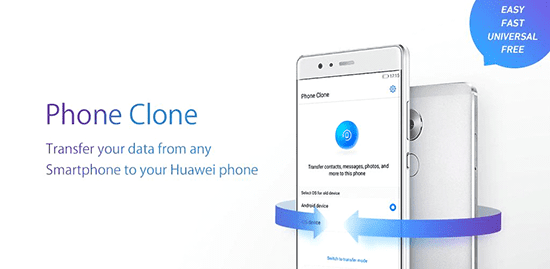 Primary Character traits:
Free and secure
With a local hotspot, you can get online quickly and easily.
Contacts, SMS, call logs, notes, recordings, and other data can be transferred.
Transfer all of your data, apps, and settings to your new phone.
Simple to use
Download Phone Clone for Android.
6. Clone the Camera
Clone Camera, as the name implies, enables you to clone and use multiple camera applications simultaneously. The app includes a beginner's guide to assist you on your first attempt. It also has a plethora of filters that can choose from an enhanced timer. All you have to do is choose which photos to merge and then outline the theme you want to duplicate.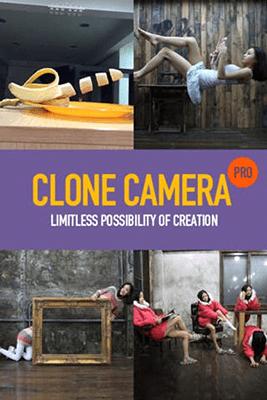 Primary Characteristics:
Self-timer has been improved.
There are innumerable filters to choose from.
Immediately share with your friends
High-resolution images are supported.
7. Parallel Application: Support 64 Bit
Users can safely create and log into different accounts for the same games or applications using Parallel Applications. This app offers you to easily switch between various usernames while using a single device. The best thing about this app is that it is available in various languages and works with the majority of Android apps. It is available for install from the Google Play store, but it contains advertisements.
Primary Characteristics:
Switch between multiple accounts with ease.
Available in a variety of languages.
It is available for free.
Download Parallel Space 64bit.
8. Clone App: Clone App and Dual App
App clone: App Cloner & Dual App is just another laser engraver app that allows you to run two accounts concurrently. It will give you the most private VPN and also allow you to customize the icon and name of mobile applications to protect your privacy. The app supports popular apps and will provide you with consistent multiple profiles services. The app has no advertisements and can be downloaded free of charge from the Google Play store.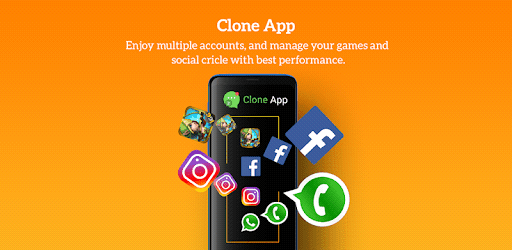 Primary Characteristics:
While chatting, send an expression.
You can change the icon.
This will give you the most private VPN.
Private VPN service for free
Support for dark mode
9. Make Various Accounts – Infinite Parallel Cloning Application
Some other application cloner that can be used to clone different profiles is Multiple Account Creation. You can easily handle multiple accounts and keep them online at the same time with this app. The app also includes an individual locker, which you can use to secure your cloned account. The perfect part about this app is that it works with the majority of instant messenger, playing games, and social media apps.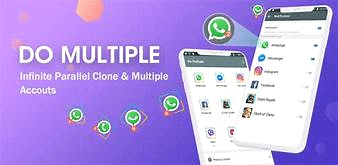 The app is easily available for free download from the Google Play Store and can be agreed to sign into different accounts.
Primary Characteristics:
To defend your cloned account, use a privacy blocker.
Targeting two accounts concurrently
Settings for managing clone notifications
Play games with multiple accounts
Download Do Multiple Accounts – Infinite Parallel Clone App.
10. Dr. Clone: Parallel Accounts, Dual App, Second Account
The "cloning app" will begin running multiple accounts from the same application at the same time. You can clone popular apps such as WeChat, WhatsApp, Facebook Messenger, Instagram, Telegram, Line, Hay Day, Clash of Clans, and others. So, install the "Clone: Run Multiple Accounts" app on your Smartphone and use different profiles from a single app.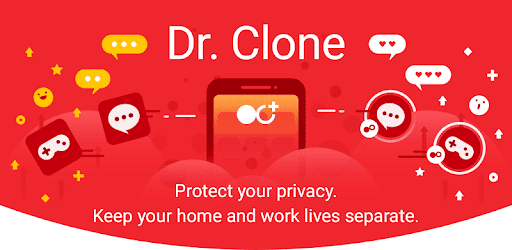 Primary Characteristics:
All of your accounts can be managed from a single app.
Simple to use
It is available for free.
.t comes with an easy-to-use interface.
Accounts used in this app can be recovered.
11. MATEY – What's app Clone & App Cloner
MATEY is yet another app cloner that allows you to manage multiple accounts at once. The app will provide you with a personal locker to store all of your valuable data. The best function of this app is that it allows you to manage multiple game accounts.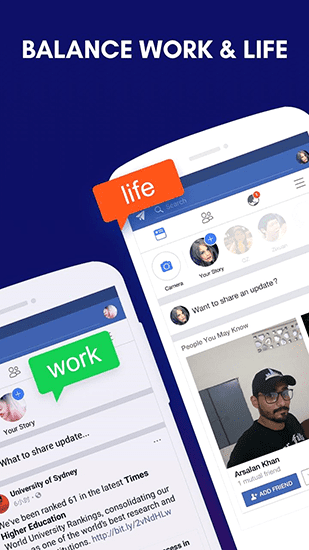 Basic Character traits:
Cloning of high quality.
Log in to multiple accounts to take advantage of double Space.
You can easily balance your life and work.
Provide you with free parallel Space to clone your app.
Both accounts' data will not interfere with each other.
12. Super Clone – Cloner App for Multiple Accounts
You can easily launch multiple accounts for WhatsApp, Instagram, LINE, Messenger, and other social applications and game modes with Super Clone. You can easily personalize your accounts by adding shortcuts and badges, and you can keep them safe with a private locker. Furthermore, it is more consistent with instant messaging, gaming, and social apps. Download the app for free and customize your clones with unique labels and icons.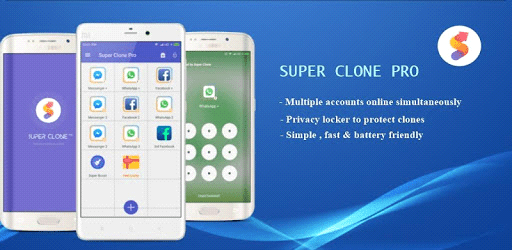 Primary Characteristics:
Compatibility with messaging, gaming, and social apps
You can log in using your Google or Facebook account.
Hide and safeguard your cloned account with a privacy blocker.
Switch between recently used accounts in a flash.
Download Super Clone – Clone App For Multiple Accounts.
Phone Manager: How to Clone a Phone in a Single Click?
Phone Transfer is the best software for performing phone-to-phone transfers. It will efficiently and rapidly transmit your apps, messages, videos, photos, music, and messages, and so on from your previous Android phone to your new Android phone or iPhone. This tool can also clone an Android phone to a PC with a single click. There will be no deficit of any files or data that you securely store from your phone to your computer. The files will also not be lost if you use the software to transfer them from your PC to your new Android phone.
Step1: On your Windows or Mac computer, update, install, and run this phone cloner. Then, select and click on the "Phone Manager" option.
Step2: Link both the old and new Android phones to your computer or laptop. To connect both devices simultaneously, you should use a desktop or laptop with more than two USB connectors.
Step3: When the program acknowledges the devices, you'll see both phones as well as the source phone details. There will be a box displayed between the two phones to select the data to be converted from the input part to the output device. You must select all options if you want to completely clone an Android phone.
Step4: After that, simply click the "Start Transfer" button to begin the data transfer from the old phone to the new one. When the transfer is done, you can unplug the phones from the PC.
How to Determine Whether Or Not Your Phone Has Been Cloned
The protection of your mobile phone is always under attack. It is always possible that your phone has been cloned. Fraudsters will be able to access all of the crucial data on your phone this way. The following are some methods for determining whether or not your Android device has been cloned.
1) Insufficient Battery Capacity
If you notice your phone's battery draining faster than usual, your phone may be hacked. If your phone is cloned, its activities are recorded and transmitted to a third party. This results in excessive battery usage, which discharges rapidly.
2) Using A Third-Party App, Check The Phone's Specifications.
Go to your phone's Google Play Store and search for the Recycled and reused Benchmark App. Install this app on your Smartphone. This software will be able to test the speed of the handset and display the specifications and name of your phone. If the manufacturer's name updated differs from the one you're carrying, your device has been cloned.
3) Inability to Make or Receive Phone Calls
It is critical to keep track of the times when you cannot make or take phone calls on your Android device. If the Android phone is also cloning, you may receive a message declaring that the mobile number is already being used.
Other indications that your phone has been cloned include:
If you hear clicking sounds, detached voices, or static voices on your phone while talking, you should be concerned that your phone has been cloned.
If your phone exhibits unexpected behavior, such as the screen lighting up when not in use or a fully automated reboot, it is possibly being cloned.
If you tap the power button and your phone takes more time to shut down than usual, it could be a target of cloning.
Other Methods of Cloning Android Smartphone
1. SHAREit
SHAREit is a mobile application for Android devices that allows for the rapid transfer of files and photos from one device to another. If you have SHAREit installed on both devices, there is no need to use Bluetooth to transfer data from one to the other. This app is available for free from the Google Play Store.
Now, let's go over the specific steps:
Step1: Tap the old Android or the reference Android device screen, and then select "Send." You will be able to select the files that you want to transfer. Select the necessary files and then press the Next button.
Step2: It is also necessary to launch the SHAREit app on the receiver's device. Bring the target Android device closer to the source device. When you notice the accessibility of the receiver's device on your access point, you must mark it.
Step 3: The files from the source phone are now being transferred to the receiver phone.
2. CLONEit
CLONEit is another mobile application that can be used to easily clone an Android phone. There will be no degradation in the reliability of the items transferred between phones using the CLONEit app. There is no need to rely on connectors or wait for an extended period of time to transmit the entire content of your old Android phone to a new Android phone. This app will launch a personal hotspot to allow data to be sent and did receive between the phones. CLONEit can create backups of Android phones and transmission information from one device to another in 12 increased uses of mobile data.
Conclusion
This is a list of the best Android cloning apps that will undoubtedly assist you in cloning some of the most important apps. You can use these clone applications to build and run multiple cases of the same application simultaneously. All of the cloning apps listed above are the greatest of their class; choose one based on your needs.