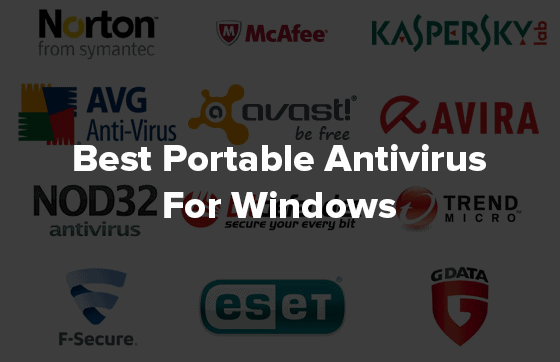 Antiviruses are the most important tools for your device, whether you are using it on your PC or smartphone. If there is an antivirus installed on your device, you can expect it to provide you with 99% online safety from viruses and hackers.
Now, if you already have an antivirus on your regular PC, that's a good thing. But sometimes, we need to use a public computer from a library or cyber cafe. If that computer does not have an antivirus, you won't feel safe transferring your data or carry on with your work. That's where you need portable antivirus software. And if the machine you are using is running Windows 10, check out this post. Here we have mentioned the 10 best portable antivirus software for Windows 10 that will keep your data safe no matter what system you're using.
We are going to talk about the benefits of having portable antivirus software and what are the features these 10 programs come with. So, keep reading and keep your virtual life safe.
What is a Portable Antivirus Software?
The traditional and standard type of antivirus software can be installed on your computer. And whenever you work from that computer, it will protect your privacy and safety. But portable antivirus applications work differently. They can scan files and get rid of malware easily and quickly, and you won't even have to install them on your corresponding PC. You can carry around these antivirus programs easily in a pen drive or a USB drive, SD card, etc. and connect it to a different computer to scan that PC.
Whatever PC you connect it with, it will start scanning for viruses and spyware so that you can feel safe online. Portable antivirus software is often installed on portable devices to make sure that the devices are also safe along with the computers they are connected to. But if people are aware of the presence of malware on the internet, then why would you need portable antivirus software in the first place?
Why Should You Use a Portable Antivirus?
Here is the thing, even though many people use computers and laptops, not all of them are aware of the cybercrimes that are happening worldwide. Cybercrimes do include not only hacking but also phishing, ransomware attacks, and malware or other viruses that can damage your files. Now, if any person's computer you are using for the first time, and you don't know what's in there, the best way to keep yourself safe is by using a portable antivirus.
You will just connect your portable device to that computer, and it will automatically start scanning for viruses without going through an installation. Unlike other antivirus programs, you won't have to install this one, and that's the best reason why you should use portable antivirus software. Also, if you have an old computer that is infected with viruses and you don't know how to get it removed, you can use the portable antivirus software technique. You can download the antivirus from a healthy PC and use the program to get rid of the viruses on your old system.
You can carry this antivirus software on even a compact disk (CD) or any other media disks. We will talk about the top 10 portable antivirus software for Windows 10. But before that, we are going to show you how to use these types of antivirus applications. Check out the section below.
How to Scan Your PC with an Antivirus Software?
Let's go through the steps for using a portable antivirus program on your Windows PC.
Step 1: Open a web browser on your computer that is not infected with a virus or already has an antivirus installed.
Step 2: Search for and download one of the antivirus tools we have mentioned later in this post. If you don't have a non-infected computer of your own, you can ask a friend for a favour or visit an internet cafe that already has antivirus software installed. Note that you don't need a Windows 10 PC to download the software. You can download it from any computer, such as a Mac or Linux. But for the antivirus to work, make sure the computer you are using it on is Windows 10.
Step 3: Find a media drive such as a pen drive or SD card to store that antivirus. Copy whatever data it comes with and put that into that portable drive.
Step 4: You can start the infected computer on Safe Mode (safe mode starts the computer without any internet access) and connect the portable device to it with the antivirus in it. As soon as you connect it to your computer, it will show you a prompt to scan the system.
Step 5: Double-click on the antivirus to run in on the computer. Some antivirus will work on the Safe Mode without an internet connection, but some will not. When you are downloading the software, look for this special feature.
Step 6: The antivirus will run and scan for viruses on your PC. When it finishes, you can restart your computer.
Most antivirus won't ask for your permission before deleting the malicious files from your infected PC. But if it does, you need to remove those files, particularly in order to get your computer back to normal. But what kind of viruses can be there on your PC, and how do they damage your computer?
Best Portable Antivirus For Windows
There are many portable antivirus tools you can use on your Windows 10. But among many, we are going to mention only several because the list never ends.
1. Norton Power Eraser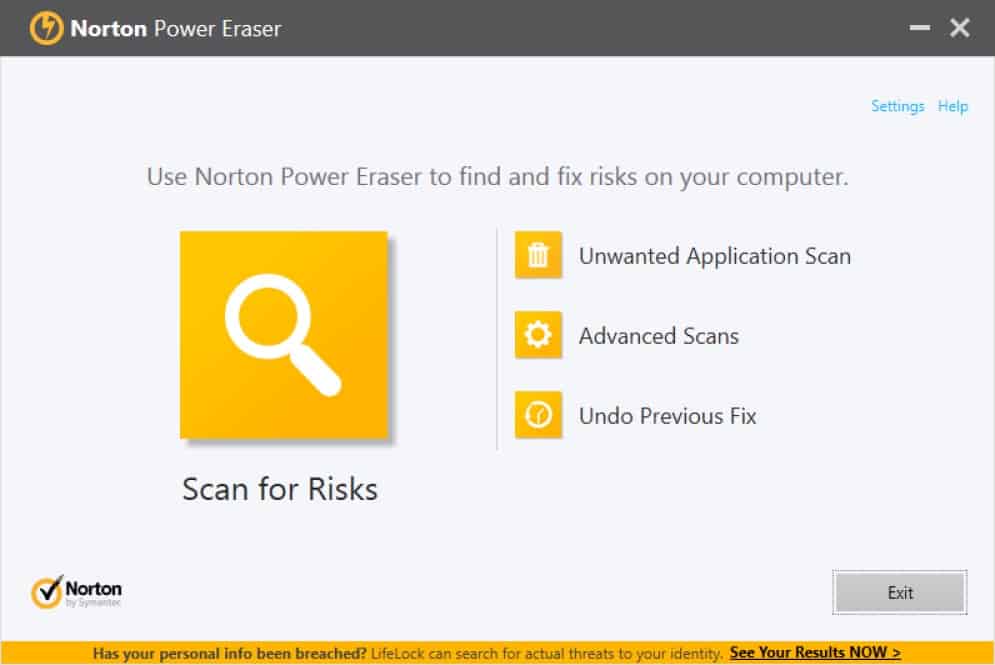 Norton, as you already know, a popular name in the antivirus software industry. And since it has a traditional version (which is installable on your PC), the company has made a portable version too for the user convenience. Norton Power Eraser is free and a very small-sized tool to carry around. It can easily scan, detect, and clean out any rootkits that are hampering your system performance and security. It comes with an updated database that can remove even the most stubborn viruses from your system.
It comes with a special Reputation Scan feature that can send a specific file or application to a Symantec server, and there it will get scanned by a virus-detection engine. Moreover, with Norton, you can scan more than one OS that is installed on your computer.
Pros
You can carry it with you on a USB drive
An advanced virus removal tool
Features a signature-based detection engine
Comes with the Norton cloud definition feature
Cons
It can even remove safe files
2. Avast Rescue Disk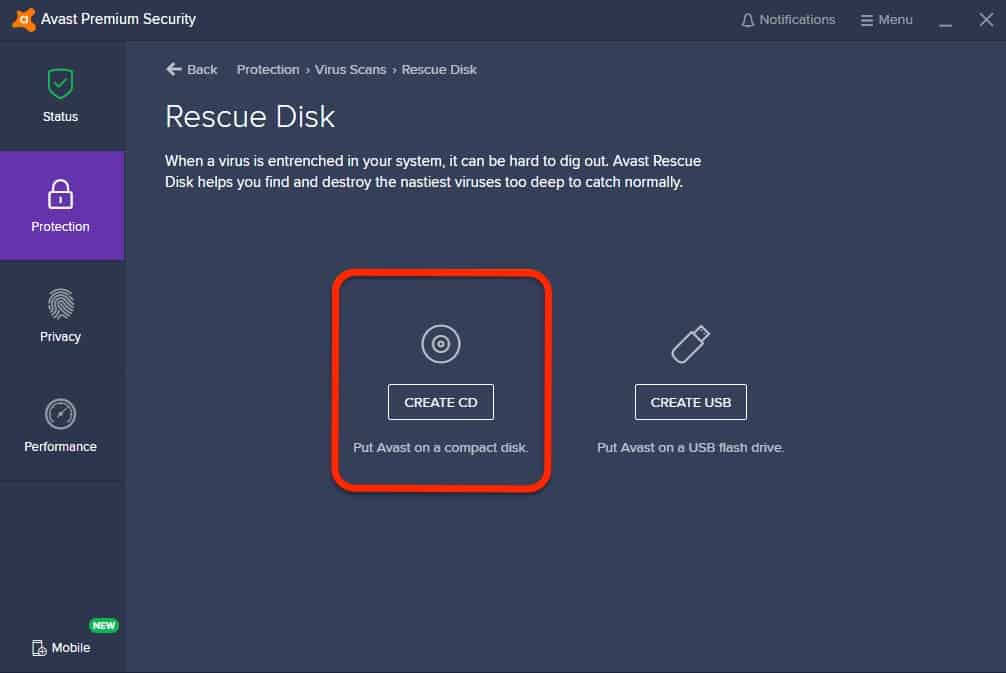 Avast is another reputed name in the antivirus software world, and the portable antivirus software of Avast, Avast Rescue Disk, is also free like its other services. Though, if you subscribe to its premium membership, you will enjoy more awesome features. The free one still does a pretty good job with virus removal. The most important feature of this tool is its Rescue Disk virus removal. It allows you to create a Rescue Disk, and with that, you can remove malware. You will have to create the Rescue Disk from Avast antivirus from another system and put it on the USB drive.
And then, when you connect that drive to your infected PC, it will scan your computer and remove whatever harmful it contains. If your computer is severely infected with viruses, Avast Rescue Disk will be at the rescue.
Pros
You can carry it around with a USB and boot it on another computer
Free to use
Removes dangerous malware
Isolate the affected computer
Best for computers with high virus issues
After the scanning and virus removal, it offers a detailed log of the operation
Cons
The scanning process can be a bit longer than other antiviruses
3. McAfee GetSusp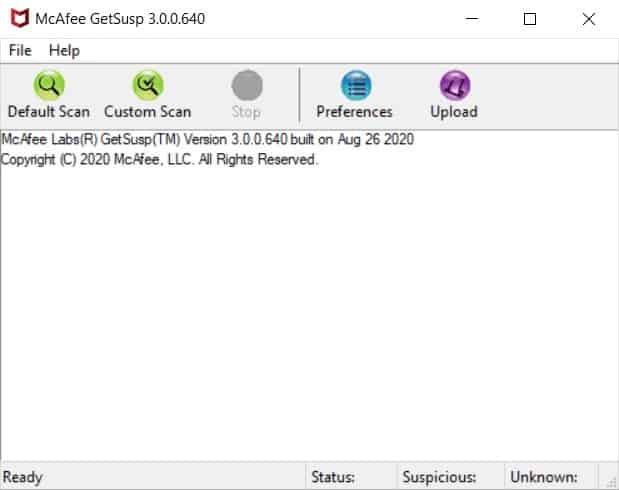 McAfee GetSusp is a portable antivirus tool that you can use as an individual or large organization. McAfee is one of the most prominent names in the antivirus industry. It is probably the second-best after Norton and is widely used. So, it's no surprise that the company has made something that can be carried around with a USB drive or flash drive and detect viruses and malware on the go. The best feature of McAfee GetSusp is its virus detectable system that can find out the malicious virus even when the strongest of all antiviruses fail. The developer team of McAfee GetSusp updates its database regularly to keep up with the latest threats all the time.
Therefore, it can easily detect any harmful item on your computer that was bypassed or unnoticed by other antiviruses. Another best thing about this portable antivirus is that it is very lightweight. It weighs only 3.4MB, so that you don't need much space on your drive to store it. Have a look at the pros and cons of McAfee GetSusp at a glance:
Pros
Quite a lightweight tool, only weigh 3.4 MB
Uses cloud definitions
Easy to use
Available for free
Can detect any type of virus on your system when other antiviruses can't
Cons
There is no customer support for virus removal
4. Comodo Cleaning Essentials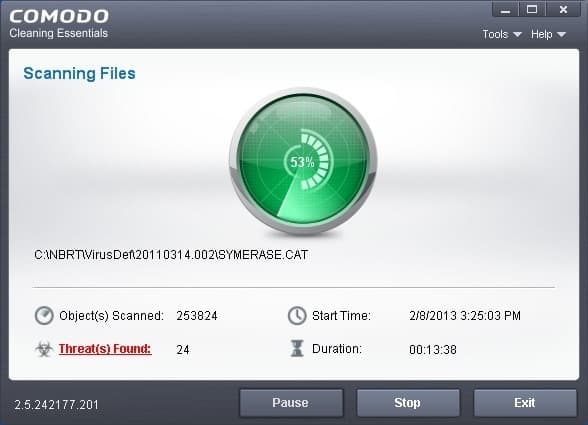 If your computer has no space or you are unable to install an antivirus because of any issue, you can get the Comodo Cleaning Essentials on your external drive instead. And then, you can connect that drive to your computer for thorough virus removal. This powerful antivirus tool can detect any type of virus from your system and remove them immediately to secure your computer. Along with viruses, it scans and removes corrupted Windows registries, rootkits, etc. Moreover, it has a Kill Switch sub-module that allows you to analyze the programs running on your system background and whether or not they have malware.
The Kill Switch sub-module also examines the network connection. If it thinks that the running applications and network connection are affected, it will force terminate those functions momentarily and permanently if needed. It comes with Comodo cloud scanners that can show you real-time safety reports about unknown processes running on your system background. Even though it comes with a free plan, to get more developed features, you will have to buy their annual membership plan.
Pros
Supports Kill Switch
Removes all types of malicious items, including rootkits
Shows you real-time safety reports
Cloud scanner
Lightweight
Cons
The premium plan is a bit costly; it starts at $17.99 per year.
5. Microsoft Safety Scanner
Microsoft has its Windows Defender present by default on all Windows 10 systems. But the Microsoft Safety Scanner is a portable antivirus that you can use when Windows Defender fails. Microsoft Safety Scanner was designed to remove all types of viruses and keep your PC safe from the latest threats. It helps remove spyware, viruses, ransomware, malware rootkits, and more. It is an executable file that you can store wherever you like and carry with you in a pen drive. Even though MSS communicates with existing antivirus software that is installed on your computer, it does not interfere with the other antivirus's functions. So, in that case, you need to make sure that the infected PC has an antivirus that will help MSS to remove stubborn and strong viruses from your system.
It also comes with an updated malware definition database on a regular basis to make sure your PC is safe and sound. However, you need to know one thing before getting this antivirus. It is that the antivirus tool will expire within 10 days after being downloaded. So, you will have to download one again to ensure the security of your computer.
Pros
Runs through USB drive
On-demand scan
A regularly updated malware database
Detects any type of malware from your system
You can undo changes after using if needed (in case you think you have deleted an unharmful file)
Free
Cons
Terminates after 10 days from being downloaded
6. McAfee Stinger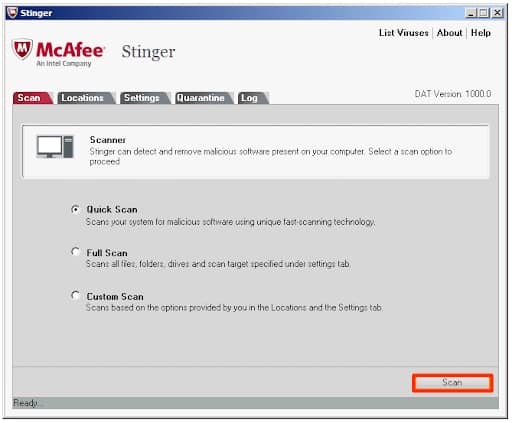 Another one from the McAfee antivirus provider is McAfee Stinger that is powerful and quite advanced. Even though the tool looks and works simple, it can detect almost any type of virus on your infected system. It can scan, detect, and remove malware, rootkits, bad Windows registry keys, boot sectors, and so on. It updates its malware database regularly to detect all types of latest malware from your system. Apart from that, you can configure Stinger to perform different actions such as remove a type of computer virus and repair a Windows registry, etc.
McAfee Stinger is supported by and works with Global Threat Intelligence that is a cloud-based service and enables threat prediction. Global Threat Intelligence examines various online activities from all over the world to forecast the virus threats on your computer. And with the help of this integration, McAfee Stinger tries to keep you safe and secure. And since McAfee Stinger comes from the all-time famous Intel Security, you can expect the best security measure from this portable tool.
Pros
Fast and proper
Uses cloud-based definition
McAfee Stinger is best for repairing system errors
Shows you the detailed logs of removed viruses
No-cost portable antivirus
Cons
There is no online or phone virus removal support
7. Hiren's BootCD PE
Most of the time, users look for a portable antivirus that will quarantine their infected computer and work on the virus removal process. If you, too, are one of them, you will most definitely like Hiren's BootCD PE's services. It works as both ESET Online Scanner and Malwarebytes Anti-Malware that won't require you to reboot your computer in order to remove the virus. HBCD offers you all types of tools (Windows registry fixer, virus removal, etc.) to save your PC from slow performance and other issues.
You can flash the HBCD to an external device and boot the portable antivirus into another system. Even when the kit is working to remove viruses and all, it does not take you through any fear of losing important data from your system.
Pros
Comes with two antivirus programs in a single pack
Quarantines the infected system
Detects and removes malware
Free of cost
It can be carried around in a USB drive
Comes with other system recovery tools
Cons
Consumes a considerable system memory
8. Web CureIt!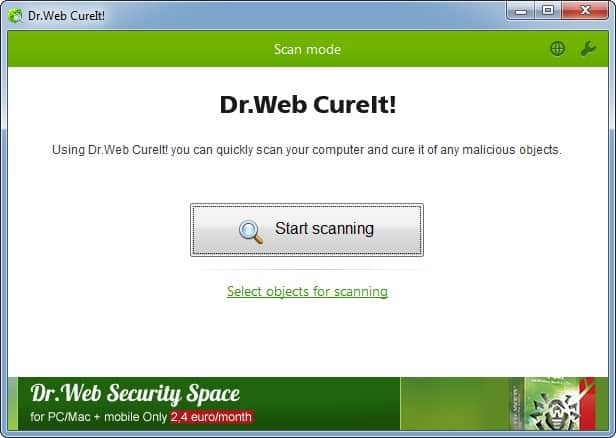 Though Dr Web CureIt does not weigh only 4 or 5 MB, it is still lightweight. This portable antivirus software weighs 175MB and runs on your system through a flash drive or any external drive to remove all types of malware, adware, viruses, etc. Even though the size is quite bigger than most tools on our list, it does not require any installation. When you click on the file from your USB drive, it will run on your system and scan and detect most of the viruses with ease.
It will run an express scan to detect the threats on your system, and after the scanning process, it will show you an option to Neutralize those threats. In that, you can manually select the files that you want to delete. Therefore, there is no fear of losing important data from your system.
Pros
Free to use
Just click and scan on your PC
Support machine isolation
Scans and detects malware, adware, viruses, etc
Cons
9. Emsisoft Emergency Kit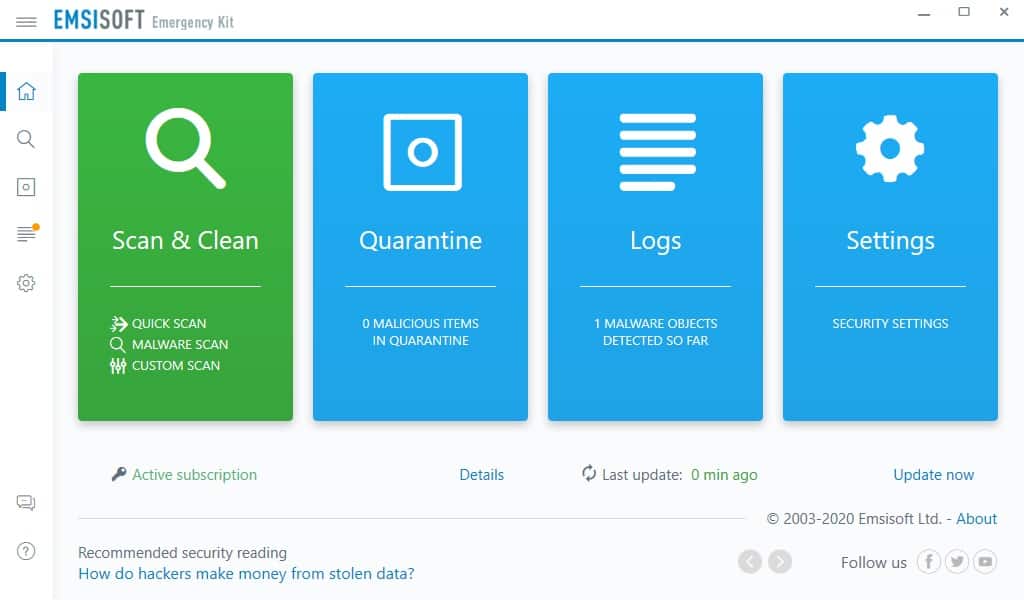 Emsisoft Emergency Kit is not that of a lightweight program and also requires an installation to run and detect malicious items on your system. Still, it is a great tool for removing all types of serious viruses from your system. You can do a quick installation of the emergency kit on your computer and jump-start the scanning process. You can even run batch scan tasks from its command-line scanner feature by using the Direct Disk Access function. It comes with a clean interface where you can find most of its features and learn how to use them on your own.
Pros
Provides disk access for scanning
Comes with GUI and command-line interface
Batch-scan feature
Free of cost
Detects keyloggers and viruses
Isolation of infected system support
Cons
A quick installation required to extract it from program files
10. Zemana AntiMalware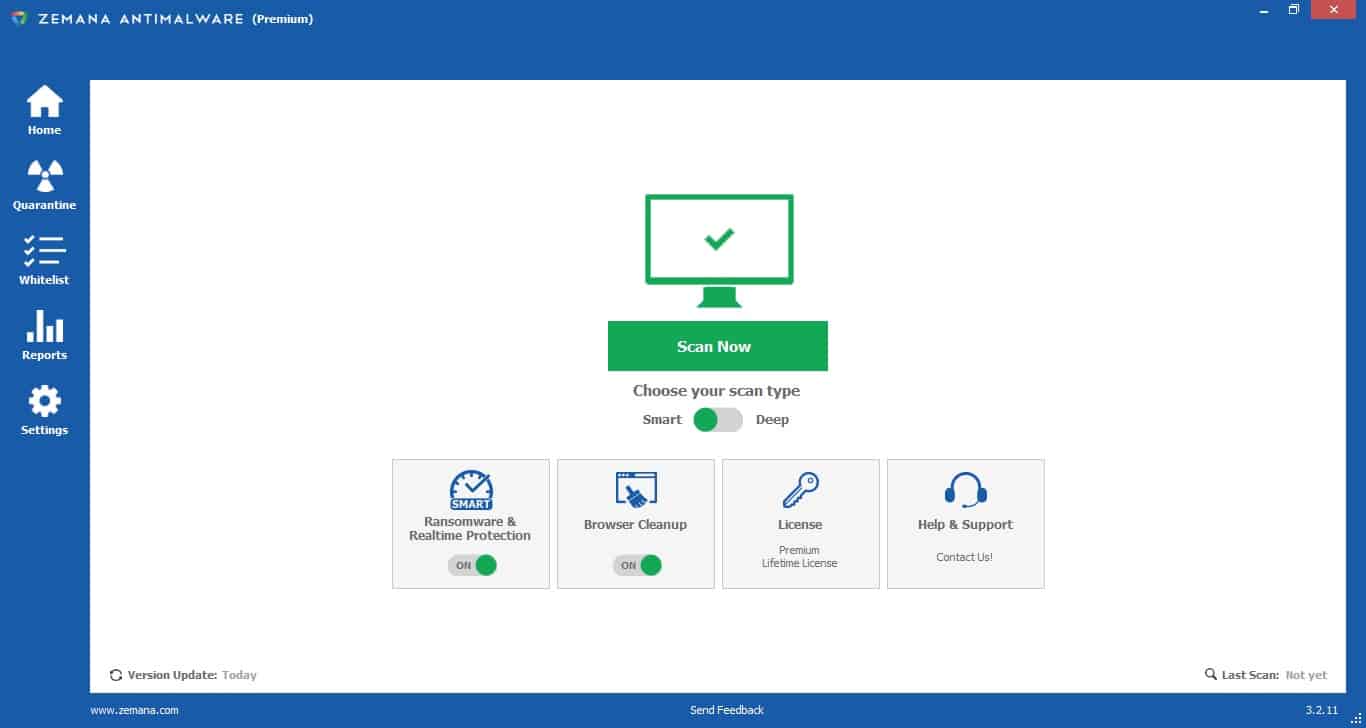 Zemana AntiMalware is one of the most popular portable antivirus software in the world. It is lightweight; however, like other tools on our list, it does not support USB storage, and you will have to install it on your computer to scan the system. The installation of this tool does not take much time, and you can easily complete the installation within a second. When it scans the programs and files on your PC, it does not skip any kind of malware or spyware. Instead, it checks for those malicious files thoroughly and removes them instantly.
Additionally, it also removes unwanted browser add-ons, unwanted software programs, adware, etc. It supports cloud definition to check for file integrity on your system, and it utilises the cloud definition as a checkpoint to save CPU resource uses on your PC.
Pros
Lightweight and portable
Detects adware, malware, spyware, etc
Removes viruses thoroughly
Supports cloud definition
Cons
Not USB or flash drive compatible
How to Choose the Best Portable Antivirus Software for Windows 10?
When you are looking for portable antivirus software, obviously, you would want something that can be easy to use on different devices. Portability is the first thing you should consider when you are looking for one. So, in that case, we have already mentioned some of them in this list of 10 best portable Antivirus Software for Windows 10. And the only thing that does not support portability like others is Zemana AntiMalware which comes last in this list. However, Zemana AntiMalware is compatible with Windows 10 and other Windows versions and has the abilities to remove viruses like others.
So, in that case, Zemana AntiMalware does not have any downside except for the fact that you cannot store it in a flash drive. But if you are looking for that particular feature, you should consider other alternatives such as Norton Power Eraser, McAfee GetSusp, and more. However, among them, which one should you choose? All of them come with a considerate number of features that get the job done.
If you are looking for a plain virus removal software that is portable, well, Norton Power Eraser, Avast Rescue Disk, McAfee Stinger, etc., are gonna work for you. But if you are searching for something extra that would fix your Windows registry and remove viruses at the same time, then Emsisoft Emergency Kit, Dr Web CureIt!, and Hiren's BootCD PE are your ultimate destination
Hiren's BootCD PE has all the tools you need to fix your system performance, and it will remove the dangerous malware, adware, spyware, etc., from your system. Moreover, it is portable that you can carry with you on a USB drive.
But if your system requires only virus removal and no other thing, then feel free to choose anyone among these 10 Best Portable Antivirus Software for Windows 10. Since we have sorted the top 10 among all the available ones, all are best and worth your time. However, there are still some things that you should keep in mind before and while choosing portable antivirus software for Windows 10.
What Types of Viruses Can Be Eliminated by an Antivirus?
Malware is the most popular malicious thing because it damages your files easily. But it does not mean that other types of viruses cannot harm your computer or its data. Here, have a look at the types of viruses that can affect your device in different ways.
Boot sector virus: These types of viruses usually spread through infected USB drives when you insert that device into your computer.
Web scripting viruses: These types of viruses tweak the codes of browser functions, and when you visit a certain website, it infects your computer.
Browser hijacking: Sometimes, when you try to visit one website from a browser, you get unintentionally directed to another website. It's called browser hijacking.
Resident virus: Resident viruses can insert into your computer's device memory, and they can operate on their own when you start your computer.
Direct action virus: Direct action viruses usually act when you download a file on your computer that too has a virus. Other times, direct action viruses do not show up that much.
Polymorphic virus: Polymorphic viruses are dangerous because they can tweak their codes to escape antivirus programs. But a good antivirus can eliminate these ones as well.
File infector virus: These viruses can insert ill-disposed codes into your exe. files that operate on your systems or have certain functions on your computer.
Multipartite virus: Multipartite viruses can spread through sharing a USB drive, downloading corrupted files, etc. and can affect both system files and computer settings.
Macro virus: Macro viruses are mostly written in micro languages that developers use during building applications. These viruses mostly spread when you download or open email attachments.
There are viruses, worms, trojan horses, ransomware, malware, adware, and spyware that can affect your computer in various ways. We could talk about these, but they are for a different post. But right now, you need to know when you should use a portable antivirus for your Windows 10 so that it does not compromise your privacy and user experience.
When to Use a Portable Antivirus?
When you are working on your computer or not, it does not matter. You should always keep an antivirus installed to stay safe from computer viruses. Sometimes it's too late to install an antivirus when the computer is already infected. And that's when you need a portable antivirus program. Here are the symptoms that your computer shows when it is infected by a virus. If you see these happening, you should get a portable antivirus or anything to get your device to safety.
Your computer crashes or lags frequently and sometimes even show bluescreen errors
System performance has become slow
Storage running low
Unidentifiable programs
Missing files
Your computer is behaving unexpectedly
Frequent pop-ups show up on your browser, encourage you to visit an unintentional site or sites
Unknown programs turned on when you open your computer
You see unintentional emails sent from your account
Whenever these are happening, the best thing you could do is to scan your computer with an antivirus. If you don't, these symptoms will keep on showing, hindering your work progress but apart from that, these things could happen:
A virus can damage your computer's hardware, causing it to behave improperly
Spy on you to steal your private information
Steal and delete data
Ransomware can lock your files to prevent you from using them
They can send spam and malware from your computer as well
To eliminate these issues, choose any from the best 10 portable antiviruses for Windows 10 in 2021 according to your requirements.
FAQs
Why would you need a portable antivirus?
Portable antivirus programs act like emergency virus removal tools that you can use quickly without any hassles. If you need to use a public computer or an old computer, running a portable antivirus on it before using it will help you stay safe. As per emergency conditions, you can quickly use a portable antivirus to remove malware and virus instantly. If you can't use a traditional antivirus on the infected computer, portable antivirus plays a great important role.
Is it important to use a portable antivirus?
Portable antivirus is widely used by users, and even though they are not widely important, they play a vital role in instant virus removal. They can easily remove malware and viruses in a jiffy to restore your PC's performance. So, yes, they are important for certain situations.
How to use portable antivirus software?
The use methods of different portable antivirus programs vary, but most of them come with a similar method. You just connect the software to your infected PC and start scanning. For more information, read the "How to Scan Your PC with a Portable Antivirus Software?" section demonstrated in this post.
Can I keep Portable Antivirus Software in cloud storage?
Yes, you can keep your portable antivirus software on cloud storage like Google Drive or OneDrive if you don't have a USB drive. But you may not be able to connect it to your infected computer. If the computer is not in a condition to accessing the internet, forcing it to do it anyway will cause more damage. That's why it is not recommended to save a portable antivirus executable file on cloud storage. Instead, try to save on your flash drive or sd card.
Conclusion
Overall, using portable antivirus software can really be helpful at times. Need to access a public computer in the library? Bring out your flash drive and scan the machine quickly, and it will be ready to use. The best thing about portable antivirus software is that they are lightweight and don't need much space to work. Among the 10 best Portable Antivirus Software for Windows 10, we have mentioned here; you can feel free to pick any. And try to tell us your experience with your first portable antivirus program in the comment box below.
However, also remember the other points we have mentioned here to keep your PC safe all the time. If your PC's health is fine from the beginning, you won't have to use portable software in the first place. However, that is not applicable when you are using an unknown machine. Also, since a portable antivirus program can keep the USB safe, you don't need to worry about spreading viruses.
That's all. Tell us which one of these 10 portable antiviruses worked for you, and check out our other posts to find more information like this.