Is your Discord Rythm bot not working? Right from the time of its inception, Rythm bot has gained huge traction among music lovers. But recently, many users have complained about facing issues while using it on Discord. From a muted server to improper addition of the bot in Discord, there can be any reason you are facing issues with your favorite music bot. Fret not!
No matter whatever the reason is here in this article, we are going to address all of them one by one. Have a look now to quickly fix Rythm Bot not working on Discord.
How to Fix Discord Rythm Bot Not Working?
Rhythm is already a very popular music bot available for free on Discord. Discord users use this bot mainly to play music on several voice channels. But you can use it for other Rythm supported command as well. However, while hovering around different users' forums, we have found out that the users are facing various issues. We are going to talk about the fixes associated with each of them.
So, without much further ado, let's try out the resolutions right now!
Fix 1: Manually Add Rythm Bot to Discord
Maybe the bot has not been added to your Discord server properly because of which your Rythm bot is not working on Discord. Adding it all over again to Discord can resolve the problem for you in that case. Follow each of the steps below to get the job done,
Note: Ensure that you have the Discord server's admin credentials before performing any of the steps below.
Step 1: Firstly, go to the Rythm bot website.
Step 2: Now, from the right side of the window, click on the Add to Discord option


Step 3: After that, as the new window opens login to Discord if you have not already logged in
Step 4: Then, click on the Select a server option under the 'ADD BOT TO' tab;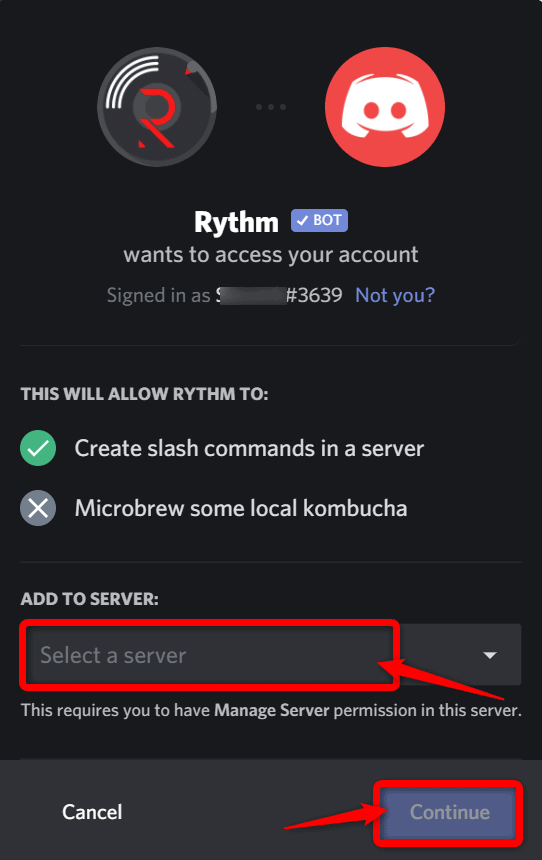 Step 5: Now, choose the server to which you have the admin access
Step 6: Finally, you can locate the Rythm music bot on your Discord server
Fix 2: Rythm Doesn't Play any Sound
One of the major issues that have raised 'Rythm not working' concerns among the users is related to sound. If the Rythm bot doesn't play any sound on your Discord server, there can be various reasons behind that. Take a look at every resolution we have shared below and resolve the sound issues now.
Method 1: Check If Rythm is Muted
You may face the problem because Rythm is Mute or Server Mute on Discord. Follow the steps below to unmute and fix the issue.
Step 1: Right-click on Rythm when it is in a voice channel
Step 2: Then, uncheck the box beside the option Mute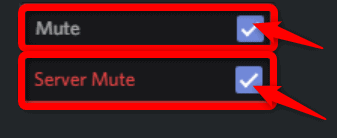 Step 3: After that, uncheck the box beside the Server Mute option as well.
Note: To uncheck the Server Mute option, you need to have admin access to the particular server. Therefore, if you don't have access arrange it first before trying the steps above. Or, else you can ask the server's admin user to Uncheck Server Mute option in a similar way to resolve the issue.
If Rythm is not muted and still you are facing issues, then there must be some other reasons because of which your Rythm bot is not working.
Method 2: Ensure the Volume is Not Set to '0'
The volume might be set to 0, because of which you are facing issues. Go through the following steps to check and ensure that the Rythm bot's volume is not set to 0.
Step 1: At first, right-click on Rythm when you are on a music channel
Step 2: Now, check through the user volume bar and ensure that it's not set to 0
Step 3: Then, ensure the same for the Server Volume slider
After increasing the volume, check whether the bot is working or not. If you still face the issue, try the next solution.
Method 3: Disconnect and Reconnect the Bot
It can be a simple connection error why you face the issue with Rythm on Discord. You can fix the problem simply by disconnecting and reconnecting again. Follow the steps below and get the job done,
Step 1: At first, disconnect the bot from your Discord voice channel by using !disconnect command
Step 2: Now, open your server settings
Step 3: Then navigate to the Overview section
Step 4: Here, you need to choose a different server region. As the official Rythm website suggests, the US East server works best with Rythm
Step 5: Finally, use any of the following commands to summon the bot again,
!summon
!join
!play
Method 4: Check for Outages
There are times when the Rythm bot goes offline. Either there is some maintenance undergoing, or the Rythm bot Discord server is going through outages, which is why it's not working. If there are outages on the Rythm bot Discord server, you have nothing to do about it. You need to wait until the problem gets a resolution from Rythm.
Fix 3: Rythm Messages Come Out blank
This has been a common problem the Rythm bot users are facing quite often on Discord. The bot uses a feature called rich embeds for its messages. Maybe the option is not enabled on your client-server that is why you are facing the problem. Follow the steps below to enable the option:
Step 1: At first, navigate to the Discord User Settings
Step 2: After that, click on the Text & Images option available there
Step 3: Now, scroll down and locate the option, 'Show website preview info from links pasted into chat'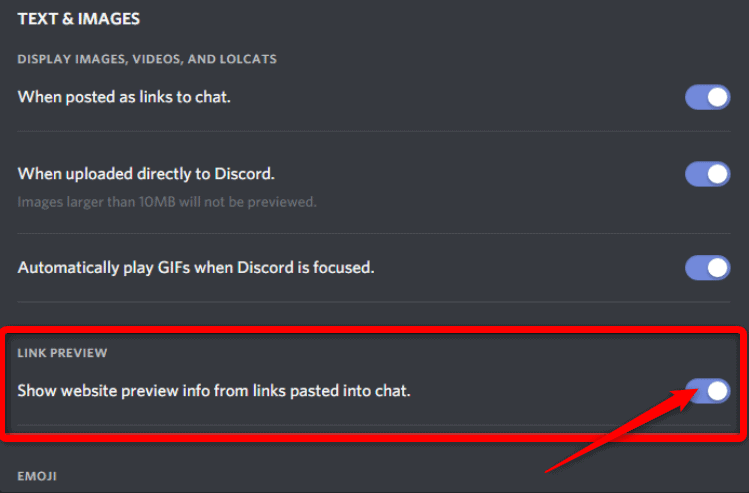 Step 4: Finally, click the blue Enable button right beside the option under LINK PREVIEW
After enabling this option, you must not face this particular problem with the Rythm bot on Discord.
Fix 4: Rythm Bot is Not Playing My Playlist
Rythm users often complain about the bot not playing a particular playlist. If you are facing a similar issue, maybe it's just because you are playing the wrong playlist.
Rythm bot does not work with YouTube mix playlist. Hence, if you are trying to play it on Rythm, it won't work. Create other custom playlist or artist made playlist to listen to that on Discord through Rythm.
That's it. These are the common 'Rythm bot not working' issues that the users face quite often while using Rythm on Discord. I hope these resolutions have successfully resolved your problem. Use the comment section below and tell us which fix you have used to troubleshoot your problem.