Encountered "Friends Network Unreachable" on Steam while accessing your Steam friend list? The typical error message reads as follow,
FRIENDS NETWORK UNREACHABLE

This failure may indicate that your local network is offline or that the Steam Friends servers are currently offline.

RETRY CONNECTION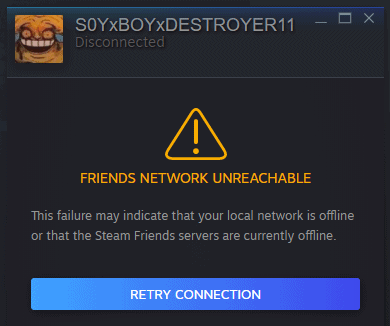 The usual troubleshooting applied here is refreshing the window, restarting Steam and PC, ensuring a stable network- but nothing works. If you've also tried enough but couldn't access your Steam friend list yet, follow this guide because we've shared 3 best solutions to discard the steam friends network unreachable error message.
What is Steam "Friends Network Unreachable" Error Message?
No particular reason is identified yet to be the exact cause why you see this message. But a number of gamers have speculated the below-listed causes are responsible for making your Steam Friends list inaccessible. Have a look.
Cache & Cookies: You might already know that almost all applications save cache and cookies to ensure faster loading and improve functionalities. But when these cache and cookies remain for longer days on your system, they get corrupted. If this is the case with your Steam Client, it can restrict your access to the Friends List.
Steam Beta: Are you running a beta version of Steam client on your system? Well, sometimes beta versions contain bugs that can cause the application to get stuck at times. Steam Chat Beta had one such bug. In this case, you need to make sure that you don't use a beta version of the Steam application.
Apart from these, if your Steam properties are not set up properly, it can also lead you to face the steam friends network unreachable error message. However, now that you have a clear understanding of the underlying causes, it's time to perform the solutions now. Take a look below to know about the best methods to resolve this error.
How to Resolve Friends Network Unreachable Steam Error?
Here we've provided the top 3 solutions to fix this error and access your Friend List in no time. Scroll down and have a look.
Solution 1: Delete Cache & Cookies
As we already mentioned, Steam saves cache and cookies upon visiting. If these saved files get corrupted, facing "friends network unreachable Steam error" is inevitable. You can delete your existing cache and cookies by following the steps below.
Step 1: First, launch File Explorer and navigate to the location where your OS is installed
Step 2: Now locate the Users folder and double click on it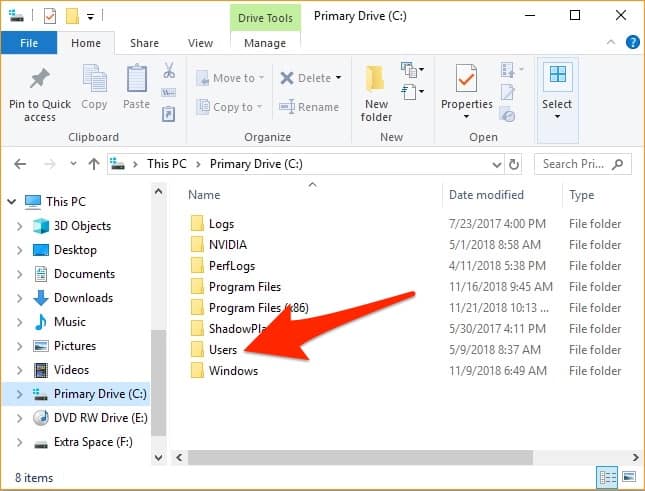 Step 3: From the entries, choose the folder with your username, which you use to log in to your system
Step 4: Within your username folder, click on the View button from the top
Step 5: Under the View tab, check the box next to Hidden Items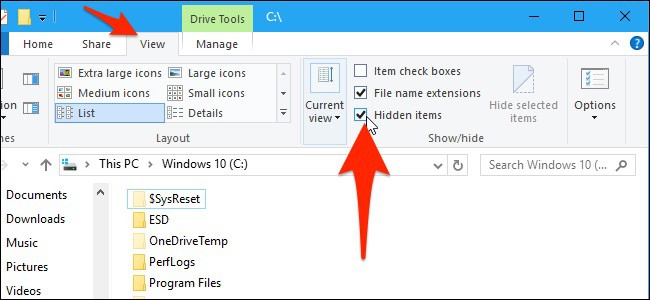 Step 6: Next, you have to open the AppData folder and choose the entry Local from here
Step 7: Inside the Local folder, search for the Steam folder and delete it
Step 8: Once done, go back to the previous window to open Roaming and delete Steam from it similarly
Finally, all the application cache and cookies will be deleted, and you should no longer face the 'friends network unreachable Steam error.' If the issue persists, follow our next method below.
Solution 2: Discard the Steam Beta Mode
Opting out of the Steam Beta mode will fix the issue if it's not caused by your system. The developers provide an easy way out for the gamers if they face any hindrance while running a beta version of the Steam application. However, follow the steps below to opt out of Steam Beta.
Step 1: First launch Steam and sign-in if not done already
Step 2: Navigate to the top left corner next and click on Steam
Step 3: Now, choose Settings from the drop-down menu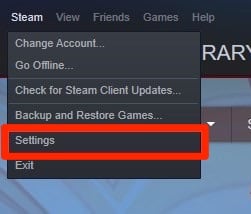 Step 4: When in Account Settings, select the CHANGE option given under the beta participation heading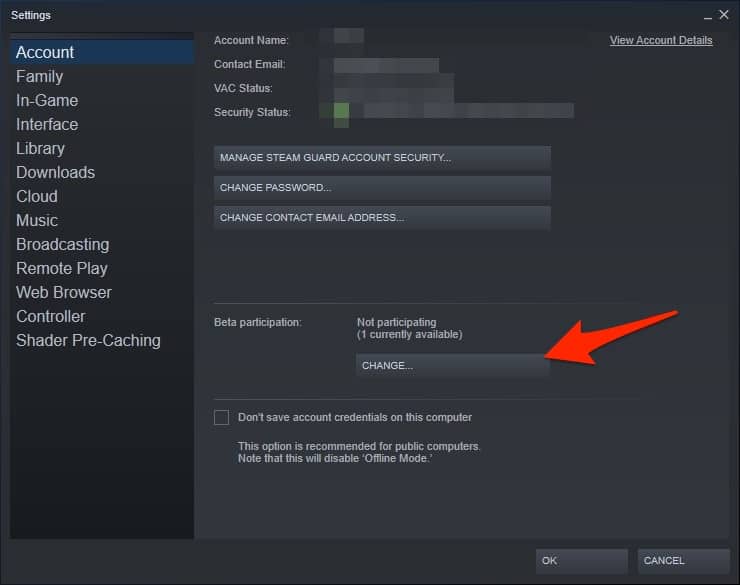 Step 5: Then, click on the drop-down arrow and select "NONE-Opt out of all Beta programs"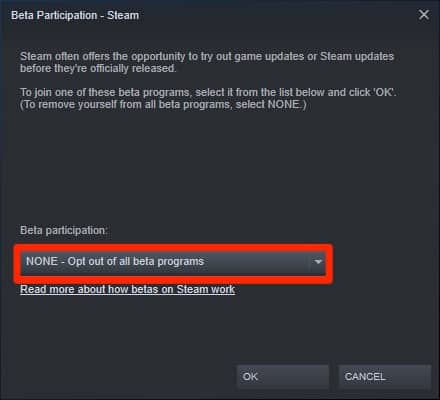 Step 6: Then click on OK and exit Steam
Doing so will remove the Steam Beta from your system along with related updates, and you'll be able to access your Friend list easily.
Solution 3: Make Changes in Steam Properties
Different users could fix the problem by following this method. If you're using the desktop version of Steam, this method is going to be most effective to access your Friend list. Follow these steps below to perform it.
Step 1: Right-click on your Steam client first
Step 2: Now, choose Properties from the context menu
Step 3: Next, go to the Shortcut tab and click on the Target window
Step 4: Type in "-nofriendsui" at the end of the path "C:\Program Files (x86)\Steam\Steam.exe"
Step 5: Finally, click on Apply and then OK to save the changes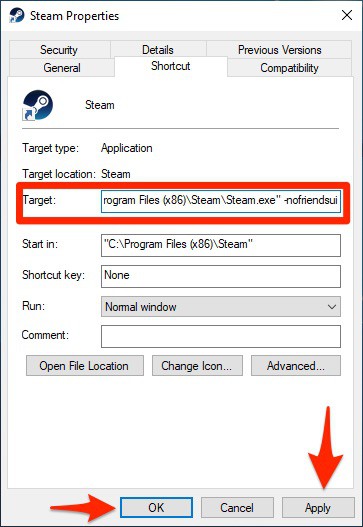 Note: In case adding "-nofriendsui" doesn't work, add "-nochatui" in the Target field, then click Apply and OK to save changes.
Finally, launch Steam, and you shouldn't face any further issues while accessing your Friend list.
That's all! Now you know the best ways to fix the Steam Friends Network unreachable error. If you have further queries, drop a comment in the below box.
Check following troubleshooting articles on different Steam errors