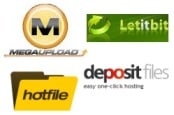 Rapidshare.com was the only popular name in file sharing website till some time back, but now we have several new website for online file sharing like megaupload.com, depositefile.com, letitbit.net etc.  Issue of all these online file sharing websites is captcha, wait time and low download speed for free users.
Most of these websites doesn't provide download manager hence if for some reason your downloading gets stop then you need to re-download that file from start. This not only wastes your time but also your bandwidth.
Here is very useful tool MDownloader which act as download manager for multiple filesharing websites. MDownloader is a tiny application designed for downloading files available at the most popular file hosting servers. Don't click – queue it. Currently supported following providers ,
Bitroad.net, DepositFiles.com, EasyShare.com, FileFactory.com, Hotfile.com, Letitbit.net, MegaUpload.com, Rapidshare.com, Uploading.com.
Features of MDownloader
1. Matching interchangeable links (by name).
2. Passcode recognition (user must recognize and type it).
3. Page parsing to find supported links.
MDownloader Download Manager for MegaUpload, Uploading, Letitbit & Many More