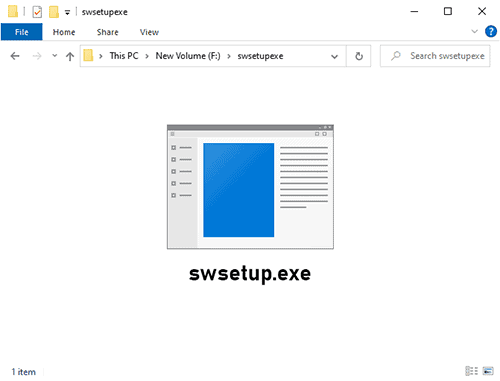 All in one desktop and laptops usually have their drivers pre-installed. This ensures that even if the user doesn't have an active internet connection while setting up the PC. Even if you have outdated drivers installed, it usually comes with a process that checks for driver updates automatically. The process should also update the drivers automatically. But there are multiple reasons why a user might not want that.
What is swsetup.exe? Is it A Malware?
If you have an HP manufactured all in one desktop or laptop, chances are that you might see the process swsetup.exe running on the Task Manager. For HP devices, the process always runs in the background. Its main job is to keep all the required hardware firmware and drivers in check. 
The process always checks for available driver updates by running in the background. Once it finds an update, it tries to install it in the background as well. But there are many driver updates that require a restart before installing properly. The process caches those downloads in a certain folder in your boot drive and waits until you shut down or restart the PC yourself.
The process also controls HP Software Setup tools. Many users prefer the HP Software Setup tools over the Support Assistant. Because the Support Assistant crashes a lot on Windows 10 and has a lot of compatibility issues.
If you are not on an HP manufactured device, you might still see the same process running on your Task Manager. In that case, it could be some kind of remnant of the SmartWhois Domain and IP Lookup utility. You may have never heard of this tool before and wondering how it got installed. This can get installed through various applications (e.g., LAN driver, any application that requires a virtual LAN port, a VPN app). The software usually does not pose a security risk to your computer or network. However, there are many malicious tools that change their name to pose as the process when they are something else entirely. It is very easy to figure out whether or not the process is actually legit by checking its digital signature. In today's article, we are going to discuss the process in detail, so continue reading.
Why Disable swsetup.exe?
Many users have reported several problems with the swsetup.exe file. We have gathered some of the common issues here:
Random Restart-

Sometimes, on HP devices, the process fails to cache the driver updates that require a restart. In that case, it just restarts the entire PC without any prior notice. You can avoid this problem by keeping your device drivers updated manually.
High Storage Usage-

The subsequent folder of this process takes up a lot of valuable space on the boot drive. And on most modern PCs, the boot drive is an expensive SSD. So you might run into low storage space-related problems. This only happens on HP devices, so other users should not encounter this problem. Sometimes it can also keep parts of driver downloads, incomplete installation files in the same folder. Basically, these are junk files that hog up your boot drive. In this guide, we will also show how you can delete that.
Constantly Running All The Time-

The process might keep running even when there isn't any driver update available.
High Resource Usage-

While running in the background, the process can use up a lot of CPU, RAM, and disk resources. That can slow down your other works or your entire PC. Several users have reported the same. Stopping the process can help with that.
Unwanted Driver Updation-

We generally recommend users to always keep their drivers up to date. But sometimes, manufacturers also push out updates without properly testing them. These updates might contain bugs and glitches that may break some functionality.
Issues On Older Operating Systems-

If for some reason, you are still on Windows 7 or 8.1, you might still face problems. Even if you are on an older OS, you can follow the same methods below to fix the problem.
How to Check The Legitimacy Of The Process?
You can check the legitimacy of the swsetup.exe process right from the Task Manager. Go through the steps below to check yourself:
First of all, right-click on the taskbar below. Click on

Task Manager.

Simply right-click on the process from the

Task Manager

.

Then click on

Properties.

Next, go to the

Digital Signatures tab.

Make sure that the name of the publisher shows up there. If the process is legitimate, the

"Name of signer"

section should say

Hewlett-Packard (HP) Publisher

or something along the line of that.

For non-HP users, the

"Name of signer"

section should say

TamoSoft Publisher

.

If the process is not legitimate, the

"Name of signer"

section should be blank or should say

Unable to Verify

.
How to Stop/Fix swsetup.exe?
It's really easy for HP users to stop the process right from the Task Manager until the next driver update. So you should follow these steps to stop the process manually:
Open Task Manager.

Find the process and right-click it.

Just click on

End task.
Close Task Manager.
The process should now only pop up when any driver update arrives. Non-HP users can also end the process the same way. If it still pops up, you might need to disable the process outright. We don't really recommend completely disabling the process on an HP device. Because from that point on, you have to manually download and install the required drivers or any updates you want to install. And that might prove troublesome if you don't have an active internet connection at the time.
How to Remove swsetup.exe
Completely disabling the swsetup.exe process is pretty easy on HP devices. And the process frees up a lot of storage space on your boot SSD drive, as mentioned before. Follow the below steps:
First, open up the File Explorer.

Then go to This PC section.
After that, open your boot drive. Usually, it's the C drive, so just double click on it.

Find the

SwSetup

folder in here and simply delete it.

After it gets deleted, close the File Explorer. The swsetup.exe process should not show up after that.
Verdict
Following our guide, you should be able to get rid of the process on HP devices. If it's the SmartWhois utility causing issues on non-HP PCs uninstalling it from the Control Panel should fix the problems. Other than that, if you feel like you have malware in a certain file like this, you can upload the same here to check.