Encountered This Video is not Available in your Country on Youtube? wondering what it is and how you can bypass that? then read on!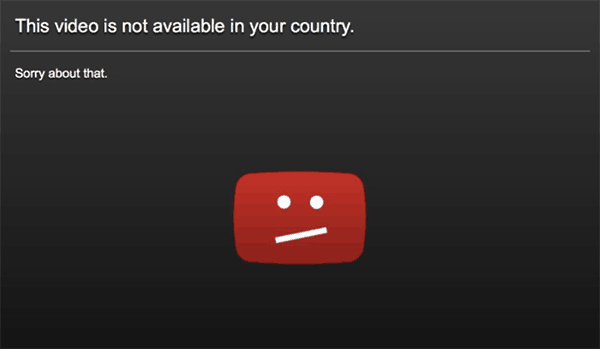 YouTube is the largest and most popular video streaming platform out there right now. Not only it provides great experience for the viewers, but the same goes for the content creators as well. It is completely free to use and you can watch videos from anywhere around the globe and supports every platform out there like, PC, Laptop, Smart TVs, Tablets etc.
Although most videos uploaded on YouTube are available for viewing from every corner of this world! But sometimes you might not be able to access a video on your country due to certain YouTube policies or the restricts added by video uploader or content creator. In such a case you will see an error saying that the video is not available in your country even if the video was in your recommendation section. This can result in a poor video watching experience on the popular video streaming service.
If Youtube videos are loading but not playing then check this article.
What is the "this video is not available in your country" message on YouTube?
With the recent introduction of Article 13 by the EU, many websites including YouTube have changed their policies. These policies are related to copyright and content access rules and regulations on YouTube. In other words, these control whether you can access or upload specific content on YouTube. Due to this, some videos on YouTube will show you the error mentioned above in this article. Such restrictions can be made by the video uploader itself or even by YouTube due to the government policies of your country. Because of such policies, many people have started facing the "This Video is not Available in your Country."
Here are the best Youtube Apps for Windows.
How to View "this video is not available in your country" On YouTube
If you are facing this issue on a video from one of your favorite YouTubers, it can be quite frustrating. Therefore, fixing this issue right away is quite important. While YouTube policies will never allow to bypass this restriction and watch the video, there are other methods out there which can allow you to do so. Since this error is caused primarily due to the geographical location of your device, changing it will allow you to watch any such restricted video. While it is not possible to actually change your geographical location just to watch a video, you can change your virtual location online using some tricks. And today we are here with multiple such tricks which can give you access to restricted videos. Therefore, if you want to fix "This Video is not Available in your Country" error on YouTube, make sure to go through the following methods one by one:
1. Download the YouTube Video with Location Restrictions
One of the easiest methods of bypassing the location restriction on any YouTube video is to download it. While the video might not be available in your country, it is certainly playable for others. This means that you can download such videos using third-party tools and watch them in any video player on your device. Due to this, you can easily fix "This Video is not Available in your Country" error by downloading videos. While there are many tools and websites out there which allow you to download videos, we will be using clipconverter.cc in the following step by step guide:
2. Watch YouTube Videos on Rabb.it to Bypass Location Restrictions
Rabbit is an online service which allows you to watch videos along with your friends remotely with using your internet connection. But since Rabbit servers are located in the United States of America, it means that if the video is available for that country, playing it in Rabbit will fix the issue. While this service is designed to watch videos with your friends, you can still watch videos on it all alone. Therefore, if you want to bypass the "This Video is not Available in your Country" error using Rabbit, follow the given steps one by one:
3. Add Hola VPN in Your Google Chrome Browser
If you are using the Google Chrome browser on your PC, then you must know that it comes with the Chrome store inbuilt. This store has various useful extensions and plugins available for download. And they even have VPN extensions available to download and use on your Google Chrome on your PC. One of the best VPNs available for the Google Chrome browser is the Hola VPN which can be added to change the location of your browser. This means that you can use this extension to change your virtual location to whatever location you want. And once you have done that, you can easily watch any YouTube video without facing the "This Video is not Available in your Country" error on YouTube. If you also wish to use the Hola VPN extension in Google Chrome, follow the given instructions one by one:
is Youtube.com blocked in your country? then check this guide on how to unblock Youtube.
4. Use YouTube Proxies for Accessing Restricted Content
Website Proxies are quite similar to using a VPN but they are much easier to use since you do not have to install any VPN service. You can find the proxy servers for all the popular websites out there including YouTube. If you use a YouTube Proxy, it will essentially open YouTube in your browser via the proxy server. And if this proxy server's geographical location is different than yours, you will be able to bypass the "This Video is not Available in your Country" error on YouTube. You can use a YouTube Proxy for watching videos as shown in the following step by step guide:
5. Watch Video is not Available in your Country using YouPak
YouPak is the clone of Youtube, every video uploaded to Youtube are cached and stored on YouPak making all the videos available to every regions irrespective of its blocked status on Youtube.com. This website can come really handy in times like this where you end up at "video is not available in your country". To open and view videos blocked in your region simply follow below steps.
Simply go to Youtube video page thats restricted in your region.
Now click on video URL part and replace Youtube with Youpak and hit enter key
That's it, this will redirect you to the appropriate page where you can watch the restricted Youtube video.
There also certain videos which are age restricted. Here is the guide to watch age restricted videos on Youtube.