YouTube is currently the biggest video streaming service on the internet. While you can access YouTube directly in your browser, having a dedicated app can be quite useful. If you have ever used the YouTube app in your smartphone, then you must know about the benefits of using a dedicated YouTube app. While YouTube has official apps for mobile platforms like Android and iOS, the same cannot be said for Windows 10. Thankfully, there are many third-party YouTube apps or clients available for Windows 10.
If you are looking for YouTube app for Windows 10 on devices like laptop, desktop or for Microsoft surface, then check the below list of best YouTube clients. Each one of them are full fledge app and offers same experience as YouTube website. Some of these apps also offers additional functionality such as open blocked YouTube without any country restrictions and open age restricted YouTube videos.
Best Youtube Apps for Windows 10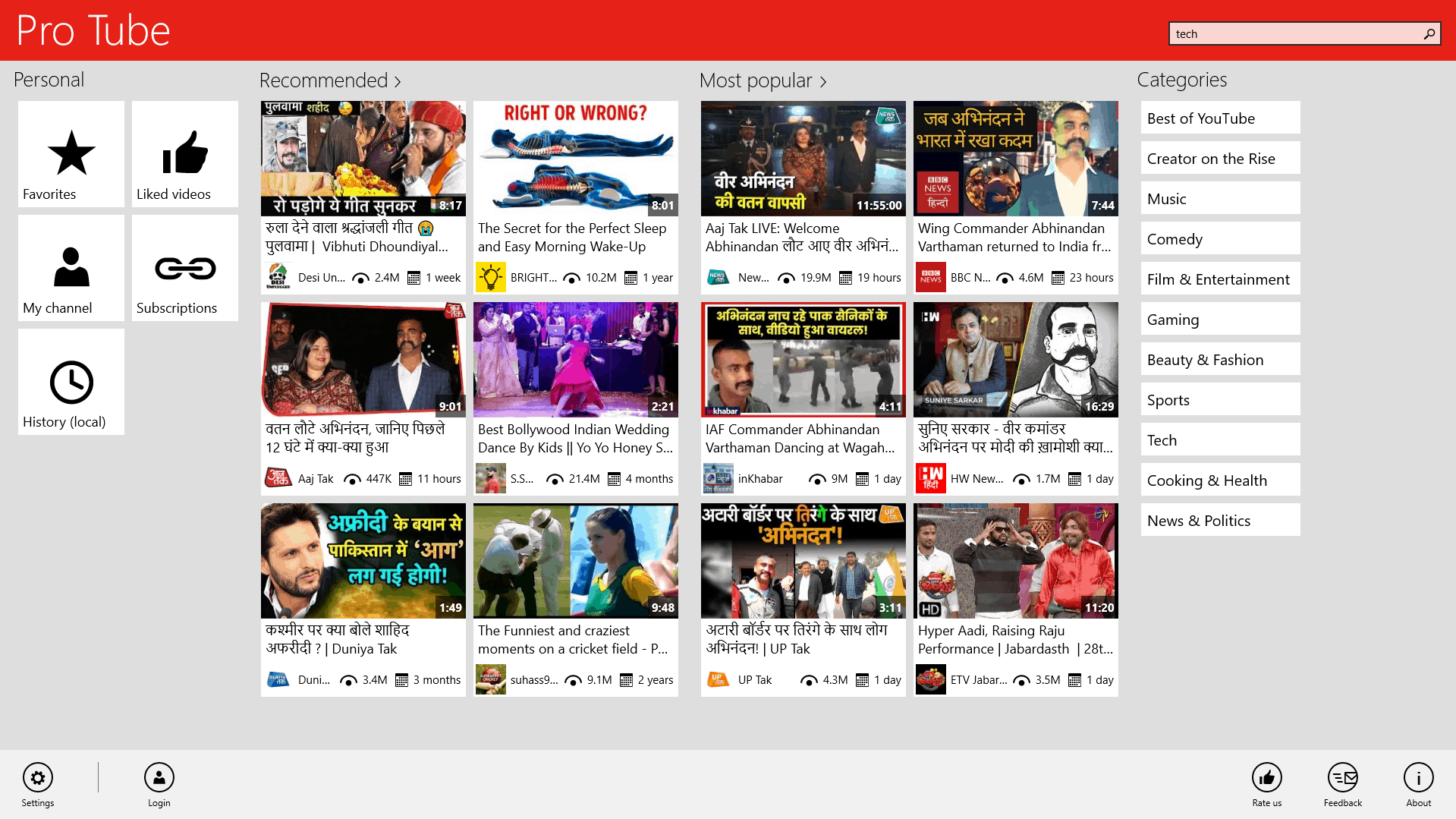 Pro Tube is one of the most lightweight YouTube clients for Windows 10. It is targeted towards Windows 10 users who have a low power computer and cannot use a heavy app just for watching YouTube videos. Talking about the user interface of Pro Tube, it is quite similar to Windows 8's Metro UI design. Even though some might feel that the whole design is a bit old now, it is still quite simple and user-friendly.
Pro Tube also supports logging into your Google Account which will show recommendations according to your watch history. Moving on to Pro Tube and its features, it has the support for 4k playback, detailed info about views and subscribers on a video, etc. Even though there aren't many advanced features in Pro Tube, it is still a great YouTube client for Windows 10.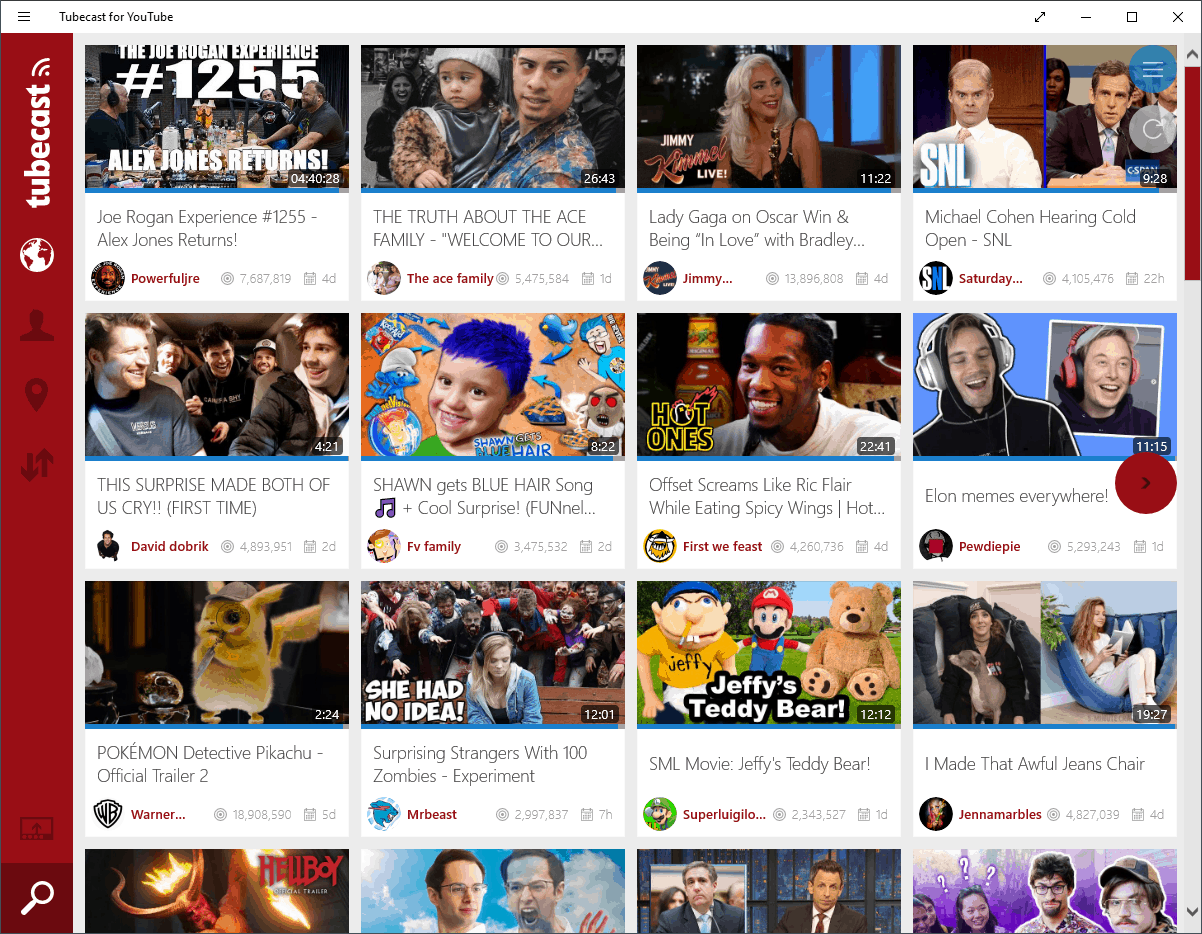 As the name suggests, Tubecast allows you to cast YouTube videos to other devices right from your Windows 10 computer. This is a very unique feature that is not possible at all in the YouTube website via any browser on your PC. It can be used to cast YouTube videos to devices like Chromecast, AirPlay, Roku, DLNA, Xbox 360, PS4, Amazon Fire TV, Google TV, etc. This means that you can use Tubecast for casting videos on almost all major streaming devices and apps out there. But unlike many other casting tools, Tubecast allows its user to cast videos to other devices in 4K resolution. Not only that but you can even use Tubecast for downloading your favorite videos on local storage. Apart from that, you can use it for listening to music on YouTube in the background which can be highly useful.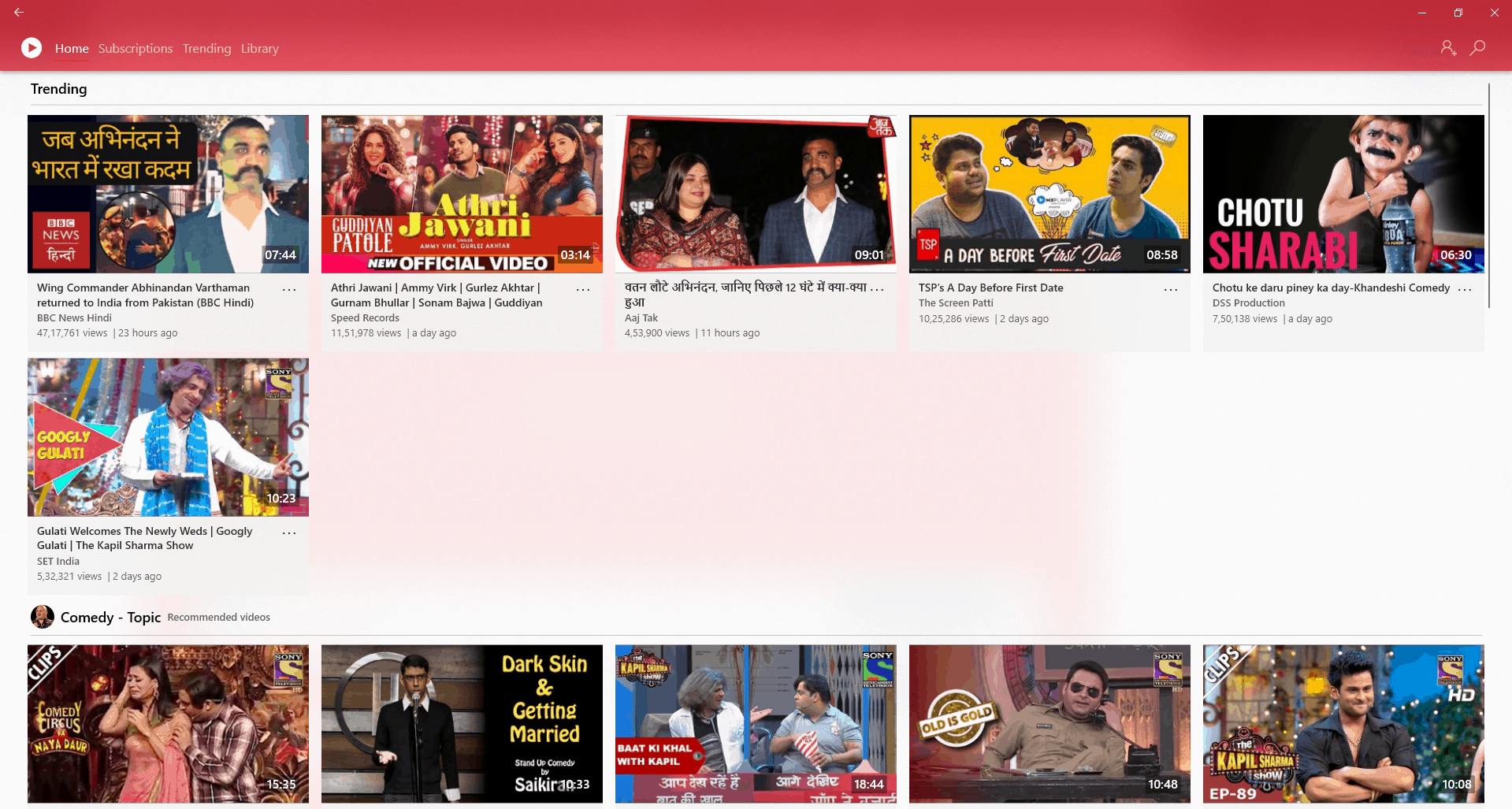 Awesome Tube is a great YouTube client for YouTube with many useful features and options at the disposal of the user. All of the features that Awesome Tube provides can result in an awesome YouTube experience. It offers a picture in picture mode which allows you to watch videos while using other applications on your computer. And just like Tubecast, you can also use Awesome Tube for downloading any YouTube in your computer's local storage. Awesome Tube's interface is divided into multiple pages which results in much easier navigation around different sections of YouTube. Pages like Subscriptions, Trending, Home, Library, History, etc have their own separate pages in this YouTube client for Windows. You can use Awesome Tube for watching live streams as well as for using the chat of a live stream on YouTube. Even though Awesome Tube is completely free to use, it does show ads to its user which can be removed via an in-app purchase.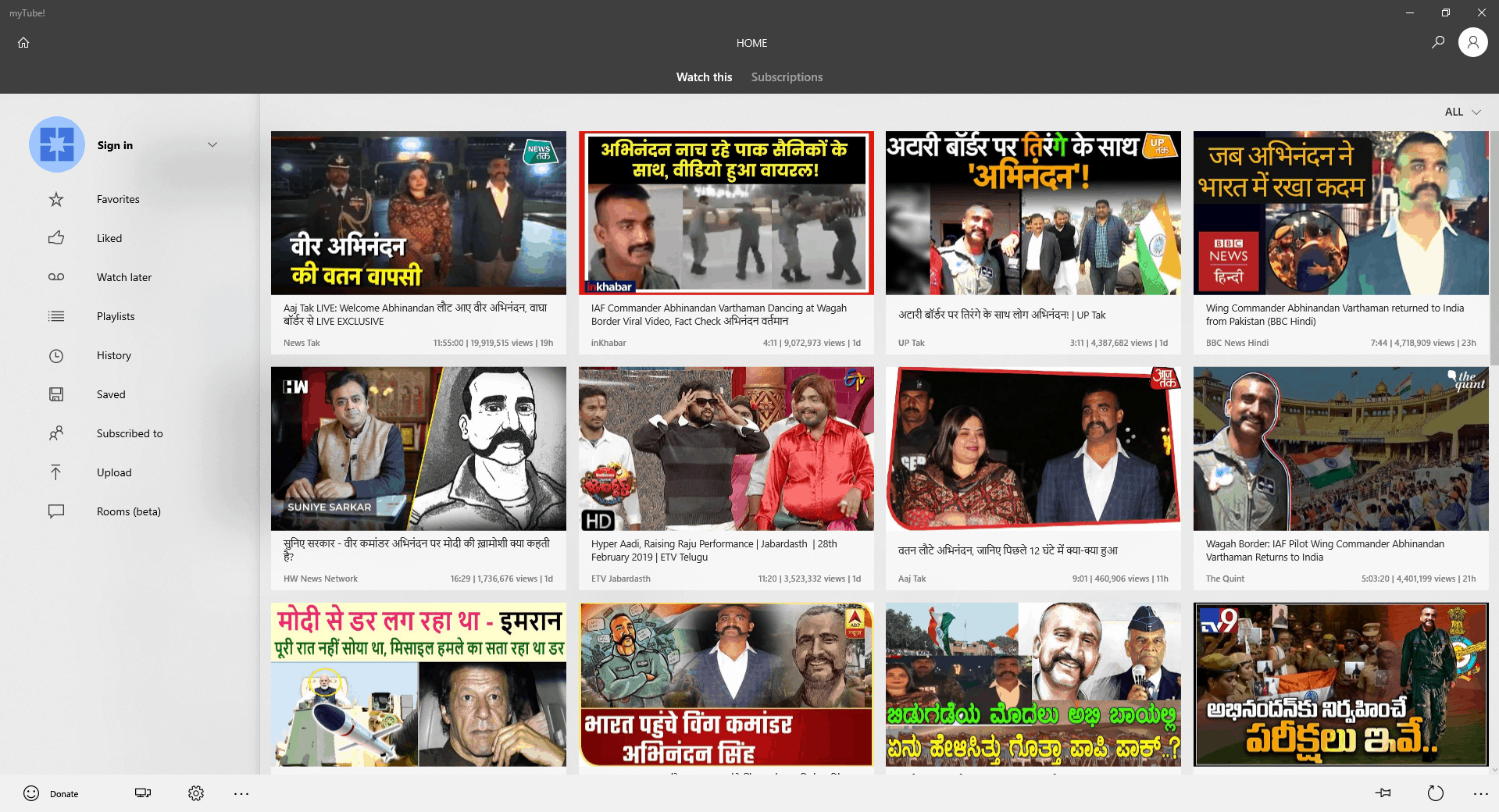 myTube is one of the oldest YouTube apps available for Windows 10 computer. While in the early days, myTube had many issues, they now have been fixed via regular updated. This means that you can expect more new features for myTube in the future due to timely updates from its developers. The whole experience of myTube is quite smooth in terms of its performance and optimization due to regular updates. Even though this YouTube app for Windows 10 does not include any advanced features, it is still highly recommended. Although, it does allow the user to download YouTube videos to be watched later. YouTube creators will also like this YouTube client since you can use it for uploading videos on your channel. It even has the picture in picture mode just like Awesome Tube for Windows 10.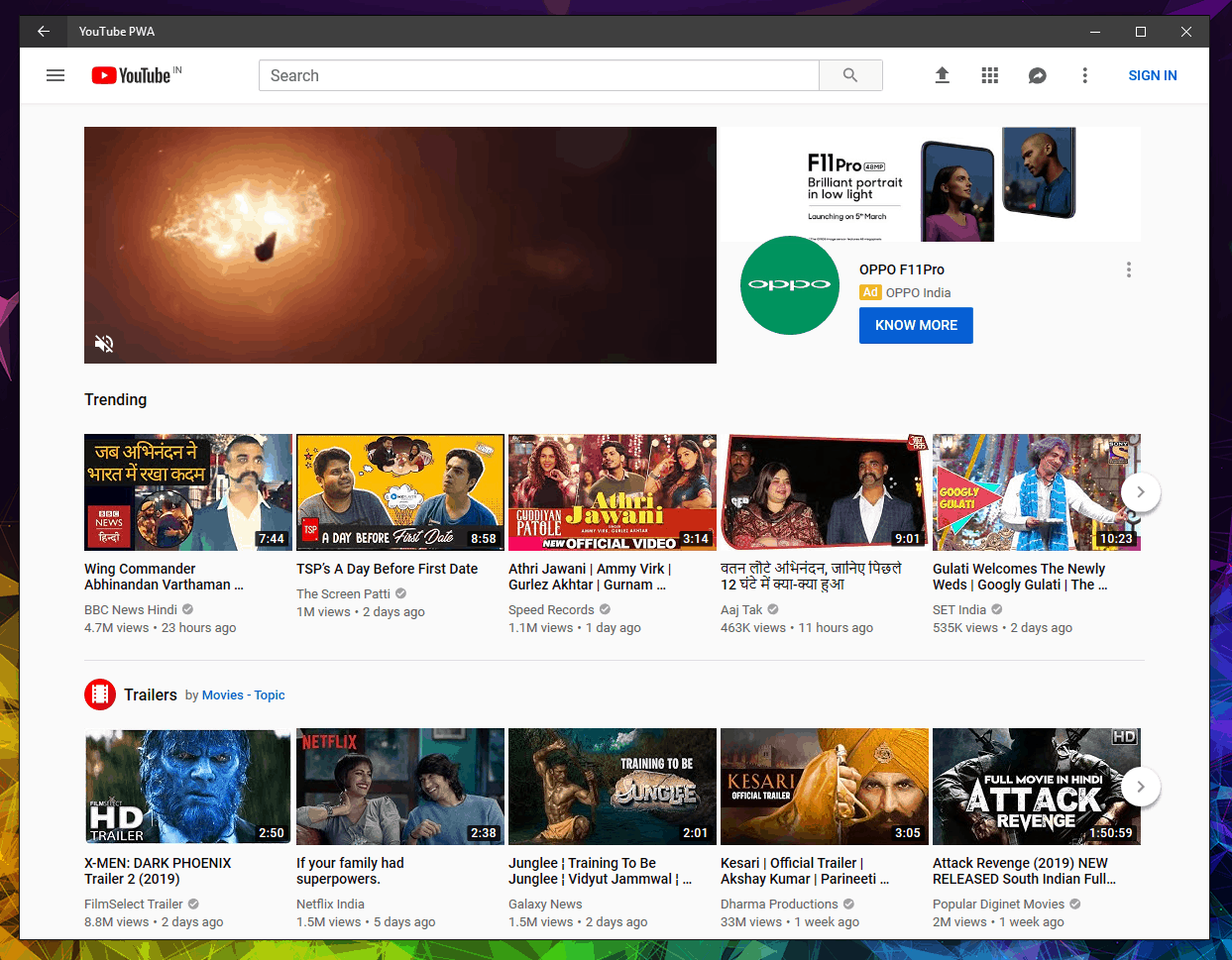 In case if you want the most basic YouTube app for your Windows 10 computer, then YouTube PWA can be a great choice. This is an app which essentially acts like a web browser and opens the YouTube website inside this app. But unlike opening a full-fledged browser on your computer, you can use YouTube PWA for browsing YouTube. It can help in saving your system resource which can be highly beneficial if you are using a low-end computer. It has all of the features that you will find in the normal version of YouTube that you use on any other web browser. And just as you would expect, YouTube PWA is completely free to download from the Microsoft Store.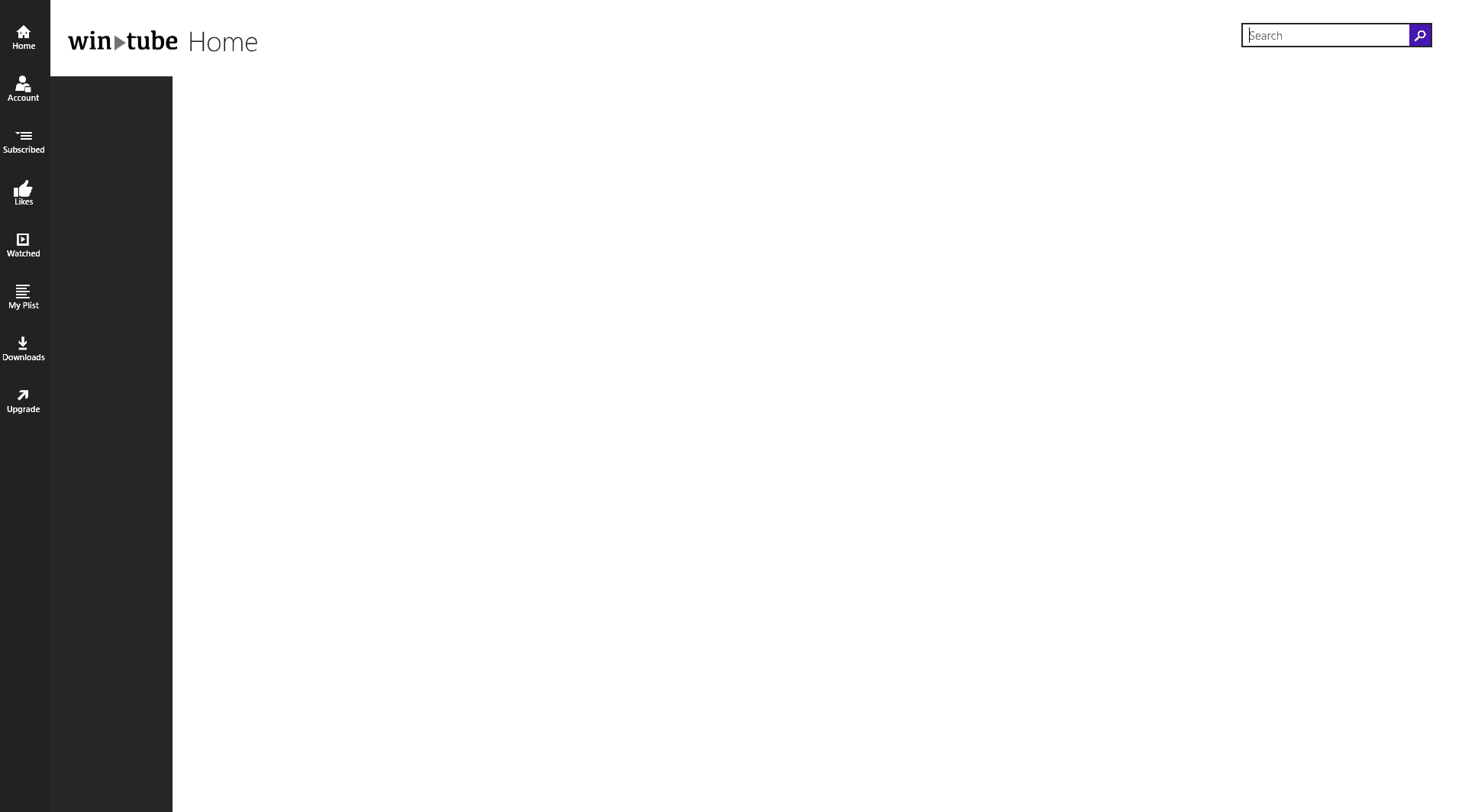 WinTube is another great YouTube app for Windows 10 that focuses on the important things, and not on smaller less important features. WinTube has one of the most intuitive user interfaces out of all the apps mentioned in this article. The whole video experiencing in the WinTube for YouTube app is extremely smooth and seamless. This is possible due to excellent development by the guys behind WinTube. And just like all other apps in mentioned in this article, WinTube is also free to download from the Store in Windows 10.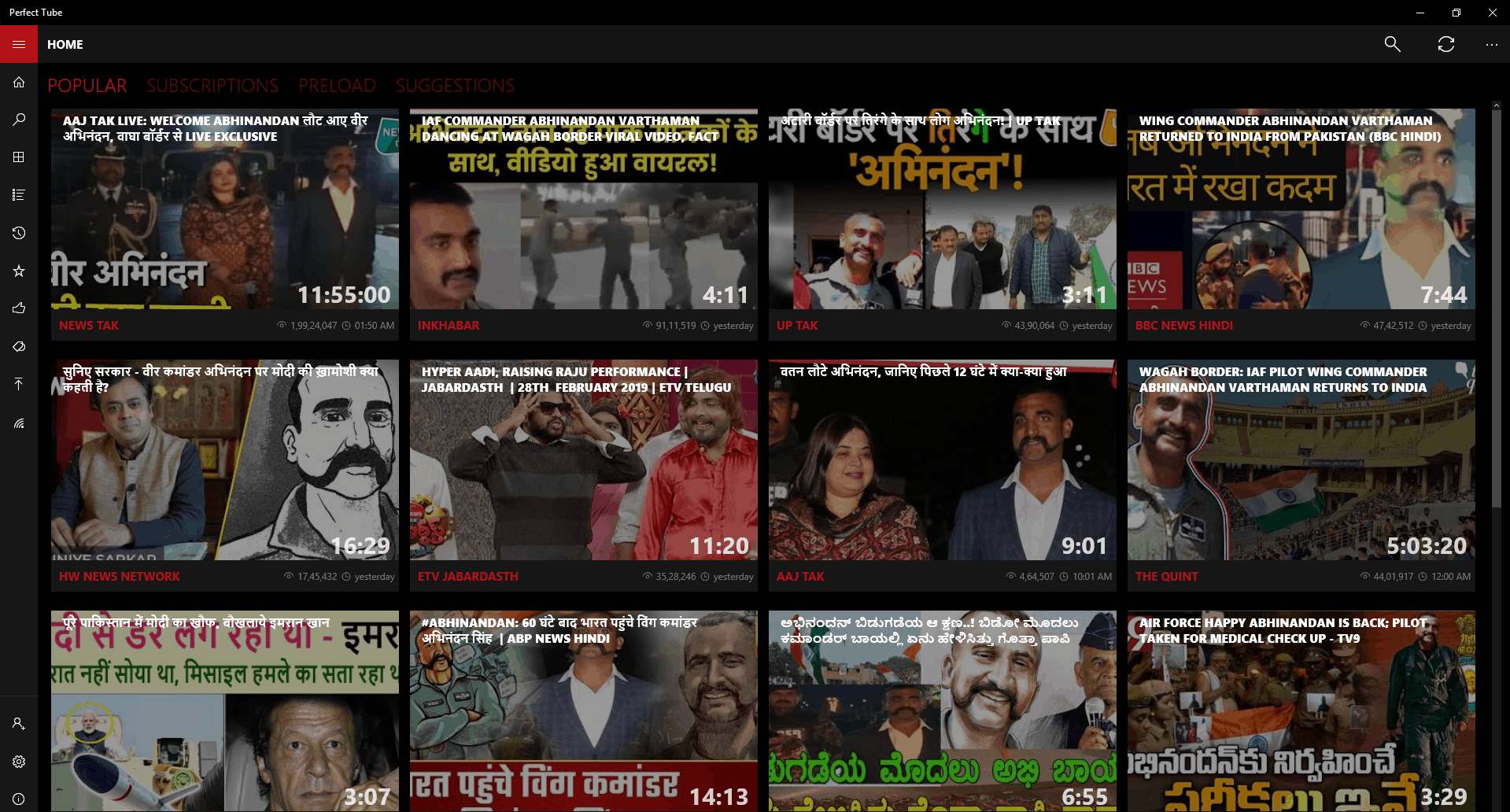 Perfect Tube can be considered as the perfect YouTube app for Windows 10 PCs. It has a very minimalistic and simple design yet it offers one of the best features that can be useful for watching videos. In case if you have a device with a touchscreen, then Perfect Tube allows you to use touch gestures in Perfect Tube. Not only that but it is also supported on things like HoloLens, Windows Phone, Windows Hub and other Microsoft products. It also comes with a floating mini player that you can use to watch as well as control the app while using other applications on your computer. Unfortunately, some of the features of Perfect Tube require in-app purchases to unlock. That being said, the app is free to install from the Microsoft Windows Store and most of the features are available in this free version.
Final Words
There is no shortage of Youtube apps on Microsoft Store, however if one goes through all these apps would realize that most of them are outright plain simple webapps offers next to zero additional functionality than the Youtube website itself.  But apps in our curated list of best YouTub apps are the one which are best in all and has one or more features apart from one offered Youtube itself.