What is YouTube?
Today, every Internet user is familiar with YouTube services. This is a multi-million dollar platform where people can watch interesting videos and share their work with the whole world. YouTube developers managed to create a convenient and easy-to-use video hosting service and video player. Currently, YouTube is the world's most popular video sharing portal and ranked 3rd on the globe in terms of daily traffic. The reason behind this is the simplicity YouTube provides to the viewers as well as the creators. Anyone in the world with a Google account can start sharing their own content on the platform and make a career out of it by gaining popularity on the website.
YouTube's overall user-interface and background algorithm might seem flawless from the outside but unfortunately, it is not. Many times, regular users face some problems with the website. Sometimes users encounter a problem when the video on YouTube is not played at all. This can be a problem on the from the website's side but mostly, it is caused due to some problem on the user's side. In this article, you will learn what to do if the video on YouTube video playback does not work and how to fix it.
Youtube Videos are Loading But Not Playing?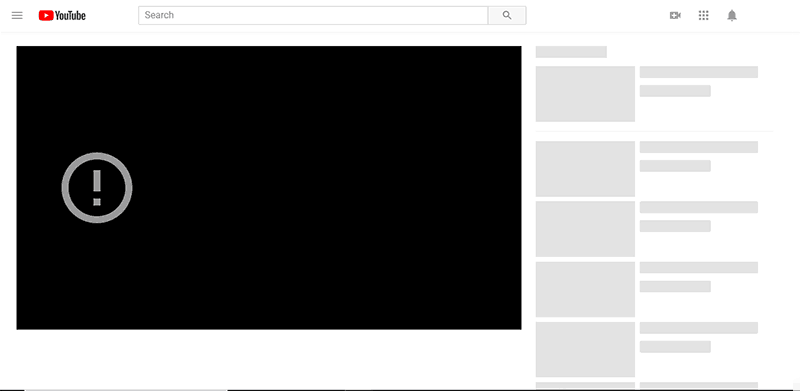 Probably each of us users who have been online for a long time encountered such a problem on YouTube. This problem arises quite suddenly and what most users do not know how to resolve this situation. Cases with this problem are possible as follows- You open the page but instead of the video, a pure black screen is displayed. Sometimes, the audio track from this video is played in the background but no visuals are available. But most of the time, Both Audio and Video are failed to render on your screen. Check how to unblock youtube.
Possible Reasons For Youtube Videos Not Playing
Bad internet connection: The reason may seem basic, but sometimes there are instances when we do not notice how the connection speed drops. It is possible that it has dropped to such a value that videos could not be obtained in your system memory.
Problems with Adobe Flash Player: This is the most common cause of the problem. As the online streaming of any video from any website is dependant on Adobe flash player, Even a minor issue in the plug-in can cause the problem.
Cache your browser: Another most likely cause that triggers a black screen on YouTube. A huge amount of cache can bring quite a lot of problems, including this one.
Problems from YouTube website itself: Youtube servers rarely go under maintenance but the possibility can not be ignored that the maintenance of the servers is causing the problem. In such cases, There is nothing a user can do to resolve this problem. Such cases are quickly resolved by the website itself in a short span of time. (a half hour or so).
Outdated browser version: Well, everything is constantly being updated, and if you get stuck with the old version of the browser, then it is not surprising that something will not function properly.
Various ad blockers: Yes, even this is possible behind the problem. Many people in various forums started reporting that their AdBlock (or something similar) had begun to interfere with the normal display of certain websites. YouTube cannot be excluded from this as they also depend portray ads on their website.
Here is the article to know how to watch age restricted youtube videos.
Fix Youtube Video Loads But Doesn't Play
As already mentioned, to fix this problem, one does not have to spend a huge amount of time. This is not some kind of error with the Windows operating system over which you will suffer for several days but end up reinstalling the system. This problem can be resolved in a matter of minutes. Now let's look at how to solve this problem.
1. Check Internet Connection
The most obvious advice would just check your Internet connection. It is possible that the connection speed dropped to catastrophic values with which even a small YouTube video cannot properly load up. Sometimes it is easy not to notice such an event. For example, working only with a lot of textual information can cause a dilemma. All you have to do is take a look at your network connection settings, diagnose problems using the troubleshooter and see if something has changed in the settings that could cause the problem in bandwidth. In extreme cases, you can contact your Internet service provider. It is possible that the problem is from their side.
2. Update Adobe Flash Player
It is highly probable that the problem is caused due to some error in Adobe flash player. There are a number of errors that could occur within this software.  All you have to do is remove previously installed version of Adobe flash player and Reinstall it again, Preferably the latest version which will be available on the official site. After this action, the video playback is likely to be fixed. You can remove Adobe Flash Player from "Programs and Features" in the Control Panel. You can also try to disable the hardware acceleration. To do this, right-click on the video and uncheck the option "Hardware acceleration".
3. Cleaning Cache
This is a solution to a variety of problems. Many users tend to ignore the cache generation in the browser. Most of the time it would not create an issue, but sometimes it does. By clearing your browser of accumulated cache, you can get rid of many problems that may also include a black screen on YouTube. Cache is a very useful feature that allows you to speed up the loading of a resource. But when accumulated temporary files become too much, it leads to a number of problems. Therefore, it is very important to clean the cache from time to time.
To clear cache, follow these steps:
Go to your browser settings.
Select the History tab.
Find the Clear History item.
Uncheck all items except for the item related to the cache and confirm clearing. (Check other option if you require).
Restart your browser and see if a problem like the black screen on Youtube has disappeared. If not, then let's move on to the next solution.
4. Fresh Installation of Video Card Drivers
As the problem is related to a video, the basic thing that can possibly be the culprit is the driver for the video card. Some users have been able to fix the problem using a clean installation of video drivers. It may be some misconfiguration in the driver settings which is resulting in the failure of the rendering of the Youtube stream. This can be easily resolved by performing a "Clean installation" of the driver.
To do so,
Go to the official website of the graphics card manufacturer, i.e. Intel, AMD or nVidia, and download a pack of drivers from there.
When installing, select the "Clean Installation" checkbox.
Thus, the old drivers will be removed first including all the settings, and new ones will be installed in their place. In general, it is better to frequently perform a "clean installation" of drivers.
5. Update browser
If your web browser has not been updated in a long time, the emergence of various problems will not be something out of the ordinary. As the websites update their algorithm on almost a daily basis, the web browser must also be updated according to the requirement of the website. Fortunately, The Research and Development team of almost every browser company does not fail to do so. All you have to do is simply update your browser so the new settings and plug-ins will be automatically downloaded and installed in your system. With updates comes improvements in many aspects of various applications such as their performance improves and multiple errors are fixed. Try checking for available updates for the browser and update.
6. Disable the Ad Blocker
Let's agree – almost all of us today use browser extensions such as AdBlock. No one likes advertising banners, various ad units in the video and other rubbish on websites. With the advent of such convenient blocking extensions, we have already forgotten what the whole webpage looks like.
However, users have recently begun to note that some sites tend to become un-operational when AdBlock is enabled. Sometimes, even at the entrance to the site, it is strongly recommended to disable AdBlock, as it can prevent the content from loading on the page, and also its general display.
We should understand that most sites, including YouTube, get their profits by placing ads on the videos. This important not only for the website development team but also for the content creators on the platform. Some of the websites completely block the entrance if you try to access them with the ad blocking extension enabled. Even though YouTube does not block the access, it may be trying to load the ad first instead of the video which is getting blocked by the ad-blocking extension on your side. This will result in an endless playback of a black screen instead of the video.
In general, try disabling such an extension in your browser and try accessing YouTube again. If this helped fix the problem on YouTube, then as an option, you can add www.youtube.com to the list of exceptions for the blocker. Or, you can change the ad-blocking extension itself, in case you are unlikely to agree to return to the commercial breaks during the video.
We hope that the suggested options will help you to fix the problem on YouTube.
7. Disable Browser Extensions
Your browsers' extensions can also interfere with online video streaming. As the extensions have access to your webpage display characteristics settings, it can change some values to its own requirement which might be the reason for the failure of playback on YouTube. If you have multiple extensions installed, it might be a little tedious to find out which extension is causing the trouble. First, we would suggest you disable all extensions at once to verify whether it is an extension-related problem or not.
To do so, follow these steps:
Open your browser.
Click on the three dots on the upper-right corner to open the browser menu.

Now, click on "More tools" option.

Now click on "Extensions".

Now, you will see a list of all installed extensions in your browser.

Now, all you have to do is click on the blue button to disable the extension. Disable all the extension to check whether the issue is caused by an extension or not.
Restart the browser after disabling all extensions.
Play Any YouTube video to check the problem. If it turns out to be an extension problem, you can simply re-enable each extension one by one and play the YouTube video simultaneously to see which particular extension is causing the problem.
8. Enable JavaScript
JavaScript is basically a high-level programming language which is used to create interactive features on a webpage. Nowadays, almost all big website has interactive features and YouTube is not an exception for that. These features require JavaScript to be enabled on your system/browser to operate properly. If JavaScript is disabled, the webpage might fail to generate some animation of interactive feature which will result in an improper display of content on the website or no content at all. If you are using popular web browsers like Google Chrome, Mozilla Firefox etc, you must already have JavaScript enabled by default. But, there might be some third-party operation which might have disabled the Javascript which is causing the trouble.
You can simply re-enable the JavaScript by following these steps:
Open your browser.
Click on the three dots on the upper-right corner to open the browser menu.

Now, click on the "Settings" option.

Once you are in the settings panel, scroll to the end of the page and click on "Advanced" option.

This will open the advanced settings. Now, select "Content settings".

In the content setting. click on "JavaScript".

Now, the JavaScript control settings will appear. Make sure that the javascript is "allowed" and YouTube is not present in the "Block" list.

If it was disabled, enable it and restart the browser.
The video playback will work fine now.
Method 9: Use Youtube Apps to watch videos
Despite trying every possible solution mentioned above if you still facing the issue of Youtube video loading but not playing then the ultimate solution would be to try to use Youtube Apps for Windows and Mac. Using free available Youtube apps you can enjoy videos just like browsing Youtube website in a web browser.