The worst thing to happen to any Windows 10 user is broken stuff after installing updates. While we are excited to install major updates which bring new features, instead ends up with broken things like audio or mic stops working. Something similar is being reported by the users who had installed October 2018 update on Windows 10.
As reported by users on Reddit forum, audio issue is typically faced by users having Realtek HD onboard audio chip on their PC or laptop. However, we feel audio problem might not be restricted to just Realtek HD Audio Manager and others users might be facing a similar problem. Fear not, here is the guide on how to fix audio not working problem.
How to Fix Audio Not Working After Windows 10 October 2018 Update 1809
Solution #1. Roll back Installed Audio Drivers
In most cases, Windows attempts to identify the hardware on its own and then installs the most generic drivers available for that hardware. Unfortunately, some time Windows may identify particular hardware like the onboard audio of different brand than the one you have it. That's the main culprit for broken sound on Windows 10 Version 1809 update.
For some users after installing Windows 10 October 2018 Update 1809, Windows 10 replaced the existing audio drivers and with Intel Smart Sound Technology (SST) audio drivers. Although, the most motherboard comes with Intel onboard audio, but that's not the only onboard audio chip making company. The second most famous brand is Realtek. Hence this issue is prominent for Realtek HD onboard Audio users.
In order to confirm if at all Windows 10 1809 has replaced and installed Intel HD audio drivers on your system, go to Windows Update Setting then click on View Update History.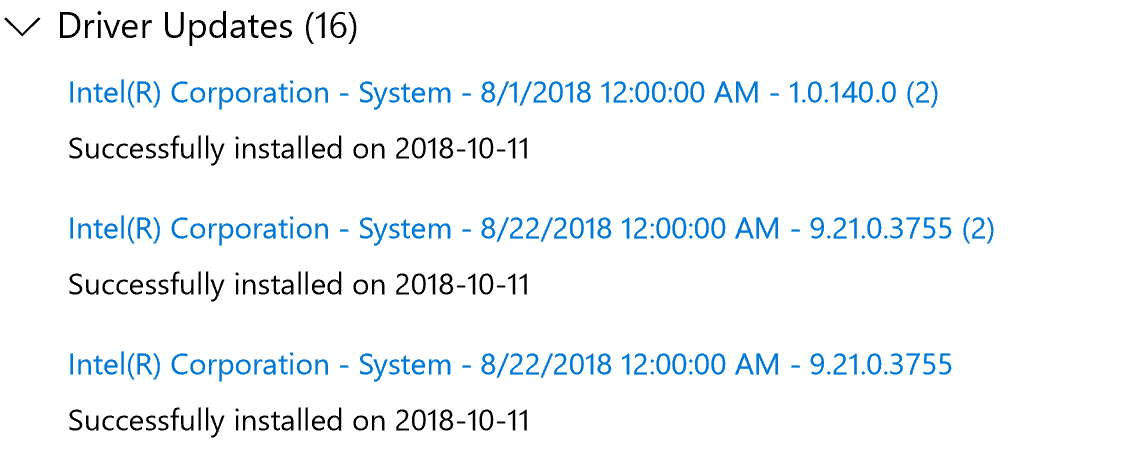 In the update history list, you should see Intel(R) Corporation System in Driver update section. The date of the installed update should coincide with your audio issue. If that's the case for you, then you are one such user for whom Windows 10 has installed the wrong Audio driver.
You will need to rollback Intel drivers to get the audio working on Windows 10 October 2018 update.
In order to roll back/delete Intel SST audio drivers,
Right click on This PC and go to Properties.
Open Device Manager from left navigation menu.
Under Device Manager, locate and open Sound, video and game controllers
You should see Intel HD Audio Drivers with a yellow exclamation mark. Now right click and open device properties
Under Driver section, you should see "Roll back Diver" as well as Uninstall Device button. You can either roll back driver or uninstall device.
If you click on Uninstall Device, you will receive a prompt to confirm your action. Make sure to check the box for Delete the driver software for this device.
This will trigger Windows 10 to install generic high definition audio drivers designed by Microsoft.
This should fix your audio issue on Windows 10 Version 1809.
Solution #2: Driver Updater Utility
The solution #1 method may not work if Windows 10 keeps installing Intel HD audio drivers instead of generic drivers or the correct drivers as per your onboard sound. You can attempt to install proper drivers by manually downloading drivers from your laptop manufacturer or motherboard manufacturer website. However, identifying correct drivers can be really painful if you don't know which audio IC your system has.
That's where Driver update utilities come handy. We recommend 3DP Chip Lite, a small desktop utility to instantly scan and download relevant drivers for your PC hardware. Once you install 3DP Chip Lite, it will show you the installed drivers, if any update available or correct hardware drivers in case wrong drivers are installed.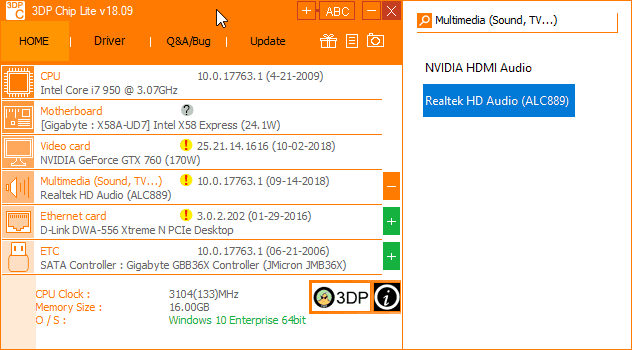 Note: 3DP Chip Lite attempts to install adware, do make sure to uncheck the options while performing the installation.