So, you just noticed that your web browser homepage is changed and looks like something below,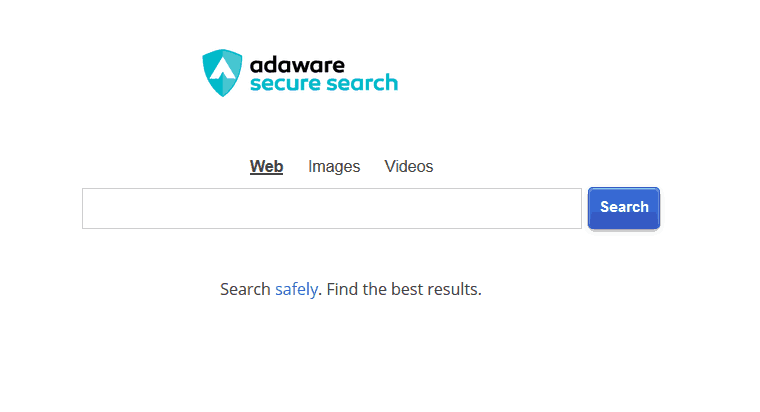 Which reads, Adaware Secure Search. Search Safely. Find the best result.
Usually, this happens when you had recently downloaded an application or program from the Internet and installed on your Windows PC. Although, most publishers of application notify users about any third party bundled utilities that will be installed and gives you an option to uncheck that step. However, some sneaky application developers may not follow the suite and silently install such adware in the background in an effort to make some money.
The developers of applications are compensated for each such install by adware company makers, which in turn collects your privacy information such as web browsing and search history and sells that data to other companies.
Unfortunately uninstalling and removing adware secure search hijacked browser isn't easy and you have to mess around to completely remove it from your Windows and it depends on the web browser that you are using. To help you with that we have covered a step by step guide for you.
How to Uninstall and Remove Secure Search Adware on Windows
Method 1: Windows Control Panel to Uninstall Secure Search
Thanks to better laws around privacy and data collection, most adware makers are forced to offer a simple medium to uninstall the adware which in past wasn't possible without messing around multiple tools and going through Windows registry to completely remove adware like secure search. In fact, if you know the parent company or the website of adware publisher, you can find the proper instructions to remove installed adware from Windows.
Or you could follow below steps to remove Adware Secure Search via Windows 10 control panel, the instructions are the same for Windows 8 as well as Windows 7.
Press Windows key + X to launch Windows 10 Quick Menu and click on Settings or you can type Settings at Cortana search and open Windows Settings aka Control Panel.
Inside Windows Settings, Click and open Apps [Uninstall, defaults, optional features]
Now use Search this list under Apps and Features section and search for Adware Secure Search.
Click Adware Secure Search from the list and hit Uninstall button
That' it, you may want to reboot your PC so as the in use files can be removed at boot sequence. In case you don't see Ad-ware Secure Search in installed app list then you will have to follow below mentioned methods to remove it.
Method 2: Remove it from Browser Extension and Add-on List.
As the adware primarily replaces browser homepage and default search engine which is mostly Google search for most of us, you can find adware search secure extension silently installed as addon/extension in your default browser. We have provided the instructions for three major browser, simply follow the one that you have installed on your PC.
Mozilla Firefox –
From the top navigation menu, access Tools -> Addons or your can hit the Ctrl+Shift+A keyboard shortcut 
From left navigation links, click on Extensions
You can see all the extensions installed in your Firefox browser, from the list click on Remove option for Adware Secure Search extension.
Now restart your Firefox for changes to take effect.
Google Chrome –
In Google Chrome, you can access the settings menu by clicking on three vertical dots
From the menu go to More tools and then Extensions.
Click on Remove button below Adware Secure Search extension
Now restart your Chrome browser
Microsoft Edge –
Just like Google Chrome, on Microsoft Edge too you have to click on three vertical dots to access settings or press Alt+x keyboard shortcut.
In the Settings menu, click and open Extensions
From the Extension list, click on cog icon beside Adware Secure Search extension
Now hit uninstall button to remove it from Edge browser.
If you do not see Adware Secure Search extension in your browser then follow reset of the methods to get rid of secure search adware.
Method 3: Reset Browser to Default settings.
Sometimes, adware merely changes only your homepage which you can easily restore back to default by resetting the browser. Here are the instructions on how to reset your browser. Please keep in mind you will lose your search history and other temporary data that a web browser keeps. Proceed only if you are okay with that.
Firefox:
Type about:support at the address bar and hit enter key or you can click on Help on top navigation menu and go to Troubleshooting Information
Under troubleshooting information page, click on Refresh Firefox button below Give Firefox a tune up.
Click on Refresh Button under Refresh Firefox dialogue box to confirm your action.
That's it. Let Firefox complete the refresh process and you will be presented with fresh Firefox without any addons and customizations as well as browser settings restored to default.
Google Chrome:
Open Chrome settings menu by clicking on three dots at right top corner or you can type chrome://settings at the address bar and hit enter key
Scroll down the settings page and click on Advance
Under advance section, go down till the bottom of the page to find Reset and Clean up section.
Click on Restore settings to their Original defaults
Under Reset Settings dialogue box, again click on Reset Settings to confirm your action.
Microsoft Edge:
Since Microsoft Edge is built as a browser app on Windows 10, the process to reset Edge is different compared to Chrome Firefox. To reset edge browser,
Type Edge at Cortana Search
Right Click on Microsoft Edge from the search result and go to app settings
Scroll down and locate reset section
Now press the reset button, you will have to reconfirm your action by again pressing Reset button on data loss prompt.
You can use repair option if reset doesn't work for you.
Method 4: Malwarebytes Antimalware
Malwarebytes offers a range of products across multiple platforms, and it is our go-to malware removal tool for Windows. The technology employed by Malwarebytes is far more advance and robust and works on multilayer system to scan and detect potential threats actively and block them before it can harm your system.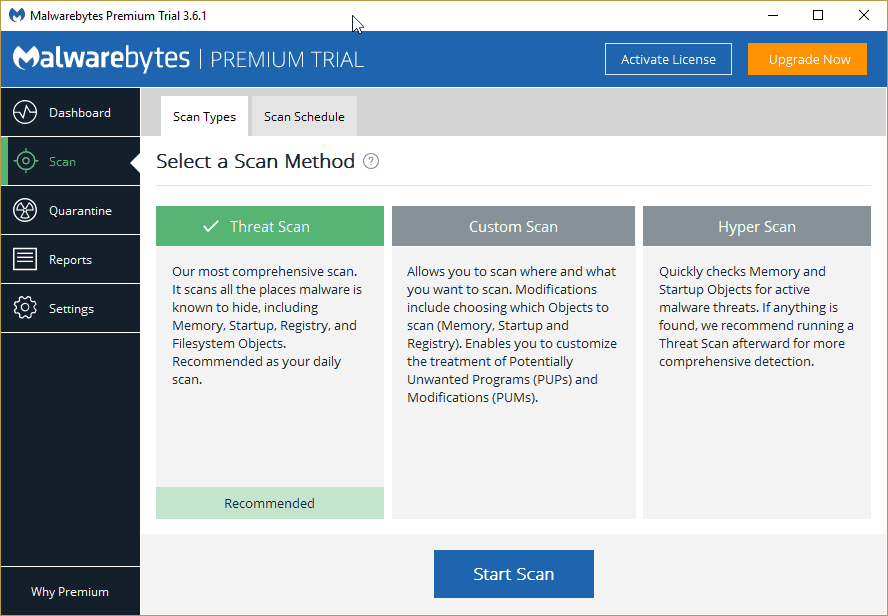 Download Malwarebytes Antimalware for Windows
Method 5: Awdcleaner
Not just another product of Malwarebytes, Awdcleaner is the best tool to remove adware and PUPs (Potentially unwanted programs). Being small in size and no installation required, you can carry Awdcleaner in your portable drive or USB driver. Even though its free utility, it doesn't lack any futures that can stop you from removing adware like Secure search from your PC.
Simply scan and run Awdcleaner and it will instantly identify Adaware Secure Search and offer you a way to remove and fix it.
Download Malwarebytes Awdcleaner.
We advise that you take a backup of your system before performing scan and repair using any third-party antivirus or malware removal solution. Although, chances are low but it can break your system by removing integral components of Windows thereby rendering the whole system unusable.