Windows 10 update stuck issue isn't new and has been bugging users since the Windows 10 is launched. Times when you attempt to update Windows 10, hoping for those pesky bug fixes and new features when ends up at issue like Windows stuck at updating or configuring is very annoying.
Usually, Windows updates are robust and well tested across the range of devices with different software, utilities and hardware configuration, so as to test its combability before pushing for public release.
No doubt, Microsoft Windows Updates works most of the time without any glitches or issues, but sometimes it does tend to mess up for specific configuration combo which was untested. The reason for Windows Update stuck on configuring is very hard to pinpoint, but most of the time it happens when the patches or updates are applied on conflicting drivers and software
With the launch of Windows 10, Microsoft moved away from service pack based updates release and instead has opted for ongoing updates wherein new features and functionality are provided to the users' quarterly updates basis, which also means, end users have to face more wrath of update chaos.
If your Windows 10 is stuck at updating and configuring then here are some solutions to fix it. Although, we have covered all possible solutions to fix the update issue but doesn't guarantee it will work for you.
Windows Updates Stuck, How to Fix?
Solution #1: Let the Update process run for more time
Unfortunately, Windows 10 fall creator and April 2018 update were enormous, not just in size but also in the whole update process. For most, it took hours to complete the update process but for some it went on over a day to complete the whole process.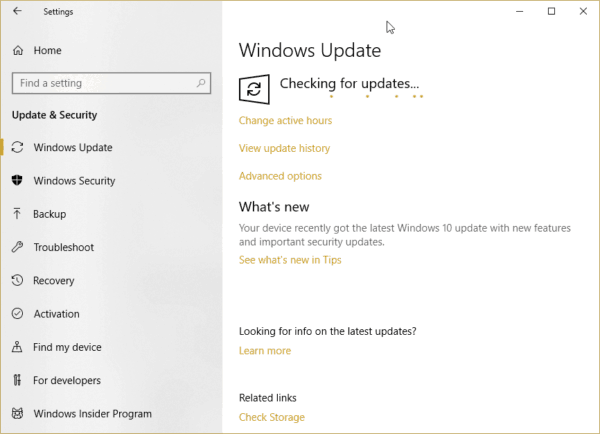 Since the updates were designed in such a way that it required to install first set of updates first and then download subsequence updates and then again continue with update process in next order. We would advise users, who's Windows 10 update is stuck to wait more time and let it complete the process without powering down. Windows 10 Laptop users should keep it connected to the power source so the laptop battery doesn't cause the unexpected shutdown.
Solution #2: Force Windows 10 Restart
It may sound an irony, as we advised not to reboot or restart in our first solution and now we are asking you to force reboot Windows 10. Well, if you run out of patience then the last thing left to do is, force restart.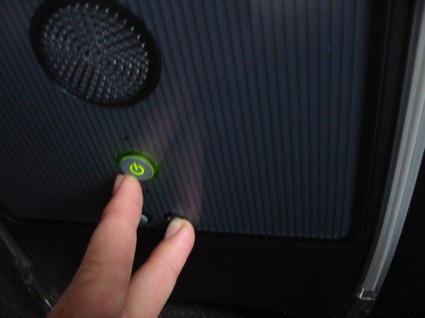 As it can potentially fix unexpected problems causing Windows 10 update to get stuck. To reboot your system, you will have to hold the power button for several seconds to do the force reboot or you can use reset switch on your PC.
Laptop users can take out laptop battery if power button doesn't turn off the laptop. Make sure to disconnect the power cord before removing the battery.
Solution #3: Windows Update Troubleshooter
Windows 10 comes with built-in Windows update troubleshooter which can detect and fix update related issues or software/driver conflict.
Type Troubleshoot at Cortana Search bar
Click on Troubleshoot (System Settings) from the search results
In the list of Troubleshoot tools click and Run Windows Update (Resolve problems that prevent you from updating Windows) troubleshooter.
The troubleshooter will perform a scan and report all the issues and fixes at the end. It may take several minutes to complete the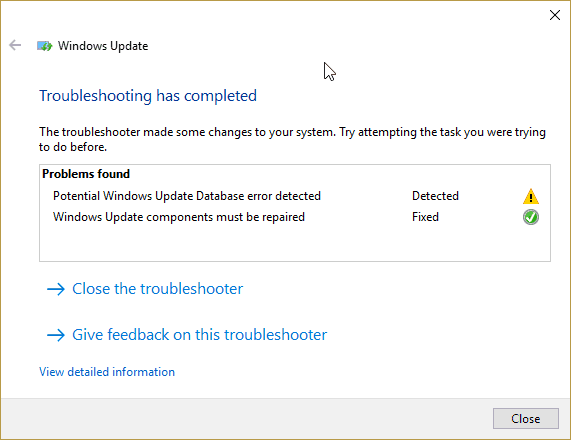 If for some reason you can find Windows Update troubleshooter on your Windows 10 then you can download using this link. https://aka.ms/wudiag
Solution #4: Windows 10 Update Assistant
Microsoft has created a universal tool, Windows 10 Update Assistant to help Windows 7, 8/8.1 and Windows 10 users to download and install updates. Basically, Windows Update Assistant will scan your system and depending on what OS and build/version you have installed, will assist you in downloading any new available updates. Simply download the tool using below link and run the update assistant, and you will be notified of any available update.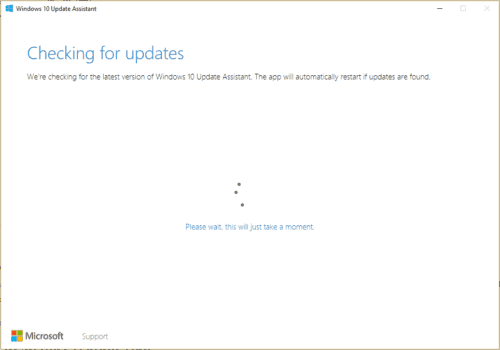 Download Windows 10 Update Assistant.
Solution #5: Windows 10 Media Creation Tool
Despite trying everything, if your Windows 10 still stuck and failing to update then the best way is to upgrade it using Microsoft Media Creation tool. The Microsoft Media Creation Tool lets you to download the latest Windows 10 ISO which we can then use to perform an offline upgrade. You can either use your PC or someone else's to create Windows 10 Installation Media. The tool lets you to create USB or DVD or ISO based installation media.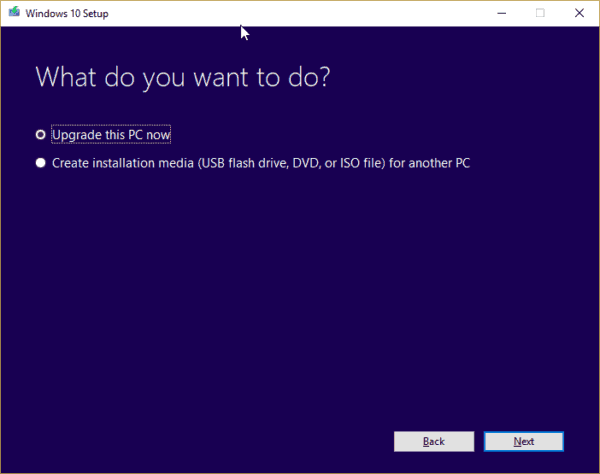 You can also choose 32-bit(x86) or 64-bit (x64) architecture. If you plan to have both then do make sure the size of USB drive is 16GB and more. For other, 8GB would suffice.
Please make sure to keep your Windows 10 product key handy as it will be needed when you perform the upgrade.
Solution #6: Windows Update Cleanup Script
As the name suggests, this script is meant to remove all the pending as well as already installed Windows 10 updates history from the Windows Update Center. Once the list of all the updates is cleaned, you are free from the Windows Update stuck issue.
As soon as you open Windows Update on Windows 10 will redownload all the updates and start installing them one by one, thereby removing chances of pending update which might be a cause of stuck update.
Right click on WUcleanup.bat and run as administrator
Click on Run anyway if windows SmartScreen blocks the script.
Let the script complete the process.
Must restart your Windows 10 after the cleanup process.
If you do not want Windows to again download all the updates then either turned off Windows Updates altogether or set it to the manual method so you can download only critical or the one that you feel are most important.
Solution #7: Manually Install Updates
In most cases, users tend to select all available updates shown at Windows Update Center and let Windows download and install it. The issue with this method is, it takes lot of time to download updates as it depends on your internet speed as well as the availability of the Microsoft update server. Second, if there is some update which is causing an issue, you cannot isolate as Windows update doesn't show specific KB causing the issue.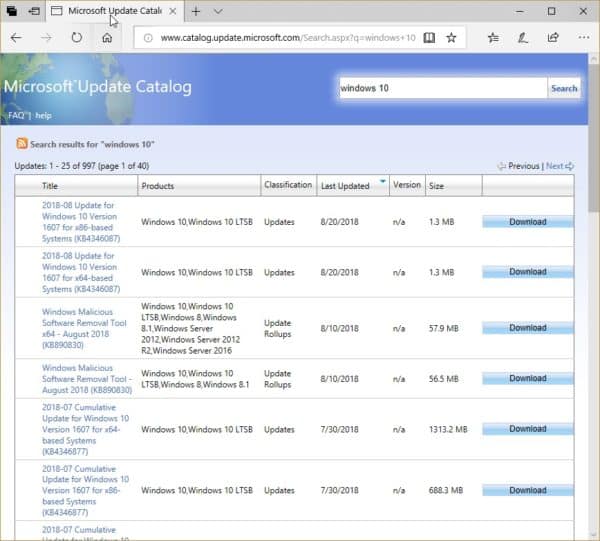 By manually installing updates, you can isolate and move on to next update. Although the process of installing the cumulative update manually is nothing less than concurring Everest. You have to browse the huge catalog of Updates and can only use Internet Explorer or Microsoft Edge to download and install update.
Tip: Make use of search option to search for Windows 10 updates and then sort based on "Last Updated" so you can get the list of all recent update available for Windows 10.
Solution #8: DISM – Deployment image servicing and management
DISM is a handy tool that comes with Windows 10, 8 and 7. By using DISM you can perform system health scan and also fix of any system corruption by restoring files from the system image. To perform DISM scan and fix, follow the below step.
Press Windows + x keyboard shortcut to launch quick start menu
Click and open Command Prompt (Admin)
Now type following commands and press enter key
DISM.exe /Online /Cleanup-image /Restorehealth
It will take some time for DISM to scan and fix any corrupted system files. The result of the DISM scan will be displayed at the end on command
Final Words -:
Windows Update getting stuck is quite comman issue especially on Windows 10, partially due to more frequent updates and huge update size. With the wide variety of hardware and software combination, its hard for Microsoft to weed out all the Windows 10 update related issues and the only solution is to try different methods to fix it by your own rather relying on Microsoft to offer the solution or fix.
But that doesn't mean all issues arises because of your PC, some KB (Knowledgebase) updates are messed up from origin i.e Microsoft, it would be best to search for specific KB Updates relates issues before going for tedious fixes like Windows 10 Repair Upgrade or Reset.