BlueStacks App player has made is possible to run Android applications on PC, and now the same experience Mac users can also enjoy with BlueStacks beta for Mac. Launched in May 2012 BlueStacks has garnered more than 5 million users who enjoy running their favorite Android games on Windows.
The interesting thing to note is that the beta release of BlueStacks for mac comes with the entire range of 750,000+ android applications. Though less Mac users would prefer to run Android apps on Mac OS, but if you want to try and test Android Apps then do give a try to BlueStacks for mac. Here is our detailed review on BlueStacks Beta for Mac.
BlueStacks beta installer for mac is about 112 MB in size and takes less than min to complete the installation. During installation, you will be greeted with terms and conditions, and without accepting you cannot proceed. The first run of BlueStacks beta for mac seems to take very long to start compared to its subsequent runs. Unfortunately, the loading time of BlueStacks for mac is slower than its windows counterpart.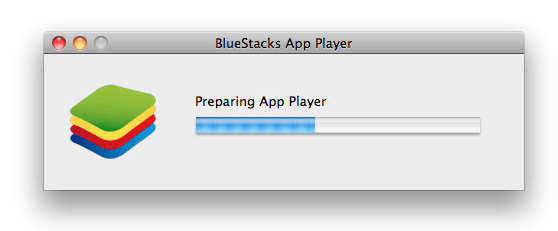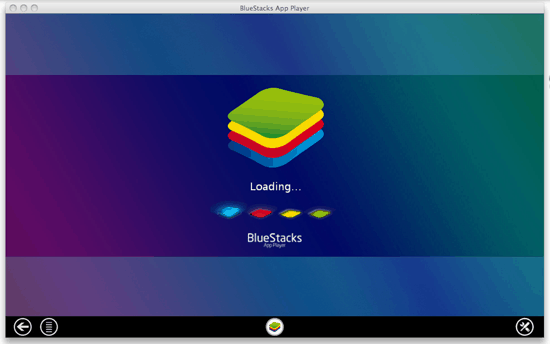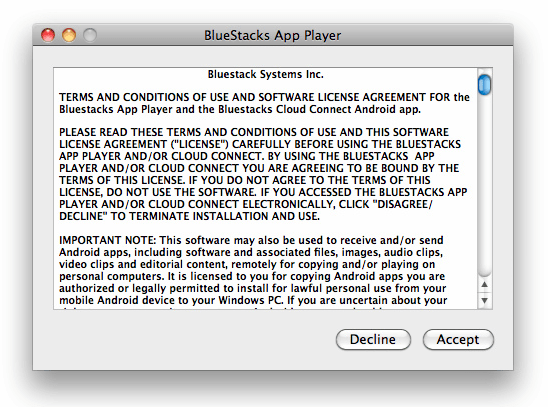 Once BlueStacks finishes the loading, you will be presented with the main screen with popular Android apps available for install and back button, settings option and home button at the bottom of the screen.
We really liked the segregation of Android apps in to different categories such as Top 25 Apps, Social, Games, Music, Photos etc., clicking on each of these icons will display the most popular Android apps belonging to that category. This will definitely help you to quickly jump to your favorite app section and find the apps of your choices.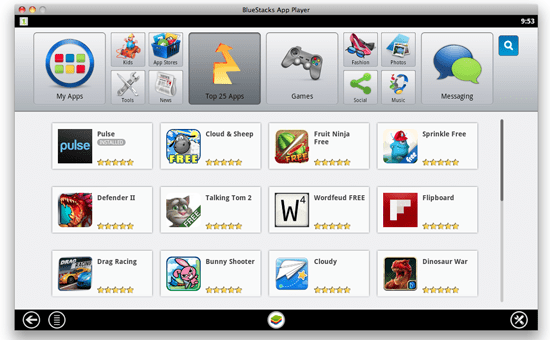 To install any Android app from the list, select the app and click on install button. This will start downloading and installing app from BlueStacks network. All your installed applications are accessible from My Apps section.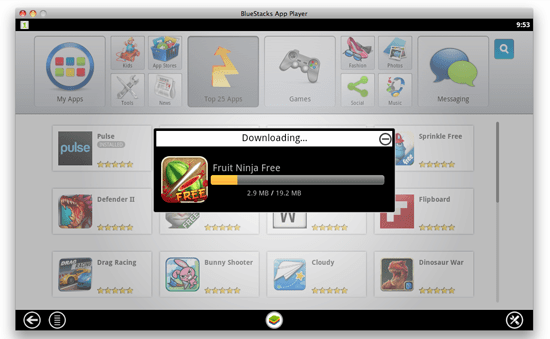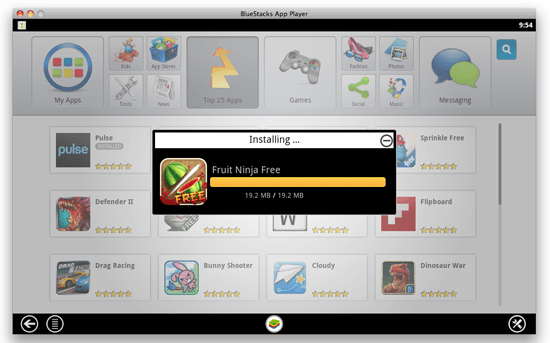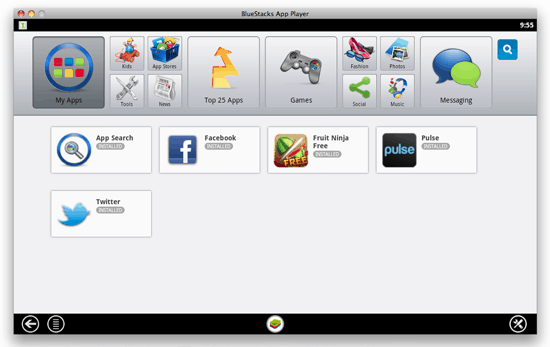 BlueStacks for Mac does come with few pre-installed apps such as, Facebook, Twitter, Pulse and App Search. You can also view Android apps you have manually installed under My Apps section. To start an app you have installed, simply click on app icon, that's it.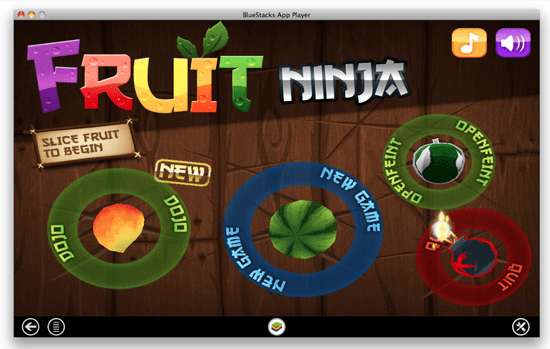 Unfortunately, not all Android apps may work on BlueStacks for mac. For example, when we tried to run Firefox for Android on mac, we ended up with a black screen on BlueStacks App Player and the only way to get out of it was to restart the app player.
As you have access to Android apps via Google Play Store, same on BlueStacks you can download apps by logging in your Google account on Google Player store. Though, you are not just restricted to Google Play Store for app downloading. BlueStacks beta for mac also comes with 1Mobile Market, a third party android app store which has over 200000 free apps.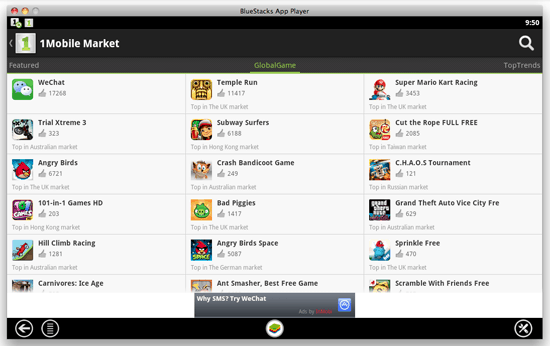 To make the finding of desired Android app easier, BlueStacks also has Search function and works exactly like Android app search.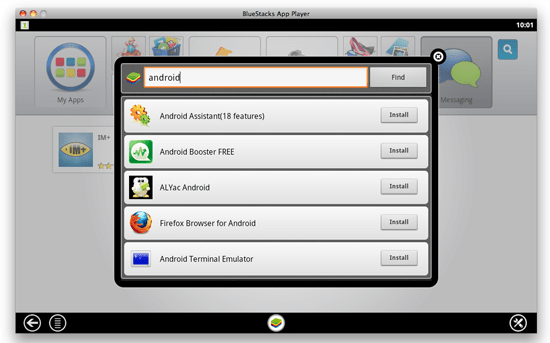 We are impressed with BlueStacks ability to emulate Android notification system too.  As you do on your Android phone, swiping from top to pull the notification bar, similarly in BlueStacks you can drag from top to pull the notification bar. The BlueStacks notification system is functional and does provide app update alerts and push notifications.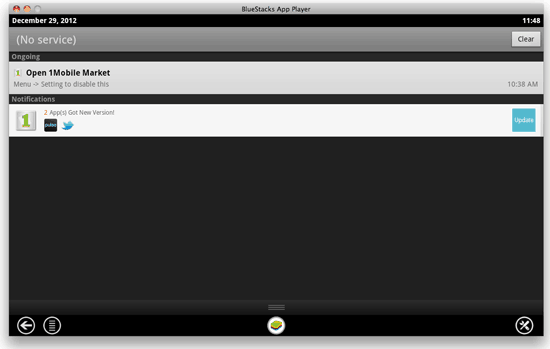 The BlueStacks settings menu may not be as comprehensive as actual Android settings menu but has plenty of options to let you make necessary changes. From managing accounts to applications, contacts, sound, keyboard settings, language and other such options are available.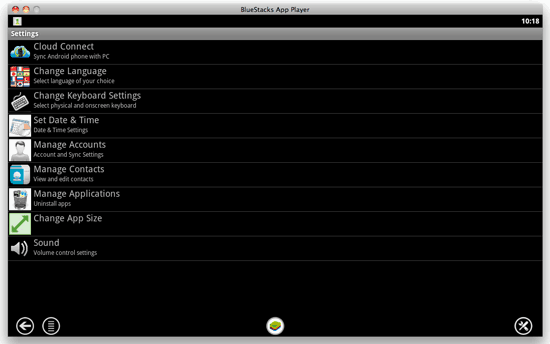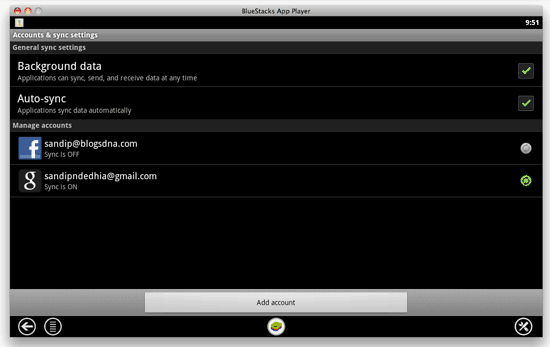 The one of the best feature of BlueStacks which we liked the most is the cloud connect i.e a synchronization with your Android phone. If you happen to have Android phone, then you can sync all the sms, apps, updates, chat logs, photos etc. From your Android phone to PC/Mac. However, it does require you to install BlueStacks Cloud Connect app on your Android phone.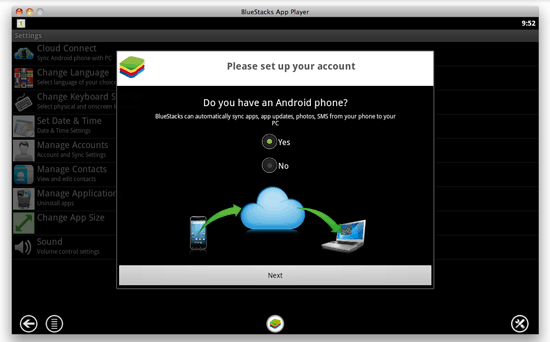 From settings menu,  you can link your Android phone and mac. A PIN to pair these devices will be provided via email as well as on screen.
The overall we are pretty impressed with BlueStacks beta for Mac. It does its job very well that is to let you run Android Apps on mac. Despite its beta tag, the app works out of the box without any major bugs. Though the advertisement across the program is a big annoyance, but that should not be the point of complaint as BlueStacks is free to use app until beta period.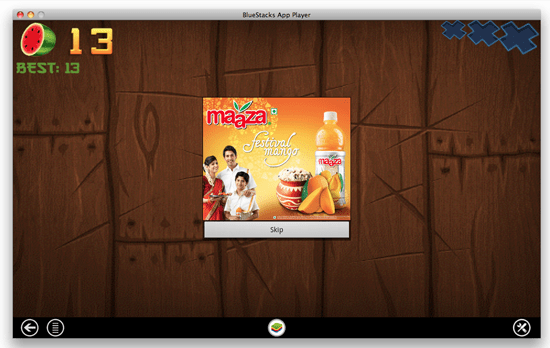 If you liked our review on BlueStacks beta for mac then do consider sharing this with the world via social sharing options.