Windows 8 Pro and Enterprise editions comes with traditional desktop as well as Metro ui based start screen for better usability on touch screen devices and tablets. The start screen has different tiles for each metro app you have installed. By default Windows 8 comes with Weather, Mail, Photos, Finances, Games, Music, Video, Messaging, People and Calendar metro apps.
The Windows 8 Start screen is definitely useful on the touch screen devices however, on regular desktop machines you will be rarely logging to start screen as all your install applications, programs and files are only accessible from traditional desktop. Though you can pin application shortcuts to Windows 8 Start screen, but it feels counterproductive to keep switching between Metro UI based start screen and desktop.
On the other hand, all those metro apps you have installed from Windows Store can only be accessed from Windows 8 Start screen, as there is no way you can have shortcuts of these apps on traditional desktop. But not anymore, if you are looking for the way to add metro app shortcuts from start screen to desktop then here is the nifty utility ModernApp Link, the tool that allows you to create shortcuts to immersive applications on Windows 8 desktop and beyond.
The ModernApp Link also lets you to create a desktop shortcut to metro settings menu and sub menus and offers a customize shortcut creator and fully supports Windows 8 32-bit and 64-bit.
Once you download ModernApp Link, you can start the app by simply clicking on executable file. It doesn't require any installation. On the first run ModernApp Link will ask you to place the launcher and icon library in user folder. Once you have placed the launcher and icon library in user folder you can start using ModernApp Link.
On main screen of ModernApp Link you will find the list of all native metro apps. Click on any of this app will display a sub menu with options to create shortcut on desktop or custom shortcut creator. Upon clicking on create desktop shortcut a new shortcut of the app will be placed on your desktop. If want to customize shortcut icon and other details then select create shortcut (custom option).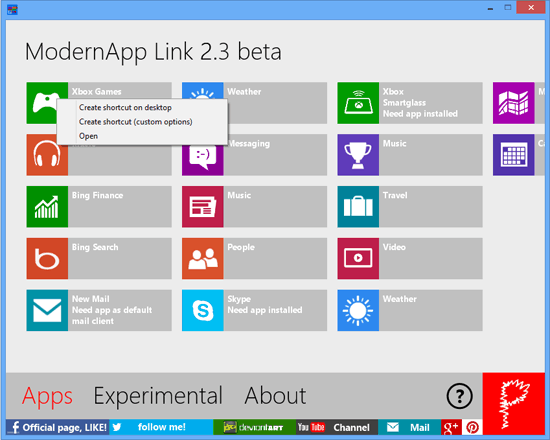 Under Experimental section you have the options to add desktop shortcut to different metro settings and charm menu. Though being in experimental mode it may not work as expected.