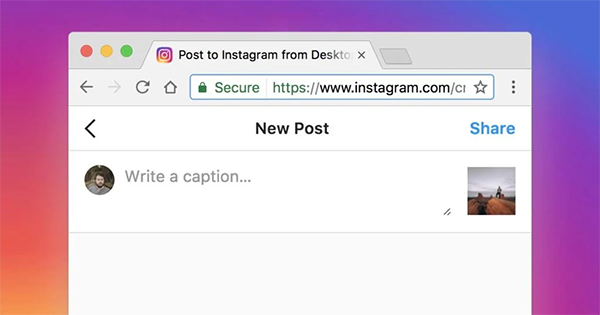 Are you an Instagram lover, or at least have to deal with this app at work? If the answer is yes, then you definitely need to learn how to use it on Mac. The desktop version of this application has become increasingly popular lately, making navigation through the feed easier and faster. In this article, we'll give you several tips and tricks for using Instagram on Mac that will make your experience with the app more time-savvy and effective. Grow your social networks and enjoy the power of Mac technologies!
Why you might need Instagram on Mac
There are several hidden benefits of posting pictures from your Mac. They apply for both business and personal purposes.
Creating More Sophisticated Content
First, you can create more sophisticated posts from the Macbook. Many advanced editing tools are unavailable on mobile devices, and let's expand beyond retouching instruments. Adding text overlays, adjusting the size and placement of images, and creating infographics may require software on Mac. Nowadays, the complicated and dynamic reels users are fond of are also challenging to shoot only with your phone.
Conveniently Working With Multiple Accounts
Another perk of having Instagram on Mac is that you can switch between several accounts easier. For instance, if you post a photo from your company server to Instagram, you need to email it to yourself, download the image on your mobile phone, and then upload it to Instagram. This process could be more convenient and efficient. Storing all necessary work-related photos in one place, for example, on Mac, will free you from clogging the phone. If necessary, you will check how to delete system storage on Mac and optimize space for new data.
If you doubt whether it is worth transferring your Instagram business accounts to Mac, keep in mind the importance of social media compliance. Everything from the profile picture and feed posts to social media interaction with users matters. Noncompliance outcomes are severe. Your reputation and wealth may be at stake. Therefore, to manage several accounts, specialists need to ensure they don't accidentally post something meant for one account on another.
Streamlining The Publishing Process
Posting pictures from Mac also simplifies the publishing process. We cannot but agree that developing impeccable content can be difficult, especially when attempting to review and check hashtags on a small 6-inch phone screen. For a smoother experience, craft your content in Google Docs or Microsoft Word first and then paste it into the post. Thus, you can verify spelling and grammar. Additionally, posting from the laptop or PC allows for more control over the shared content and better tracking of analytics such as likes and comments. With the right tools in place, you can streamline the whole publishing process and ensure that content is published promptly and reaches the intended audience.
Posting content from Mac via third-party apps. Brief guide
The only way to access Instagram for Mac users is through the website, as the desktop app is unavailable. Yet, you still can effortlessly post content.
Check Out The Browser Version First
Before plunging into software subtleties, browse Instagram first. For example, with Safari, one can access all of Instagram's features, including posting photos and videos, messaging friends, and exploring stories. You can also take advantage of Safari's built-in tools, such as Reader Mode, which allows you to view content in a distraction-free environment, and iCloud Keychain, which stores your passwords securely.
Additionally, you can install third-party extensions from the App Store to enhance your experience even further. All in all, using Instagram on Mac with Safari is an easy and convenient way to stay connected with friends and family while enjoying its features without any restrictions.
However, if you need to work with Instagram more professionally, do it via third-party software.
Experiment with soft
For Experienced Mac Users
Try Gramblr. This program provides users with the opportunity to directly upload photos and videos from their computers, letting a person control the content entirely. Moreover, the features, including editing tools, filters, and captions, are available so you can customize your posts before making them public.
Chromebook owners can use apps like Flume to upload photos and videos from their desktop devices. Third-party services such as Hootsuite or Later are helpful for pre-scheduled social media posts. They also ease the management of multiple accounts.
Another great way to use Instagram on Mac is by checking out Uplet. This app also goes beyond the basic Instagram web version and offers features for multi-photo uploads, post scheduling, multiple account management, etc. The user interface is significantly better than the web version, making it easier to move around. One can use either of these apps for free, and if you'd like to take your Instagram experience even further, try premium versions with extra features.
For Recent Mac Switchers
If you're new to the Mac ecosystem and feeling a little overwhelmed about getting away from the Android device, don't fret. Consider Bluestacks. It is a free app creating an Android-like environment on your Mac. Users need to download the software, open the App Center page, search for Instagram, and click "Install." Once you log in, you can start posting on Instagram from your Mac. There are better choices than Bluestacks if you need to upload posts in bulk, share across multiple accounts, or plan your social media posts. Yet, it may be convenient if you want easy access to Instagram. Android emulators help users transit to Mac smoothly.
How to Communicate On Instagram From Mac
Get Reminded of Messages
Receiving notifications for Instagram messages on Mac is a comfortable way to stay connected with friends, colleagues, and customers. You can quickly and easily enable direct message notifications on your Mac with a few steps. First, click on your profile page (a person icon that is in the bottom right corner of the screen). Go to the main menu in the upper right corner and select "Settings." Congrats!
You will be notified whenever you get a direct message or request. It is a handy feature as it lets you quickly respond to any messages without having to check your inbox manually every time. Furthermore, this feature also helps ensure you get all essential conversations and updates from other users. If you want to stay connected with those closest to you, enabling notifications for Instagram messages on Mac is definitely worth considering.
DM easily
Instagram is still one of the most engaging platforms. Its ability to share photos and videos has made it a great way to document life's moments. But Instagram is more than just a photo-sharing app; it also allows users to communicate with each other through direct messaging (DM). For Mac users, this can be tricky since the DM feature isn't available on the desktop version of Instagram. However, there are several ways that Mac users can access their DMs on Instagram.
The first option is to use an emulator such as Bluestacks or Nox Player. These programs enable you to run Android apps on your Mac computer, giving you access to all of the features available on the mobile version of Instagram. Another option is to use an online service such as InstaMessage or IGdm, which allows you to access your DMs from any web browser. Finally, if you have an iPhone or iPad, you can download the official Instagram app from the App Store and log in with your account details. These methods allow Mac users to easily access their DMs and start communicating with friends and family on Instagram!
It was a brief guide with recommendations on how to effectively start using Instagram from Mac and reach your professional and personal goals. The list of functions is long: you can do a video post, schedule posts, launch Instagram stories, carousel posts, manage video files, and do a bulk upload. Instagram feed is as available on Mac as it is on our phones. Don't hesitate to try this legendary app on another device! Create social networks to grow as a creator or to have fun.