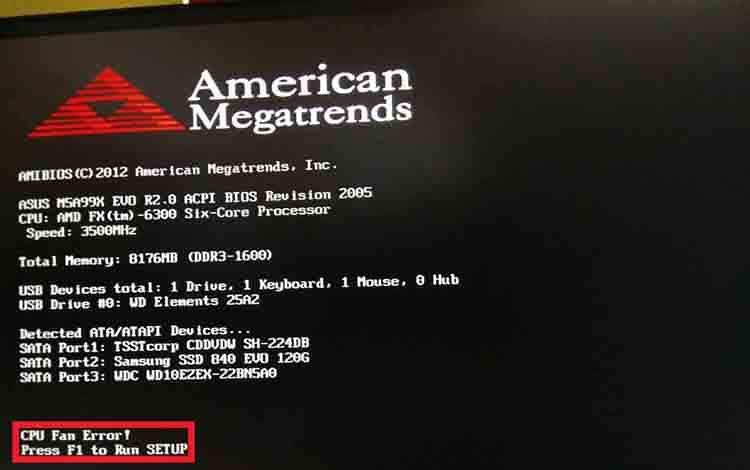 Facing CPU Fan error? It might occur due to some hardware problems, software issues or overheating.
When setting up a Windows desktop computer or laptop, You might encounter "CPU fan error" message. It is a common error that most of the users encounter while starting their computers and laptops.
In this article we are going to discuss several ways that can help you to get rid of CPU fan error. But before diving straight into it let us know why this error occurs?
Why Do You Get A CPU Fan Error?
There is not a particular cause of CPU fan error. It can occur because of the following reasons:
Improper Installation of CPU fan: You might encounter numerous errors if your CPU fan is not installed correctly. So make sure that you have properly installed your CPU fan before trying any solution.
Incorrect fan information: Have you mistakenly or knowingly tweaked the fan information in your BIOS? In the case that your computer cannot detect the fan speed of the connected CPU. If that's the case you have to change your BIOS information back to default.
Dust: Most CPU fan errors result from dust blocking over time the fans used or from low quality fans. This causes a CPU fan to run slowly or even cease to function.
Overheating: You should check to see if there is a physical problem with your CPU fan if you haven't already ruled out the above causes. A CPU fan error message may appear on the start screen of your computer if your fans are badly damaged or broken. Continuation of problems in your CPU fan can result in your hardware component damage..
What To Do When Your PC Shows CPU Fan Error?
More than 80 percent of cases are that the reason behind this is nothing but the overheating of your CPU. So, first, let us discuss some primary methods related to hardware by using which you can avoid overheating your CPU.
1. Try To Move Your PC To A Colder Place
Leaving your computer in a hot or sunny place might cause it to overheat and shut down. Place your computer in a cooler area, and avoid placing it directly in the sun. We suggest you install it away from those positions of your home interior where heat exposure is high.
2. Clean The CPU Fan And Air Vents
A CPU fan error occurs when dust gets caught in air vents and causes the fan to behave abnormally. To Solve this, You need to clean the CPU fan and air vents.
Turn your computer off, remove it from the power source, then open up the casing for this step. With an air cannon or canned air, clean the interior and remove dust once it's been opened.
To clean the CPU's air vents, remove the brush from a vacuum cleaner and use it at full power to suction out any dust or debris. You can also use an airgun or bottled air to blow the dust away. In addition, you should clean the CPU fan.
Do not try to spray cleaning chemicals onto any parts, since this can cause significant harm to several components.
3. Check The CPU Fan For Loosening
Having cleaned the CPU fan, do not forget to close the case again. Physically inspect your device's fans to make sure they aren't loose or out of place. With a screwdriver or adhesive, you should be able to secure your fans back into position, depending on the model of the CPU.
Ensure that all electrical equipment is switched off and unplugged from all sources of power before inspecting it inside. When shutting your computer off, remember to select Shut Down rather than Sleep.
4. Say No To Overclocking
Overclocking causes a significant rise in system heat, which the normal fans are unable to handle. This might result in circuit damage, repeated shutdowns and overheating problems. So, we suggest you avoid overclocking the CPU.
5. The Installation Location Of The CPU Fan
CPU fan location and installation depends on the type of motherboard or processor you are using. The CPU fan lock structure are different for Intel and AMD based processor.
CPU fan must be linked to the motherboard's CPU header post installation. If it's connected somewhere else, the fan might run when the computer is turned on, but it won't properly cool the CPU, which is its purpose.
In most of the cases, the CPU header comes labeled "CPU Fan," but even if it isn't there, the three holes for the fan's three-pronged connection make it easy to locate. Thus, now you can identify the spot exactly where you have to install the CPU fan.
Sometimes, due to problems in CPU it's hard to solve the issue so you might need to install the CPU fan in another CPU fan header. Once you place the CPU fan into a different slot, it is more likely to work well and you won't see the Asus CPU fan error again.
Software-based Solutions
Well, if you read the Asus CPU fan error output on the screen of your device, you need to make some changes in the BIOS setting of your computer. But, we suggest you do these changes in the BIOS settings only after making sure that the CPU fan is working well and there is no defect from the hardware side.
Disable Passive Heat Sink
Press F1 and the BIOS settings window will open on your screen.
Go to the advanced settings, then select hardware monitor and choose CPU fan.
Turn off the passive heat sink and fan duct without the fan.
Enable the active heat sink and fan duct with a fan.
Save the changes and exit.
Change The Fan Speed Settings In BIOS
In the BIOS settings, choose Monitor.
There you will see 'N/A' in front of the Fan Speed Monitor
Tap on N/A and change it to Ignore.
Save the changes and return.
Wrapping Up!
These are some of the best ways to resolve Asus CPU fan error. Before trying software based solutions I will recommend you to make sure that the hardware side of your CPU fan is working fine.