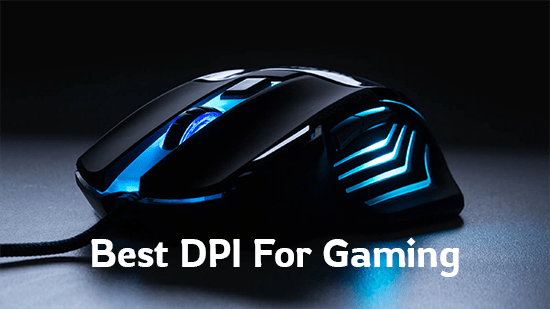 When it comes to competitive gaming, skills are not the only thing you need to improve. Along with your compatibility with the game, the gear you use also plays a major role in your performance. To be able to play better, you need to have a better controlling arsenal.
Among the various devices available for gaming, mice with adjustable DPI are the most crucial as they serve a major purpose in nearly all modern games. However, it can be quite overwhelming to choose a preferred option from a wide range of available variations.
To help you make an informed decision, this guide will provide you a comparison of some of the top DPI mouses for gaming, along with several other information related to this particular feature of your mouse. So, read on to enjoy a better gaming performance:
What is DPI?
The term Dots Per Inch, abbreviated as DPI is a reference for the mouse to measure the physical distance traveled by it. While the actual term is CPI (Counts Per Inch) as dots aren't used in the process, the abbreviation DPI will be encountered majorly by you when comparing several options.
It is specifically a measurement of the speed at which the cursor of your mouse moves on the screen. This speed is then related to the physical distance of the movement of your mouse, which then determines the DPI of your device.
How Higher Mouse DPI Helps in Gaming?
The reason why a higher mouse DPI matters is because it makes your mouse usage a lot more comfortable and easier. Even if you're not intending to play games, an adjustable DPI can prove to be very handy in a lot of productivity tasks as well.
A higher mouse DPI can be very handy if you spend a major part of your day in front of a computer. It not only provides comfort in usage but also allows you to make your cursor travel farther with minimal hand movement required.
With a lower DPI mouse, you may require various swipes to get your cursor on your preferred part of the screen. With a higher mouse DPI, you can not only get your work done faster but also gain easier accessibility over the entire user interface of your operating system.
Not to mention, this also results in lesser wrist movements that prevent the fatigue that may occur due to usage for longer times. Moreover, it also results in better accuracy that allows you to enjoy great efficiency in your overall operations.
Using a higher DPI mouse can also help in boosting your gameplay skills to a great extent. If a particular game requires quick movements in a limited time span, then a gaming mouse with greater DPI can prove to be very handy.
For instance, an FPS game may require you to turn backside quickly to shoot your opponent, which can be easily done through a good DPI mouse. A lower DPI may provoke you to end up sliding your arms way too much and knocking things off your setup.
Through a higher DPI, you can enjoy a faster reaction time and perform better in multiplayer games.
Which DPI is Best for Gaming?
A higher mouse DPI allows you to move your cursor more with fairly lesser physical movement of your hands. This means a mouse with 100 DPI will require you more effort to operate than a mouse with a 100 DPI sensor.
In context with FPS games, you'll notice a slower player aiming and movement experience with a mouse of lower DPI. However, that doesn't mean a higher DPI is always the preferred option. A mouse with 16,000 DPI without a purpose is just like the diamond hoe in Minecraft – useless.
The major question that arises at this point is – what DPI is the best for gaming? Depending on the various control options offered by different games, you can't depend on a static DPI figure and play all games with optimal control efficiency.
You need to keep in mind that a lot of games also feature their own sensitivity options. This only adds up to the confusion of choosing the right settings for your device. An easy way to tackle this situation is to use the 360 tests.
This assessment requires you to measure the total distance of your mouse movement that allows your character to do a full 360-degree movement. With this figure, you'll have a baseline to determine the adequate DPI number to help you experiment further.
There are also several online DPI calculator apps that allow you to make these calculations easier by harnessing automation. Another great option to determine the preferred DPI for your mouse is to know what the pros are using.
A lot of pro gamers share their settings and sensitivity options with their audience for a range of games. Regardless of whatever you choose, make sure that your preferred DPI mouse has an adjustable DPI option.
This will allow you to configure it for different games as per your preferences. As a general rule of thumb, keep in mind that there is no one-shoe-fit-all kind of thing when it comes to gaming arsenal and you have to try various configurations to find the one that fits the bill for you.
Top 5 Best DPI Budget Gaming Mouse
1. PICKTEK Ergonomic Wired Gaming Mouse
If you're looking for a gaming mouse that offers a par level accuracy along with uttermost comfort, this wired gaming mouse is exactly what you need. It offers a comparatively higher DPI ceiling that fulfills every gamer's needs, that too at an unparalleled price range.
This gadget is a perfect match between exceptional performance and affordable pricing. It allows you to edge your performance in your eSports with the best gear without putting a heavy burden on your pocket. With this gaming mouse, you can get a maxed-out DPI of 7,200.
As compared to the Logitech G203, it is much-much higher and works really sensitively. Moreover, there are also options for adjusting the DPI as per your preferences using the buttons available near the side body of the mouse.
Additionally, you can also choose from various polling rates like 250 Hz 125 Hz, 1000 Hz, and so on, which allows you to mitigate the lag you might experience in a particular game and gain an advantage over other players with limited polling rates.
Talking about the design, it is certainly something crafted especially for hardcore gamers. With ergonomic curves and sleek curves, this mouse talks about its design brilliance through its prestigious look and feel.
2. Razer Death-Adder Essential Gaming Mouse
The Razer death adder is a very budget-friendly gaming mouse with a great brand reputation. While it may not pack some of the fancy features offered by rivals, the company's name is enough to prove the quality and reliability of the product.
It has a body made completely out of hard plastic and the scroll wheel is completely molded with recessed rubber which makes it a very comfortable mouse for gaming. Moreover, there are also some finely finished textures that add up further to the comfort level of this gadget.
The side body consists of two buttons that allow you to explore more control options in a variety of games. The overall quality feels durable and sturdy – thanks to the hard plastic. It features a DPI of 6400, and as it is a wired mouse, there is no scope of latency.
This mouse is a great fit for both regular usage and gaming. It packs a braided cable of 1.8 m in length which allows you to make sweep movements in your game without any latency or delay. While it doesn't offer any chroma lighting, the quality is rare at this price point.
For designer purposes, razer does offer a green lighting design that features the company's logo, which is pretty cool, to be honest. This is one of the areas where razer excels the competitors, and Death Adder is no exception.
3. REDRAGON M602 RGB Wired Gaming Mouse
With beautifully placed RGB lights across the body, this gaming mouse offers seven different lighting modes along with breathing effects for the logo, scroll wheel, and side edges. It offers everything you need to make a perfect gaming setup.
There are seven MMO user-programmable buttons, each consisting of five different memory profiles to help you load configurations for different games in a snap. It even features distinct LED color options for the various profiles, which allows you to identify them easily.
The mouse provides an adjustable DPI of up to 7200 that can be extended as per your preferences, including options such as 800 DPI, 1200 DPI, 1600 DPI, 2400 DPI, and 7200 DPI. Each of these DPI levels is also sorted with different color schemes for the LEDs.
Additionally, this gadget also packs a highly precise sensor that provides you with pinpoint accuracy in your gaming sessions. There are micro switches installed in this mouse that make sure it serves a long period and offers an exceptional level of responsiveness.
With this mouse, you can also program the side buttons for personalizing your gaming sessions even more. The complete unit is complemented by a great in-hand user experience with no accidental presses or latency delays.
4. UTECHSMART Venus Gaming Mouse
Offering a twelve-button layout on the left side of the body, the UTECHSMART Venus gaming mouse is an excellent choice for people looking to explore more ways of programming their gear. There's a slant on the right-hand side that makes it extremely comfortable for long gaming sessions.
However, if your friends often taunt you for having small hands, this mouse may feel too large for those baby fingers. People with medium and large hands won't find it difficult to reach the various control schemes offered by this mouse.
Among the several mice listed in this guide, it has the most consistent CPI, which indicates how remarkable the sensor of this gadget is. Sadly, you may feel a bit of click latency when you program various buttons at once.
With a myriad of programmable buttons, it is surely a perfect gear for MMOs. The best thing about this mouse is that it also offers a very ergonomic design that allows you to keep playing for hours without getting fatigued in your hands.
At a fairly budget-friendly price point, the mouse offers a nice set of features that make it a good choice for MMO and FPS video games. It can also be used for multimedia and office purposes but isn't suggested for traveling.
5. BENGOO Wired Gaming Mouse
Through an excellent design and premium look, the BENGOO wired gaming mouse offers a very impressive first experience. The beautiful design is accompanied by various LED colors that extend across the border and the logo. It has a really minimal and smooth feel.
The body is ideal for a claw grip, which might require you a little bit of time to get used to. Once you get the hold of this gear, your control in gaming will begin improving to a noticeable extent. There's also a comfortable grip on the left side for resting your thumb.
There's a smooth type of plastic used for the outer shell that doesn't feel slippery and offers an amazing grip in your hands that proves to be handy when things start going intense in your game. The way this mouse is designed and built is unparalleled as compared to other alternatives.
The sides are also textured and the bottom part comes with easy-sliding plastic as well. This helps you operate the mouse on various types of surfaces such as mousepads, plastic, wood, and so on. While you may struggle using it on a glass surface, there is no lag involved with the usage at all.
On top of that, the optical sensor offered in this mouse is also very precise and reduces latency in games. It is tuned very finely and provides high operating speeds. Moreover, with the adjustable DPI of this gadget, you can easily personalize it as per your preferences.
How To Check Your Mouse Sensitivity /DPI on Windows?
Nowadays, a majority of modern mice brands are providing customizable DPI settings, along with a standard set of other unique features as well. With that said, it is surely important to know how to check your mouse's DPI and adjust it for configuring them as per your needs.
If you're unsure about the current DPI value of your mouse, there are a variety of methods to find it. You can use either of the methods stated below to determine the DPI value of your mouse and configure it as per your requirements.
1. Check Manufacturer's Website
Based on the model number of your device, you can easily find out the DPI of your Mouse on the manufacturer's official website. Additionally, you'll also be able to find even more information about your product such as specifications and features.
On the other hand, you can also make a quick google search for your mouse's model number's DPI, and you'll be able to find it in a snap. All you need is a browser and an active internet connection to find out your gadget's DPI on Windows.
2. Check Mouse DPI Manually
Before you proceed with this method, make sure you check the version of Windows OS installed on your computer. While the steps will be almost the same for varying versions, this guide is oriented specifically towards Windows 10.
This method is great for people who were unable to find their mouse's DPI on the internet. In this method, you'll have to check the DPI of your mouse manually while using some additional built-in utilities of Windows 10. Here's what you need to do:
Step 1 – Disable Enhanced Pointer Precision Option
Firstly, you need to navigate to the settings menu in your Windows OS and wait for a prompt to appear. Once the interface loads, you have to click on the search option and enter "Mouse Settings", followed by hitting the enter key on your keyboard
Now, the configuration options for optical devices like a mouse should appear on your screen. On the top right corner of the new interface, you need to click on an option named "additional mouse options" to access the required settings
At this point, you'll be able to see the properties of your mouse in a floating window with several navigational tabs at the top. Here, you need to click on the "Pointer Options" tab and uncheck the "enhanced pointer precision" option.
Lastly, all you need to do is click on the apply option and hit the ok button to close the floating window
Step 2 – Check the Precision Manually
To check your mouse DPI manually, you'll need a ruler, a market, and white paper. Once you've arranged the required materials, you need to make three lines on the paper using the marker and rules of around 2-3 inches
Now, access a DPI analyzer tool available on the internet to measure the required dots per inch. Once you've accessed an adequate tool, you need to set a target distance for your analysis, which in this case is 2-3 inches
After configuring everything, simply drag your mouse from one point to another on your lines drawn on the paper. This will record the DPI measurement of your mouse on the online tool, and simply repeat the process multiple times to calculate the average DPI of your mouse
3. Check Mouse DPI Using MS Paint
While a lot of people may not know about it, the built-in drawing and utility application MS-Paint available in almost every Windows OS version by default is a very handful of features that can be used for a variety of things such as calculating the DPI of your mouse. Follow the steps given below:
Step 1 – Uncheck Enhanced Pointer Precision Option
Access the settings menu on your operating system and wait for the interface to appear on the screen. Once the settings window is available, navigate the search bar located at the top and search for "Mouse Settings" by hitting the enter key on your keyboard
A new window with settings specified only to the mouse should appear. To proceed with the process, you need to navigate to the top-right corner of the screen to access the "Additional Mouse Settings" option
Now, a floating window with properties related to your mouse should appear on the screen. Among the various tabs available on the properties window, you need to choose the "Pointer Options" tab and uncheck the "Enhanced Pointer Precision" option
Once you've done everything stated above properly, you just need to click on the "Apply" button, followed by the "Ok" button to complete the process and close the properties window automatically, and proceed with the next steps
Step 2 – Take Measurements Using MS-Paint
Firstly, you need to access the MS-Paint application by clicking on the search bar and searching for "paint" and hitting the enter key on your keyboard. Once you access the application, make sure that the window size is cascaded to 100% to be able to follow the steps properly
Now, on the blank canvas available in front of you, move the cursor of your mouse in the horizontal position to make at least two lines each of 2-3 inches in length. While doing this, make sure that the lines start from 0-5 pixels, for which you can use the measurements given at the bottom of the screen
Record the first number on each line and repeat the process multiple times to gain an average value of the DPI measurement of your mouse
4. Use a Companion App
A lot of gaming mice that include a configurable DPI option also provide an additional application that allows you to control the various settings of your device and tweak it as per your preferences and gaming requirements.
With the help of such tools, you can easily determine the DPI value of your mouse on your Windows OS. To determine whether your mouse's manufacturer provides a companion app or not, you can navigate to their website and search for your device's model number.
Doing so will allow you to gain insights into various things such as any additional resources or applications offered by the manufacturer for your ease of usage. Moreover, you may also know about any necessary drivers that allow you to make the most out of your device.
DPI vs EDPI – What's The Difference?
When you're on your way to lean forward in terms of eSports, you'll find yourself surrounded by terms like DPI and EDPI, especially when it's time for you to gear up. With that said, it can be quite overwhelming to understand the difference between the two and their roles in gaming.
The term DPI stands for Dots Per Inch and EDPI stands for Effective Dots Per Inch. Each of these is a simple way to measure how often your computer is reminded of the cursor's current position by the mouse. Here, the dots mean the position where the mouse exists or moves.
Moreover, the per-inch calculation is the number of dots occupied in an inch of area. Both DPI and EDPI are extremely important to adjust the sensitivity of your mouse as per the needs of your preferred game.
Furthermore, as you may already know, playing around with the control schemes and sensitivity settings is an extremely important thing to get familiar with the control schemes and perform better in a variety of games, regardless of the genre.
A lot of professional players use DPI and EDPI settings to adjust the sensitivity of their devices and make them more responsive to gain a competitive edge over other players. While skills do play a major role, your equipment can also bring a major change in your gaming performance.
How To Change Your Mouse DPI on Windows 10?
A lot of people want to modify the DPI configurations of their mouse to gain a higher sensitivity. This also allows them to operate their device with more comfort and ease. With the perfect sensitivity settings as per your needs, you can enjoy getting things faster and playing your favorite games better.
The method to change the DPI value of your mouse varies as per different brands of mouse that offer ranging DPI settings. In a dedicated gaming mouse, you should be able to get somewhere between 4-8 buttons, each for several purposes.
Here's a list of methods that can be used to change the DPI value of your mouse on Windows 10:
1. Modify Sensitivity Using Settings App
If your mouse doesn't contain a dedicated button to control its DPI, this method is surely a perfect match for you. With the in-built settings option available in the Windows OS, you can easily modify the sensitivity of your mouse as per your requirements.
Follow the steps given below to modify the sensitivity of your mouse:
Foremost, click on the Windows icon on the bottom-left corner of the screen to open the start menu, and then click on the gear icon next to the power icon to open the settings interface in your Windows 10 OS. Alternatively, you can also press the Windows and I key together to bring up the settings options
Once you've accessed the settings interface, click on the "Devices" option to reveal settings for the various devices connected to your system
On the panel of options located at the left-side corner of the screen, click on the "Mouse" tab, followed by choosing the "Additional Mouse Options" text, that can be found at the bottom part of your screen
This will reveal the properties related to your mousse and you need to click on the tab named Pointer Options from the various options available on the top navigation menu. In this panel, you'll be able to adjust the speed of your mouse
Under the motions heading, you'll see a slider that goes from slow to fast. All you need to do is adjust the slider as per your required mouse speed and you'll be able to configure the sensitivity as per your preferences
While you're following the steps given above, make sure that the enhanced pointer precision option is unchecked as it can hinder your DPI settings and make all your efforts go in vain. Therefore, make sure to always disable it.
2. Use In-Game Sensitivity Settings
A lot of first-person shooter games and other titles that involve major use of the mouse as a control option allow you to adjust the sensitivity of your mouse controls through their in-built settings interface. This allows you to use the flexible DPI feature of your mouse for a lot of games.
As every game has a unique interface and access controls, the settings menu also might be located differently for varying games. However, you should be able to find them easily as they are easy to identify as well.
3. Use A Device-Specific Software
A lot of mouse manufacturers offer handy applications that allow you to modify the various settings of your mouse according to your preferences, as stated above. With the help of these apps, you can easily control the DPI, along with various other aspects of your mouse's sensitivity.
Conclusion
With the rise of online multiplayer games, eSports has become bigger than ever. It is now even a full-time career opportunity for numerous people out there. Gaming has transitioned a lot over time, and so has the equipment.
When it comes to gaming mice, you have a lot of options to choose from. However, choosing the one that fits the bill for you depends on various factors such as your playing preferences that may include sensitivity levels as well.
The list of DPI mice available for gaming includes various options for the ranging needs of players. Whether you're looking for added comfort or more control, the variety of products listed above includes it all. Therefore, make sure you take a look at them and choose the one that resonates with your personal requirements.