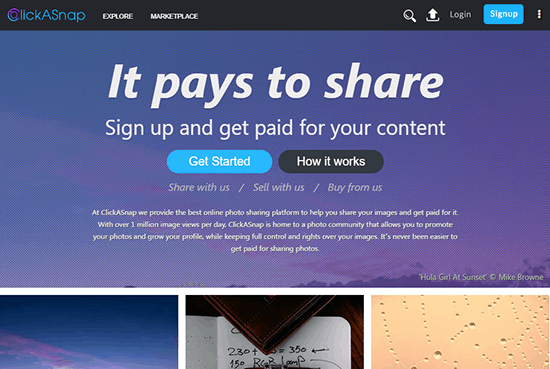 Once you have started to gain a collection of photographs that you are really happy with, then you may be considering what you should do with them. After all, if you are proud of them you will want to share them with others and maybe even make some money. A photo sharing platform is a great place to share these photos but you may be wondering exactly what it is that you might learn from one that will make it the right option.
Here we look at just 5 things that you might learn from a photo sharing platform.
1. Feedback
When you upload your photographs to a photo sharing platform you are not just showing them to your friends and family but to a much wider audience. This is an audience that will really know what they think of your photos, unlike family who might just be being polite to try and encourage you. They can leave you likes, comments, constructive guidance and, if they really like your photograph, make a purchase.
2. Learn new skills
Likewise, when you like an image someone else has posted you have the potential to learn from it. If you are wondering how someone has managed to capture a particular shot, you could ask them. It offers you the opportunity to potentially learn some new skills that could help you when it comes to improving your own photographs.
3. Make selling easy
If you are looking to make some money from your photographs, then it can be tricky to work out how best to do this. If you set up a shop on social media or even a website, it can be hard to gain an audience when you are starting out. A photo sharing platform which is already well established will reach a lot more people quickly which means that your photos have the potential to be seen by a lot more people. A wider audience, of course, has the potential to translate into more sales.
So if you want to start selling your photos but don't have the time to set up a website this is a great option. Some photo sharing sites even pay you every time someone clicks on your photo.
4. Learn about lighting
When it comes to photography there are all kinds of different things that you need to consider in terms of lighting. For example, you need to know whether there is enough natural light, or you need to add an artificial light source in order to capture the image you are looking for. This is true for both indoor and outdoor settings and can make all the difference between a good photo and a great photo.
Then, of course, there are presets that can really help to improve a photograph where the lighting was not at its best but the image that you captured is exactly as you wanted apart from that. Being able to see other people's photos and ask them what sort of lighting tricks they used to capture their perfect shot is something that is very easy to do on a photo sharing platform. Other photographers are usually more than happy to share their knowledge with others.
5. What is popular
Finally, if you are looking to make money from your photography then you really need to know what sells, and what doesn't seem to be popular. A great way of seeing what is popular is to look at a photo sharing platform and see what people are commenting on, if they are commenting on photos then there is a good chance that this is the subject matter that is selling.
Whilst you don't have to stick to just one topic for your photography this may well interest people in your work, and you can add other subjects to your online portfolio as you go.