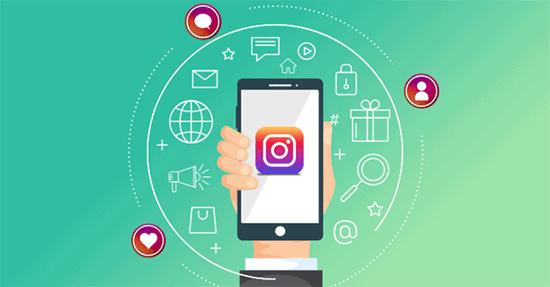 Having the right Instagram tools is key when it comes to levelling up your social media game.
Instagram is one of the most valuable social platforms on the market today. The home to more than 1 billion users per month is a fantastic space for companies to share visual content with their fans, build relationships, and generate hype.
Of course, as any business leader or marketing pro will know, Instagram is a time-consuming investment. Creating engaging content every day, connecting with your audience, and planning future campaigns absorbs a lot of business-building energy.
That's where Instagram automation tools come in handy.
Instagram Tools To Automate Your Workflow
Instagram tools help to reduce the strain on your time, so you can achieve the highest return on investment.
Here are 7 Instagram tools to help automate and reduce your workflow:
1.  Kicksta
Kicksta is a tool designed to reduce that workload of gaining followers, which is one of the most time-consuming tasks on Instagram. It takes hours of work every day to not only create stunning content, but to also respond to comments and track down new followers.

This Instagram growth tool is powered by cutting-edge AI technology. Unlike other old-fashioned growth tools, Kicksta is all about generating meaningful, authentic connections with the fans most likely to respond to your company.
How Kicksta Works:
You don't have to worry about spamming or earning fake fans. Instead, you create a list of accounts with the kinds of followers you want to attract. Kicksta then uses its intelligent algorithm to engage with people on your behalf and improve your chances of engagement.
An advanced filtering system means you can choose the followers best suited to you and your brand. That means more of the right leads visiting your social pages, as well as your website.
Kicksta is the ultimate solution for driving authentic attention from customers to your business. One of the things that really sets this Instagram tool apart is its commitment to customer service, with 24/7 support, alongside video courses and tools to help you leverage the service.
2.  Upleap
Upleap is another service among Instagram tools designed to help companies grow their following numbers via purchasing. While this isn't an organic-growth tool, they do offer extremely low-cost services, with their cheapest service offering 100 followers instantly for $3.32. There's no limit to the amount of followers you can buy: 100, 1000, or 5000.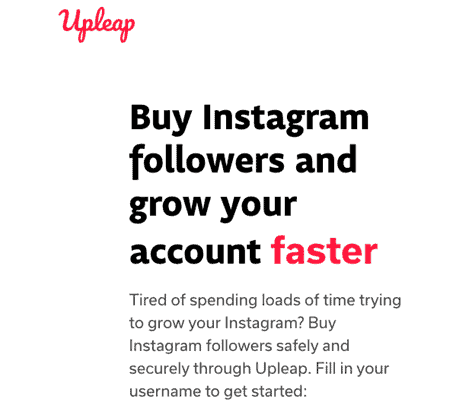 To help showcase how exactly Upleap works, the company offers users a time-limited discount for their purchase. Upon signing up, users will receive an 'account manager' straight away.
How Upleap Works:
Upleap focuses on numbers, numbers, numbers. While you don't get a say in engagement rates or the kinds of followers you earn from their service, you are able to customize how many followers you'd like to add to your account, which is delivered almost immediately. Or in the very latest, within a few minutes.
To get started, users enter in their Instagram login on Upleap's website, then select a package of how many followers they'd like to purchase. Users have to make sure their profile is public, although no password is needed for Upleap to send the followers over.
3.  Planoly
Planoly is one of the many Instagram tools on the web today intended to simplify social media marketing. The service is ideal for companies who want to plan their campaigns in advance, and ensure their theme remains consistent, post after post.

Planoly makes it quick and easy to design full marketing strategies by allowing you to lay out the pictures you want to post on a calendar and see how they might look on your profile. You can also schedule the post to go out at just the right time for your audience.
How Planoly Works:
Planoly is a solution for planning, scheduling, and publishing powerful visual content. This user-friendly app comes with a tool for editing your Instagram content with templates, stickers, and filters. You can also favorite your preferred templates for easy use later.
Once you're done editing your content, you can set up multi-photo carousels, single photo posts, and more, then schedule them to publish on the perfect day. Planoly makes it easy to leverage all of the extra features of Instagram in your posts, including caption tags, locations, and more.
Another bonus of Planoly is the ability to crop images as you upload them – perfect for if you're reposting user-generated content. There's also a "Discover" section for inspiration.
4.  Hopper HQ
Knowing when to post your social media content is half of the battle with Instagram. Oftentimes, your followers will see content on their newsfeed based not just on their interests, but also on how recently that content was posted. Hopper HQ helps companies to schedule and post social content at just the right time to gain attention.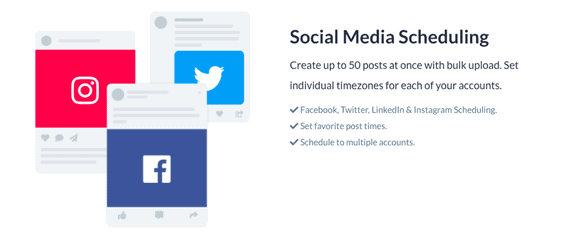 Combining social media planning with analytics, Hopper HQ shows companies when they need to be active and online to speak to their target audience. You can even set individual time zones for different accounts.
How Hopper HQ Works:
Hopper HQ is a social scheduling solution for Instagram, Twitter, LinkedIn, and Facebook. Users can create up to 50 posts at once with this Instagram tool, and you can even arrange your grid aesthetic in advance. Once you're done creating posts, you simply drag and drop the drafts into your schedule.
Hopper HQ comes with a visual calendar, which makes it easy to track when your posts are going to go live. Plus, if you need to collaborate with other team members, you can invite your colleagues to check out your schedule, too.
Hopper HQ is ideal for scheduling Instagram videos, photos, and other content, offering integrations with tools like Dropbox, full image editing, and even @mention and #hashtag functions. All that, and you get a full set of analytics so you can boost your chances of Instagram success going forward.
5.  Agorapulse
One of the top Instagram tools for scheduling and managing your social media efforts, Agorapulse is a market-leading product. This software combines publishing, scheduling, monitoring, reporting, and listening into one tool, so you don't need to combine as many apps to handle your social efforts.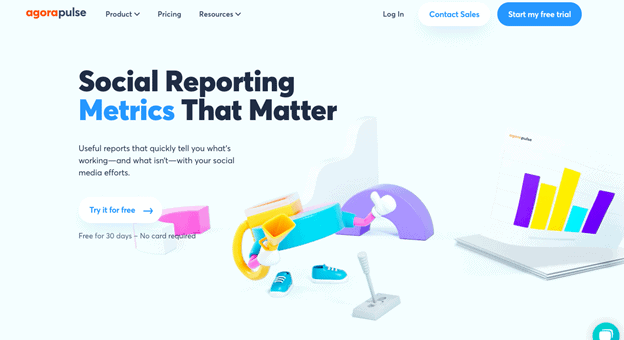 The easy-to-use interface gives you a quick overview of your social strategy, with scheduling options so you can ensure posts always go out at the right time and access to multiple social platforms at once. With Agorapulse, you also get a full set of analytics tools for tracking everything from engagement to conversion rate.
How Agorapulse Works:
An all-in-one social media management tool, Agorapulse offers a convenient way to track your Instagram efforts. You can monitor multiple social media platforms at once, listening for mentions about your brand or product with specific hashtags or @mentions.
Agorapulse offers a key performance page where you can create reports for your stakeholders and teams based on your most valuable social media metrics. Once you've learned which posts get the most engagement from your customers, you'll be able to schedule content to roll out at the perfect time and track your profile's performance in the same place.
Agorapulse makes managing your social accounts easier, so you can focus on the other aspects of running a successful business.
6.  DashThis
Speaking of Instagram tools to prioritize analytics and insights, DashThis is among the leading solutions on the market today for businesses keen to unlock the mysteries of marketing. The service doesn't just automate your Instagram analytics, it also gives you a place to create insightful reports about all of your marketing activities.

A user-friendly interface brings marketing teams and other professionals together to explore opportunities with powerful metrics like engagement rates, and community development. You can gather all of your data in one place with 34+ integrations and create entire dashboards for tracking marketing success.
How Dash This Works:
DashThis is more than just an Instagram service. It's a comprehensive analytics service designed to show you the behind-the-scenes workings of your campaigns. You can connect as many digital marketing tools as you like in the back end and use templates to transform insights into visual reports.
If you're running a marketing team and you need help keeping them on the right track, DashThis makes it quick and simple to create immersive dashboards that guide and motivate your staff. You can automate your digital report distribution and invite anyone from your team to come and work with you.
7.  Iconosquare
Another of the best Instagram tools for leveraging data-driven decisions about your campaigns, Iconosquare is a fantastic product for insights and analytics. This social media-focused platform pulls valuable information from your Instagram profiles, as well as other social media environments, so you can make better choices about what to share next.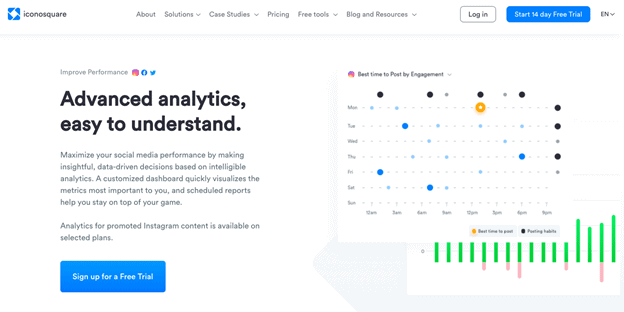 Perfect for both marketing agencies and growing businesses alike, Iconosquare makes it simple to create customized dashboards of all the states you may want to track. The visual builder allows users to simply drag and drop components into place.
How Iconosquare Works:
While social media tools like Instagram do have some of their own analytics tools built-in, products like Iconosquare help to home in on the results that really matter to your business. Engagement widgets, growth insights, and profile activity reports can all improve your view of your social media marketing experts.
The Iconosquare platform allows you to pick the metrics that matter to you, from number of mentions to the number of clicks to your website from Instagram. You can even learn more about your target audience, such as where they come from, how old they are, and their preferred content.
All Iconosquare widgets come from historical data comparisons, too, so you can see how your business has evolved over the months.
Make The Most Of Instagram
Instagram tools are fantastic for companies who want to enhance their social media marketing strategies. With the right software, you can take a deep dive into your Instagram campaigns, and learn what you need to do to generate success.
Instagram tools also help with scheduling posts, automating repetitive work, and even tracking down potential followers that might help your business grow.
Isn't it time you took your Instagram strategy to the next level?