M4A1-S is one of the sneakiest firearms in Counter-Strike: Global Offensive. Its damage potential is inferior to the AK-47, but the item is still loved by many players. To enhance its look, you can choose from a wide variety of skins, some of which are as cheap as chips. The aesthetics are subjective, but we have chosen the five most popular skins praised for their attractive exterior.
Most of the variations of this weapon are quite rare and therefore valuable. As the signs of use are not very prominent, you can choose a skin with minimal wear to save money. On independent platforms, you can often get M4A1S skins more affordably than on Steam.
Pros and Cons
This item is considered to be one of the best weapons in the game overall. Yet, some seasoned players would argue that the AK-47 is better as it has a higher damage output, and one shot to the head will instantly kill an enemy. In addition, an M4A1S can only hold 20 rounds.
On the upside, the rate of fire is the same (600 rounds per minute), and you can also use a silencer. This is a crucial advantage when you need to decimate enemies stealthily. Finally, the gun also provides impressive accuracy and its recoil is low, so you can easily take down your opponents from far away. Without further ado, here are some of the top style options.
Most Beautiful M4A1S Skins [Counter-Strike: Global Offensive]
1.  M4A1-S Nightmare Skin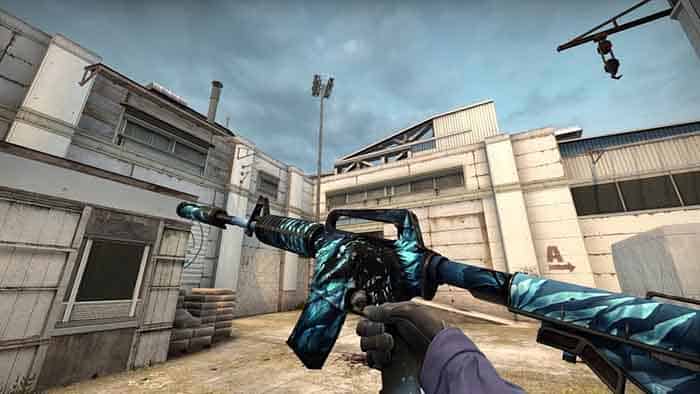 This harrowing skin is truly eye-catching, as it depicts a spooky nocturnal visitor. The beast is visible in the center of the gun, and this is obviously the source of inspiration for the name. The gun is coated with electric blue on a black background. The skin looks truly gorgeous, and it is also very affordable. With minimal wear, the item costs around $7, and field-tested versions are even cheaper — around $4.
2. M4A1-S Leaded Glass Skin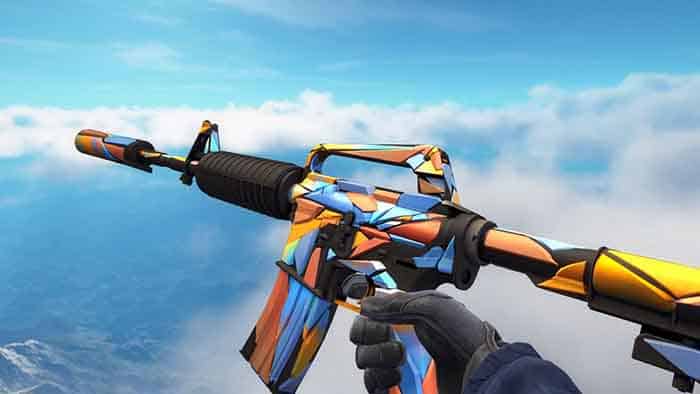 This is one of the most colorful skins for the weapon, as it has a combination of blue, orange, green, and yellow. Moreover, the pattern imitates broken glass, which makes the skin incredibly attractive. You can buy this energizing explosion of color for under $5! The skin really looks much more expensive than it is. This item from the Spectrum 2 Collection is a great upgrade. Kill your enemies in style!
3. M4A1-S Decimator Skin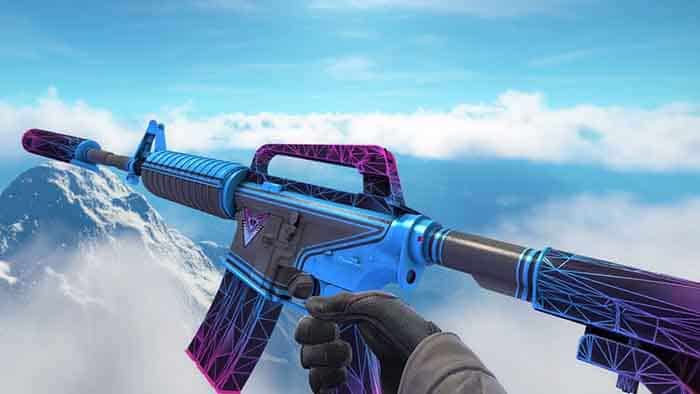 This skin appeared in the game as part of the Spectrum Collection. It is also pleasing to the eye, as it features a combination of gray, blue, and purple. The peculiar geometric pattern is formed by interconnected triangles. Above the magazine, you can see a geometric emblem.
The decimator is one of the most popular skins in the game in general. Besides, its pattern index does not affect its appearance. Add it to your loadout for around $4.60.
4. M4A1-S Mecha Industries Skin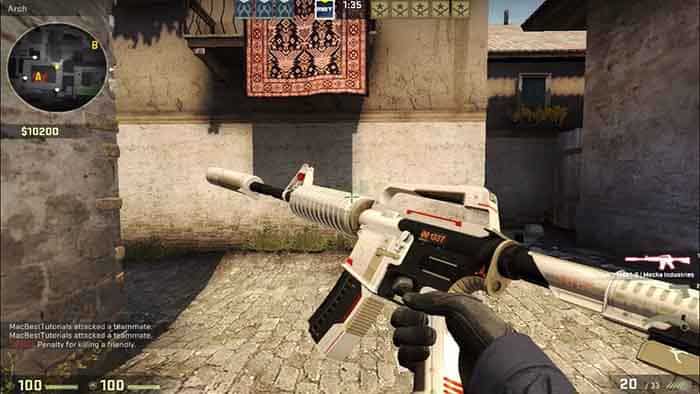 This minimalistic skin will not disappoint you with its sleek combination of black, gray, red, and light brown. The style is futuristic and reminiscent of sci-fi. The ceramic plates look great on the solid black background. Beige and red accents complement the look. No abrasions are ever visible. In the Battle-Scarred condition, this part of the Gamma Collection costs from as little as $7.
5. M4A1-S Nitro Skin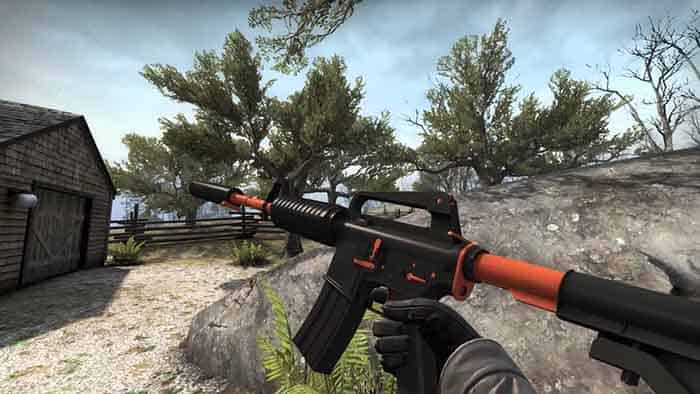 Minimalists are bound to appreciate the sleek look of this rifle from The Safehouse Collection. It has spray-painted parts, and just two colors — black and orange. In the Field-Tested condition, you can get it for less than $1! The weapon does not come with abrasions until the Minimal Wear stage.
Where to Buy or Sell
In recent years, more and more players have chosen third-party exchanges over Steam. The latter is a closed-loop system, secure but rigid, and you can often find better prices elsewhere. Convenient withdrawals of profits and lower rates are the key strengths of sites like DMarket. If you want to trade skins safely and get real cash, it will exceed your expectations.
Over 1 million skins are available, and 10+ million deals have been executed so far. The system also offers 20+ payment methods from MasterCard to Bitcoin, face-to-face trading (without depositing items to the platform), trading in bulk via API, a mobile app, and other cool benefits. Here, you can find everything you need without worrying about losing skins or access. DMarket is a great place to add affordable M4A1S looks to your arsenal.
How to Aim Effectively
M4A1-S requires a special strategy to maximize your kills. Here are a few tips to help you boost performance. Depending on the situation, you should apply different techniques. For example:
Always keep your crosshair aimed at the enemy's head if they appear from around the corner. This will let you garner a lot more kills as you will not have to readjust your aim quickly. You cannot become an excellent player unless you master this technique, which is known as crosshairs placement.
If the enemy is far away, the best way to use this gun is to tap fire. This means shooting one bullet at a time until the enemy is dead.
If the target is a bit closer, you might want to burst fire. In this case, you can shoot two or three bullets at a time until the enemy is dead.
Spraying is useful when the opponent is very close. Note that the method differs from spraying with an AK-47. As you only have 20 rounds, you should try to use the ammo sparingly, and never use all of it on one person. Go for long bursts, and remember to always aim for the head. 4-5 bullets to the body is enough to kill a target.
With this weapon, head shots are easy. This is crucial, as a single shot to the head does 91% damage, so the next bullet eliminates your target. Use these tips the next time you play — you are bound to notice a difference in your performance. Get a new skin at the best price and enjoy your refreshed weapon!