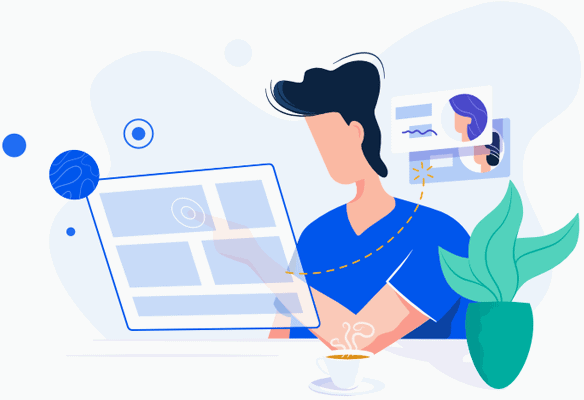 Standing out online today requires more than just a website. Even if you have a stellar theme and fantastic content, digital marketing is rooted in social media. You need a presence that makes your brand approachable and engaging. Creativity runs widespread today, and industries you never would have fathomed being successful in the social media world are driving thousands of views to their site every week.
Where does SEO come into play when planning your business's social media strategy? The two are intertwined, and it's always best to plan them out in tandem. Rather than treating your website and social pages as two separate entities, you need to develop an evolving strategy that creates cohesion. Intent SEO is one way to ramp up your content and create a truly personalized user experience that will help you boost overall views, rank higher in search engines and build up your following on Instagram, TikTok and any other trending platforms.
It's Not Just About Looking Good
Aesthetics aside, what do your posts bring to the table? Every business needs to consider its value now and later on down the road. What are you publishing that would prompt someone to click that link in your bio and find out more? Do you provide something that only elicits a fleeting interest and then fades away in seconds? Or are you building content that makes people want to connect, learn and grow along with what you offer?
If you struggle to come up with Instagram post ideas, then looking at your intentional SEO strategy could start to help. When you begin to reexamine the reasons someone might come to your site in the first place, you also reconsider how your posts might help guide them to your business. On the topic of appearance, however, we should address where graphic design comes into play.
If your site and social media pages are not similar in appearance, you can create a jarring experience for your consumers. Your words give your content meaning, but the design gives it form. This form is what your audience will engage with. Before they even know what a post is about, a viewer will decide whether or not they like how it looks. If they don't, they'll just keep on scrolling.
Intent SEO Creates Purpose
The logic behind intent SEO is that your website optimization should be responsive to a person's immediate need. When they go to Google, they're intending to do something, and that intention shapes the keywords they use and the actions they take. Intentional SEO includes informational searches, which are all about learning something, navigational searches, which take a user to a specific destination, transactional searches, which are about making a purchase, and investigative searches, which compare options for a specific product.
When improving your site's navigation, think about how your layout will influence a person's actions. If someone wanted to learn more, for example, does your blog have readily visible tags and categories that they can click through? Off-site, how are your posts set up? Is your profile layout deliberate or does it simply throw all your posts together without any rhyme or reason?
Creating a Story That Shapes the Consumer Experience
You might struggle to piece everything together right away, and that's okay. Building a cohesive brand narrative and customer journey takes time. An SEO professional can help you update your content to begin linking it to more meaningful posts. Consider checking out this guide on where to find and how to hire the best SEO companies. It can help you find a provider whose experience and education suit your niche and reflect your unique goals and values. As you begin to address both your site and profiles online, here are some questions to ask:
What intent does this post fulfill?
Is there a strong connection between this content and our company's offerings?
At first glance, what emotions does this page evoke?
Am I posting for the customer or for myself?
Use Hashtags Wisely
User intent greatly influences how they use a platform. If you're on social media, your SEO is really about what tags you use. Keywords on your page and in your captions, however, can align with those that people are searching for on Google. A big mistake many businesses make is grabbing all of the most popular tags for their field and copying and pasting them onto every post.
On Instagram, this is counter-intuitive because the high volume of posts in the most popular tags means you'll likely never be seen. Your posts are pretty much buried by new ones before they've even been shown to your followers. Repeatedly using the same tags can also get you shadow-banned in the algorithm, essentially making your content invisible to any potential viewers.
Conduct research and see what tags your competitors use. It's better to look at those who have a stronger presence and higher engagement than you. This is how you will lay the groundwork for your own improvements. When you take what they're doing right and merge it with intent SEO principles, you'll be outranking and outselling them consistently.
Think Like a Consumer
What type of posts would you want to see if you were searching for a product or service? If you stumbled across your business's page, would you be inspired to continue on to the website and make a purchase? These are basic questions that far too many companies never bother to ask. It's a completely different world working as a professional and using social media as a consumer. In many cases, you may never actually search for products like your own in your free time.
Take a day to log into your own account and check out your user experience from this point of view. Adopt each of the three intents we addressed above and see how your content and site serve them. You'll likely find immediate areas for improvement, and it will be easier to make changes after exploring from the customer's point of view.