Majority of us are hooked on to our social media lives. Whether its Facebook, Twitter, Instagram or Youtube, we tend to check for updates every now and then which requires us to keep up with numerous tabs.
Feedient makes all that simple. It's a free web-based services that lets us connects seamlessly with our favorite social media sites like Facebook, Twitter, Instagram and Youtube. All you need to do is create a free account on the site and you're good to go.
After you've logged in, you'll be automatically taken to their settings page where you can add accounts of your favorite social media sites.
Click on Add account, fill in the details or authorize if you're already logged on from the same browser and it'll add. After you've added all the (needed) accounts, click on Feeds (top left) and it'll bring you to a page with all those sites feeds/updates in one place.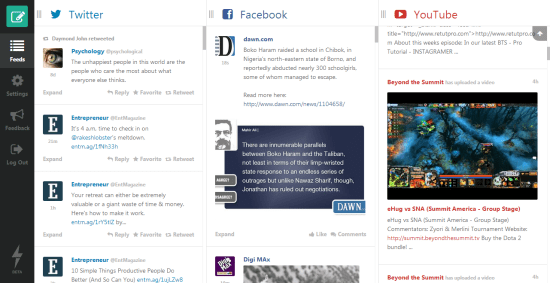 You can scroll down any individual tabs, don't have to refresh or click on an update button – it will automatically send you the new posts as they arrive.
All in all, it's a nifty service that gives you the ability to browse all your social media life in one simple overview.
Check out Feedient.