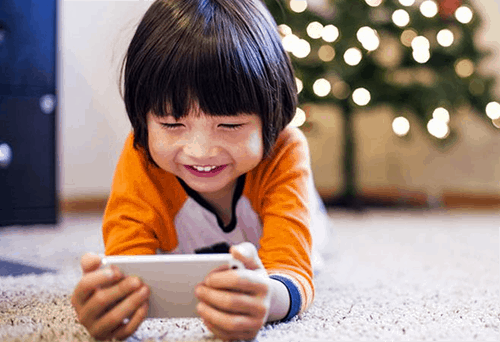 Every parent wants to protect their children from potential threats. That is why the parental control feature is so popular among iPhone users. They help you get control over your children's devices. Additionally, you can use this feature to decide how many hours your Kid can use their iPhone. There are many other exciting features that you can get by setting up parental control on their device.
However, some of the kids do not like their parents to monitor their online activities. Hence, it becomes more challenging to set up this feature on someone's iPhone.
In this article, you will learn how to set up the default parental control on the iPhone. Additionally, we will discuss another platform that allows you to monitor your children's activities using an advanced parental control application. The best thing is that it does not let them know that you are monitoring their activities. Get it now to start tracking an iPhone.
How to Set Up Parental Control on iPhone
Method1: Using Default iPhone Feature
Go To Settings
To set up parental control, you need to go to settings on the iPhone and click on screen time. It will show you two options- This is My iPhone, Or  "This is my Kid's iPhone". Select accordingly and proceed to the next step.
Choose Your Settings
If you are operating your smartphone, you need to add your Kid's iPhone to your device and create a password. After that, it will prompt the other device, and they need to confirm your access to their device.
However, if you are operating your Kid's iPhone, you can directly create a password for the parental control feature. After completing the password, activate the parental control and proceed to the next step.
Allow Permissions
You can decide what type of content your children can see or what applications they can install on their device.
Below are some of the things that you can control through the parental control feature.
Prevent Purchases: you can block the iTunes and other purchases of your children's iPhone through this option. It can be found under the same column as your iPhone.
Applications: You can decide what type of applications can run on your Kid's smartphone. If you have some specific application in your mind, you can quickly get it through your parental control feature.
Web Content: You can also prevent specific web content on the children's iPhone. Whether you want to block some specific websites or stop the explicit content, you can do all this through the same feature.
Note: This method is done through the official parental control feature of the iPhone.
Method 2: Using Minspy
If your Kid does not allow you to set up parental control on their device, you can do it with Minspy remotely. It will let the person know that they are being monitored by you all the time. Hence, it is an excellent application for concerned parents. However, please understand that this is done through a third-party application that provides phone monitoring services.
What is Minspy?
Minspy is a phone monitoring application that enables its users to track any device remotely. One can easily monitor someone's location, messages, installed applications, and browsing history with this application. Most of the users trust this application to monitor the activities of their loved ones.
Hence, it has managed to get a base of more than 1 million users within a few years. Some significant publishers also published it like Forbes, CNET, etc.
With this application, you can set up a parental control feature on your Kid's device without letting them know. Additionally, you can understand their exact location without having to call them every time you want to check on them.
It does not require you to install any application on their iPhone, making it a perfect choice for the parents.
Is Using Minspy Safe?
Minspy is a trusted platform that is helping millions of people with phone monitoring purposes. They do not track the activities of the devices and keep the data limited to your online account. Hence, no one else can track your loved ones other than you.
Additionally, it does not require you to perform a jailbreak to work. It means that there is no risk to the security of your children's iPhone.
How to Monitor Your Kid's iPhone With Minspy
Step1: Create an Account On Minspy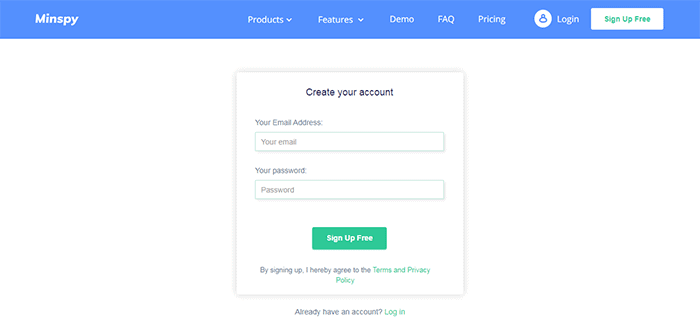 Visit the official website of Minspy and click on Sign Up Free to create a quick account on Minspy. It will ask you for your email address along with a new password for your Minspy account. After clicking on the sign-up, you will receive a mail on your email address to verify it.
Step2: Get a Subscription
It will ask you to choose one out of three paid plans for the application. Click on any one of them and make the payments for that amount. You can either choose the monthly or yearly plan for your account.
Step3: Enter Their iCloud Details
The next step is to connect their device to your Minspy app. Enter the iCloud credentials of your Kid's iPhone, as shown in the above picture. It will take a few minutes to synchronize their phone with your online account.
Step4: Utilize the Features
Login back to your account and click on the dashboard. You will see a list of features like location, messages, social apps, etc. Click on any part that you want to access through this application.
For example- If you want to check their location, click on the location tracker, showing their exact location. Similarly, you can check their WhatsApp, Instagram, and Snapchat conversations by clicking on the social apps button.
Tip: You can use their demo version to understand the working of this platform.
Final Words
The methods that we covered in this article will help you set up parental control on the iPhone. However, this process is much better as you can monitor their call logs, location, and other applications with it.
If you want to know more about this application, then you can visit its official website. It will walk you through all the steps conveniently.